About These Oil-free Vegan Crackers
The first time I made crackers in my home kitchen I felt like a culinary hero! 
It's like a massive food mystery was solved! 
And I discovered that, no, crackers are not just made in factories! Homemade crackers are easy, delicious, and worth the work (especially in certain circumstances – see below!)
These homemade crackers are so satisfying on their own and they just happen to be
VEGAN
GLUTEN-FREE
OIL-FREE
COCONUT-FREE
But absolutely delicious! I promise!
blanched almond flour
buckwheat flour
sesame seeds
chia seeds
dried herbs and spices (rosemary, thyme, garlic powder)
sea salt
How To Make Oil-Free Vegan Crackers
A simple process. But if this is your first time rolling out dough or making something like this, give yourself extra time, muster up a little more patience, and don't be so particular about the shape.
Mix all the ingredients in a bowl. Let them rest for a few minutes.
Roll out the dough (this will take the most time).
Score the dough.
Bake and let cool! Break into crackers.
When Would You Make Oil-free Vegan Crackers?
Times when you might consider making oil-free vegan crackers:
When you're putting together a lovely plant-based charcuterie board for company and want some extra ou la la. A great cracker is ESSENTIAL for charcuterie (see my guide below). 
For gifts! I love giving edible gifts and a nicely wrapped batch of homemade crackers is such a beautiful, consumable gift to give! Especially to your health foodie friends!
To jazz up a homey meal! What do I mean? Take soup for example. I often choose soups and stews as the main event when I'm having people over for brunch, lunch, or dinner (I love foods served in bowls!) but if I want to make it a little extra or more impressive, I put some effort into the meal accessories:

homemade bread (the Amazing Whole Grain Bread from The Plant-Based Cookbook is oil-free and gluten-free and always served with stew in our house!)
crackers (these ones!)
hummus
cashew sour cream (as a fancy soup swirl)
fresh herbs
baked and seasoned seeds and nuts.

Treating YOSELF! Sitting down do a snack of homemade crackers and a creamy dip or fresh bowl of guacamole is a form of self care. Try it!
A "clean" cracker lover?! A lot of commercial crackers (most) are loaded with a bunch of crap. There are some great options available now in grocery stores and health food stores, but still, making your own is a next-level way to control what's in your snack!
And of course, if you love getting creative in the kitchen

and trying out new ways of making traditional recipes, I strongly encourage you to make these oil-free vegan crackers.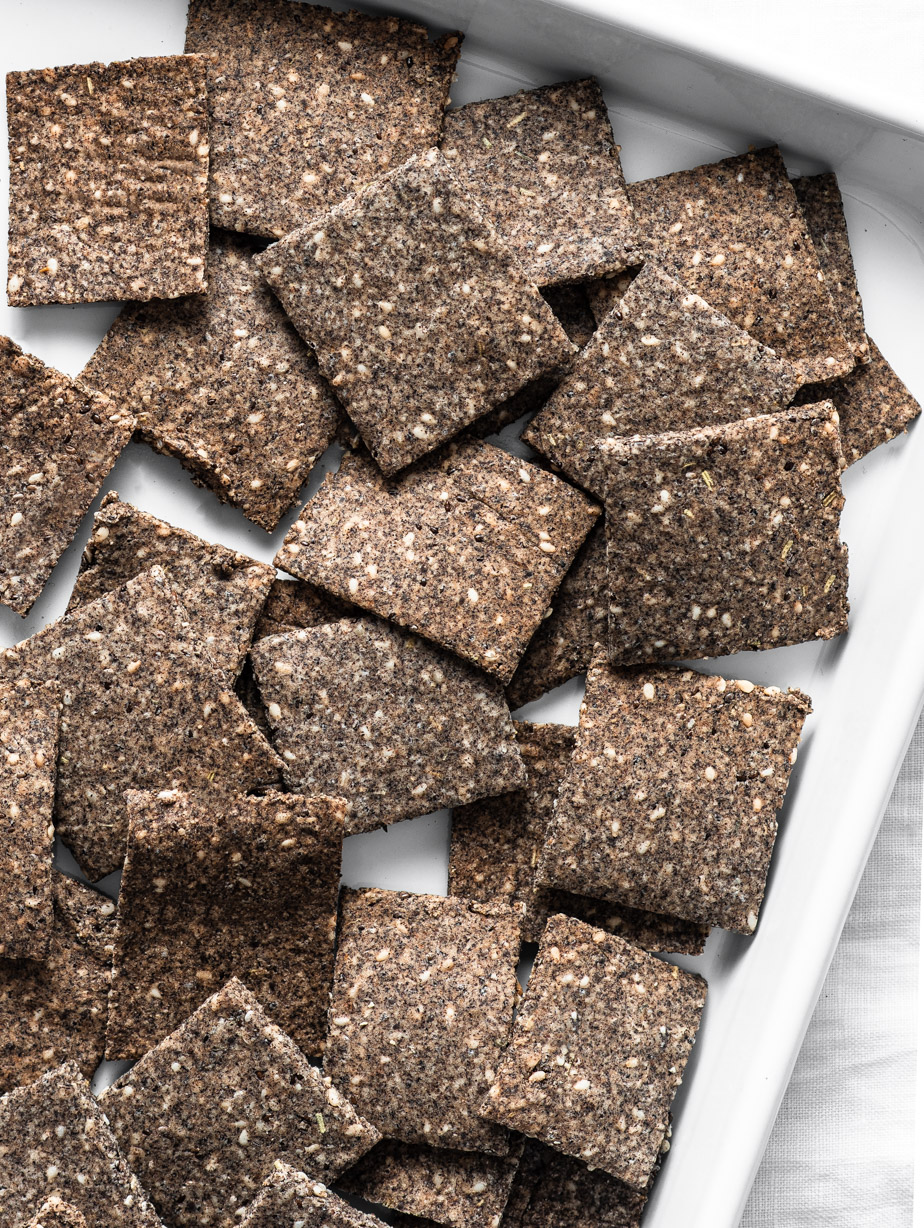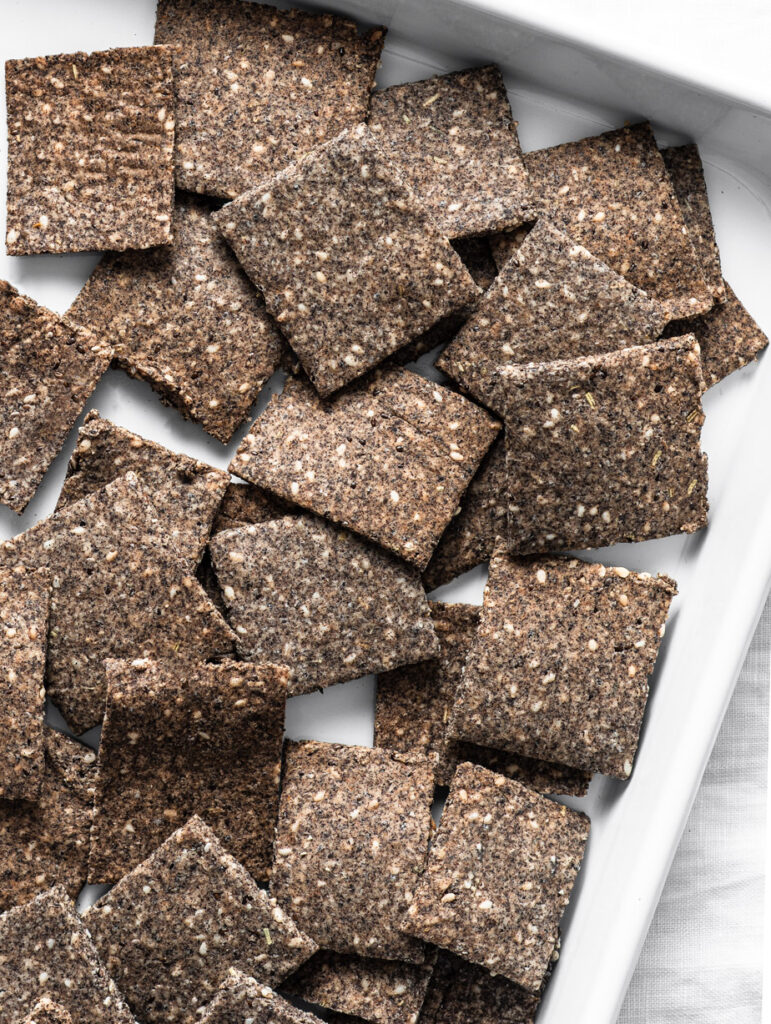 HOW TO MAKE A PLANT-BASED CHARCUTERIE BOARD
A plant-based charcuterie board or plate (large or mini!) is one of my favourite things to serve guests but also to make just for me and B on an otherwise normal weekend night. It makes you feel fancy and it also just makes for good snacking!
So here are what I consider essential components of a plant-based charcuterie.
1. A GREAT CRACKER! Hence this homemade oil-free vegan cracker recipe. But there are also some gorgeous artisanal crackers out there. I always stock Mary's Crackers for an easy option. These are vegan, gluten-free, and oil-free too! A quality sourdough or whole-grain bread is also a lovely option.
2. HUMMUS or BEAN DIP. Always a charcuterie favourite, I opt for oil-free hummus like this Roasted Tomato Hummus or this basic Oil-Free Hummus. Lately, the Warming Carrot Hummus from The Plant-Based Cookbook is my go-to. It's made even creamier with steamed carrots and gut-healthy miso. Mmmm!
3. A RICH or CREAMY DIP or VEGAN CHEESE. On this board, I'm using a locally made oil-free cheese but if you can't find any commercial options you love, try a thick Cashew Sour Cream (reduce the liquid), a flavourful bowl of Tofu Feta Cheese, The Herbed Cheezeball from The Plant-Based Cookbook (a holiday MUST!), or even a simple guacamole!
4. FRESH VEGGIES. Especially any that can be cut into thick "chips" like zucchini, large carrots, and cucumber.
5. BERRIES! I like adding blueberries, raspberries, or strawberries. If it's autumn or winter, apples or pears are particularly delicious additions!
6. NUTS. A mixture of raw, whole nuts. These add crunch and are a great pairing for the next item.
7. DRIED FRUIT. Dried apricots and figs are perfect for plant-based charcuterie boards. They're more substantial and are easy to pair with a couple of nuts for that perfect bite!
8. Something SALTY and/or PICKLED! Olives and pickled vegetables are easy additions and can be found in most grocery stores. Choose something more artisanal if you're looking to really impress but olives are a charcuterie board no-brainer!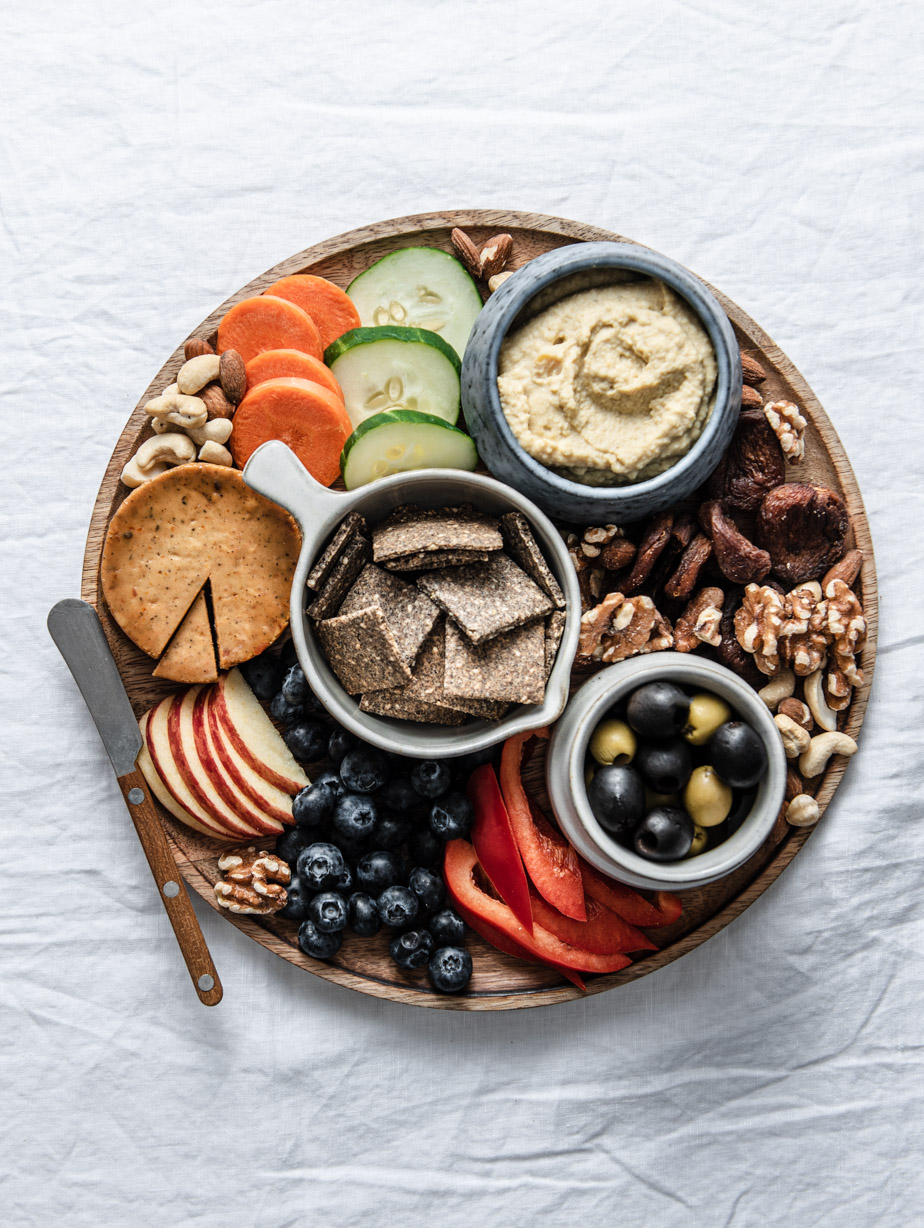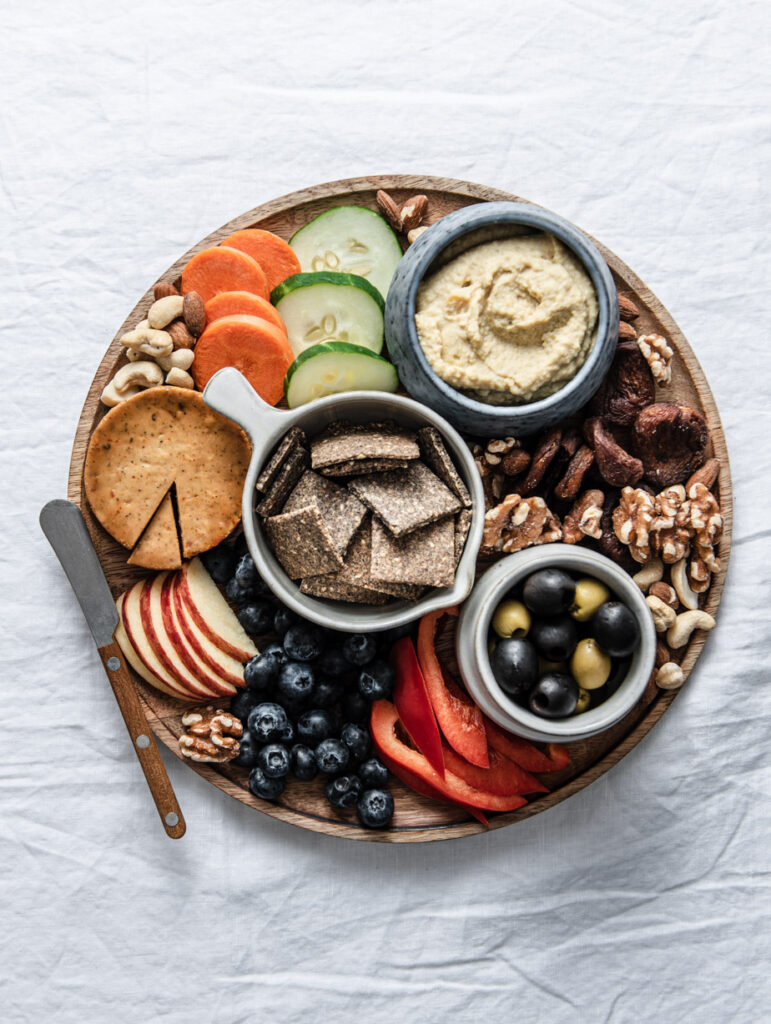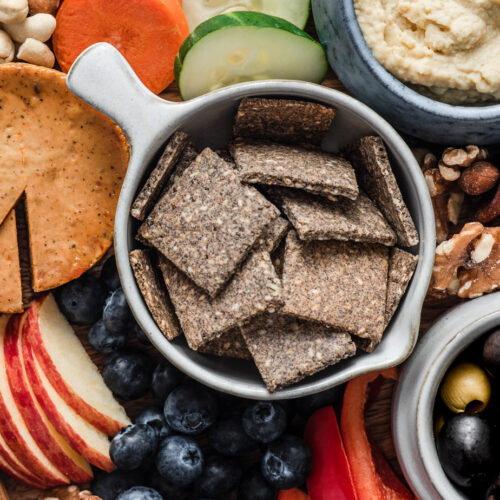 Oil-Free Vegan Crackers (gluten-free)
Homemade crackers aren't an everyday day recipe but they are ideal for special occasions, gifts, and for culinary creatives out there! These are my house oil-free buckwheat crackers. They are easy to make, so delicious, and won't last long!
Equipment
Parchment Paper

Rolling Pin
Ingredients
½

cup

blanched almond flour

½

cup

buckwheat flour

2

tablespoons

sesame seeds

2

tablespoons

chia seeds

½

teaspoon

dried rosemary

½

teaspoon

dried thyme

½

teaspoon

garlic powder

½

teaspoon

sea salt

¼

cup

water, plus more if needed

(see instructions)
Instructions
Position the oven rack to the middle of oven and preheat the oven to 350ºF. Rip off 2 large pieces of parchment paper (about 16 inches long). Set aside.

In a medium bowl mix together all the ingredients (except water).

Now pour in the water and mix together with a spoon or spatula. It will be dry and crumbly. Make sure to get any batter off the spoon and then, using your hands, knead the dough in the bowl until it comes together in a ball. Add more water, 1 teaspoon at a time, as needed if the dough is too crumbly. Don't add any more than 1 tablespoon (3 teaspoons) of water or the mixture will be too wet.

Once the dough comes together, shape into a smooth ball and set aside in the bowl, covered, for 5 minutes.

Now place the dough on one piece of parchment paper and cover it with the other piece of parchment paper. Using a rolling pin, roll the dough out into a rough rectangle about 1/8 inch thick. I like to shape it into a rectangle that's about 6 by 14 inches.

This will take some trial and error if you're not used to rolling out crackers or thin doughs. Start in the middle and work your way out to the edges.

Once you get the dough to the thickness you want you can cut off the jagged edges with a knife and stick the cut-off bits back into the dough and roll again until you get an approximate rectangle. However, if these are just for you at home and you're not concerned with perfect edges, go ahead and leave the edges rough and rustic!

Peel the top piece of parchment off (save and use later).

Finally, use a sharp knife or pizza cutter to score the dough into 1½ inch square crackers. Transfer the crackers (on parchment) to a large baking pan.

Bake the crackers for 25 to 27 minutes. They're done when firm and completely dry to touch. Remove from the oven and let cool completely on the pan before breaking into crackers. Keep in a sealed container in a cool, dry place for up to a week.
Notes
Keep these oil-free buckwheat crackers in a sealed container for up to 5 days in a cool and dry place.
This is a small batch recipe. I usually double it and then half the dough and roll them out separately and bake them on 2 baking sheets.