Brownies? Yes, always. You don't have to ask me twice. And these ones are outrageously delicious and a bit crazy.
It starts with the beets.
Most of my beet recipes are created with the intention of being resourceful and eating seasonally. Because beets weren't always so sexy!
I'm from the east coast of Canada where eating seasonally and locally can be a challenge at certain times of the year — looking at you winter. Root veggies are our saving grace — we cook with them a lot. And even though I don't live there anymore, my affinity for root veggies persists. It's in my DNA.
Potatoes, turnips, carrots, and beets — these vegetables were always in our cupboards (no pantries back then), and they were usually from the farm down the road or from a farmer's stand we spotted on the side of the highway. My dad always supported local. He did that before it was a movement or a slogan. I admire this now but then I would moan "more beets?! Ugh".
We bought too many beets. Huge, 10-pound bags of them. And we only had them one way.
Pickled.
Oh, how I despised those pickled beets. Jars and jars of pickled beets. Naturally, I decided I hated beets.
Until…
It wasn't until I had a fancy salad with roasted beets and toasted walnuts that I gave them a second chance. And the rest is history. Now I love those darn beets.
The farm to table movement took the humble beet and let it shine. The beet had a rebirth. After I discovered beets could be grated and spiralized, shaved and slivered, roasted and pureed, after I realized beets were not only nutritious but affordable and incredibly versatile, well I couldn't get enough of them.
Even today, two decades and a couple of cookbooks later, I always buy beets when they're in season and I let my creativity run wild.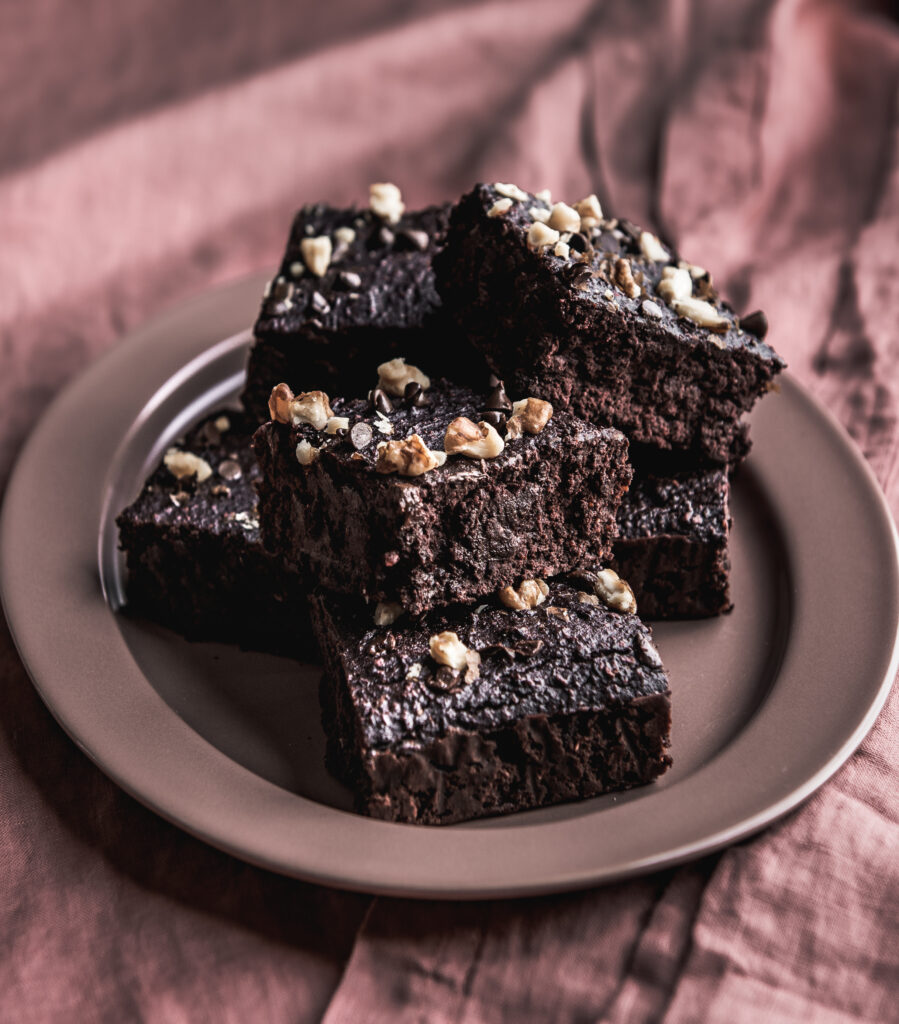 That is how these fudgy vegan beet brownies came to be. I picked up some gorgeous local beets (you know the perfect bunch with vibrant greens still intact) and made a list of recipes I wanted to try.
Beet brownies with a red velvet theme were at the top.
And I didn't hold back!
I combined ingredients and methods I'd never used before. I anticipated failure but the result was the most nutritious, delicious, fudgy vegan brownies I'd ever made.
Whole walnuts, chickpea flour, and roasted beets — this does not sound like your typical brownie batter, but it works. And works brilliantly. Like big big YUM!
I hope you love these fudgy vegan beet brownies as much as I do! They're from my new cookbook Plant-Based Delicious.
If you love beets, you might love this Beet and Potato Soup or these Chocolate Beet Bliss Balls.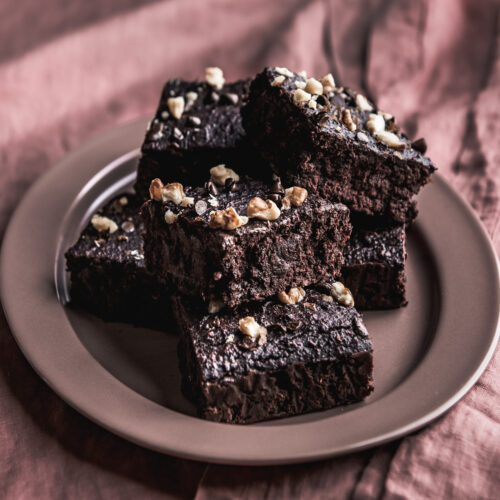 These are fudggggyyy. And made from beets and chickpea flour! They're the most unique and delicious brownies I've ever made and they're from Plant-Based Delicious!
Ingredients
10

oz

(300 g) beets (2 small to medium-sized beets), scrubbed and chopped into 2˝ (5-cm) chunks (2 cups chopped)

1

cup

(120 g) chickpea flour

¾

cup

(75 g) gluten-free oat flour

1

cup

(150 g) coconut sugar

1

cup

(88 g) unsweetened cocoa powder

2

tsp

(9 g) baking powder

½

tsp

sea salt

1

cup

(100 g) walnuts, divided

1

tsp

pure vanilla extract

¾

cup

(175 ml) unsweetened almond milk or organic soy milk

½

cup

(88 g) mini vegan chocolate chips (plus more for garnish if desired)

optional
Instructions
First, roast the beets: Preheat the oven to 400ºF (200ºC). Remove any gnarly stems or thick-skinned areas from the beets. Place the beets in a small casserole dish and pour a little bit of water into the bottom of the dish, just enough to cover the bottom. Cover the dish tightly with tinfoil and roast the beets for 45 to 60 minutes. They're done when they're just fork-tender. Remove the beets from the oven and keep the tinfoil on for 15 minutes so they continue to steam. Then, remove the foil and let cool completely. I like to turn the oven off at this point and come back to the brownies a few hours later. Once the beets are cooled, peel off the skins.

Start making the brownies: Preheat the oven to 350ºF (180ºC). Line an 8-inch (205-cm) square baking pan with parchment paper so that the parchment hangs out over two opposing sides.

In a large bowl, mix together the chickpea and oat flours, coconut sugar, cocoa powder, baking powder and salt. Be sure to break up any clumps of coconut sugar.

Set aside ¼ cup (25 g) of the walnuts (we'll use these to garnish the brownies). In a high-speed blender, combine the remaining ¾ cup (75 g) of walnuts, vanilla, milk and roasted beets and blend until completely smooth. It will resemble a hot pink milk shake.

Add the blended mixture to the bowl of dry ingredients and mix until well combined. The batter will be thick. Fold in the chocolate chips. Transfer the batter to the prepared baking pan and smooth out the surface.

Chop the reserved walnuts and scatter them over the top of the brownies, lightly pressing them into the batter. You can also sprinkle some additional chocolate chips on the surface, if desired. Bake for 27 to 30 minutes. The brownies are done when small cracks appear on the surface and the middle is just about firm.

Remove the brownies from the oven and let them cool completely in the pan on a cooling rack. Once cooled, lift the brownies out of the pan by pulling on the parchment paper, and transfer them to a cutting board. Cut into 12 to 16 brownies. These brownies are superfudgy, so be sure to wipe the knife clean with a damp cloth between each cut for nicely shaped brownies. These will keep in the fridge in a tightly sealed container for up to 3 days. Otherwise, keep in the freezer for up to 3 months.
Notes
Notes: If vegan chocolate chips aren't in your diet, you can omit.