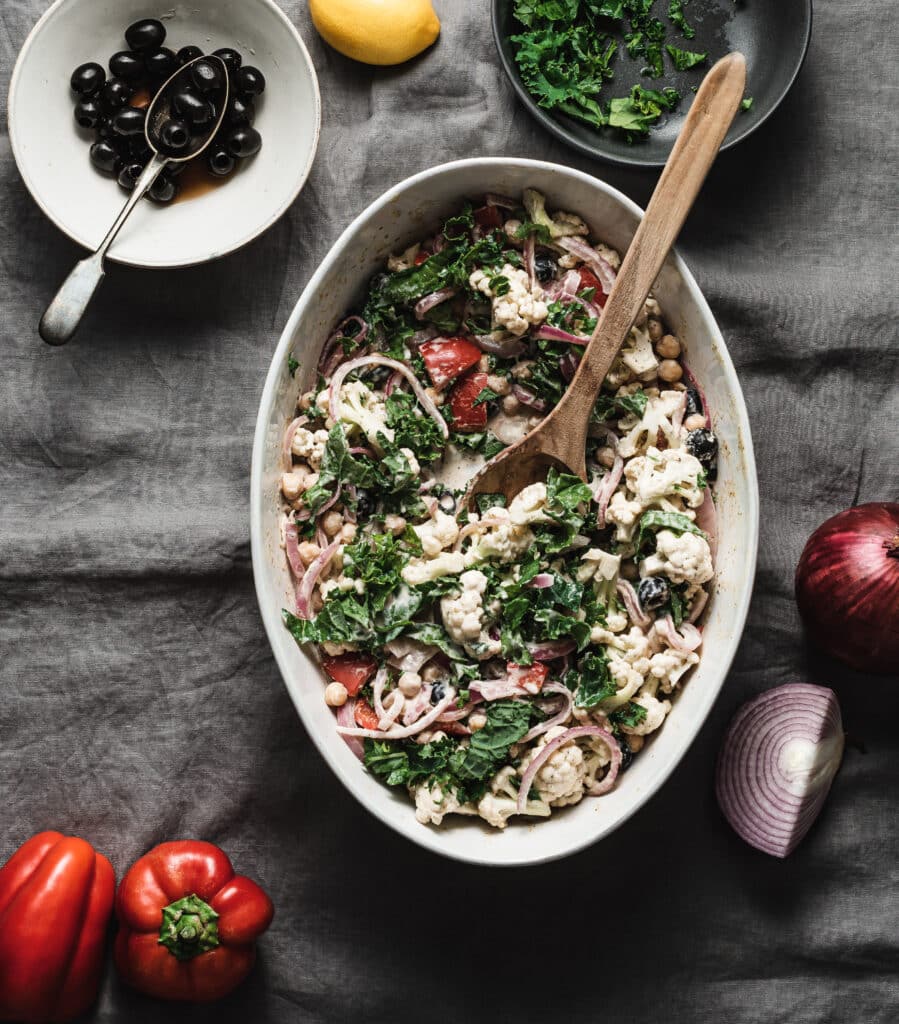 Casseroles usually have a lot of brown going on. But this Mediterranean Cauliflower Casserole is bright and vibrant!
And despite the word Mediterranean there is no oil in the recipe – I think Mediterranean summons thoughts of glugs and glugs of olive oil. Instead, its title refers to some incredibly flavorful, colorful, and nutritious foods that grow (not exclusively but abundantly) in this area of the world. Think whole olives, garlic, lemon, green leafy vegetables, herbs and spices. 
They're all tossed into a casserole dish, drizzled with a sesame-based sauce, and slid into the oven.
This recipe is from Plant-Based Delicious – my new cookbook that's all about using flavorful whole foods to make mouth-watering, ridiculously healthy meals.
You serve it on its own or paired with a warm cooked grain like quinoa, brown rice, or millet.
And keeping with the Mediterranean theme, you can also serve this cauliflower casserole family-style. Many meals in this lively region are about gathering and sharing dishes rather than sitting down to your own plate. I love this style of dining and it's an approach I've been taking more and more when we have company over. I shared how I do this on Instagram.
Inspiration
The inspo for this Mediterranean cauliflower casserole was the weeknight tempeh casserole from The Plant-Based Cookbook. I've received so many love letters (emails) about this recipe and I love it too! We usually have it twice a month, which is a big deal considering I struggle to cook the same thing twice (always in creator mode). I took the method of that recipe and applied it to different whole foods and another flavor profile. I have many more iterations in the works.
Mediterranean Cauliflower Casserole
This is a one-dish recipe from Plant-Based Delicious – my vegan, gluten-free, oil-free cookbook! You can serve it on it's own or paired with cooked grains. It can serve 4 to 8 people.
Ingredients
CASSEROLE
4

cups

(400 g) bite-sized cauliflower florets

1

large red onion

thinly sliced

1

red or yellow bell pepper

seeded, stemmed and cut into 1˝ [2.5-cm] pieces

1

cup

(100 g) pitted black or green olives, sliced if desired

1 ½

cups

(255 g) cooked or canned chickpeas, drained and rinsed

1

cup

(30 g) baby spinach or kale

1

cup

(180 g) uncooked millet or white quinoa

for serving
SAUCE
⅓

cup

(80 g) stirred tahini

⅓

cup

(80 ml) fresh lemon juice

3

large cloves garlic

crushed and peeled

1

tbsp

(15 ml) red wine vinegar

1½

tsps

(2 g) dried oregano

1

tsp

dried parsley

¾

cup

(175 ml) water

1

tbsp

(8 g) arrowroot starch

¼

tsp

sea salt

or to taste

Pinch

of black pepper
OPTIONAL GARNISHES
1

small bunch fresh mint

2

tbsp

(16 g) sesame seeds

Lemon wedges
Instructions
Preheat the oven to 425ºF (220ºC).

Start with the casserole: Put the cauliflower, onion, bell pepper, olives and chickpeas in a 9 x 13–inch (23 x 33–cm) casserole dish.

Make the tahini sauce: In a blender, combine the tahini, lemon juice, garlic, vinegar, oregano, parsley, water, arrowroot, salt and pepper, and blend until smooth. Pour the sauce over the vegetables in the casserole. Stir to coat all the veggies, then cover tightly with tinfoil.

Roast in the oven for 60 minutes, stirring once around the 40-minute mark. It's done when the cauliflower is fork-tender and the sauce is bubbling.

When about 20 minutes are left on the casserole, cook the millet according to the package directions. Once cooked, fluff with a fork and cover until needed.

When the casserole is ready, remove it from the oven and stir in the spinach. Cover again for a few minutes to let the greens wilt. Taste and reseason with salt, if needed. Spoon the millet into bowls and top with the casserole. Garnish with mint and sesame seeds and serve with a lemon wedge.
Substitutions/Allergies/Intolerances
Olives: My best friend hates olives (I'm not judging, but I'm judging). You can simply omit them however they do add a pleasant brininess to the casserole. You could add a 1/3 cup of capers instead to get a little extra zing with every other bite.
Tahini: You can use cashews for the tahini. Use ½ cup of cashews and when blending add more water as needed until it's pourable.
Chickpeas: You can use navy beans, cannellini beans, black beans, or borlotti beans instead of chickpeas.
Leftovers
Leftovers hold up great in the fridge for up to 5 days. I wouldn't freeze this dish as the thawed veggies will be mushy.
More from Plant-based delicious!
Butternut Squash Dahl with Cashew Milk and Kale
This dahl is from Plant-Based Delicious! My new cookbook all about making healthy taste delicious. It's easy, elegant, and absolutely delicious!
Check out this recipe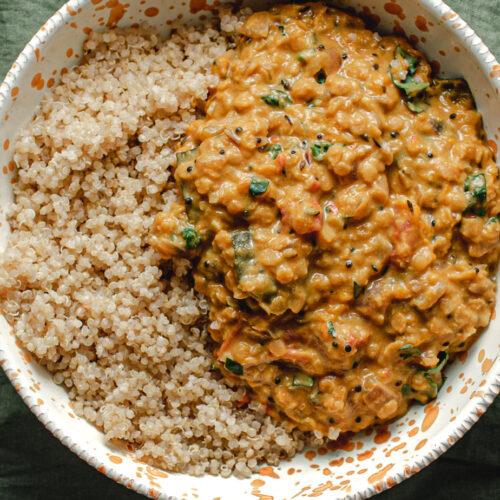 One Pot Tuscan Pasta
A sneak peek into Plant-Based Delicious – my new cookbook! This plant-based, oil-free one pot tuscan pasta is easy (really!) and delicious! It's a great family meal to serve any weeknight.
Check out this recipe