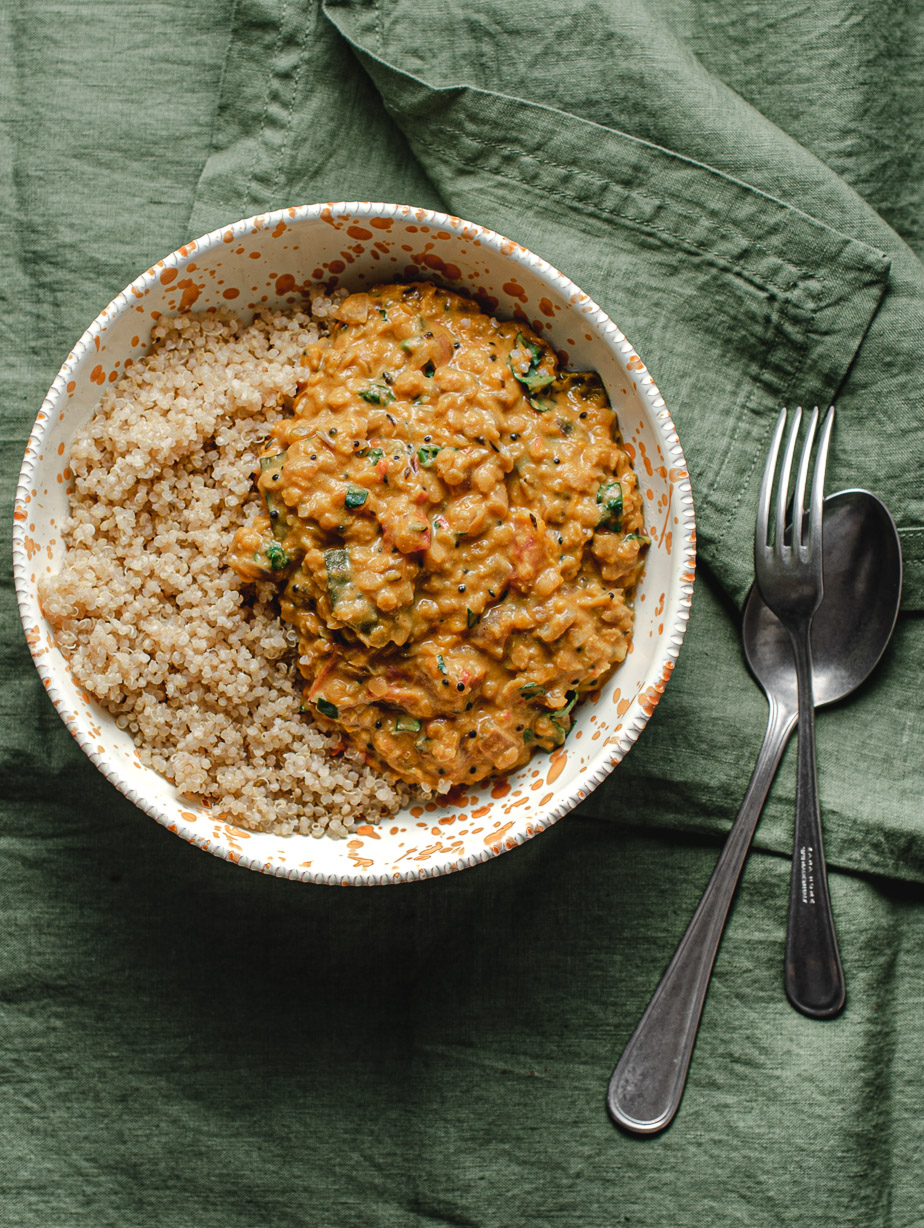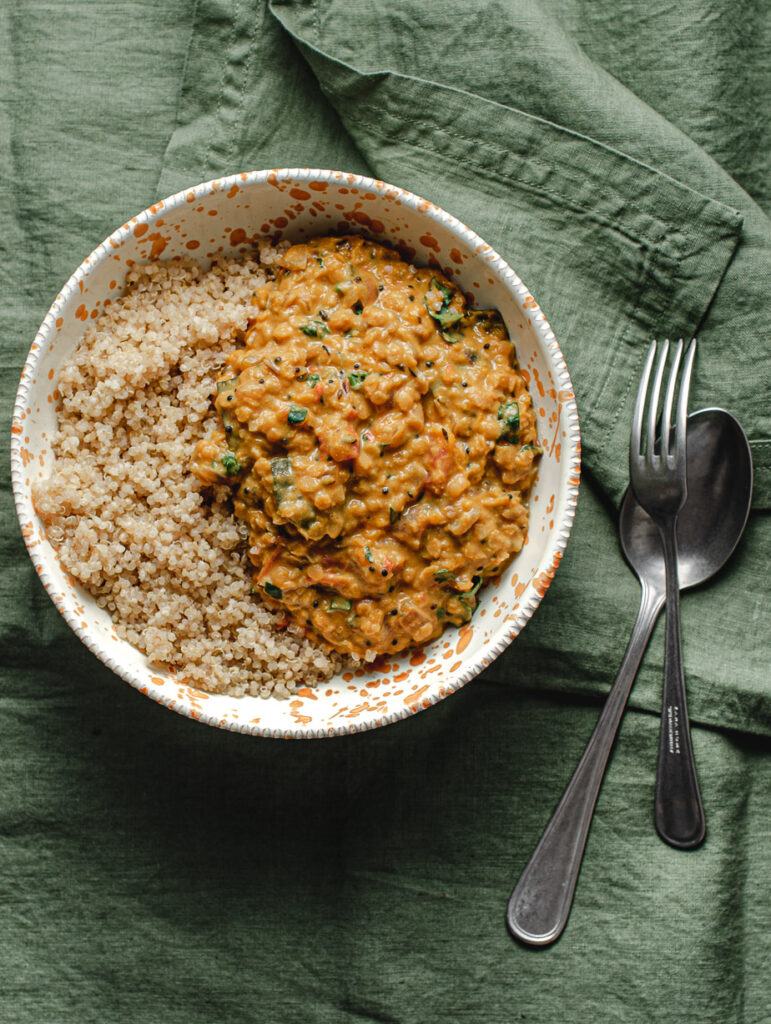 This butternut squash dahl could be one of the best dahls I've ever had. Hands down. 
I know that's a bold statement…and I wrote the recipe, so I squirm a bit even writing this but gosh it's true! It's delicious. Impressive. Easy. It has that "can you give me the recipe" effect.
It's from Plant-Based Delicious, my new cookbook.
So, here's the low down on book promotion. You get to pick which recipes you want to use for promo, social media, and sharing. 
And it's a hard decision. 
Because a cookbook, in my mind, is a whole. It's like Beyoncé's Renaissance. One song, sure great! But listen to the whole album and you get an entirely different experience. It's a vibe.
Clarification – I'm not comparing myself to Beyoncé (did I mention I was gifted tix to see her this summer….ohmagod). But I am saying that Plant-Based Delicious, in its entirety, brings you on a whole food journey and each recipe has its role. 
In the end, you have a cookbook that will change how you think about healthy, plant-based cooking and cuisine. I hope!
I believe it will inspire you to stand up and break out the apron and get your groove on in the kitchen (I totally encourage listening to Beyoncé while doing this!).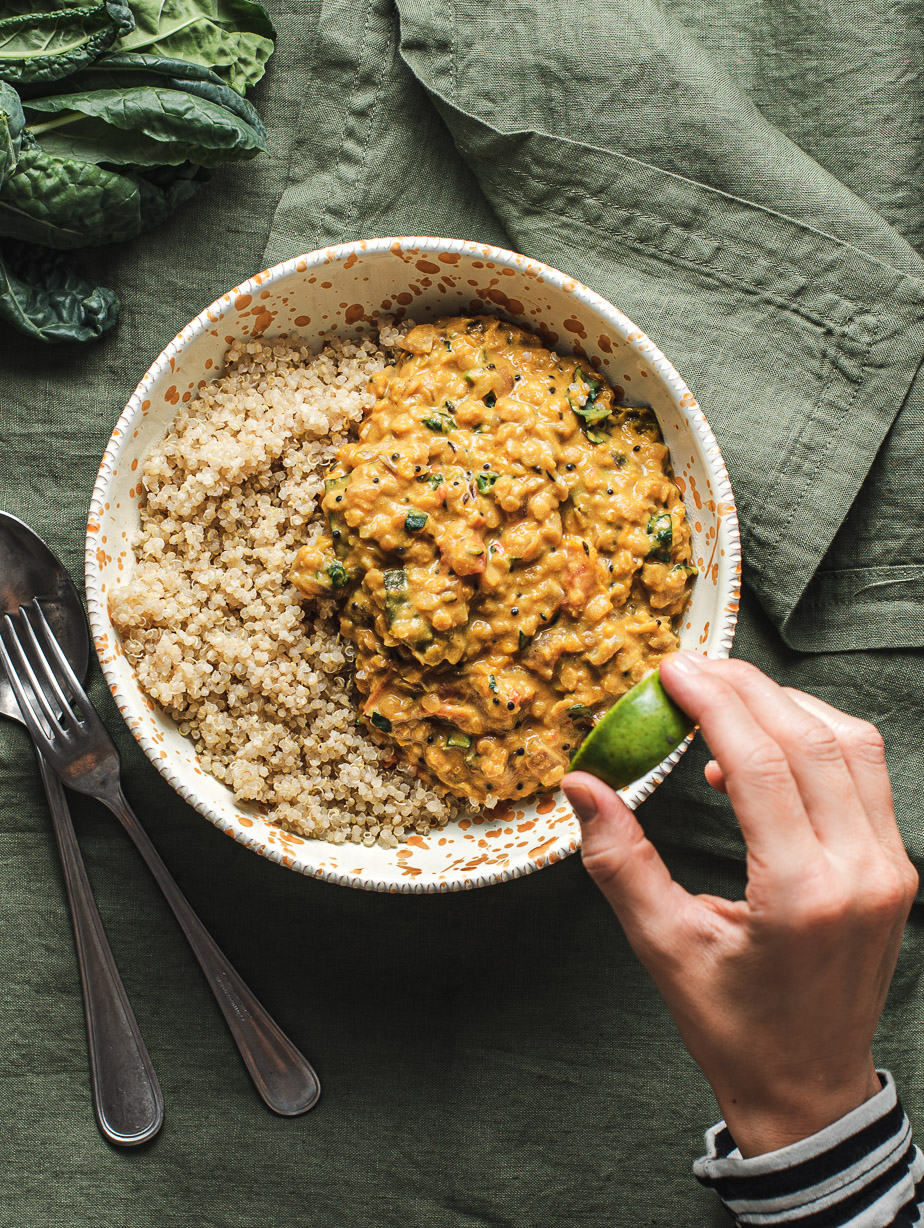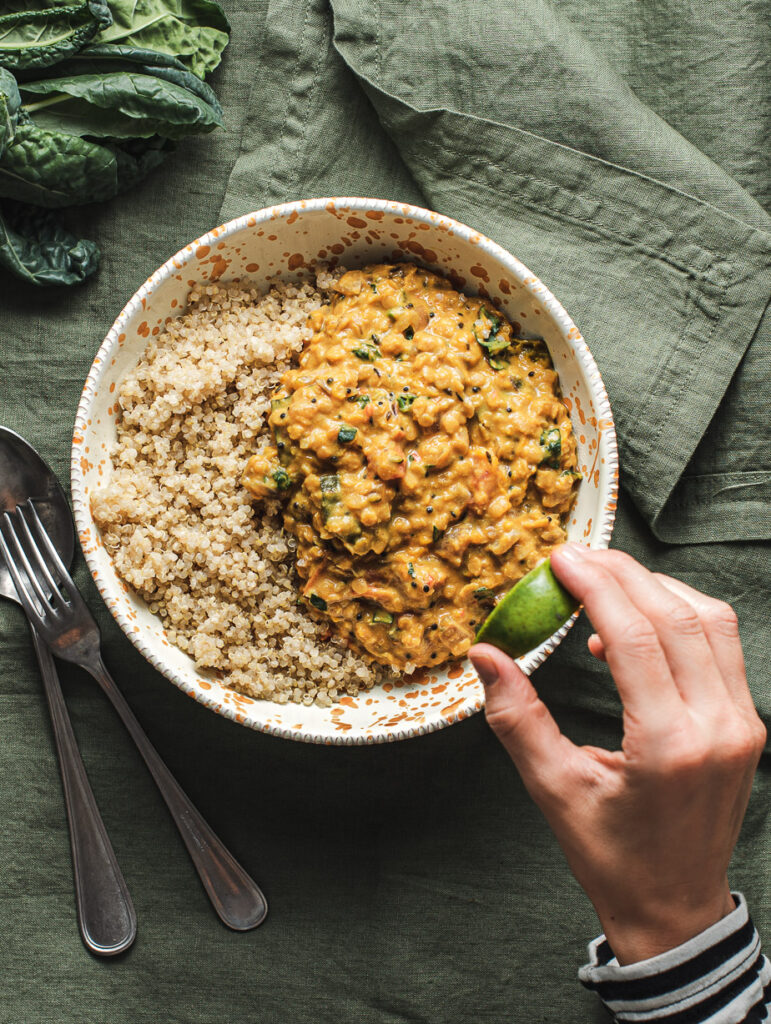 Butternut Squash Dahl and 
Picking Your Favourite Recipe Baby! 
Naturally, I struggled to pick recipes for promotion. It's like choosing your favourite child (not actually but you get it) while at the same time shining a spotlight on a small portion of your work to represent your entire catalogue. 
The truth is I have a varied audience even within this small plant-based corner of the culinary world. 
Some of you are like me and have autoimmune disease and want to learn how to cook and eat to help support your health, whatever it takes. 
Some of you are busy moms (also like me) trying to feed your family more health-supportive meals and want easy, one-pot, 30-minute meals (also me!). 
Some of you are seasoned plant-based home cooks and are craving more elevated, health-forward cuisine that can impress and add some excitement to the dinner table. Me, me, me!
And since the book is ultimately a reflection of me and where I am in life, I put all this in there.
When every marketing blog post and guru was telling me to hone in and "niche down" I just couldn't!
Because ultimately I think you're like me in that way too….you're a little bit of everything and need variety and want options.
So I put it all in there:
Anti-inflammatory meals that offer peace of mind and nutrients!
Easy 1-pot and pan meals that feed the family (secretly) super-duper healthy food.
Beautiful gourmet meals that you'll be proud to serve to anyone, vegan or not. 
While pondering which babies I'd pick, it occurred to me that this Butternut Squash Dahl with Cashew Milk and Kale checked every box! 
It's…
a healing meal that offers tons of plant-based protein and anti-inflammatory nutrients.
straight forward to make and can easily be added to the weeknight rotation. 
gorgeous, a little dignified and can be served to dinner guests or served as part of a fancy night in. 
Here's how to make this recipe!
With confidence and pride I can say that I love this dahl and I think you will too! 
Not only did I want to give you an early bird look into my cookbook but I also want to help you cook it! Cook along with me in the video above.  
I chat about all kinds of stuff plant-based, how this book is different from my first, and of course give you a peek into my own kitchen.
The only things I prepared before hitting the record button are soaking the cashews (I talk about how this is optional), dicing the onion, and peeled and chopping the squash (you'll see more on why in the video). You can do these things too and then cook along with me!
Dahl, also called dal, is a traditional Indian dish made from lentils that have been cooked with various spices and seasonings. It is a popular vegetarian and vegan option due to its high protein content and versatile flavour profile. Here we're using masoor dahl or split red lentils.
In terms of health benefits, dahl is a great source of plant-based protein and fibre, which can aid in digestion and help maintain a healthy weight. Lentils are also rich in iron, folate, and other essential vitamins and minerals, making it a nutrient-dense food choice. 
You can purchase split red lentils in most grocery stores now and if you can't find any, check out your local bulk food store or shop online. My favorite brand is Bob's Red Mill but any will do!
Your Grocery list for this recipe
Whole black mustard seeds
Whole cumin seeds
Red onion
Sea salt
Garlic
Ground coriander
Ground turmeric
Red pepper flakes
Ground cardamom
Black pepper
Butternut squash
Dried split red lentils
Canned diced tomatoes (1 x 15 ounce can)
Low-sodium vegetable stock (or water)
Raw cashews
Kale
Lime 
Quinoa or brown rice (optional)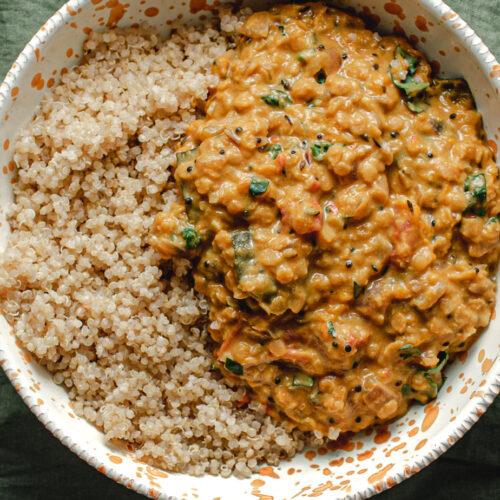 Butternut Squash Dahl with Cashew Milk and Kale
This dahl is from Plant-Based Delicious! My new cookbook all about making healthy taste delicious. It's easy, elegant, and absolutely delicious!
Ingredients
1

tbsp

(11 g) whole black mustard seeds

1

tbsp

(6 g) whole cumin seeds

1

red onion

diced

½

tsp

sea salt

3

cloves

garlic

minced

1

tsp

ground coriander

1

tsp

ground turmeric

¼

tsp

red pepper flakes

or to your preference

⅛

tsp

ground cardamom

Several grinds of black pepper

3

cups

(400 g) cut butternut squash, peeled, seeded and cut into 1˝ (2.5-cm) chunks

(see notes for sub)

1

cup

(190 g) dried split red lentils

1

(15-oz [425-g]) can diced tomatoes

3 ½

cups

(830 ml) low-sodium vegetable stock, divided

(or water)

½

cup

(70 g) raw cashews, soaked in hot water for 1 to 3 hours

1

cup

(67 g) finely chopped kale (optional)

Juice of ½ lime
FOR SERVING (OPTIONAL)
Cooked brown rice

quinoa or millet
Instructions
In a heavy-bottomed soup pot, toast the mustard seeds and cumin over low to medium heat for 2 minutes, or until fragrant and they start to pop.

Add the onion, salt and ¼ cup (60 ml) of water (it will sizzle and spit), and sauté for 7 to 10 minutes, or until the onion is translucent. Add more water, as needed, to prevent burning.

Add the garlic, coriander, turmeric, red pepper flakes, cardamom and black pepper and cook for another 30 seconds. Add the squash and stir to coat in the spices.

Now, pour in the red lentils, diced tomatoes and 2½ cups (590 ml) of the vegetable stock. Bring to a boil. Once boiling, turn the heat to low, partially cover and simmer over low to medium heat for 25 minutes, or until the squash is falling apart and the lentils are very tender, even disintegrating into the broth.

Meanwhile, pour the remaining cup (240 ml) of vegetable stock into a blender. Drain the cashews, discarding the soaking liquid, add to the blender and blend until completely smooth.

Once the lentils and squash are cooked, remove the cover and pour in the veggie cashew milk. Add the kale (if using). Simmer over low heat for another 2 to 3 minutes, or until thickened and the kale is bright green. Add the lime juice, then taste and reseason with salt and pepper, as needed. Spoon into bowls and serve on its own or with just-cooked whole grains.
Notes
If you don't have butternut squash, you can use an equal amount of peeled sweet potato or other winter squash.