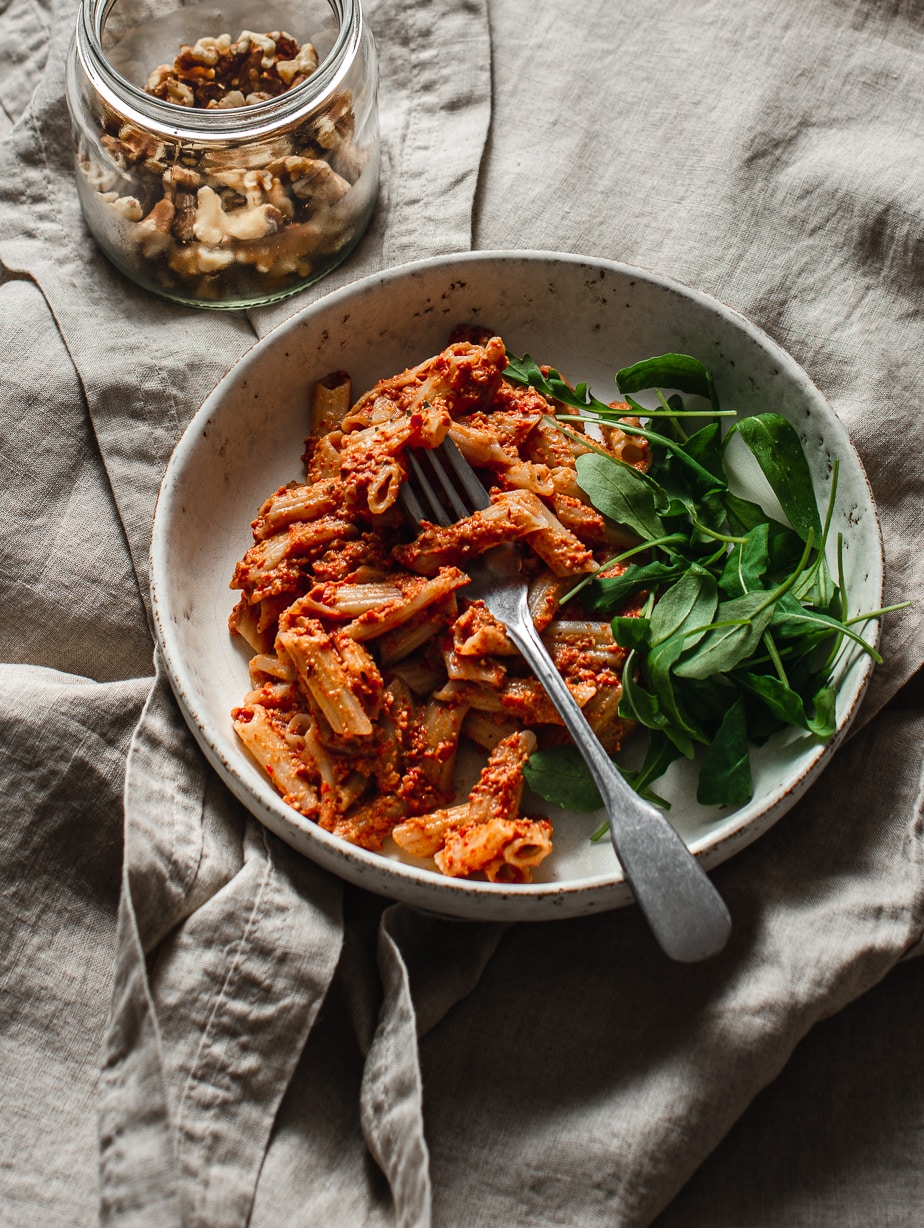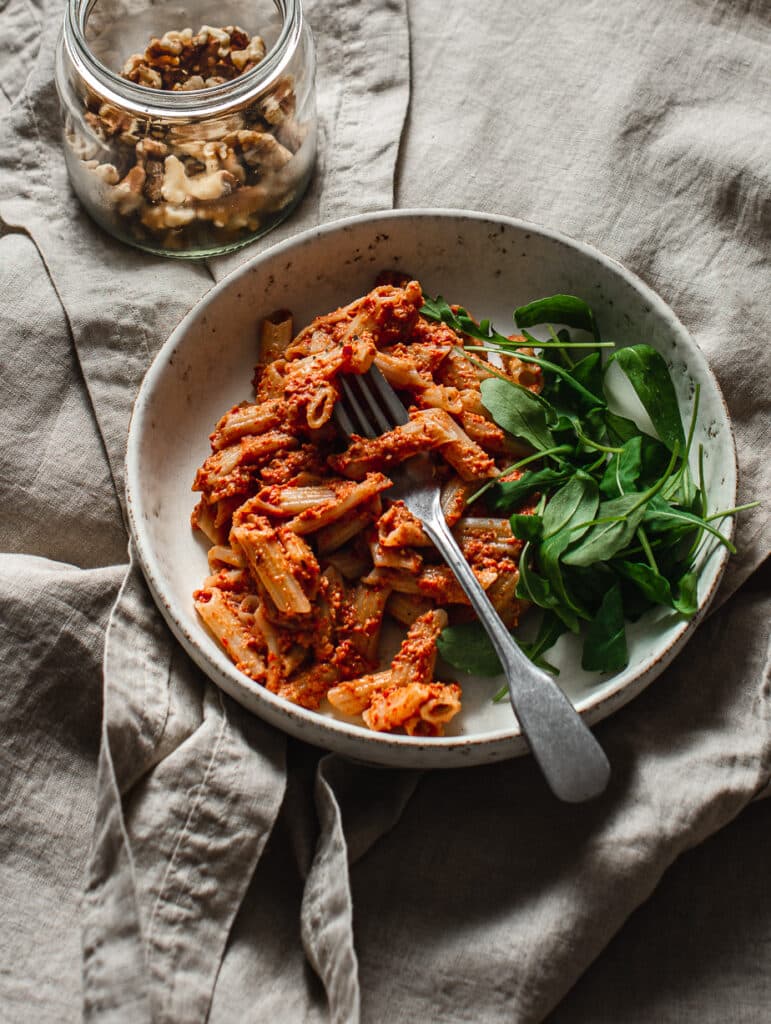 I'll be the first to say that pasta never existed in my "healthy food" rolodex.  It was a pleasure food with no nutrition (I assumed) – a food I ate occasionally and with restraint. As I sat down to a big bowl of this roasted tomato and walnut bolognese, I remembered how I might have felt about this delicious meal 15 years ago.
And with that I smiled and shovelled a big saucy fork full into my mouth.
My thought process on certain foods back then was complex – the result of incessant grooming about what a healthy woman should eat and a lack of knowledge about how to prepare meals that were tasty and good for me.
I've since rejected the former (wholeheartedly) and embraced the later and now turning my favourite foods into nutritional powerhouse meals that support my health is my absolute favourite thing to do. Because with the right ingredients, anything is possible in the kitchen.
Let me clarify my position. I believe there are no "good" and "bad" foods but living with MS has helped me see food as more than a human habit assigned to satisfy and entertain. Food is so so so much more.
It can delight (1000% YES) while also healing, nourishing, and fuelling.
This was the inspiration behind Plant-Based Delicious, my second and latest cookbook (for pre-order now!). It's a message and truth I live daily. Because I am as serious as it gets about my health and as passionate about delicious recipes as any foodie! I don't mess around with my dinner.
I must love it, and I'd like for it to love me back too. It's possible!
This pasta is proof of that! It's an easy recipe from the bonus e-cookbook you get when you pre-order Plant-Based Delicious.
The bonus recipes aren't leftovers that didn't live up to my standard. Rather they're favourites that were left on the cutting room floor when I had far exceeded my word count. I picked those recipes babies up and had plans on giving them the spotlight in the next cookbook (OMG next book already…girl relax) but they were so connected and consistent with the healthy-delicious theme of Plant-Based Delicious that I decided to wrap them up into this bonus bundle.
You get the bonus e-cookbook by uploading your receipt here I also show you this in the video below. Pre-order bonus ends June 12!
And this pasta recipe is sooo damn good. It's gimme-two-bowls good. In other words, you'll have ZERO leftovers.
The zesty tomato sauce is made without any canned tomatoes. Instead, we roast cherry tomatoes until they've collapsed and are caramelized and we blitz them together with brain-healthy, anti-inflammatory walnuts along with some other pantry seasonings to make a 5-star sauce.
No pots, sputtering, or reducing necessary. YESSS!
It's a brilliant act of culinary wizardry that results in a nutrient-rich, whole food pasta sauce that's finger-licking amazing.
I've tossed this sauce with lentil pasta (I love this brand) to add a good dose of plant-based protein and I served it with a light handful of baby arugula. Enjoy!
Step by Step Summary for Roasted Tomato and Walnut Bolognese
There are 3 steps to this recipe. Roast, process, boil.
1. Roast: First you preheat the oven and spread the tomatoes out on the pan and bake until the tomatoes are browned and sizzling.
2. Process: When the tomatoes are done, place them, the walnuts and all the remaining bolognese ingredients in a food processor. Pulse and process until thick and no walnuts remain whole (I like to leave a little texture).
3. Boil: Bring a large pot of salted water to a boil. Add the pasta and cook according to directions for al dente. Drain and return to the pot and add as much of the Bolognese as you want and mix.
Tada!
Here's how to make this recipe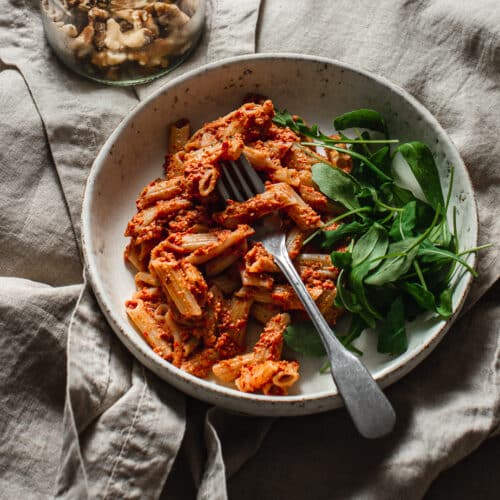 Roasted Tomato and Walnut Bolognese
This is anti-inflammatory pasta that will make you rethink how to make a pasta sauce! It's healthy, flavorful, and easy to make! Saoking the walnuts is optional but can help with processing and digestion.
Ingredients
BOLOGNESE
4

cups

(600 g) cherry tomatoes

1

cup

(100 g) walnuts, optional to soak for 4 to 6 hours

2

tablespoons

(8 g) nutritional yeast

2

tablespoons

(30 ml) fresh lemon juice

1

tablespoon

(15 ml )balsamic vinegar

2

garlic cloves

minced

½

teaspoon

dried thyme

¼

teaspoon

onion powder

½

teaspoon

sea salt

or to taste

Black pepper

to taste
PASTA
12

ounces

(340 g) dry brown rice, quinoa, or lentil penne or fusilli
Instructions
Preheat the oven to 425ºF and line a large baking sheet with parchment paper. Spread the tomatoes out on the pan and bake in the oven for 40 minutes or until the tomatoes are browned and sizzling.

If you've soaked the walnuts, drain them, and discard the soaking water. Place the walnuts and roasted tomatoes (and any juices left on the pan) and all the remaining Bolognese ingredients in a food processor. Pulse a few times to combine and then process until a thick, but not completely smooth, texture is achieved. Set aside.

Bring a large pot of salted water to a boil. Add the pasta and cook according to directions for al dente. Reserve ¼ cup of the pasta water then drain the pasta well and return to the pot.

Add as much of the Bolognese as you want and toss. If you like it saucy, add all of it. Pour in a little cooking water if needed to loosen the pasta. Taste and reseason with salt and pepper and divide among bowls.
Your grocery list for this recipe
cherry tomatoes
walnuts
nutritional yeast
fresh lemon juice
balsamic vinegar
garlic cloves
dried thyme
onion powder
sea salt
black pepper
spiralled pasta (legume, brown rice, whole wheat)
 Nutritional Highlights
Roasted Cherry Tomatoes:
• Cherry tomatoes are a great source of vitamins A and C, which are antioxidants that help protect cells from damage and oxidative stress.
• They also contain potassium, which is important for maintaining healthy blood pressure and heart function.
• Roasting cherry tomatoes gets you bonus points because it can increase the bioavailability of lycopene – an antioxidant found in tomatoes that has been associated with a lower risk of certain types of cancer and improved heart health.
Walnuts:
• Walnuts are a good source of plant-based protein and healthy anti-inflammatory essential fats, I'm talking about the crucial omega-3 fatty acids.
• They also contain fiber, which can help with digestion and promote feelings of fullness.
• Walnuts are rich in antioxidants, which may help reduce inflammation and improve heart health.
Lentil Pasta:
• Lentil pasta is a good source of plant-based protein and fiber which also can help with digestion and promote feelings of fullness.
• It is also gluten-free which is beneficial for people with gluten intolerances and, of course, celiac disease.
• Lentil pasta contains several important vitamins and minerals, including iron, magnesium, and folate, which are essential for maintaining healthy blood cells, bones, and brain function.
Leftovers 
These leftovers (if you have any) don't reheat very well. The pasta will dry out and be a little blah. 
Here's how I suggest planning for leftovers: only add sauce to as much pasta as you plan to eat and keep the remaining bolognese and pasta in separate containers in the fridge.  
When you're ready to chow down, transfer your pasta to a heatproof bowl. Boil the kettle and pour the hot water over your pasta and let it sit for 5 minutes or so. This warms and rehydrates the pasta. Then heat the tomato sauce in a small pot. Drain the pasta and toss with the warmed sauce.
Additions
You can spin this roasted tomato and walnut bolognese in many ways. I encourage you to put your chef hat on and get creative. Here are some suggestions:
Olives – a little extra saltiness gives this pasta another layer of yum and a more sophisticated flavour profile.
Baby spinach – You know how I feel about greens. Add them to everything and anything and whenever you can. Add one or two handfuls of spinach to the boiling pasta water 30 seconds before you drain the pasta. It will wilt quickly and play nicely with all the other ingredients.  
Arugula – More greens but here I suggest tossing the arugula with the pasta after it's sauced so it's warmed but not totally wilted. The peppery taste works well with the caramelized tomatoes.  
Chickpeas – If you want to use a brown rice or whole wheat pasta, feel free to add a handful of already cooked or canned chickpeas to the pasta while it's cooking. This is an easy way to get some extra essential amino acids.
Substitutions
Pasta: 
You can use whatever pasta variety you like in this recipe. Whatever floats your boat. I personally love red lentil pasta. Its nutritional profile is impressive (all that protein) without losing that carb-y pasta texture. Some legume pastas have a disappointing bite (green pea pasta – not my fav) but this one is a winner in my books.  I also love a spiralled pasta for textured sauces like this roasted tomato and walnut bolognese because it easily catches in all the curves and grooves. 
Nuts: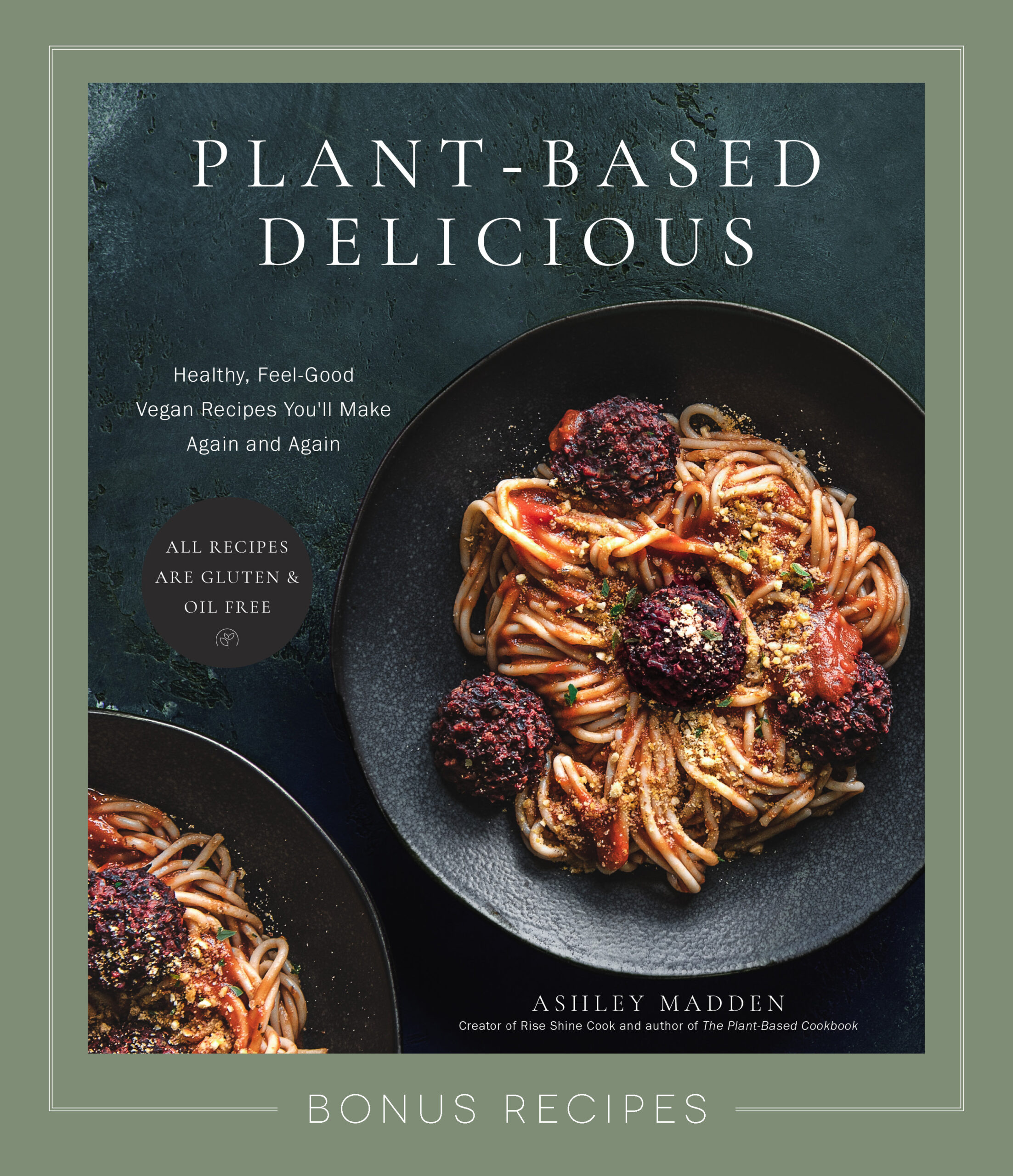 Get the bonus e-cookbook (with 5 additonal recipes) if you pre-order by June 12, 2023.