Make a big salad for dinner
I am serious about salads. I made this vegan chopped salad with no intention of sharing it. I posted a picture of "my big ass dinner salad" on Instagram (because it was pretty and most of my unplanned meals are a mess of veggies – aka not pretty) and I got a bunch of question about it – especially the dressing.
So I was inspired to share a few ideas (more like 25) about salads and the how-to. I'm going to get right to it.
1. Salads are a blank canvas. 
The possibilities are endless. Today's salads are not the bland, boring, sad salads most of us grew up with. Experiment!
2. Salads aren't just for lunch. 
Make a big ass salad for dinner. Often.
3. Mind the dressing. 
Scrutinize it. Get out your reading glasses. This is where a lot of the crap lies! Hydrogenated vegetable oils, high fructose corn syrup, artificial everything. 
4. Bring the veg to room temperature. 
Biting into a cold salad doesn't feel nice and the flavours won't come through. Let the veggies chill on the counter for 20 to 30 minutes before chopping. 
5. Check the salad to chopped ratio. 
I like to have more "stuff" than lettuce. By stuff I mean chopped veg, nuts, seeds, grains, beans, hummus, or other delicious bits. Salads aren't about the lettuce!
6. Seasoning. 
Season a salad with salt and pepper the same way you might a soup or entrée. A bit of both will elevate all the flavors!
7. Swap the greens. 
If you always buy romaine lettuce, try spinach. If you always buy spinach, try arugula. If you always buy arugula, try baby greens. If you always buy baby greens, buy kale. You get it. This adds variety in taste and nutrition.
8. Cook it. 
Salads with cooked components are mm mmm delish! Roast some cauliflower or bell peppers or sweet potato and toss them in (hot or room temperature). And if you're someone who has trouble digesting raw vegetables, you can make all your salad components cooked. Roast, steam, or lightly sauté with water. 
9. Fat is good. 
A salad will benefit from a little fat. You can add it in the form of a nut or seed-based dressing or some avocado. This will make you want to eat the salad (very important) but, equally important, we need fat to absorb those fat-soluble vitamins (vitamins A,D,E, K) from all the colorful produce. I'll say it again – whole food fat is good. We smother this vegan chopped salad with a creamy, dreamy cashew dressing!
10. Dress before serving, 
…right before. Most salad greens are more delicate than hearty (the exception being kale) and adding the dressing more than 5 to 10 minutes before will soften your greens and make them soggy.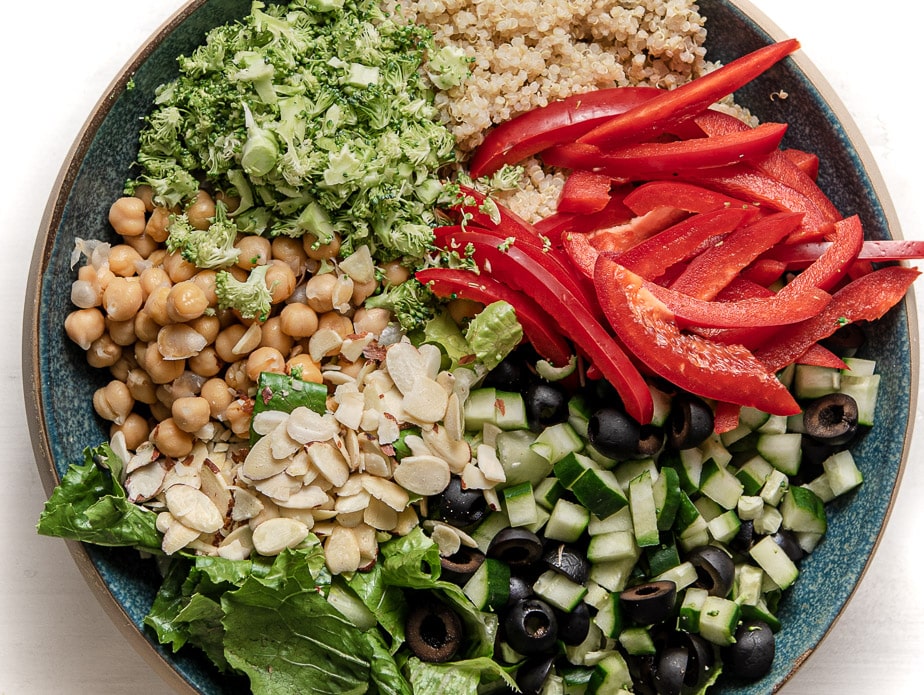 11. Ignore #7! 
Your salad doesn't need greens! It can be grain, bean, or other veg-based. 
12. In contrast to #10 
…if your salad is grain and bean based (see #11) add the dressing in advance to let the grains or beans marinate. 
13. Double batch. 
I always make a double batch of dressing. It doesn't require extra work and you'll have leftovers to add to steamed vegetables, cooked grains, or your next salad. Make once, eat twice! For this vegan chopped salad you might not need to double the dressing, it makes about 1.5 cups!
14. Chop small. 
If you like big chunks of vegetables, awesome. I don't. I find salads with finely diced, thinly sliced and even shredded components much more enjoyable. This vegan chopped salad has small chopped everything but the bell pepper for some contrast.
15. Add hummus. 
If you have hummus in your fridge, toss a big spoonful into your salad. It will mix with the dressing and do a little creamy dance. I've never regretted this addition. It can be the main protein in the salad too!
16. Triple wash. 
Wash your greens three times. Pain in the butt but worth it. Add the greens to a big bowl of water. Swish them around and drain. Repeat twice more, then spin the greens dry. 
17. As per #16 make sure the greens are dry. 
Water will dilute the dressing and keep any fat from coating the leaves. Water hates fat.
18. Add colour. 
A wimpy, nothing-to-it salad is not a great salad. And if there's nothing to it, then it doesn't have a whole lot of nutrients. Nutrients=healthy. Put stuff in the salad. Preferably colorful stuff. I could have added a pop or purple or orange to this vegan chopped salad for sure!
19. Not all salads are nutritious, 
…or blocked with superfoods, or good for your heart, or your bum.  
20. How do you know when a salad is good for you? 
Generally speaking, it's free of fried ingredients, red meat, cheese. Not dripping in oil. Not wilted. Full of color and fresh whole foods.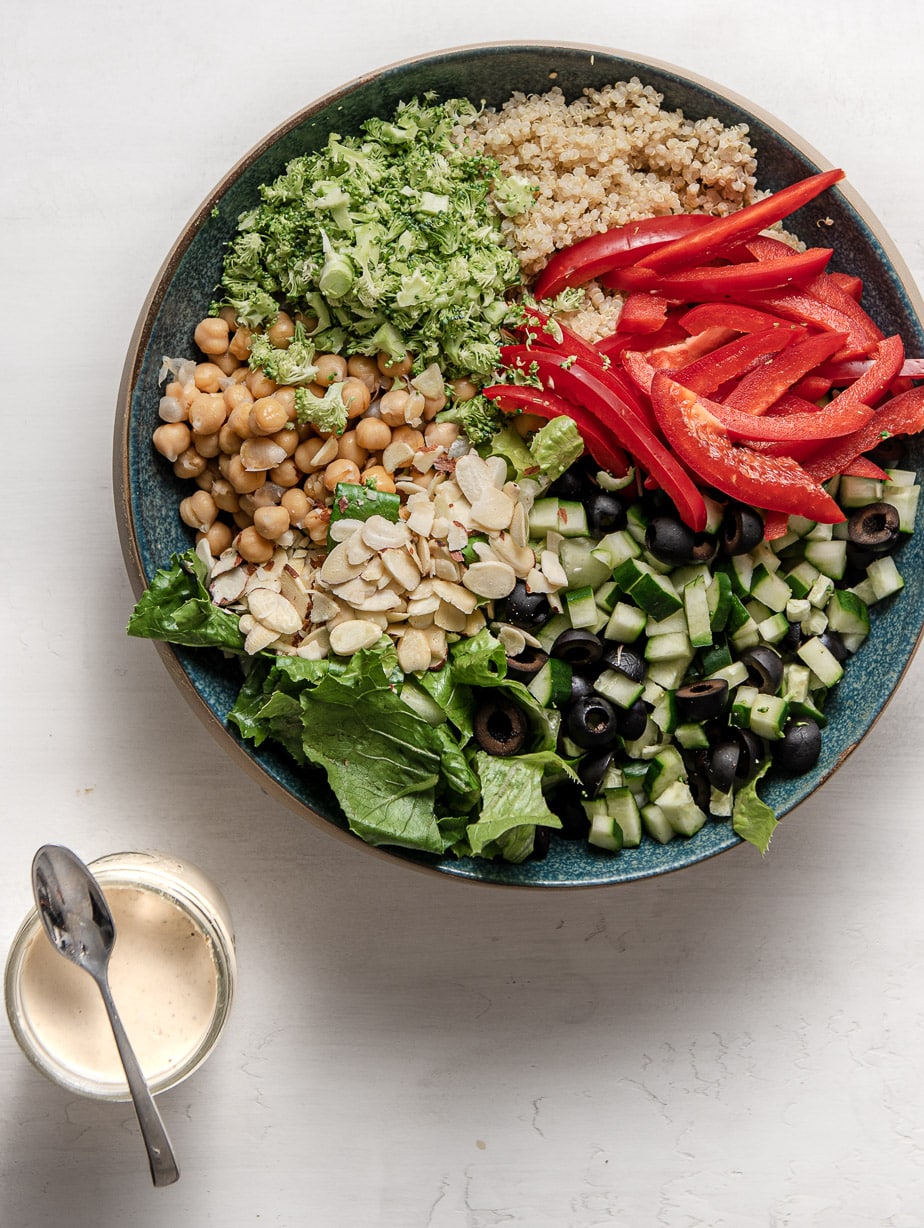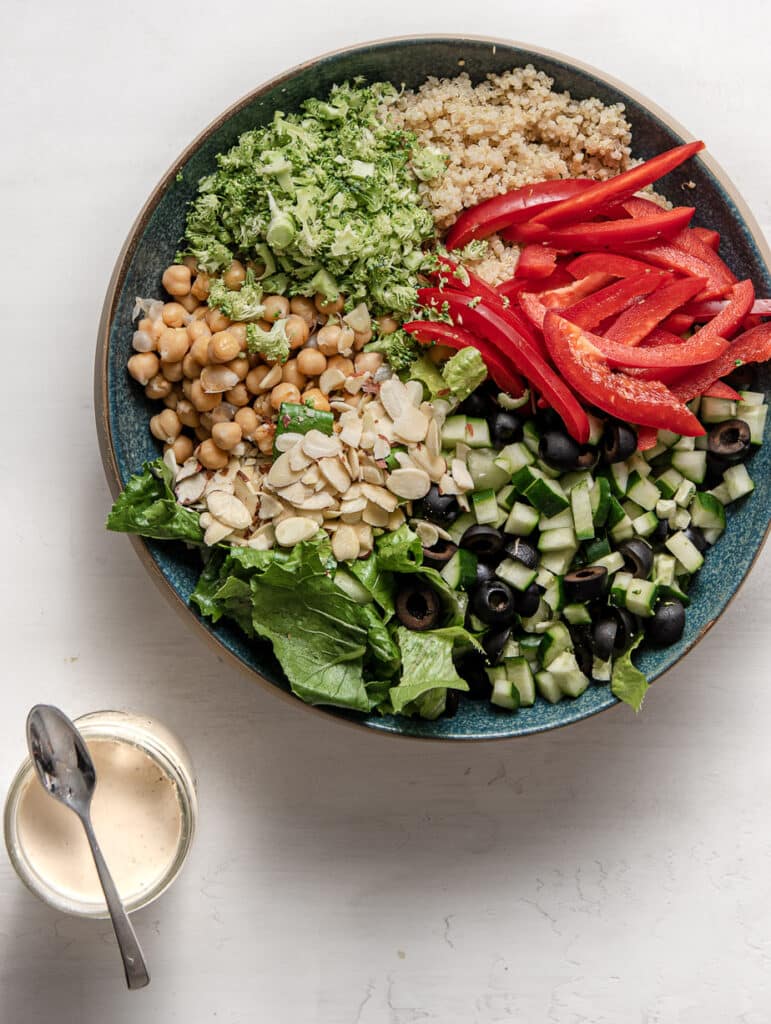 21. Add at least one cruciferous veggie. 
This is a personal guideline because this veg group ( which also contains kale, cauliflower, bok choy, cabbage) offers compounds that contain sulfurophane may help to reduce the risk of cancer and improve heart health. 
22. There is nothing wrong with asking for the dressing on the side.
23. Deconstruct. 
Sometimes it's fun to present a salad not mixed but arranged in sections. Switch it up. 
24. Add texture. 
All veggie salads can be yummy but your best bet for satisfaction is layering texture – buttery beans, crunchy seeds, crips veg, chewy whole grains. 
25. Make your own dressing!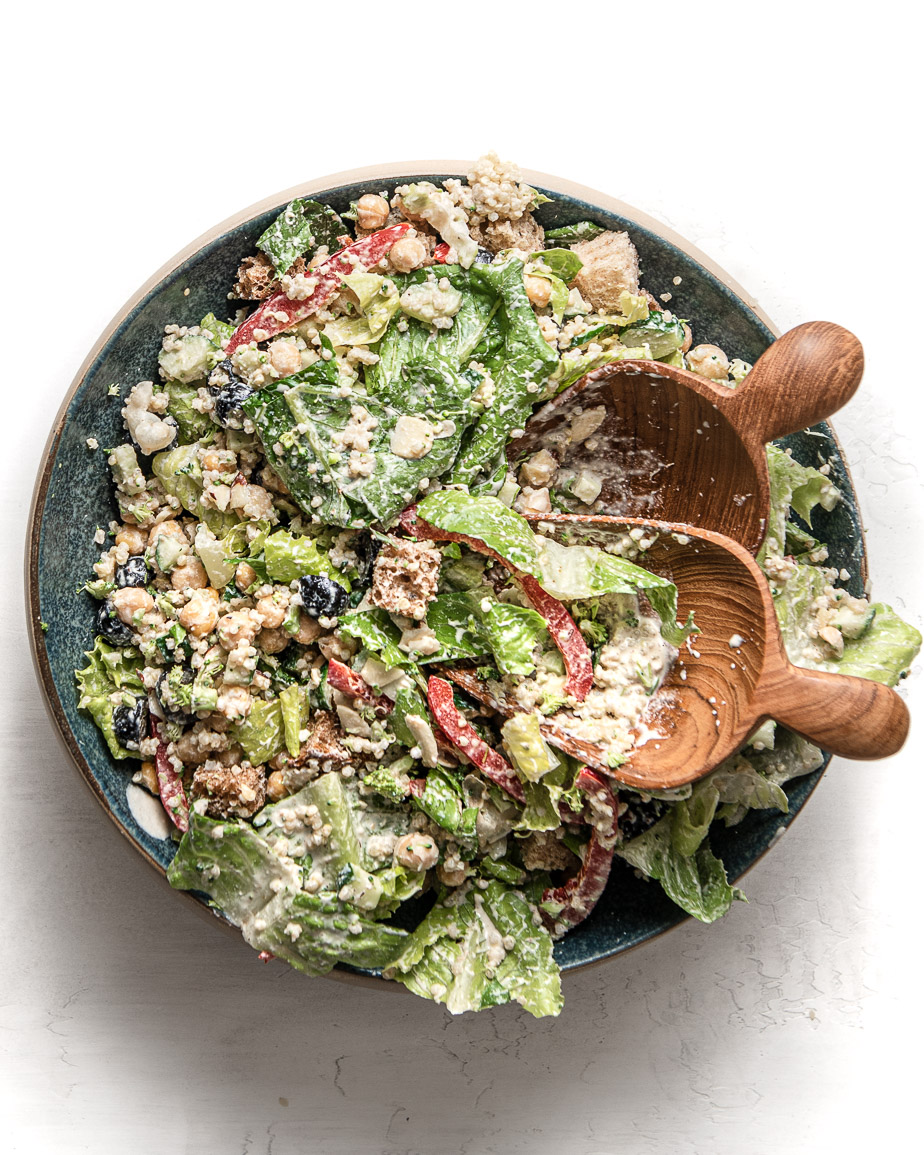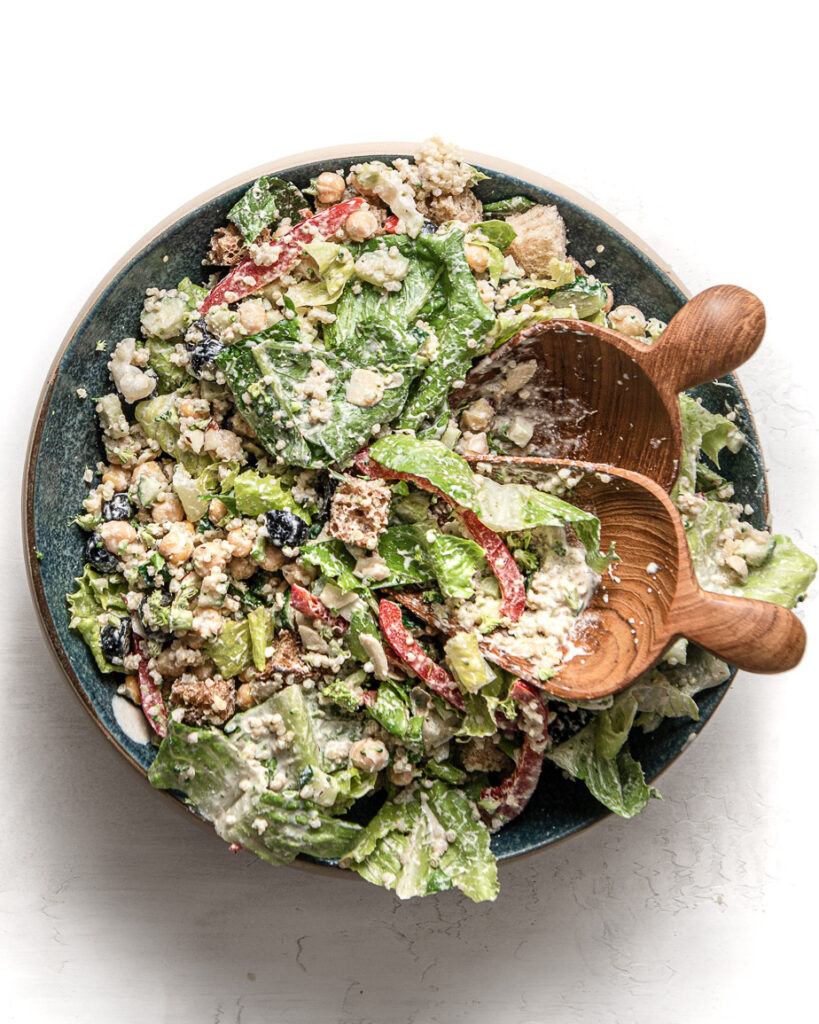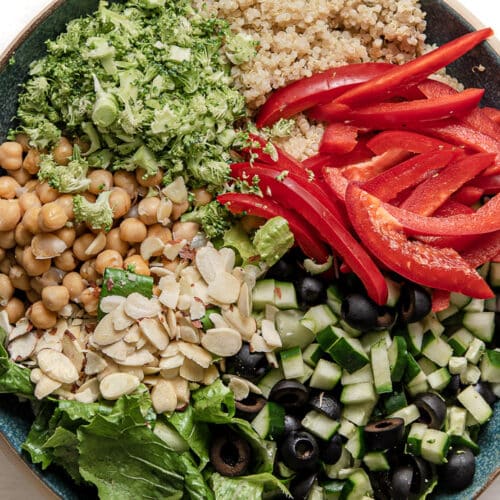 This is nutrient-dense, dinner sized salad with a delicious, creamy oil-free dressing! This makes 2 large salads or 4 small.
Equipment
BLENDER

(for the dressing)
Ingredients
Creamy Cashew Dressing
1

cup

(140 g) cashews, soaked in hot water for 1 to 3 hours (soaking optional)

¼

cup

(60 ml) fresh lemon juice

3

garlic cloves

crushed and peeled

2

teaspoons

(10 ml) maple syrup (optional)

1

rounded tablespoon

9 g capers

2

teaspoons

(8 g) Dijon mustard

2

teaspoons

(10 g) white miso

Few grinds black pepper

Sea salt to taste

½

cup

(118 ml) water, plus more if needed to thin

¼ to ½

teaspoon

ground turmeric

optional

Pinch

red pepper flakes

optional
Salad
1

medium head romaine lettuce

washed, spun dry, and chopped

1

cup

(185 g) cooked and cooled white quinoa

1

cup

(240 g )cooked or canned chickpeas or black beans, drained and rinsed

1

bell pepper

any colour, stem and core removed, thinly sliced

Large handful of broccoli florets

finely chopped

½

English cucumber

diced small or thinly sliced

½

cup

(50 g) pitted black or green olives, halved or left whole

¼

cup

(22 g) sliced almonds or pumpkin seeds

Salt and pepper to taste

Optional additions: chopped avocado

capers, cherry tomatoes, roasted red peppers
Instructions
Drain the cashews (if you soaked them) and discard the soaking liquid. Place them in a blender with all the other dressing ingredients. Blend on high until completely smooth. Some of the flavorful bits might get stuck on the sides of the blender. Scrape down the sides and blend again. Taste the dressing and reseason with salt or pepper as needed.

Add all the salad ingredients to a big salad bowl. You can layer them in any order or arrange them in sections for some eye candy. Pour half the dressing over everything and toss to combine. Make sure all the lettuce is coated. Add more dressing if desired. Taste and season with salt and /or pepper and serve.
About the dressing
This creamy cashew-based dressing is reminiscent of a cashew Caesar dressing. It's so easy to make. Everything goes into the blender all at once and you blend on high until smooth. Pour it into a glass jar and keep it in the fridge for up to a week.
Other ideas for the dressing
Mash it with some chickpeas and minced red onion and serve it like a chickpea salad wrap or sandwich.
Use it as vegetable dip for a snack or packed in a lunch.
Toss it with just cooked pasta and steamed broccoli for an easy dinner.
Pour it over baked sweet potatoes.
Use it as a cauliflower wing dip (we do this often!)
Allergies/Intolerances/Substitutions
If you can't have/don't have cashews, use sunflower seeds instead.
If you can't have/don't have quinoa, use cooked and cooled brown rice or millet instead.
If you can't have/don't have beans, use edamame or baked tofu instead.
If you can't have/don't have soy, omit the miso or use chickpea miso instead.
Any other one I haven't covered? Email me!
Nutritional highlights
Where to start. I could easily say everything in this bowl is nutritional power house!
I'll pick my favs: quinoa, chickpeas, broccoli – all super foods meaning they pack a lot of nutritional bang for their calorie buck.
Broccoli is a cruciferous vegetable, my favourite vegetable food group! that is low in calories but high in fibre, vitamins C, K, and A, and other essential nutrients like folate, potassium, and phosphorus. As mentioned above, it also contains sulforaphane, a compound that may help to reduce the risk of cancer and improve heart health.
Quinoa is a naturally gluten-free grain that is high in protein, fibre, and minerals like magnesium, potassium, and iron. It also contains all nine essential amino acids, making it a complete protein source.
Chickpeas, also known as garbanzo beans, are a legume that is rich in fibre, protein, and folate, iron, and phosphorus. All legumes, like chickpeas, are associated with improved digestion, reduced inflammation, and lower cholesterol levels.