Refined but easy! You'll love this Apple Walnut Spinach Salad. If you're having company over, this is your side dish.
Light, nutritious, delicious and interesting – a little crunch from walnuts, a little crisp from apples, a bit of sweet from dried cranberries, and a lot of fresh from vibrant spinach. 
The vinaigrette is made without oil and gives you a tangy finish that pairs perfectly with creamy walnuts.
About This Apple Walnut Spinach Salad
The inspiration for this salad came from a shortage of baby spinach. This seems rather dull but here in Taipei baby spinach (the kind you can buy everywhere in North America) is actually a rare find. 
And to be exact there have been three specific times I have gone to the end of the earth (or perhaps the depths of Taipei) to find it. 
First, for my Strawberry Spinach Salad with White Balsamic in The Plant-Based Cookbook. Where I paid about $10 for maybe 2 cups of spinach (really). 
Second, for the Epic Vegan Quick and Easy Cookbook that I shot earlier this year. This hunt was long and I ended up finding 1 single tiny box of spinach and I made it work!
Third, randomly on a stroll through a fancy grocery store. I spotted the elusive, over-priced baby spinach and I couldn't pass up on the treasure I had found. I bought all the spinach that was there and we had steamed spinach, sautéed spinach, smoothies with spinach, and of course this Apple Walnut Spinach Salad over the course of that week.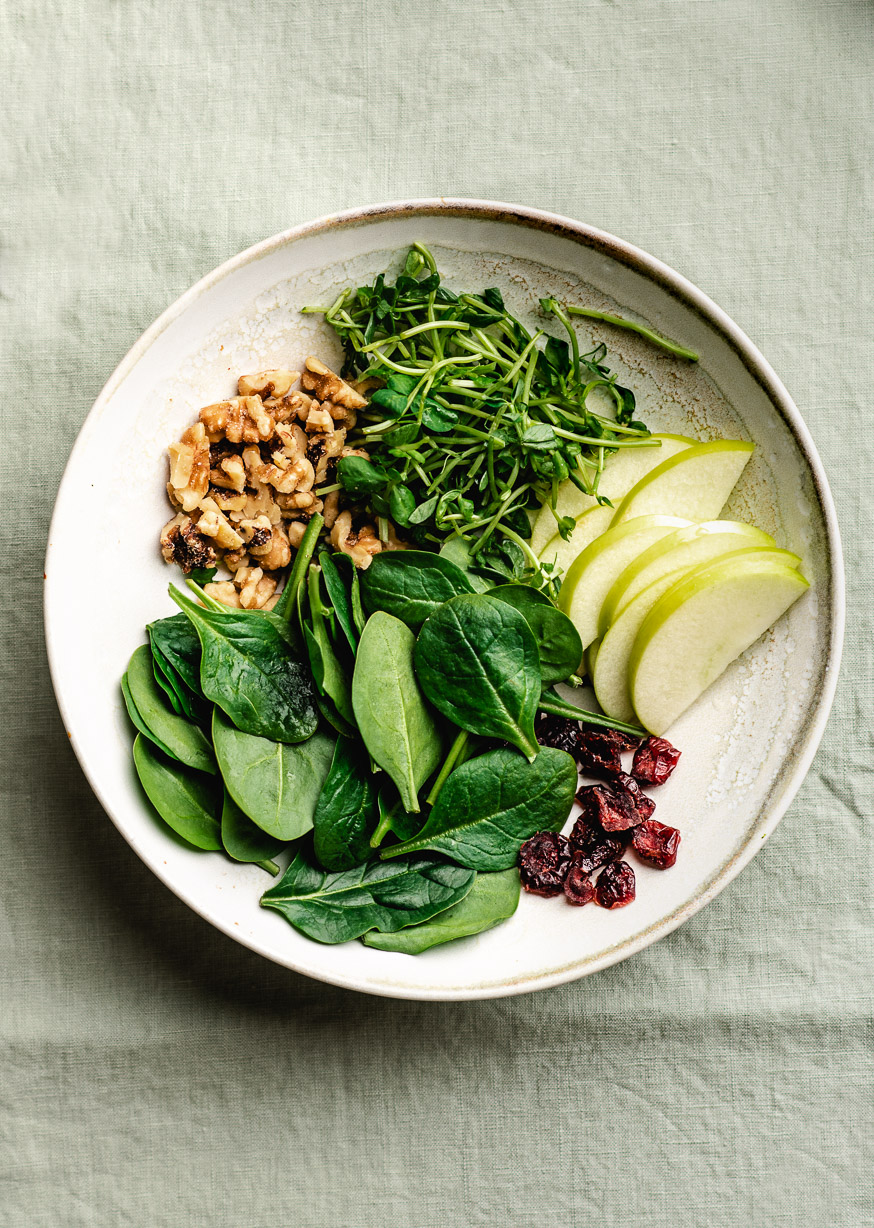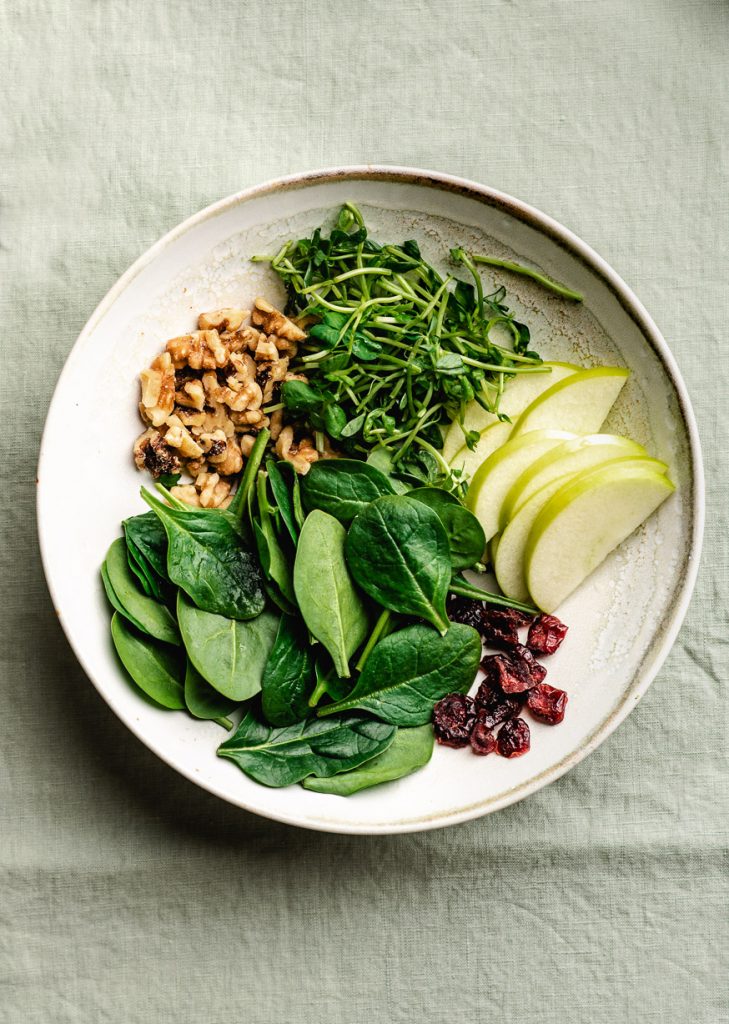 Easy. Peasy.
You add all salad ingredients to a big salad bowl. Toss.
Add all dressing ingredients to a small bowl. Whisk. 
Add the whisked dressing to the tossed salad and toss some more. 
Nothing special! Woop Woop!
Tips, Tricks & How To Simplify
You can make the dressing ahead of time and keep it covered in the fridge. I also suggest doubling the recipe if you're heavy handed with dressings and sauces.
Only dress as much salad as you'll need. Keep and store left over salad and dressing separately and assemble just before eating. 
Leftover dressing can also be drizzled over roasted veggies. 
Spinach – Greens. If you were to add more of one food group to your diet, it should be, hands down, greens. The healing power and phytonutrients in dark leafy greens is astounding. Spinach provides vitamins A and C, iron, magnesium, protein, not to mention a long list of immune-boosting antioxidants that we don't even know the full benefits of yet. 
Eat spinach raw but also cooked as spinach contains a nutrient called oxalic acid which can prevent some nutrients from being absorbed. Cooking spinach improves absorption.
Walnuts – The brainy nut. Literally, it looks like a brain and is good for the brain thanks to its high content of omega-3 fatty acids (walnuts have the most omega-3 essential fatty acids of all nuts). Omega 3 fats are essential in keeping inflammation in check in our bodies but we generally don't get enough. So, include omega-3 rich foods whenever possible! These include ground flaxseeds, dark leafy greens, and hemp seeds. 
I live with someone who hates mixing sweet and savoury. So, if you're also a weirdo (kidding!!!), feel free to skip the dried cranberries and/or apple and instead add thinly sliced red onion, diced bell pepper, sliced cucumber, or even some olives.
You can also toast the walnuts to add more depth of flavor, see the recipe for how-to.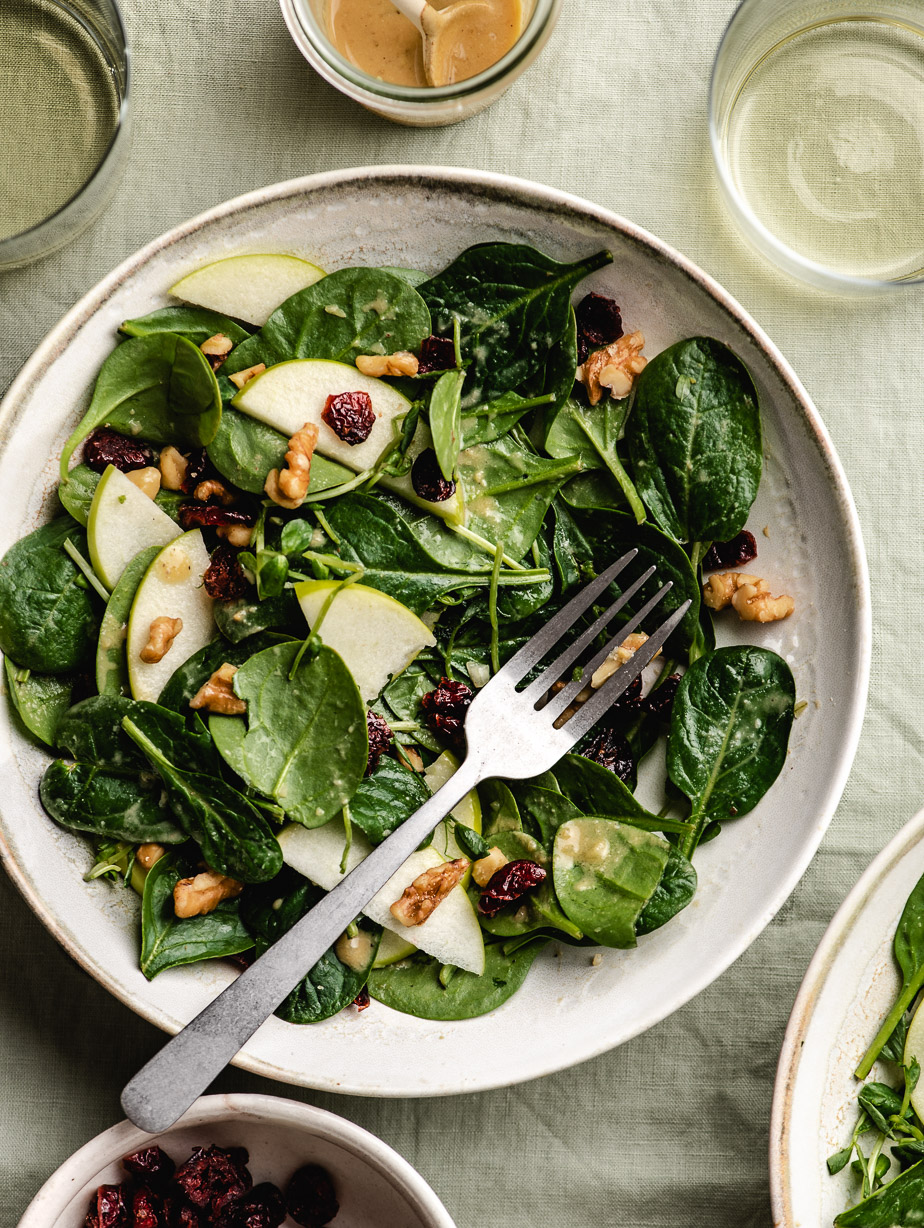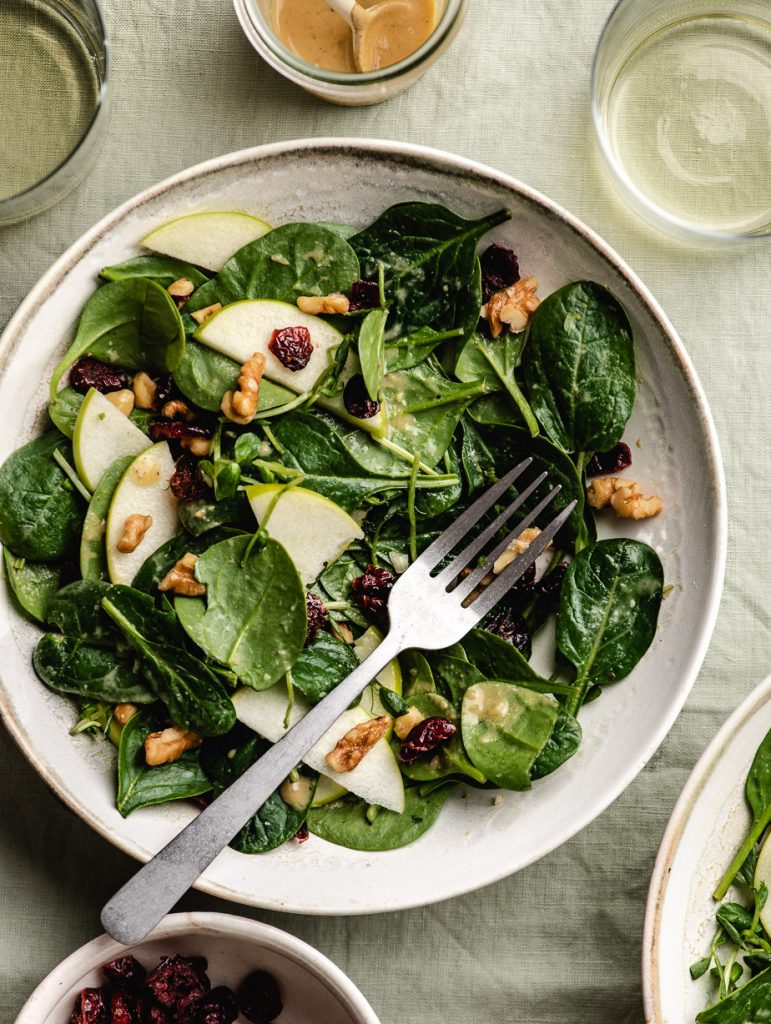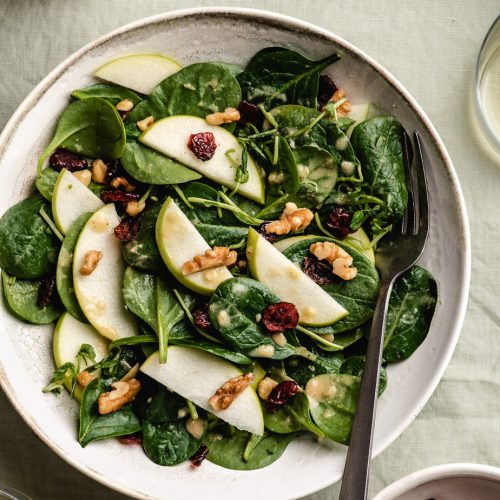 Apple Walnut Spinach Salad & Oil-Free Vinaigrette
Walnuts, apples, cranberries, and fresh baby spinach tossed in a light oil-free dijon vinaigrette. This is an easy side salad that pairs well with any warm grain, pasta, or bean dish. This makes 4 side salads or 2 large salads.
Ingredients
Maple Dijon Vinaigrette
2

tablespoons

creamy Dijon mustard

1

tablespoon

well-stirred tahini

5

tablespoons

apple cider vinegar

2

tablespoons

maple syrup

or to your preference

2

tablespoons

minced shallot or white onion

3

grinds black pepper

¼

teaspoon

sea salt
Salad
5 to 6

cups

loosely packed baby spinach

1

Granny Smith apple

thinly sliced

½

cup

chopped walnuts

, toasted if desired (see notes)

1/3

cup

dried cranberries

Handful sprouts

optional
Instructions
First make the dressing. In a medium-sized bowl (like the size of a soup bowl) whisk together the Dijon mustard and tahini until smooth. Then add the remaining ingredients and whisk together until well combined.

In a salad bowl, add all the salad ingredients in the order listed. Drizzle with half the salad dressing and toss. Add more dressing as is desired and toss again. Divide among plates and serve!
Notes
Variations: Feel free to lightly toast the walnuts by baking them for 6 to 8 minutes in an oven preheated to 350ºF or until golden and fragrant. You can also do this on the stove. Add the walnuts to a skillet and cook over medium heat for a few minutes until fragrant. No matter the method used, watch the walnuts the whole time! They can burn quickly. Once toasted, remove immediately from the oven or the pan and transfer to a plate to cool.