This silky, creamy, addictive Pumpkin Sage Soup will have you licking your bowl! 
About This Vegan Pumpkin Sage Soup
Most pumpkin recipes are inspired by fall when pumpkins and other winter squash are spilling out of bins at farmer's markets and grocery stores. I miss these autumn vibes now that I'm living in Asia!
I dream of brisk mornings, colorful leaves all over the ground, pumpkin spice, lattes, scarves, and deep bowls of stew. And even though I'm not in Canada, my internal clock is still telling me it's time for some pumpkin. 
onions
garlic
pumpkin or winter squash like butternut, kabocha, or red kuri.
fresh sage leaves 
cashews
fresh or dried thyme
vegetable broth
This Pumpkin Sage Soup can be served a few ways – as an appetizer, paired with a light salad for lunch, or with with crusty bread and with added beans or grains for a hearty dinner. I've enjoyed all three!
To make this recipe you simmer all the ingredients in a pot and then, when everything is cooked,  you blend it with some cashews to get a creamy, smooth texture. It's very easy and so delicious!
Soup pot
Blender or immersion blender
Tips, Tricks & How To Simplify
Fresh sage! Fresh sage really makes this recipe shine and if you've never cooked with fresh sage, this is a great chance to try it. The flavor will blow you away!
Soak the cashews (or whichever nut you're using) as this makes for better digestion and a smoother texture. You can skip this step if you have a high-speed blender.
Chop the pumpkin/squash the night before to speed up the process. 
Try using frozen butternut squash.
Pumpkin – Fiber, beta-carotene, b-vitamins, anti-oxidants!
Cashews – Healthy fats to help absorb beta-carotene from the pumpkin. Great source of copper – essential for bones and connective tissues! 
Onions and garlic – Members of the allium family which offer powerful anti-inflammatory and immune boosting sulfur-based compounds!
You can use almonds or hazelnuts in this soup instead of cashews. If you do this, soak these nuts for longer, about 8 hours.
Swap sweet potato for squash.
Add 1 to 2 cups of cooked chickpeas, grains and or baby spinach for a heartier soup.
If You Like Pureed Vegan Soups...
You'll love the soup recipes in The Plant-Based Cookbook! 
I love a creamy, pureed soup and in the cookbook I include two of my alltime favorites: Warming Carrot and Tomato Soup and Sweet Potato Rosemary Bisque! Come check it out!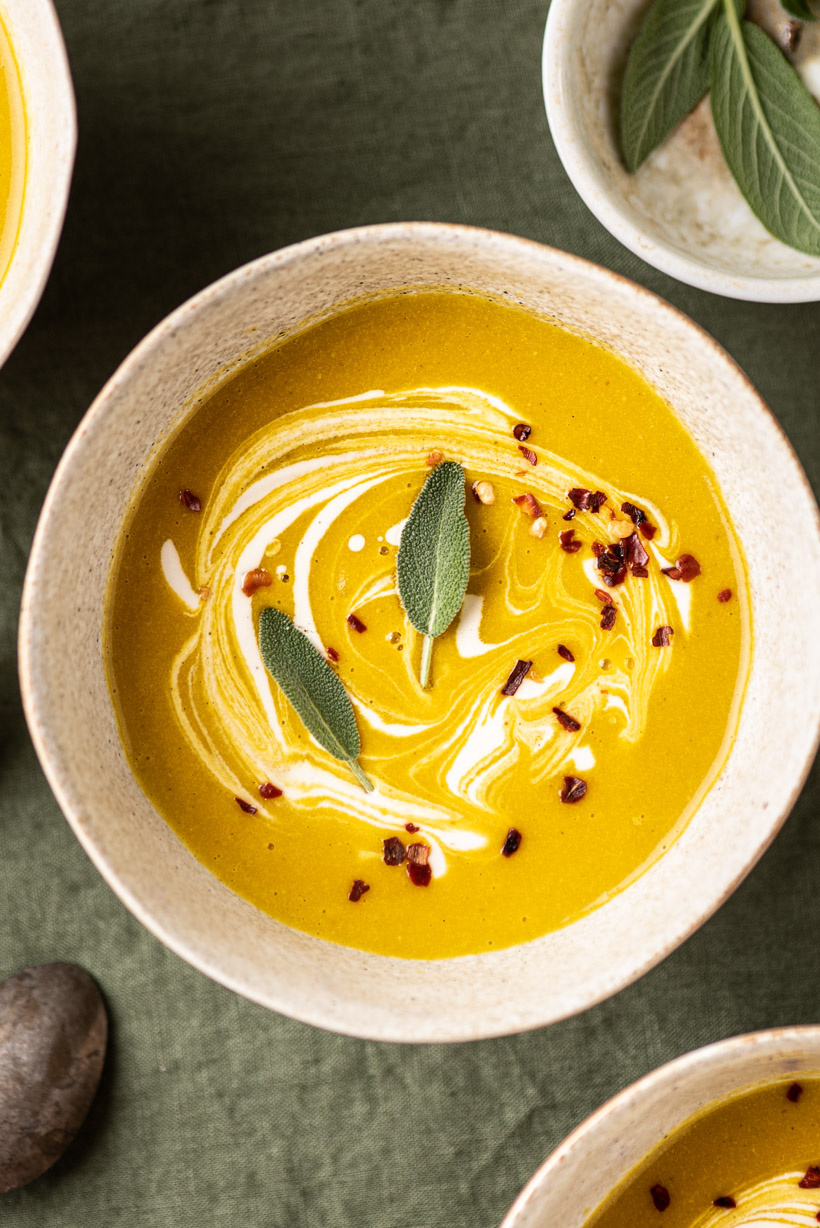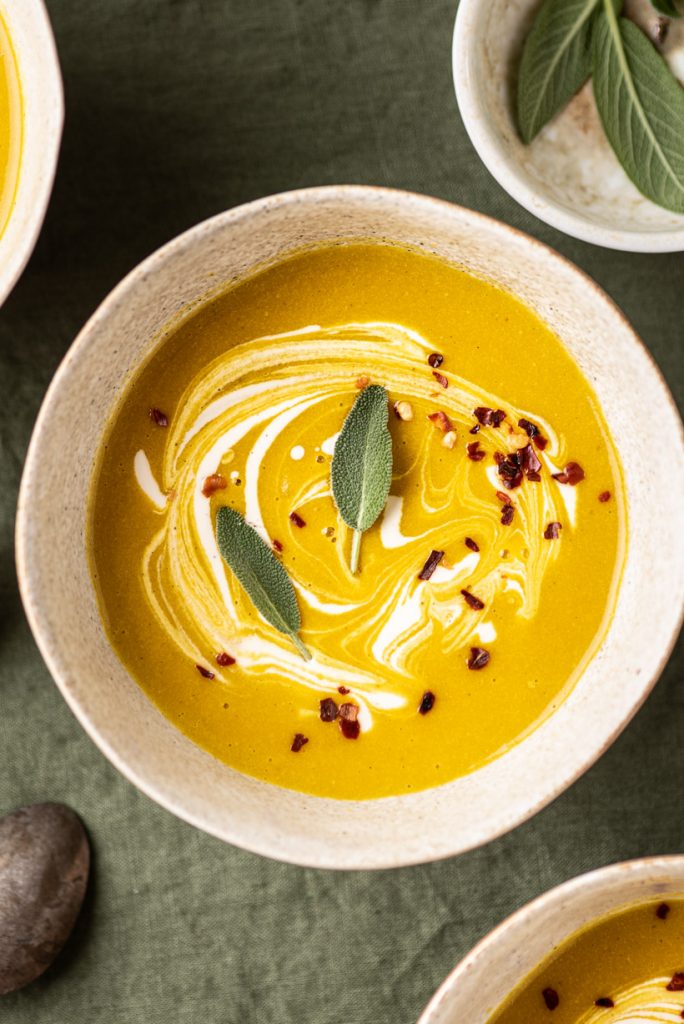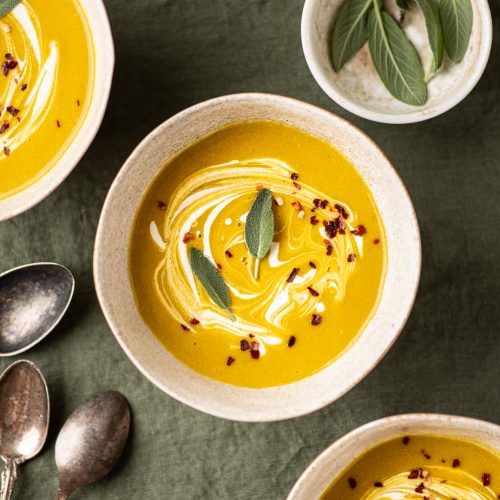 The creamiest, dreamiest soup ever! Decadent and easy and ideal for the colder months! Depending on serving size, this soup can serve 4 to 6 people.
Ingredients
2

cups

diced yellow onions

5

garlic cloves

minced

4

heaping cups peeled and chopped pumpkin or other winter squash

kabocha or butternut squash work well

8

small to medium fresh sage leaves

½

teaspoon

dried thyme

or 2 teaspoons fresh thyme leaves

¼

teaspoon

red pepper flakes or to your preference

4

cups

low-sodium vegetable broth*

⅓

cup

cashews

soaked for 2 to 4 hours

¾

teaspoon

sea salt or to taste
Instructions
In a large soup pot, sauté the onions with a few tablespoons of water and a big pinch of salt for 7 to 10 minutes, stirring often and adding water, a couple of tablespoons at a time, to prevent burning if needed.

Now add the garlic, pumpkin, sage leaves, thyme, and red pepper flakes. Stir and sauté for another minute or two.

Now add the vegetable broth and bring to a boil. Once boiling, reduce to a simmer and simmer partially covered for 15 minutes or until the pumpkin is very tender. Remove the soup from heat.

Drain the cashews, discard the soaking liquid, and add them to a high-speed blender. Transfer the soup to the blender too and blend until completely smooth (do this in batches if needed). Pour the soup back into the pot and season to taste. If adding chickpeas or spinach, stir in now.

Divide among bowls and garnish with thinned sour cream (see notes) and/or red pepper flakes.
Notes
Optional additions:

1½ cups cooked or canned chickpeas, drained and rinsed
1 packed cup baby spinach

*For a nut-free version, use 3 cups of vegetable broth, and instead of adding cashews to the blender, add 1 cup of creamy soy milk and blend until smooth.
I use a thinned version of this Sour Cream to garnish this pumpkin and sage soup!
If you use kabocha squash, you can leave the peel on!