About This White Bean & Kale Soup
This vegan Tuscan soup or, more simply, white bean and kale soup is easy to make! Serve with some fresh whole grain bread (gluten-free if that's your jam) and use it to sop up every last drop!
I had a couple of cans of butter beans lying around (yes I use canned beans sometimes!) and a gorgeous bunch of fresh kale and the pair inspired this incredible soup. 
White Beans – I use butter beans (also known as lima beans) but you can use Cannellini, navy, or great northern beans.
Kale – Curly or Lacinato kale works best but you can also use Swiss chard or baby spinach.
Herbs – Using fresh rosemary and thyme really adds something special to this vegan tuscan soup but you easily swap it for the dried versions and it will still be amazing. 
Vegetable broth – I like to use my own broth (recipe in The Plant-Based Cookbook) that I make with veggie scraps and without salt. If using cartoned broth, go for brands labeled "no-added sodium" or "low-sodium".
Making this vegan white bean and kale soup is easy! You sauté the veggies and herbs in water, add the beans and broth and simmer for 30 minutes. Finish with some kale, nutritional yeast, and lemon juice.
But you have 2 options:
You can blend a portion of the soup to make it thick and creamy (mmmm). This is what you see in the pictures. 
You can leave it as is for a clearer more broth-y soup. 
Soup pot
Blender or immersion blender, which is optional. 
Tips, Tricks & How To Simplify
This is a simple soup but here are some easy ideas on how to make preparation as seamless and straightforward as possible. 
Before starting this vegan white bean and kale soup:
measure out spices and put in a small dish
cut and chop all veggies
add greens a few minutes before serving
Kale! –  A famous leafy green that is full of anti-oxidants, and cancer-fighting, inflammation-reducing phytonutrients. Include kale in your diet wherever you can in both raw and cooked forms. 
Beans – Beans are nutritional powerhouses! Fiber, protein, antioxidants! I like to cook my beans from scratch most of the time but for this tuscan-inspired soup I was in a hurry and used up some emergency cans of butter beans I had in the pantry. Try to have beans at least once a day!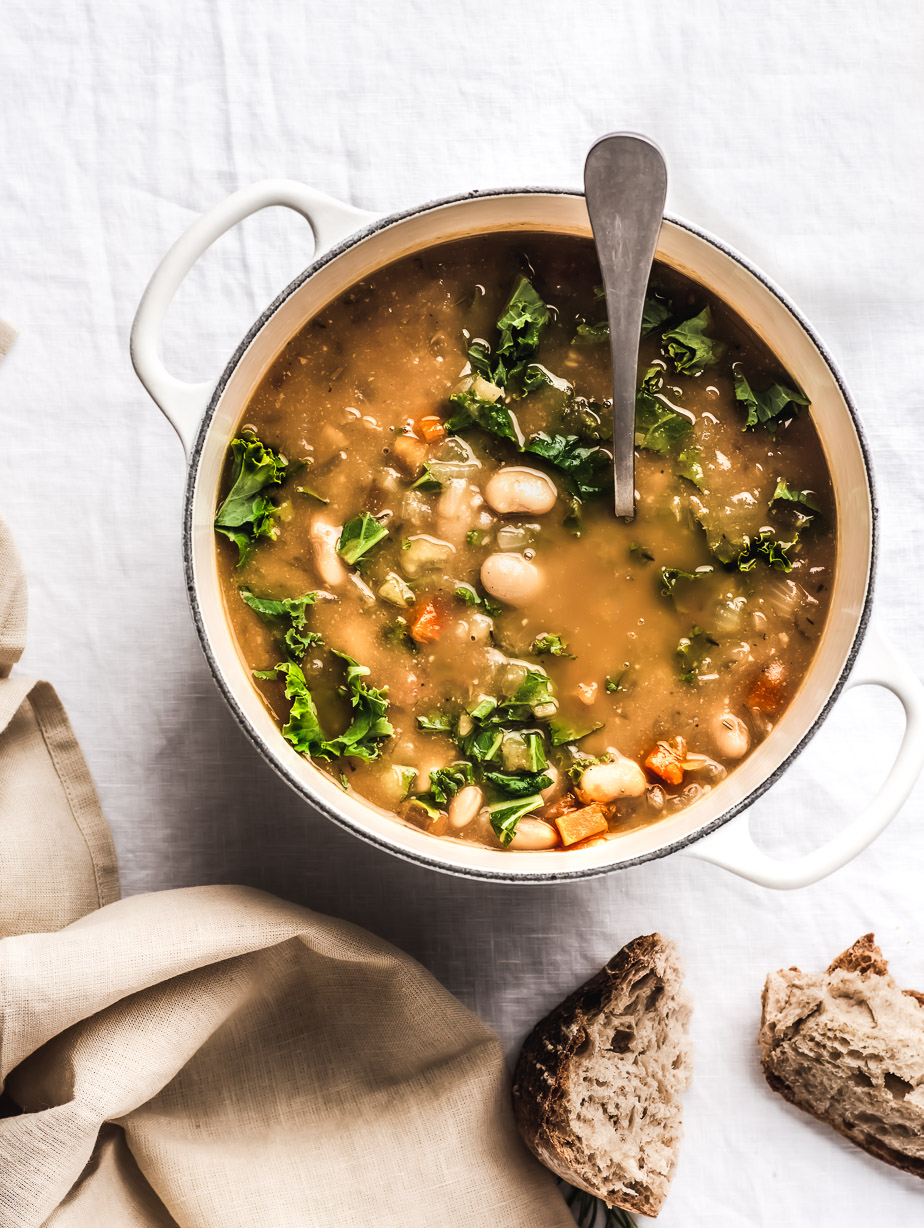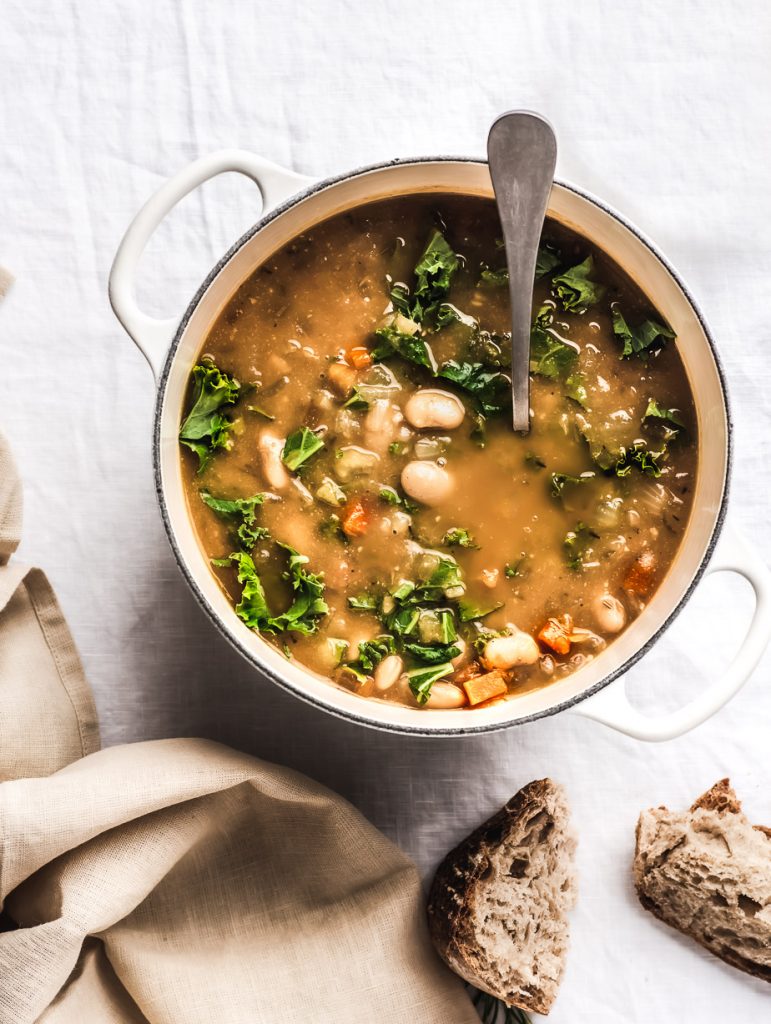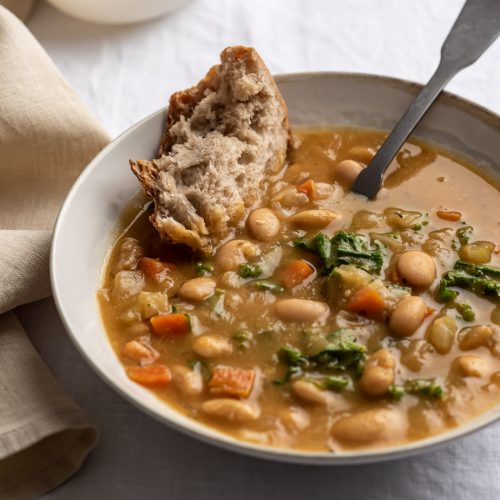 Vegan White Bean & Kale Soup
A white bean and kale soup inspired by the deep bowls of delicious soup in Tuscany. This soup is easy to make and doesn't require too much simmering making it ideal for a quick dinner.
Equipment
Blender or Immersion Blender (optional)
Ingredients
2

large yellow onions

diced

3

large celery stalks

diced

2

large carrots

diced

6

garlic cloves

minced

1

heaping tablespoon fresh thyme leaves or 1½ teaspoons dried thyme

3

sprigs fresh rosemary leaves (removed from the stem and roughly chopped) or 1½ teaspoon dried rosemary

Pinch

red pepper flakes

more if you like it spicy

1

bay leaf

3

grinds black pepper

3

cups

cooked or canned white beans

(cannellini, great northern or butter beans), drained and rinsed (2x15 ounce cans)

5

cups

low-sodium vegetable broth

2

cups

finely chopped kale

1

tablespoon

nutritional yeast

2

tablespoons

freshly squeezed lemon juice

½

teaspoon

sea salt or to taste
Instructions
In a large soup pot, sauté the onion, celery, and carrot with ¼ cup water for about 10 minutes, adding water as needed to prevent burning or sticking.

Now add the garlic, thyme, rosemary sprigs (or the dried versions) as well as red pepper flakes, bay leaf, black pepper. Stir and cook for another minute.

Now add the beans and vegetable broth. Bring to a boil. Once boiling, reduce to a simmer and simmer, partially covered, for 30 minutes. Remove the bay leaf, stir in the nutritional yeast and turn the heat off.

Remove 3 to 4 cups of the soup and place in a blender and blend until smooth. Return the blended soup to the pot and stir to combine. You can also use an immersion blender and blend about half the soup. This gives the soup a slightly thicker texture. Stir in the kale and lemon juice and let sit for a few minutes until the kale wilts.

Taste and reseason with salt and pepper as needed. Divide among bowls and enjoy (with some crusty bread if possible!).