In some ways it's the original overnight oats – "overnight oats" is not a 21st century invention! Bircher bowls are essentially muesli (oats, nuts, seeds, dried fruits) soaked overnight and eaten raw. 
The first time I ever heard of a "Bircher" bowl was in the UK and it's still a common breakfast recipe across Europe. Technically, a Bircher bowl is overnight oats (you soak the oats overnight, after all) but in my mind Bircher's are more dense, tattered with goodies, and, perhaps, a bit heartier.
And this nutrient dense recipe is named after its creator; Dr. Maximilian Bircher-Brenner. He came up with this recipe to help increase the nutrient profile in his patients' diets.
Like overnight oats, there are SO many variations of a Bircher bowl and you can add, well, anything! Some are made with fruit juice, water, or yogurt. Some are intricate and jazzed up and others more plain. 
This Apple Pecan Bircher is a bit of a hybrid with a focus on keeping it plant-based and healthy but with texture!
This apple pecan bircher bowl is easy, convenient, portable, filling, nutrient dense (see below!), and absolutely delivers in the creamy and delicious categories. 
I made this recipe one night when I was feeling super homesick. This is the longest I've been away from Newfoundland EVER! And the ragged, resilient island I call home is calling me. I miss the warm-hearted people and even the cold, dreary weather. 
So, in dreaming about cozy sweaters and chilly mornings, I wanted a breakfast that could summon feelings of all the things I'm missing. 
No added sugars, no cooking required, but full of nuts, fruits, and flax! This is a powerhouse breakfast. Here are some specifics:
Flaxseeds – My favorite source of ALA – an omega-3 fatty acid that helps reduce and prevent inflammation in our bodies. 
Oats – Filling with fiber! Oats are an essential plant-based pantry food. The soluble fiber helps reduce cholesterol and balance blood sugar. 
Pecans – The biggest source of fat in this Apple Pecan Bircher Bowl! And that's a great thing! Fat helps with the absorption of fat-soluble vitamins (vitamins A, D, E, and K) and other phytonutrients. Pecans also offer fiber and B vitamins and nuts in general have been shown to prolong life and improve overall health! 
This winter-inspired Bircher recipe is as easy as it gets. Like overnight oats, you add everything to a bowl or container, mix it together, and leave it overnight. 
If this isn't an easy-button for breakfast, I don't know what is!
A bowl! 
This apple pecan bircher bowl does call for orange zest (but you can skip it) so maybe you need a citrus zester as well.
Tips, Tricks & How To Simplify
Although you need no special instructions to make this Apple Pecan Bircher bowl, I will say that homemade nut and seed milks have the opportunity to really shine in this recipe. They add another layer of flavor and a luxurious creaminess. Organic soy milks are thicker and will also work well in this recipe. 
You do you with this one! 
Add any fruit you have on hand, swap the pecans for another nut or seed, add more orange juice or omit. Add a drizzle of maple syrup if you want more sweetness.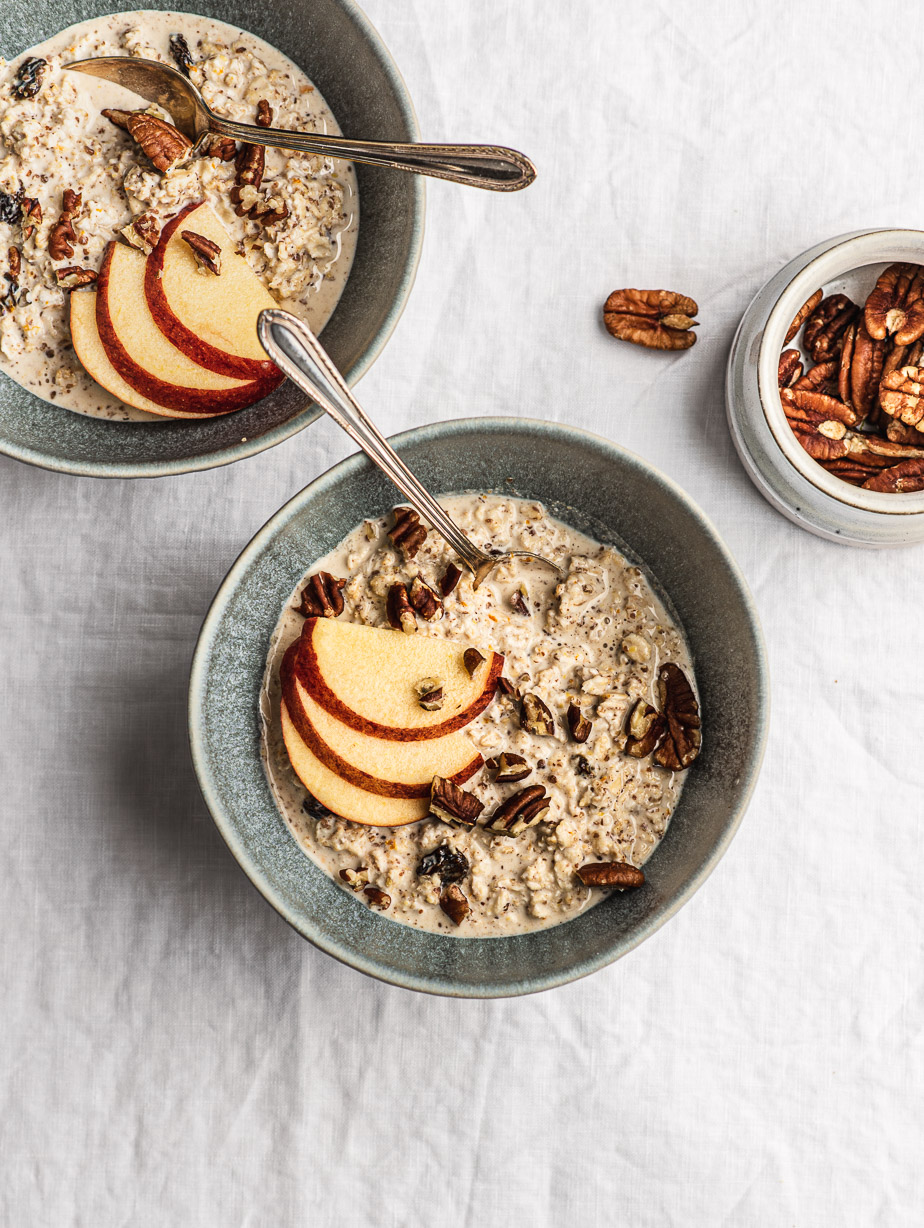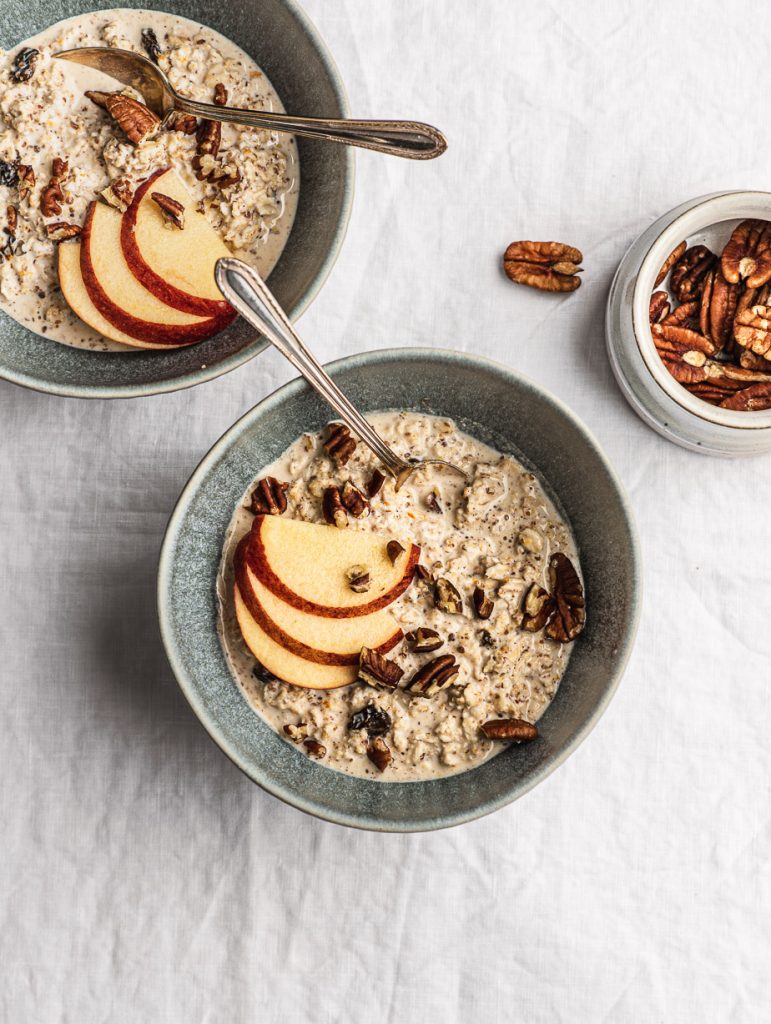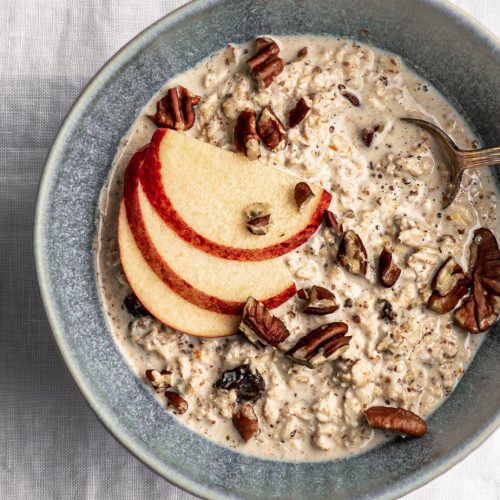 This apple pecan overnight oat bowl is worth waking up for. Throw it together in 2 minutes before bed and voilà, breakfast is made. I like to wait until I'm serving to add in the apple. The servings are filling and you can squeeze 3 servings out of it if you like a lighter breakfast. I, however, could eat the whole thing in one sitting!
Ingredients
1 ½

cups

old fashioned rolled oats

gluten free if desired

2

tablespoons

ground flaxseed

¼

cup

raisins

¼

cup

roughly chopped pecans

Zest of 1 orange

Juice of ½ orange

Pinch

cinnamon

1 ½

cups

dairy-free milk

organic soy or homemade nut milks make for the creamiest texture

1

apple chopped or thinly sliced
Instructions
In a medium container with a lid (or large bowl) mix together the oats, flax, raisins, pecans, orange zest and juice, cinnamon, and milk. Stir and refrigerate overnight.

In the morning add chopped apple and a little sprinkle of pecans, if desired, and enjoy!
Notes
I like to make this Bircher bowl with no added sugar but if you want to add a drizzle of maple syrup, feel free!