This is my go-to "I don't know want to make for dessert" dessert. This 5 minute vegan Cashew Mango Mousse is easy and delicious and creamy. 
The cashews and mango combine to create a Goldie Locks dessert. It's rich but not too rich. It's sweet, but not too sweet. It's really a crowd pleaser. 
It's velvety, smooth, colourful, and, best of all, EASY! Ok I'm overselling it. 
This dessert recipe isn't exactly seasonal but it is perfect for frozen mango, which are readily available in most grocery stores. 
If you have a badass blender, like the Vitamix, you can get away with not soaking the cashews – meaning you can really make this last minute! 
Which I do when I need an "oh sh*t, I forgot to make dessert" dessert or when I have an intense sweet craving!
If you don't have a high-powered blender, you can definitely still make this cashew mango mousse! Just be sure to soak the cashews as this will make the pureeing easier on your blender/processor and you'll get a creamier texture.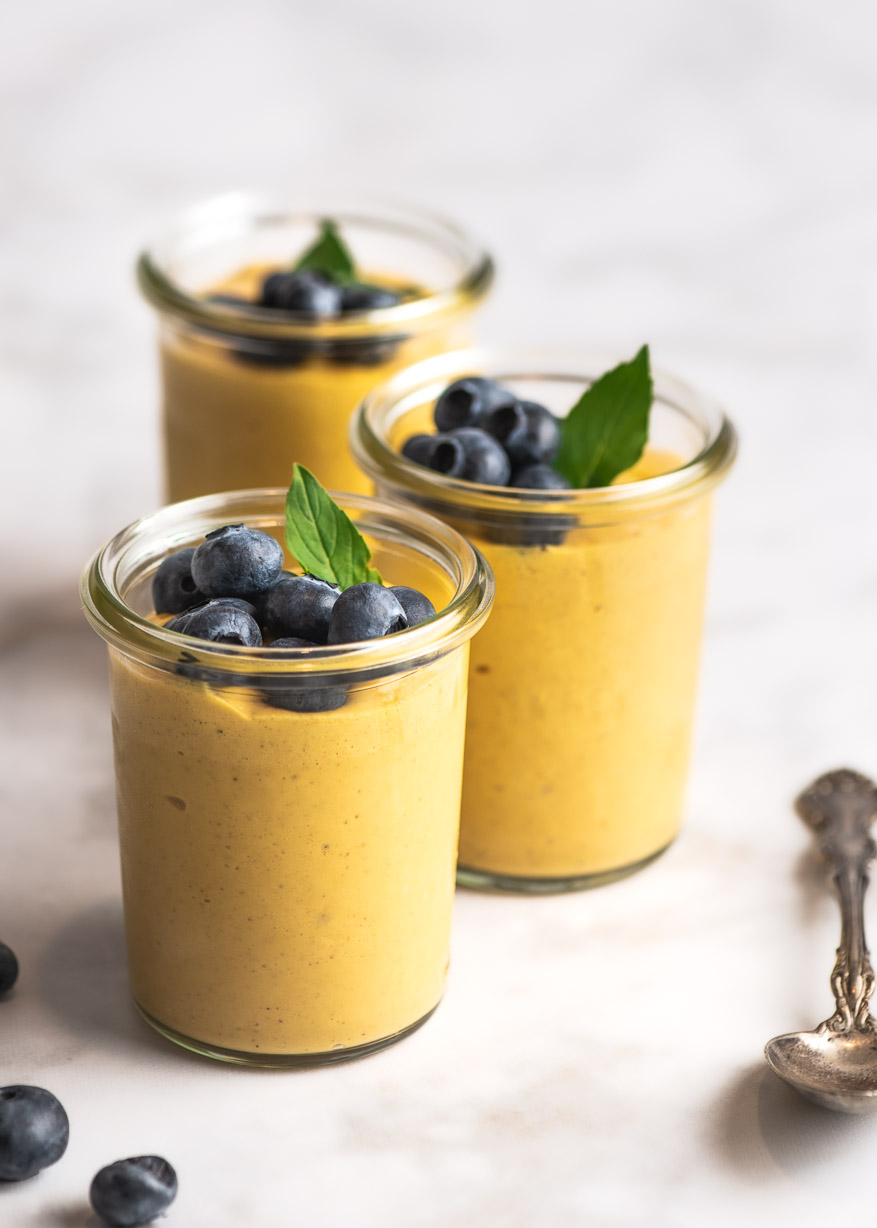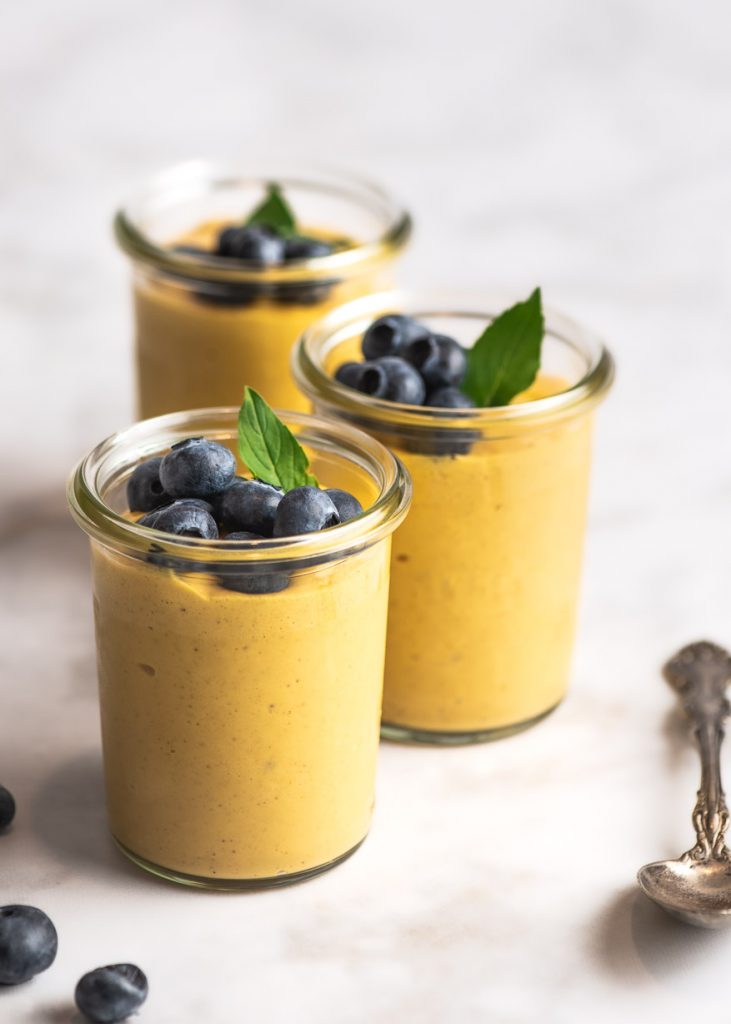 Mango Must Know
NUTRITIOUS AND DELICIOUS. Mangos are a fantastic source of vitamin C and beta-carotene (precursor to vitamin A). They also boast many antioxidants (like all fruit).
MANGO AND SUGAR. Mangos have a low to medium glycemic index of about 51 but they are higher in sugar than most other fruits. 
One cup of mango has about 23 grams of sugar compared to 1 cup of blueberries which only has 15 grams. 
Pairing mango with foods that slow the release of sugar into the blood stream will also reduce its blood sugar spiking abilities. This recipe does just that by mixing the mango with healthy fat from the cashews. So although it's sweet, this mango mousse shouldn't leave you feeling drained and tired 15 minutes after eating it-the way many sugary desserts do. 
THE ART OF PEELING A MANGO: This tropical stone fruit is juicy and addictive but the awkward dimensions of its pit make it a pain in the butt to peel. I usually do the porcupine approach but I love Life Hacker's take on peeling a mango using a glass in just 10 seconds! I had to try this after I watched the video. 
You will too. GENUIS!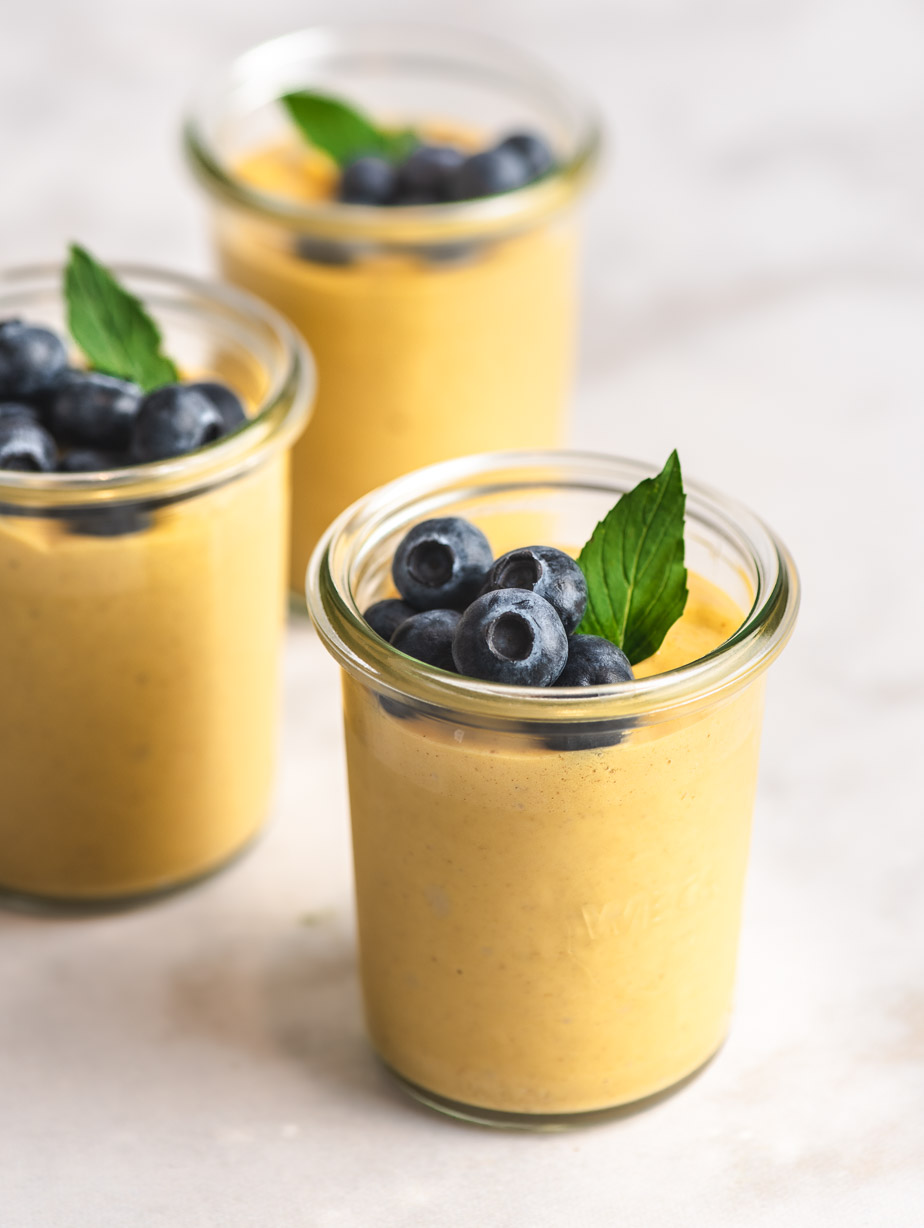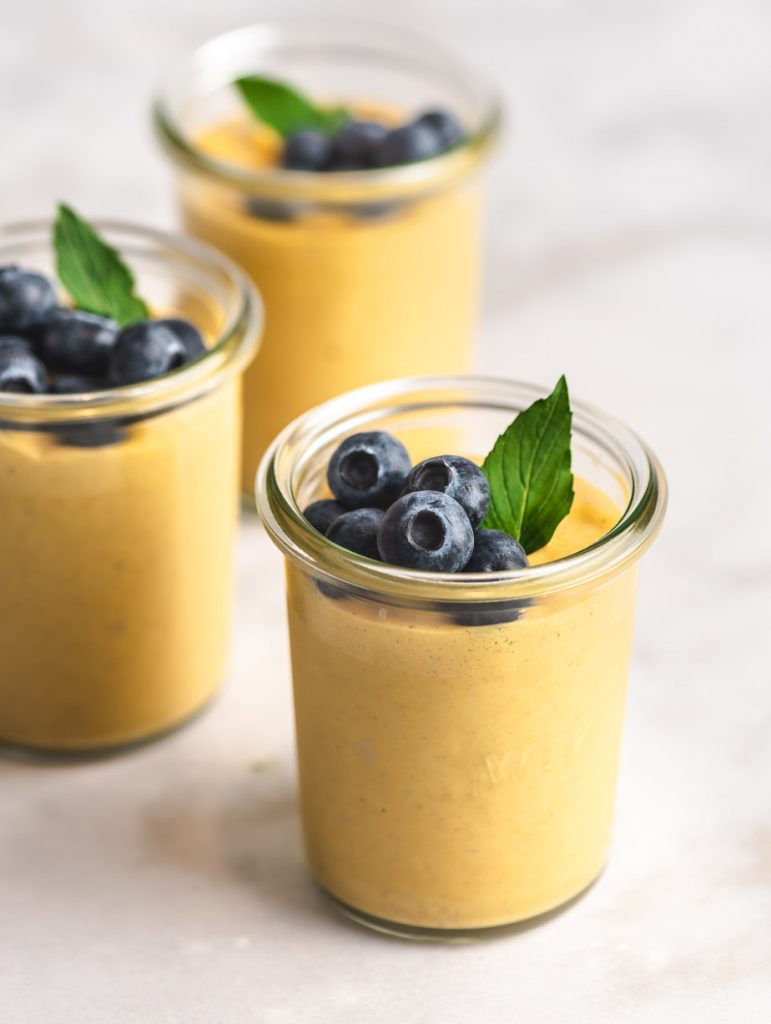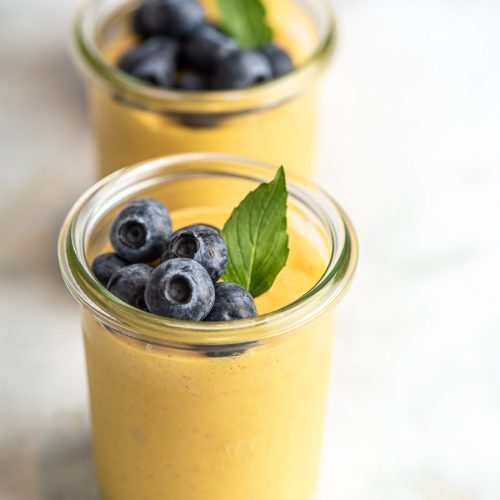 5-Minute Cashew Mango Mousse
A creamy vegan mousse that is the ideal dessert – especially when you want something quick but decadent!
Ingredients
3

heaping cups frozen diced mango

or fresh – see notes

1

cup

cashews

soaked for 2 to 3 hours

½

cup

unsweetened almond milk

or soy or coconut milk, plus more if needed

4

soft medjool dates

pits removed

½

teaspoon

cinnamon

pinch

sea or Himalayan salt
Instructions
Drain the cashews, discard the soaking liquid, and add to a blender along with all other ingredients. Blend on high until the mix is smooth and creamy. If using a Vitamix, or similar blender, you will likely need your plunger for this part. If you have a less powerful blender, you may need to add more milk to get the blending started.

Divide among bowls and garnish with fresh berries if desired! You can keep this mango mousse in the fridge for up to 3 days.
Notes
If using fresh mango, start with half the almond milk. Add more milk as needed while blending. If using frozen, serve as soon as the mousse is blended.