About These Mexican tofu scramble bowls
Tofu scramble is an easy, go-to weeknight dinner because it's quick and versatile. Any flavor profile you love or veggie you need to use up you can add to your tofu scramble. It's my rushed dinner solution!
Main Ingredients You'll Need
Tofu – I use extra firm tofu for my scramble. And for this version I also skip pressing the tofu – keeping these mexican tofu scramble bowls easy!
Quinoa – Layer this tofu scramble with quinoa for a complete, balanced meal. You can of course just make the scramble and serve with toast or steamed veggies!
Kale – Or other leafy green to add a pop of color and glorious nutrients that come from leafy greens!
Avocado – Mexican food for me always includes some form of creamy avocado! I just scoop out the avocado flesh and add it to the bowl but you can certainly make guac or do an avocado-crema!
Basic Sour Cream– Not essential but this easy and basic sour cream adds an extra layer of creamy delicious! Add a small dollop or alternate between avocado and sour cream if you want to reduce the fat.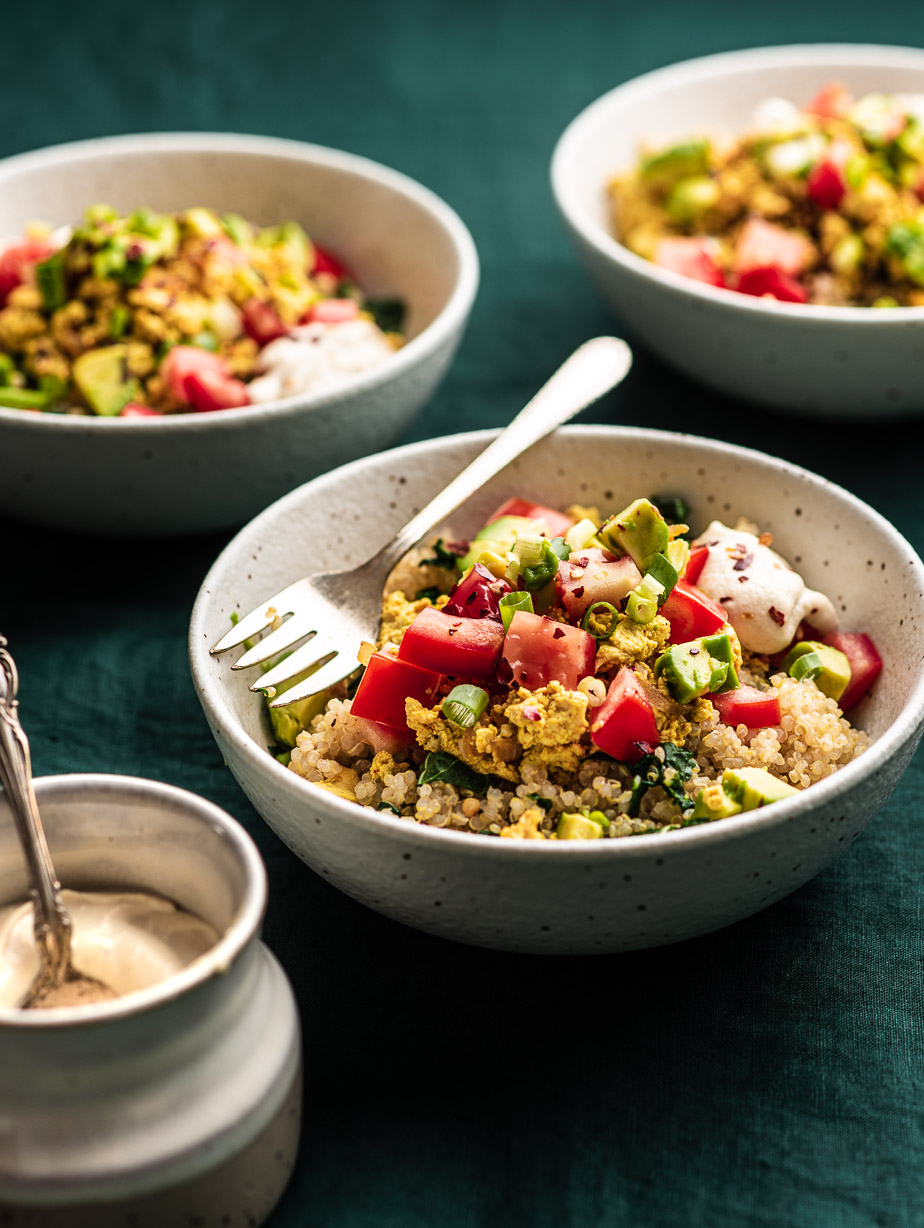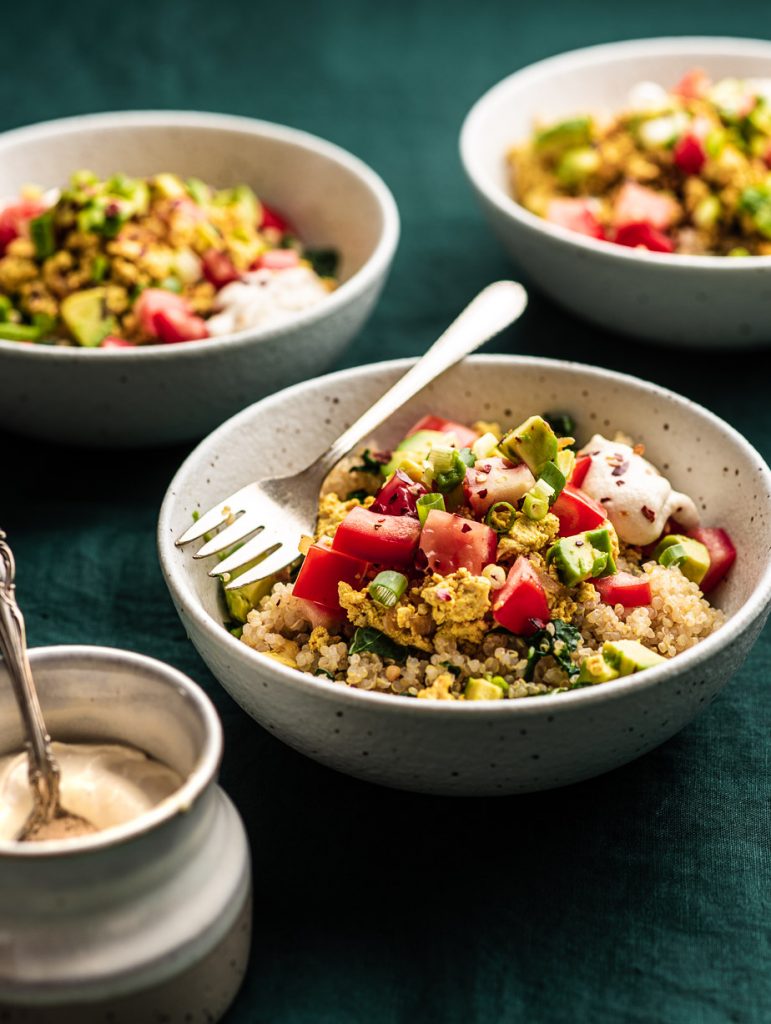 Sauté some onion, garlic. and jalapeño in a large sauté pan. Crumble the tofu into the pan, add spices, and sauté until the scramble is lightly browned and all the liquid is absorbed. 
The quinoa is cooked in a pot while you prepare the scramble. Add the kale to the pan of scramble or to the pot of cooked quinoa and cover until the kale is wilted. 
Assemble! Quinoa on bottom and scramble on top! Garnish as you wish.
Large sauté pan
Small pot to cook quinoa (1.5 to 2 Qt pot)
Tips, Tricks & How To Simplify
I've included my 2 favorite time-saving tofu scramble tips in this recipe:
Skip pressing the tofu

Crumble tofu right into the pan
Tofu –  I know, it's still polarizing! Tofu is always in my fridge because, as I've said, tofu scramble is my emergency meal! I'm pointing out a health note here because tofu is a great source of complete (all essential amino acids) protein – something people (unnecessarily) worry about on a plant-based diet. 
Paired with cooked quinoa, this Mexican tofu scramble bowl has more than 20 grams of protein! I think I should yell that one from the rooftops!
"This Mexican Tofu Scramble Bowl has more than 20 grams of protein!"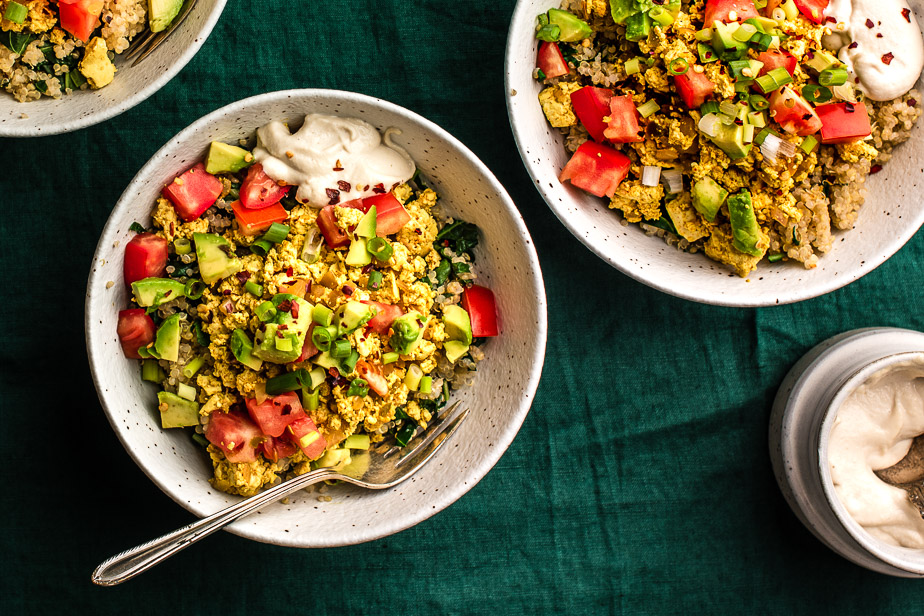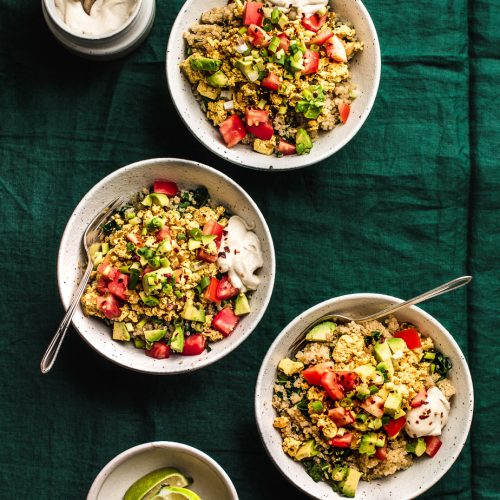 Mexican Tofu Scramble Bowls
Mexican tofu scramble is perfect for brunch, lunch, and dinner! Layer with avo and quinoa for a whole-food, 5-star meal!
Equipment
Large non-stick sauté pan
Ingredients
1

cup

dry white quinoa

(dry=uncooked)

½

red or yellow onion

diced

3

garlic cloves

minced

1

small jalapeno

diced (or 3 tablespoons diced bottled jalapenos)

1

(12-14 oz/ 340-397 g) package extra firm organic tofu

1

tablespoon

nutritional yeast

¾

teaspoon

smoked paprika

½

teaspoon

ground cumin

¼

teaspoon

ground turmeric

Pinch

black pepper

½

teaspoon

black Indian salt

(kala namek) or sea salt

2

tablespoons

freshly squeezed lime juice

1

packed cup shredded kale
Optional Garnishes
1

beefsteak or 2 plum tomatoes

diced

3

scallions

thinly sliced

1

avocado

peeled, pit removed, and diced

1

vegan Sour Cream

see Notes

Lime wedges

for serving
Instructions
First, rinse the quinoa in a fine mesh strainer and cook according to directions. This should take about 15 minutes.

While the quinoa is cooking, make the scramble. In a large sauté pan, sauté the onion with a few tablespoons of water for 5 minutes. Now add the garlic and jalapeno and continue to sauté for another minute. Add water as needed to prevent burning.

Drain the block of tofu and give it a squeeze over the sink to get out any extra liquid. Now crumble the tofu into the pan and add the nutritional yeast, smoked paprika, cumin, turmeric, pepper, and salt and mix to combine. Cook over medium heat for 5 or 6 minutes until the tofu has firmed up and any liquid in the pan has evaporated. Add the lime juice, mix, taste and reseason as needed.

If the quinoa isn't cooked yet, cover the scramble and set aside. When the quinoa is done, fluff with a fork, place the shredded kale on top of the quinoa, recover, and set aside for 5 minutes for the kale to wilt.

Now layer the bowls with quinoa/kale and the Mexican tofu scramble. Top each bowl with diced tomatoes, avocado, sliced scallions, and a dollop of Basic Sour Cream (if using) and serve with a lime wedge.
Notes
I like to mix the nutritional yeast and all the spices together in a small bowl. This speeds up the recipe and makes step 3 easier.