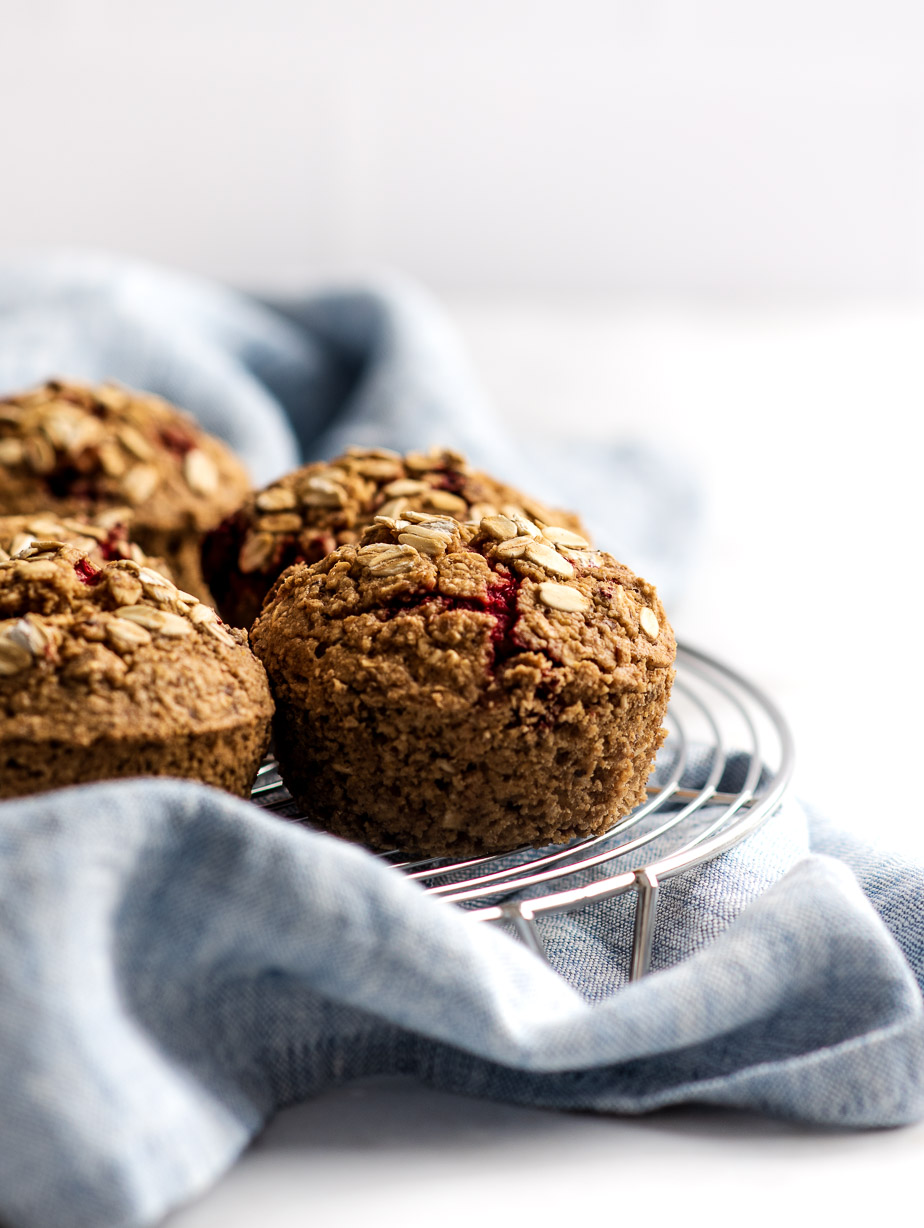 My first memory of baking was a disastrous but joyful experience. I attempted muffins without any recipe whatsoever and, well, you can imagine the results – an inedible, sugar-flour sludge reminiscent of paper mache (papier-mâché).
Despite the fail, I've always been obsessed with making muffins. 
This raspberry lemon muffin is made without any nuts, seeds, or their butters making it low in fat and ideal for those of you looking for lighter baked goods. 
Since it's nut-free, it also makes for a good work or school snack option.
I love this flavour combination – sour lemon, tart raspberries, a little coconut sugar. I like to pair these with green tea after they've been warmed for a few minutes in the oven. If I'm having one of these lemon raspberry muffins for breakfast, I'll usually add a smear of creamy almond butter and a pinch of salt. 
Rolled oats – I use old-fashioned, gluten-free rolled oats. If gluten isn't an issue, use regular. It's important to NOT use "quick cooking" or the kind that come in single serving packets. 
Oat flour – You can make your own oat flour by processing rolled oats until a flour like consistency is reached or you can buy it ready-made. If you make your own, which I do, make more than you need and keep it in the fridge in a sealed container. This way you have some already made for your next batch of raspberry lemon muffins!
Frozen raspberries – I use frozen but you can also use fresh if you have them!
Lemon juice – Freshly squeezed, not the kind in a bottle. There is no comparison here. If having lemons on hand is inconvenient, buy a bunch, cut them in quarters and freeze them until they're needed. 
Coconut Sugar – My favorite dried sweetener. Sugar is sugar but coconut sugar is less refined than most commercial sugars and it is sustainably produced. It has a caramel-like taste that lends perfectly to these raspberry lemon muffins. 
Flaxseed – Ground flaxseed is mixed with water in this recipe to make "flax eggs". This is a substitute for eggs and acts as a binder in the muffins. 
Make a flax egg (you simply mix ground flaxseed with water and let it sit until it gets thick and goopy).
Mix dry ingredients in a bowl. 
Add the wet ingredients to the bowl of dry ingredients and fold in the raspberries. 
Transfer the batter to a muffin tin and bake!
Nothing special. 
I do use a traditional, well-worn muffin pan for these muffins. I don't have issues with sticking and I use a thin spatula to pop them out of the pan. You can also you a silicone muffin pan. In general, baking times are a little longer in silicone muffin pans (from my experience!).
Swap blueberries for raspberries or try orange juice instead of lemon juice for a different flavor. 
If you want a more bedazzled version of these raspberry lemon muffins, I have a recipe for raspberry lemon cream cheese stuffed muffins coming soon!
Oats are a very important pantry ingredient in our house. We eat them often for breakfast and use them regularly in baked goods. 
Oats are a great source of soluble fiber – the type of fiber that absorbs liquid – and helps stabilize blood sugar, improve bowel regularity, lower cholesterol, and keep you full.
Oats are also a great source of B vitamins, zinc, iron, and selenium. Oats are also higher in protein than most other grains.
Gluten-free. Oats need to be certified as gluten-free because most oats are processed in factories that also process gluten-containing grains. Oats do contain a protein called avenin, which may have some cross reactivity with gluten in some cases of gluten allergy. Oats are generally tolerated by those with gluten intolerances but everyone is different!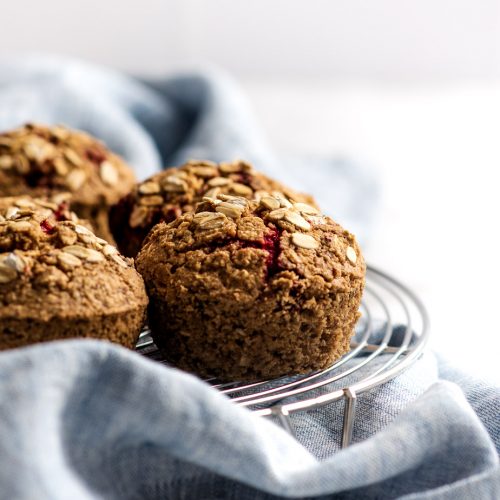 Raspberry Lemon Muffins (nut-free, gluten-free!)
A glorious flavour combination – tart lemon, sweet raspberries, a little coconut sugar.
Ingredients
2

tablespoons

ground flaxseed

¼

cup

water

2

cups

gluten-free oat flour

(or regular if gluten isn't an issue)

½

cup

gluten-free rolled oats

(or regular if gluten isn't an issue)

2

teaspoons

baking powder

½

cup

coconut sugar

½

teaspoon

cinnamon

½

teaspoon

sea salt

Zest of 1 lemon

2

tablespoons

freshly squeezed lemon juice

½

teaspoon

pure vanilla extract

1

cup

unsweetened organic soy milk

1½

cups

frozen raspberries
Instructions
Position the oven rack to the middle of the oven and preheat to 350ºF.

In a small bowl, mix the flaxseed with water and set aside for 5 minutes to thicken.

In a large bowl mix together the oat flour, rolled oats, baking powder, coconut sugar, cinnamon, and salt.

Next, add the zest, lemon juice, vanilla, milk, and the thickened flax mixture and mix together until combined and no dry spots remain. Fold in the raspberries.

Distribute the batter into the muffin pan (scoop a heaping 1/3 cup of batter for each muffin – you should get 9 muffins) and bake for 22 to 25 minutes until the muffins are browned and slightly firm to touch.

Let the muffins cool for 10 minutes in the muffin pan and then transfer to a cooling rack to cool completely. If not enjoyed within a day or two of baking, freeze the muffins to maintain freshness.
Notes
Optional: feel free to add ½ cup chopped walnuts or almonds.
If you're using a silicone muffin pan, the baking time might be a little longer.