Turn up the health factor of your overnight oats with blueberry overnight oats! 
Finding ways to make overnight oats as healthy as possible is an obsession of mine. Because I believe we should not have to compromise on taste (or fun) to have a healthy meal! 
This blueberry overnight oat recipe is a rendition I came up with while I was living in The Netherlands – which feels like 25 lifetimes ago and when we lived on another planet. 
Despite all the changes that have happened since, I still make these blueberry overnight oats on a regular basis!
Frozen blueberries – easy to find, affordable, convenient!
Old fashioned rolled oats – I use Bob Red Mill's gluten free rolled oats but you can use whatever rolled oats suit you best. I would suggest avoiding quick cooking oats. 
Chia seeds – the magical ingredient. I like to make my overnight oats as a chia pudding/oat hybrid. 
Almond butter – feel free to use whatever nut or seed butter you love. I use Mara Natha raw almond butter. 
Maple syrup – only necessary if you like it on the sweeter side. You can always add it to the oats right before you eat it. 
Super easy! We're 2-stepping with this overnight oat recipe!
First, blend the blueberries up with nut butter and dairy-free milk. You'll get a bright blue/purple mixture that is loaded with nutrition!
Second, add the blended mix to a container with the oats and chia seeds. Stir. 
Third (not really a step) refrigerate overnight.  
Tips, Tricks & How To Simplify
This recipe is pretty darn simple. The only tip I have would be to avoid wearing white while making these blueberry overnight oats …or that's mostly just for messy and clumsy people like me. 
I have sworn off white. Or I wear it knowing it's a one and done deal. 
Blueberries are the highlight of this recipe (duh). Blueberries are full of antioxidants and immune-boosting nutrition and they work in this recipe to add flavor and a touch of sweetness. 
And, yes, frozen blueberries are still nutritious! 
Fresh is wonderful, the gold-standard, but you can still feel so good about yourself if frozen berries are the easiest and most convenient way to get that berry-goodness into your (and your family's) diet! 
These days you can get wild, local, even organic berries frozen which is much better than fresh blueberries shipped across the world and likely already going bad.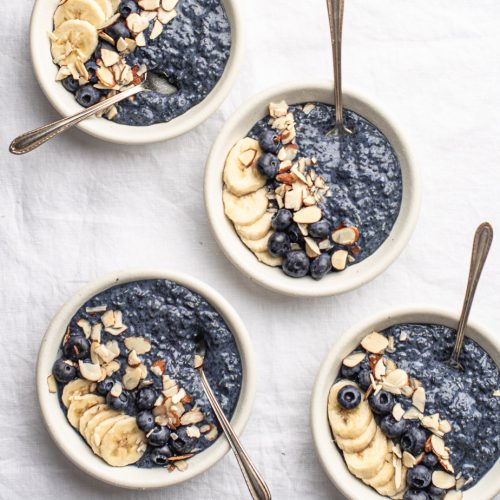 Deep blue and insanely good for you! These overnight oats take a few minutes to make and are loaded with antioxidants!
Ingredients
1

cup

old fashioned rolled oats

gluten-free if needed

¼

cup

chia seeds

1¾

cup

unsweetened almond or organic soy milk

1

cup

frozen blueberries

1

tablespoon

almond butter or preferred nut butter

1

tablespoon

maple syrup or 3 medjool dates

pitted

Pinch

cinnamon

Garnish: sliced bananas or berries
Instructions
Place the rolled oats and chia seeds in a medium-sized container with a lid

Add the remaining ingredients (except garnishes) to a blender and blend until smooth. Transfer the blended mix to the container with oats. Cover the container and shake it a few times. Shake every couple of minutes for about 10 minutes to keep the chia seeds from sticking together. Refrigerate overnight.

In the morning, divide among bowls or jars and top with sliced banana or berries!
Notes
Make the texture thinner or thicker by adjusting the milk.