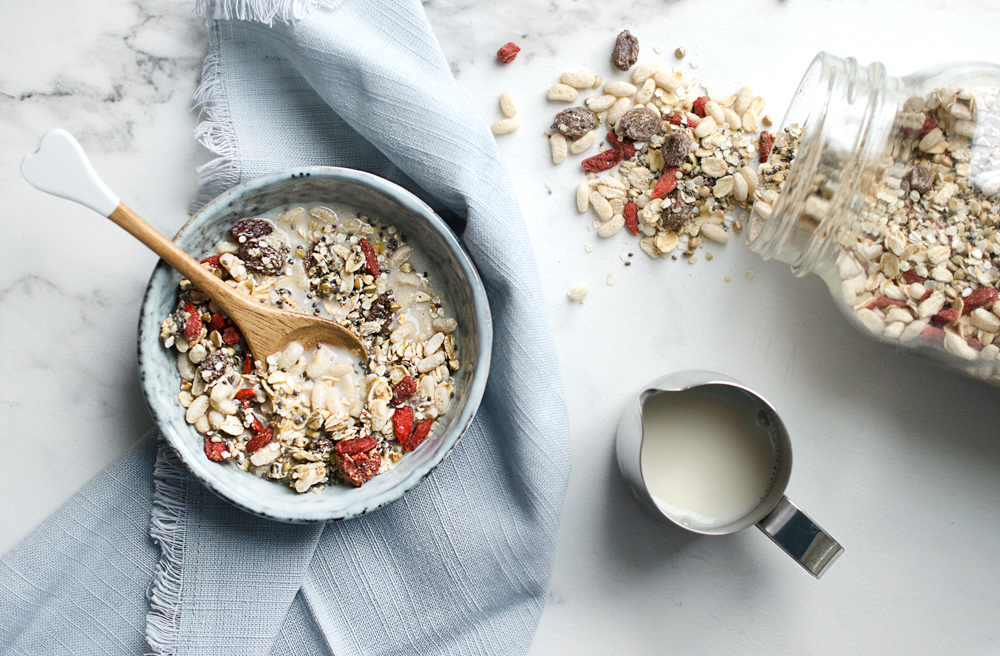 Travelling with dietary restrictions, allergies or even preferences?
If you have dietary restrictions or hold eating healthy as a priority but also like travelling, then this post is for you. 
I take this travel friendly Homemade Healthy Cereal with me on vacation for an easy, superfood breakfast but I also bring A LOT of other stuff- half of my suitcase is always food, and I put a lot of energy into travel plans related to food.
Why? Because you can be super healthy and live the tourist life with a little extra planning. 
Many of us think that when we go on vacation we have to settle for whatever is easily available or we take it as an opportunity to indulge. The latter is probably more common. And hey, vacations are often synonymous with indulgence, relaxing and letting loose. 
Why worry about diet and go through all the trouble to eat healthy when you only get to vacation a couple of weeks a year?
Because feeling like crap when you get back is such a downer and while our jobs might be on hold, our health and dietary needs are not! 
If you have health issues that you've managed to control or even improve with diet and lifestyle changes (high fives to you), then why risk a worsening of or regression in your health? 
This is my motivation for eating healthy while I travel-I don't want to compromise my health. The fact that my pants still fit when I return is an added bonus! I went to Italy many years ago, before I gave up gluten or went plant based, and let's just when I came back I lived in stretchy pants for a few weeks!
Is it practical to keep healthy eating a vacation priority? I believe so!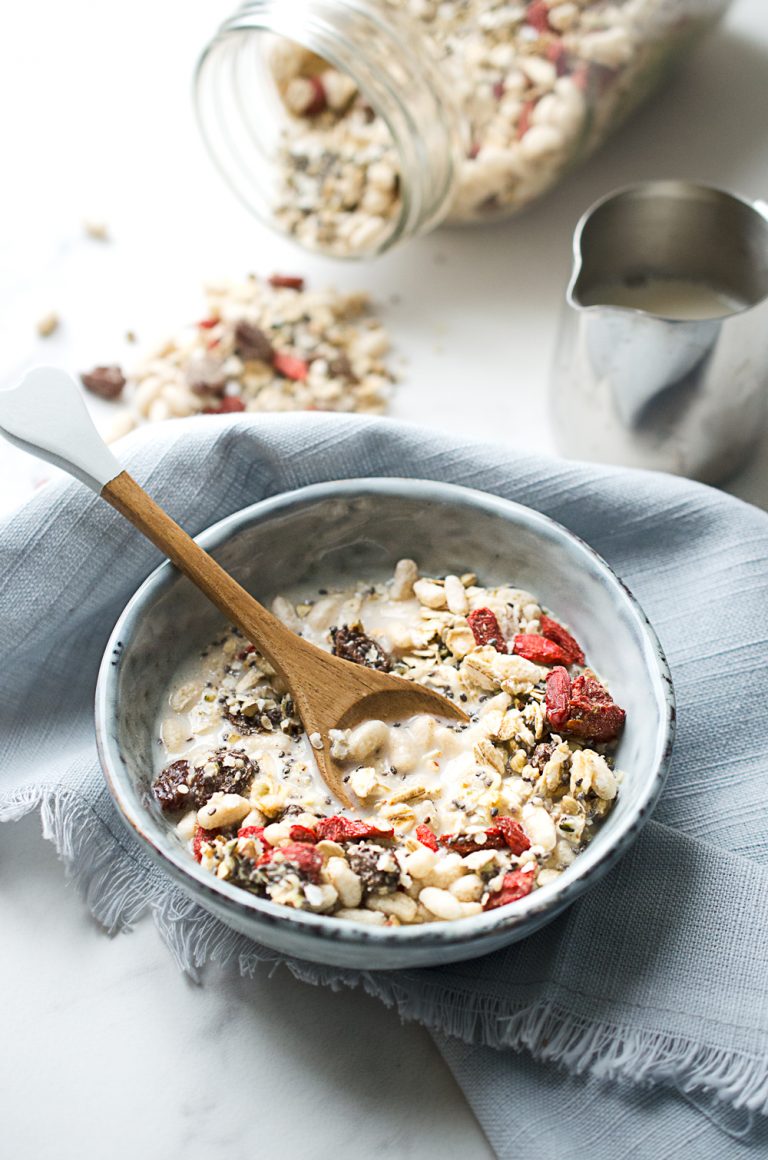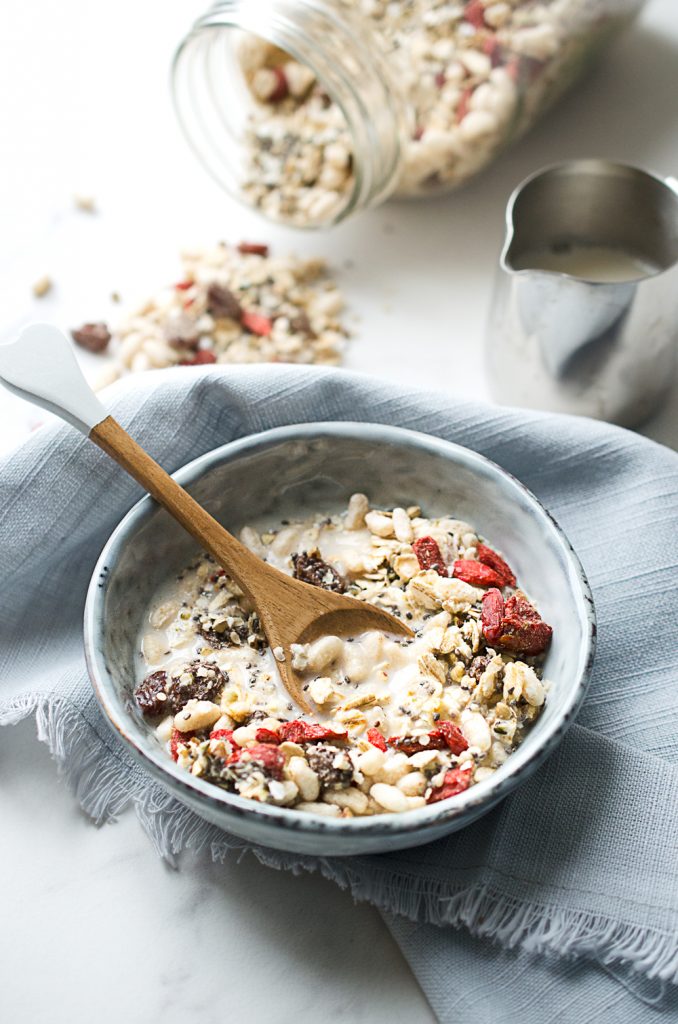 Speaking of traveling, I'v done a lot if and lived in different places. It occurred to me that I might know a thing or two about travelling with nutritional requirements that would be beneficial for other health-inspired travellers. 
First my diet is one that is plant based, gluten free, mostly oil-free, free of artificial or processed foods or ingredients and low in sugar. If you think your preferred diet can't be accommodated while travelling, I'm here to tell you it can! My dietary preferences read longer than your favourite Starbucks order and even though it seems impossible, it's not! 
If I can do it, you can do it. 
I want to share how I prepare for travel, what foods I pack to make sure I always have a dietary plan B (including this healthy homemade cereal) and precautions I take to make sure I don't end up hangry on a hop-on, hop-off tour bus. 
Research – Scope Out The Food Scene. 
I always start with food. 
Once our destination is picked I begin looking into restaurants. I love trying out plant based restaurants in other countries. Different cultures put their own spin on healthy meals and there is always something new to try. I specifically Google "vegan (insert name of city here)" or "healthy restaurants" or "juice shops". I make a note of all the names that come up and often there is a health-related blog or two that gives an overview of the healthy food scene. 
I make note of these places in Google maps and usually they're all clustered together in a few neighbourhoods. This definitely impacts where we look for accommodations and translates into us always staying in vegan/hippie areas, which is right up our alley. 
I check out all the restaurants online and hopefully their menu is available. I take a quick scan and pick 3 or 4 I like and keep them on my phone (including address). I also make reservations at any fancier restaurants. 
Note that many restaurants also have alternate menus for dietary restrictions but don't post the online. 
I also research where the health food stores are. If I can locate one of these, I'm set! 
Sometimes I even let the food dictate my plans! Last year I wanted to go somewhere in Europe for my birthday (we were living in The Netherlands, flights were cheap!) and I just looked up the most vegan friendly cities in Europe. Berlin was highly recommended so that's where we went! More on vegan Berlin here!
Accommodations
When I know where all the good stuff is, I try and book a hotel or Air BnB nearby or one that at least has good public transit to the area. I also try to book accommodations that have a fridge in our room. A fridge is a game changer! Even better if I can book a place with a kitchen! Being able to chop up some vegetables or make some brown rice will go a long way in making packable lunches. 
We've stayed in Air BnBs with kitchens all over-South of France, Budapest, Berlin and California. It always makes eating healthy incredibly easy and saves money too!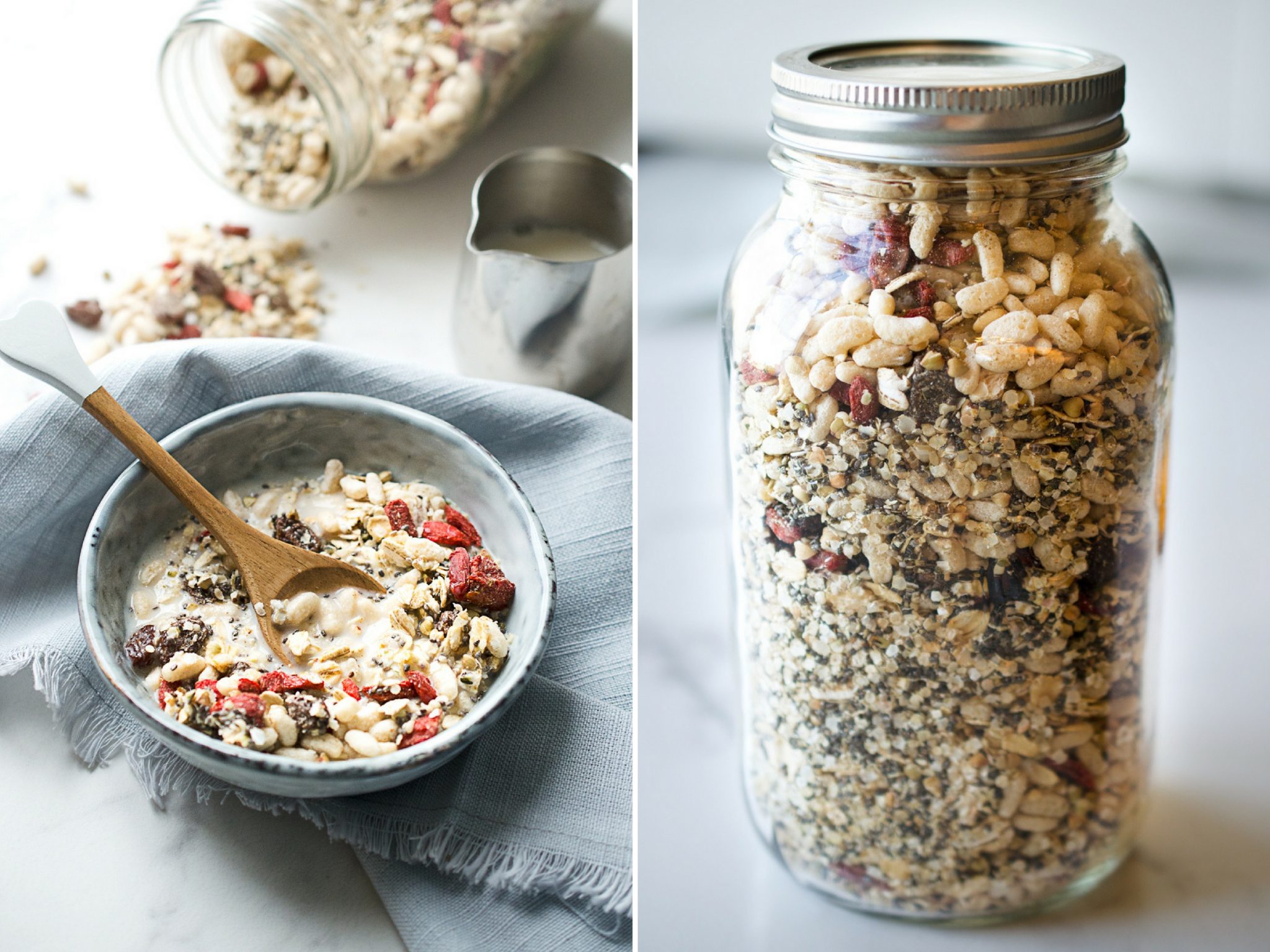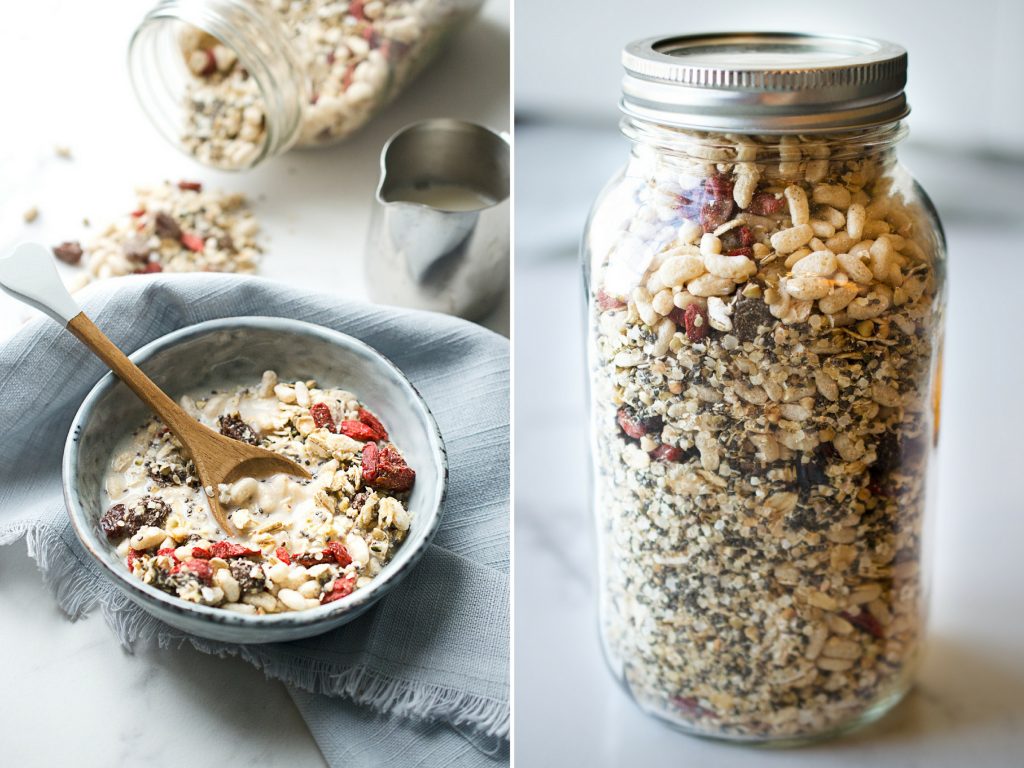 Pack Lightly – Make Room For Food!
Once we've picked our vacation destination and booked accommodations, most of the work is done. A week before our trip I start thinking about packing. By packing I don't mean clothes (I leave this to the last minute–unfortunately), I mean what food I'm going to bring.
After a dozen or so, mostly international, trips I have food packing down to a science.
How much food I bring varies depending on the length of the trip, but here is what generally takes up most of my suitcase real estate:
Carry On (this is usually for a 5 hour + flight)
1 ginormous salad, salad dressing in a container with volume on it (so I can put it through security as a liquid under 100 ml)
2 veggie burgers, still frozen (these are usually thawed by the time I'm hungry)
1 or 2 muffins
Bag of nuts and dried fruit
2 pieces of fruit (usually apple and banana)
Suit Case
1 batch healthy homemade cereal (recipe below) – used for easy breakfasts and snacks
1 box Mary's Crackers (Costco size)
1 jar of raw almond butter (Mara Natha is my fav brand)
1 box quinoa flakes
Large Ziploc baggie of protein powder-usually one that tastes good mixed with water like Chocolate Vega Protein & Greens
Baggie of chia/hemp seed mix
A few scoops of a green power (multi-green powder)
1 small bottle of tamari – to put on veggies, salad or sushi
Large bag of raw nuts (almonds, hazelnuts, walnuts)
Large bag of dried fruit (raisins, figs, apricots, goji berries)
2 or 3 homemade muffins, still frozen when packed
½ dozen power/bliss balls , still frozen
1 grain salad (like Quinoa Edamame Salad), made the day before
2 small containers (for carrying around almond butter or muffins)
Extra baggies for transporting smaller portions of mixed fruit/nuts or this healthy homemade cereal
Everything frozen or that needs to be kept in a fridge I transfer to the hotel room fridge once I get there. And yes, if there isn't a hotel fridge, I shamelessly ask for one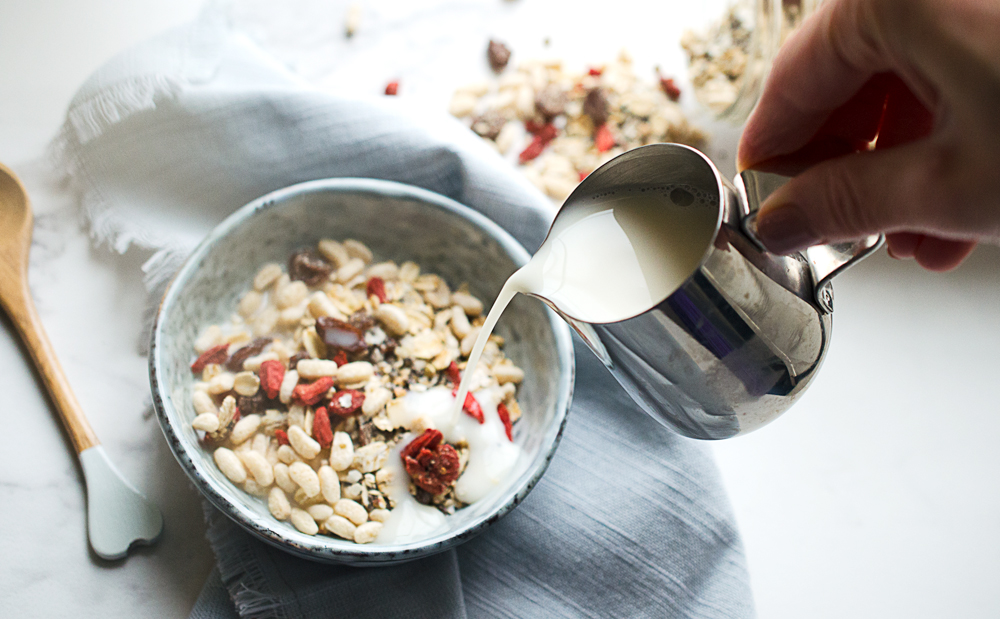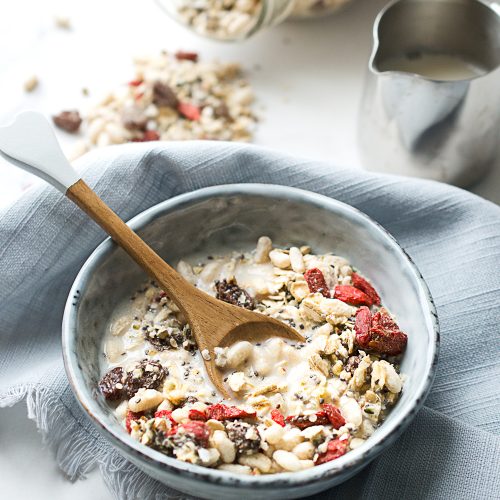 I take this travel friendly Homemade Healthy Cereal with me on vacation for an easy, superfood breakfast.
Ingredients
1

cup

old fashioned rolled oats

1

cup

puffed rice or rice crisps

½

cup

buckwheat groats or sprouted buckwheat groats *,

you can omit if these are too crunchy for you

½

cup

quinoa flakes

½

cup

chia seeds

¼

cup

hemp seeds

¼

cup

slivered almonds

¼

cup

sunflower seeds

½

cup

raisins

½

cup

goji berries

1

teaspoon

cinnamon

½

teaspoon

vanilla powder

optional

Optional add ins: ¼ cup coconut flakes

¼ cup walnuts, 2 tablespoons camu camu powder, 2 tablespoons matcha powder, 2 tablespoons cocoa powder
Instructions
Add all ingredients to a large bowl and mix. Transfer to mason jars and store in a dry, cool place.
Notes
Omit vanilla powder if you don't have any.
A single serving would be ½-1 cup for a meal, ¼ cup for a snack.
* Sprouted buckwheat groats can be purchased at health food stores and online. They're not as hard as un-sprouted. Or you can simply omit the buckwheat!