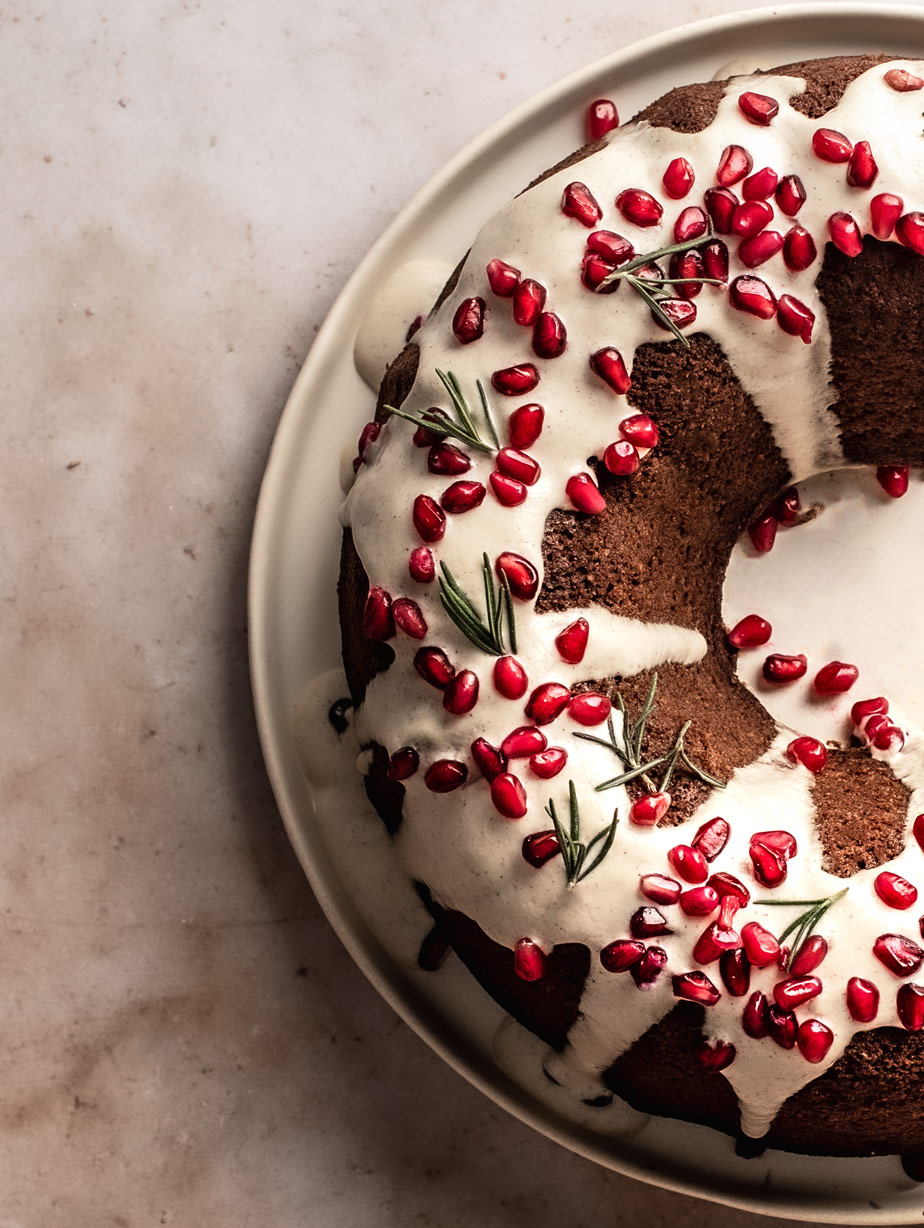 I make this vegan Christmas spice cake every December. Actually I end up making many – to give as gifts, to serve to guests, and to enjoy with ice cream (dairy-free) while watching Christmas movies! It's also gluten-free and has no added oils. 
About This Vegan Christmas Spice Cake
The inspiration (and motivation) for this Vegan Christmas Spice Cake is my momma! Every Christmas for as long as I can remember my mom made the most delicious Christmas spice cake. I'm not talking about just one or two, she would make one after the other like she was opening up a bakery. 
Everyone who came to our house fell in love with this cake and hinted that they would love to have one. I don't blame them….it really was the most delicious spice cake of all time; rich in flavour, dense and somehow light, spicy and sweet. 
The smell of cloves and cinnamon drifting through our house was a Christmas tradition. Even now when I smell these spices, I think of Christmas at home and my mom moving bundt cakes in and out of the oven while Dolly and Kenny play in the background. 
I haven't had a slice of mom's spice cake in almost 10 years. Once I switched my diet around, I decided I wouldn't make any exceptions, even for this gorgeous cake. You see it's made with butter (loads of butter), white sugar and white flour. Nope, nope and nope. 
Eventually, I dedicated myself to making a healthier version. And now it's become my holiday tradition too. Baking one cake after another. My kitchen, filled with spices and memories. Old traditions merging with new ones.
This year, like no other, I'll be baking my spice cakes in Taiwan and my mom baking hers in Newfoundland. It's my first Christmas away from home, and it will be a hard one. My mom and I usually bake together. But this year, Facetime will help us connect and carry on Christmas traditions. Happy holiday baking everyone!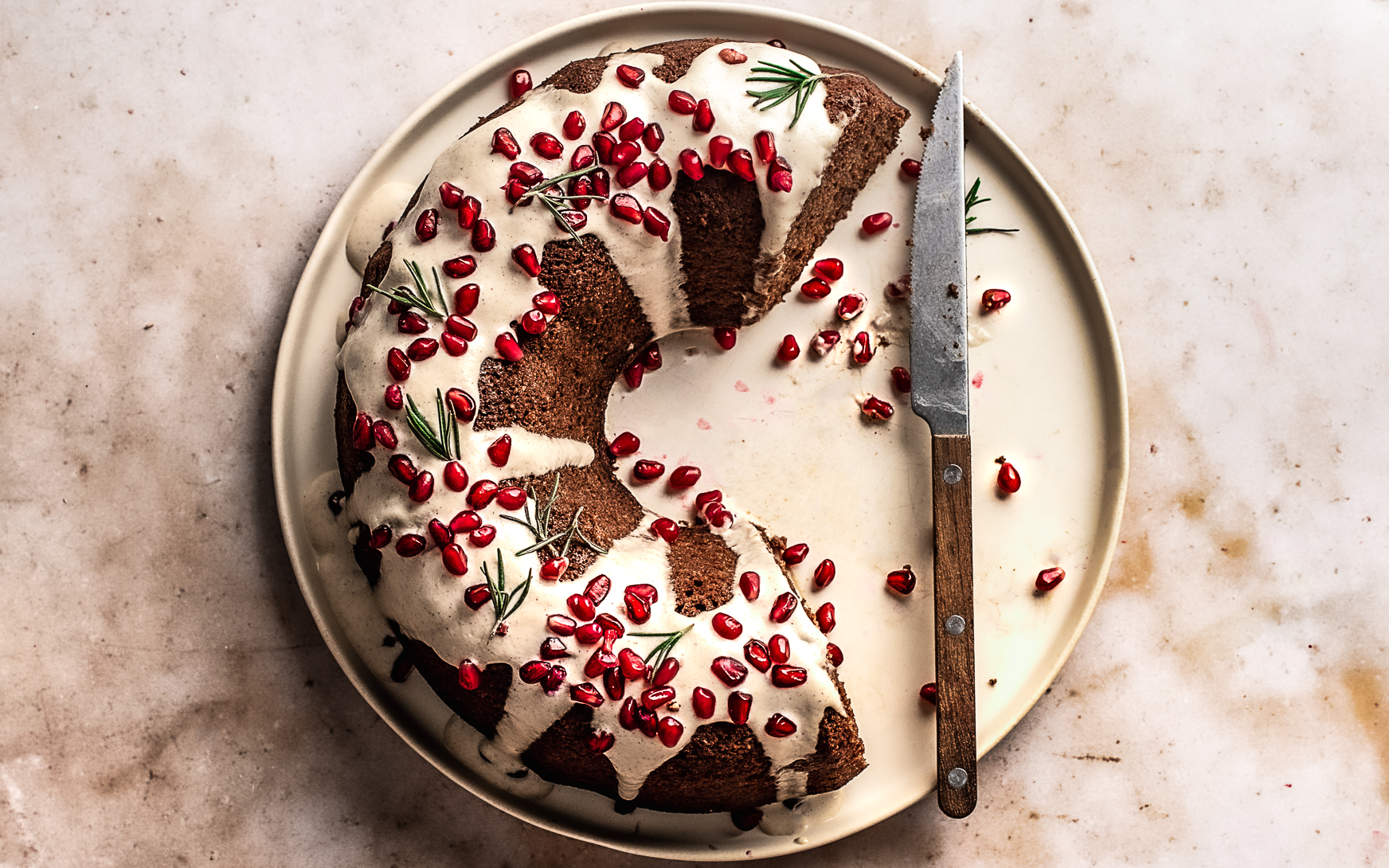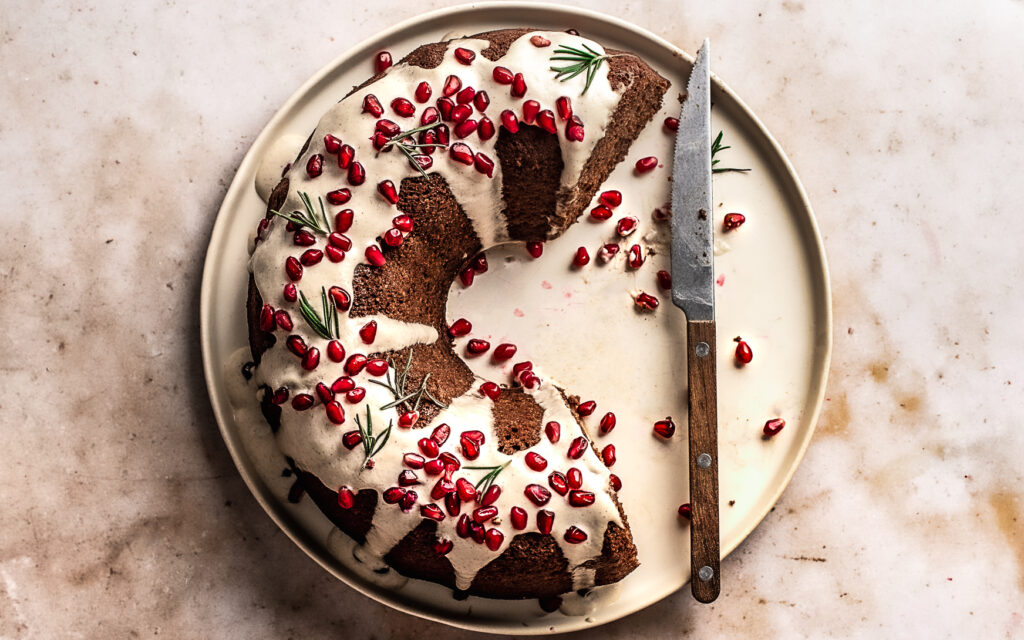 Silicone bundt pan (if you want oil-free, otherwise a regular bundt pan). The one I use is 9.84 inches wide (diameter). Like this one on Amazon.
If you don't have a Bundt pan (see the one I use below), you can use two 8 or 9-inch circular pans lined with parchment paper and make two cakes or a two tiered cake. If you make the circular cakes, drop the cooking time down to 35 to 40 minutes. 
Blender

To make the cashew drizzle you need a high-speed blender. You can make it in a less powerful blender but will like not achieve as smooth a consistency. You can also make the icing as thick or thin as you like. For these pictures I wanted a drizzle rather than a thick icing so used more almond milk to thin it.

Mixing Bowls/Measuring Cups
How To Make This Vegan Spice Cake
Mix the psyllium husk with water to create a psyllium "egg". This acts as the binder for the cake.
Mix the dry ingredients in a large bowl. 
Blend the wet ingredients in a blender. 
Add wet mixture to bowl of dry ingredients. Mix. 
Transfer to bundt pan and bake.
Let cool completely then remove from the pan. Add icing or desired garnishes and serve!
Tips, Tricks and How To Simplify
Read the recipe carefully. It includes a few tips to maximize recipe success! These tips include spooning the flours into the measuring cups and levelling them off with a straight edge rather than scooping the flour up with the measuring cup, as well as grinding or processing the coconut sugar so that it's a finer consistency. Both of these steps will improve the final result. 
Leftovers. Warm leftover cake in the oven and serve with dairy-free ice cream. This vegan spice cake also freezes really well. Once the cake has cooled, I like to cut it into quarters, and freeze in a freezer-safe container. Then I take a quarter out of the fridge as needed and let it thaw on the counter.
Removing the cake from the bundt pan.
To ensure that your cake doesn't break or stick, it's important to take your time when removing it from the bundt pan. Once the cake is completely cool, flip the cake onto a serving plate, pull on the sides of the pan to release the outer edges of the cake as well as squish the middle, circular part of the pan to release the inner part. 
Cashew icing. You can make the icing thick like traditional icing or thin like a drizzle – the way I made it for these pictures! See the recipe for how-t0.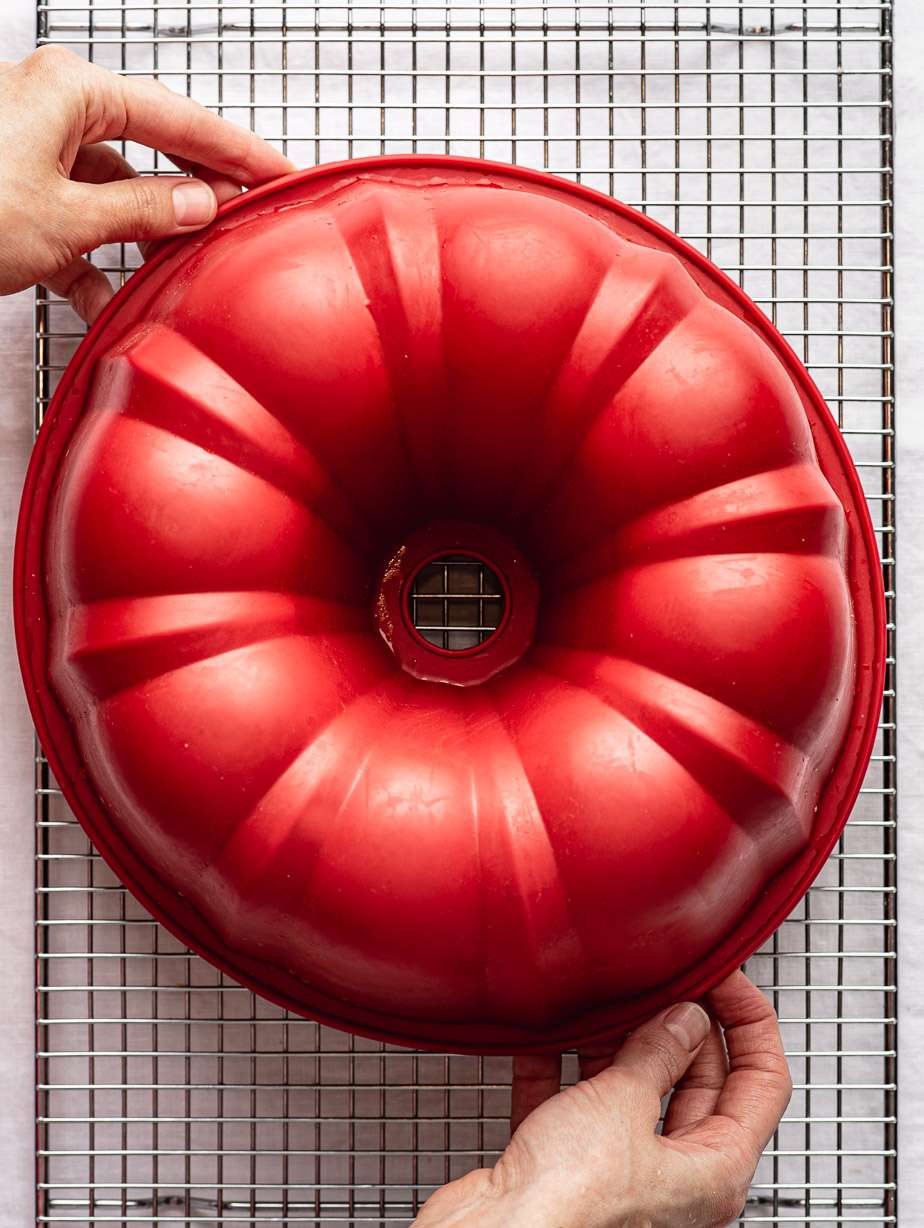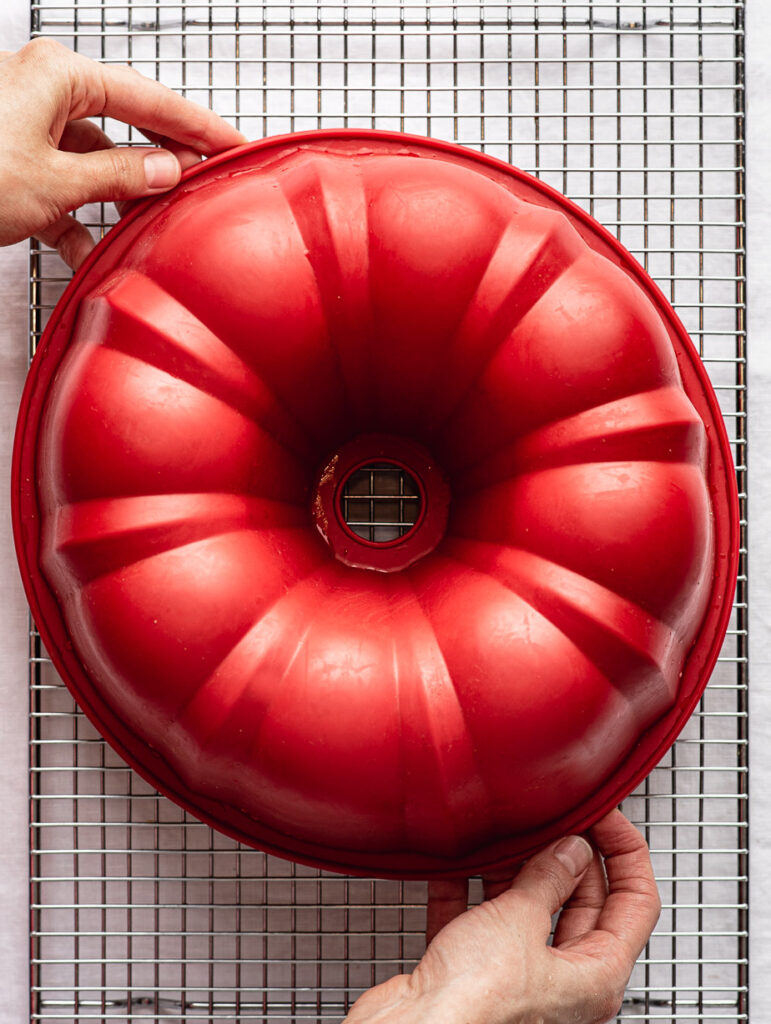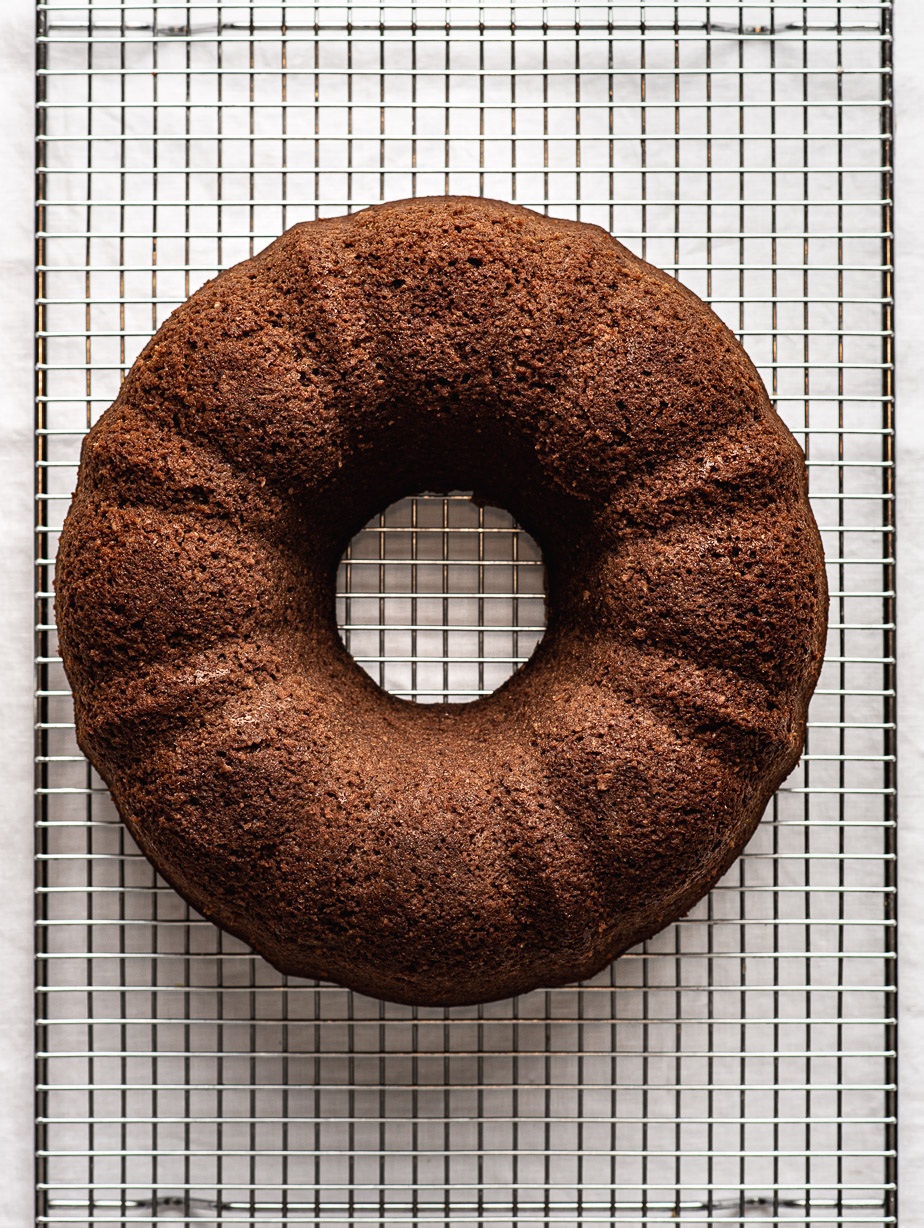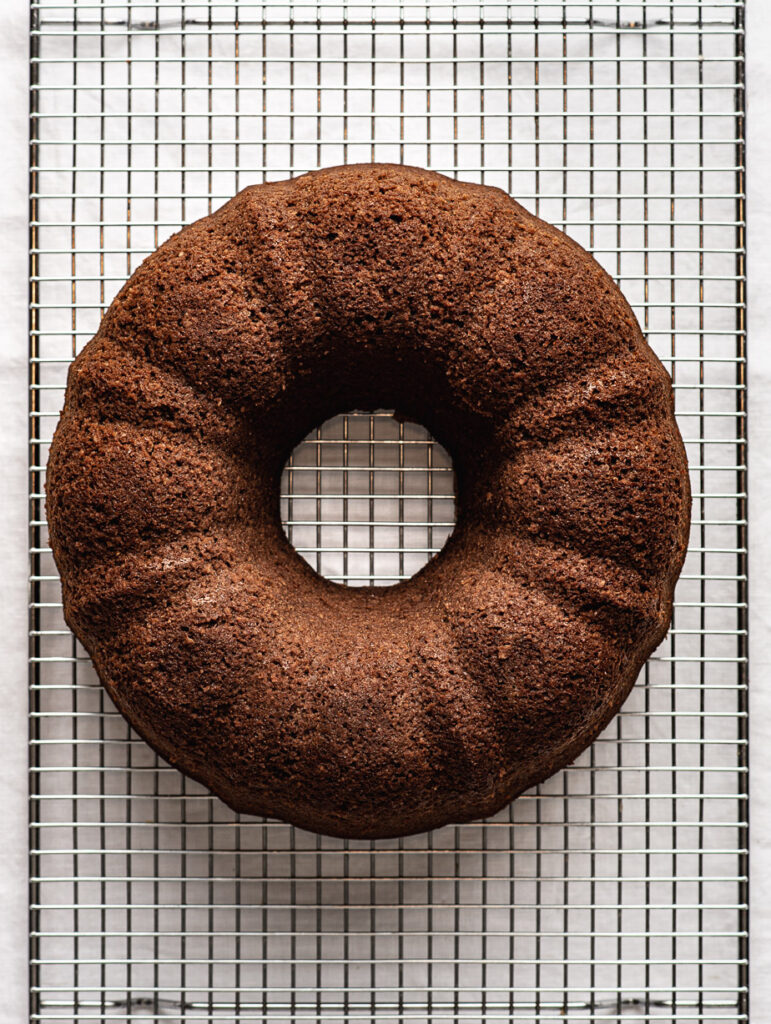 There are a few ingredients you might not recognize so here is a quick summary. I've linked to the ones I am using right now but there are many brands and these ingredients can be found in organic or specialty sections of grocery stores or in health food stores. Or, of course, online.
Psyllium Husk – A soluble fiber that acts as a binder in the cake. I use this one. Available as a powder or whole. I use whole psyllium husk. In general, 3 teaspoons of whole psyllium husk = 2.5 teaspoons psyllium powder.
Coconut Sugar – Also called coconut palm sugar, this is a less-refined sweetener with a lower glycemic index. I use this one.
Blackstrap Molasses – This is what's leftover after sugar is boiled down. It's very rich in flavor and offers lots of minerals and vitamins. I use this one.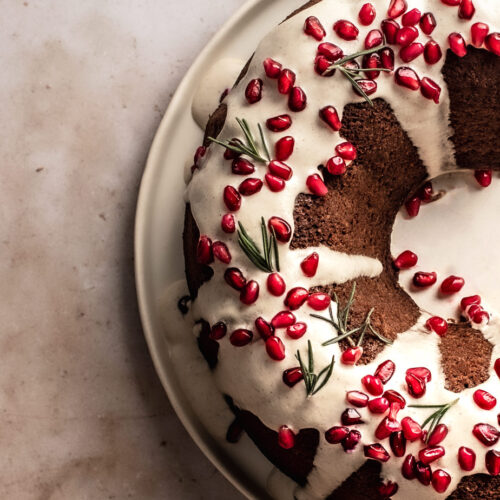 Vegan Christmas Spice Cake (oil-free, gluten-free)
This Vegan Christmas Spice Cake is inspired by one of my mom's classic Christmas recipes but healthier! It's plant-based, gluten-free and made with coconut sugar. I like to drizzle the cake with a cashew icing but you can also serve as is!
Equipment
1 silicone Bundt pan

BLENDER
Ingredients
Dry
3¼

cups

oat flour

gluten free if desired

2¼

cups

almond flour

1½

cups

coconut sugar

see Notes for tip!

2

tablespoons

baking powder

2

teaspoons

baking soda

1

tablespoon

ground cinnamon

1½

teaspoons

ground ginger

1½

teaspoons

ground cloves

½

teaspoon

allspice

¼

teaspoon

nutmeg

¾

teaspoon

sea or Himalayan salt
Wet
2

tablespoons

whole psyllium husk

1

cup

water

2

cups

unsweetened almond milk

¼

cup

+ 2 tablespoons unsweetened apple sauce

1

tablespoon

+ 2 teaspoons vanilla extract

2

tablespoons

blackstrap molasses

regular will work as well
Cashew Cream Drizzle
1

cup

cashews

soaked in water for 2-3 hours

2

tablespoons

orange juice

1

teaspoon

orange zest

¼

cup

maple syrup

2 to 10

tablespoons

unsweetened almond or soy milk

(see directions)

1

teaspoon

vanilla extract

½

teaspoon

cinnamon

⅛

teaspoon

sea or Himalayan salt
Garnishes
1

cup

pecans

1

cup

pomegranate seeds
Instructions
Cake:
Preheat the oven to 350°F.

Add the psyllium husk to a bowl with 1 cup of water (from "Wet" portion of recipe), mix and set aside for 5 minutes. It will become gelatinous and thick.

Measure the flours and sugars by spooning each into dry measuring cups and running the straight edge of a knife across the top to level out the surface. Add the flours/sugar to a large glass bowl. Add remaining dry ingredients (baking powder, baking soda, spices, and salt) to the bowl and mix together using a whisk until well combined. Set aside.

Add all wet ingredients, including the psyllium husk/water mix, to a blender and blend until smooth.

Add the blended wet ingredients to the dry ingredients and mix well. Use a whisk to break up any lumps.

Transfer the batter to a silicon Bundt pan.

Place the Bundt pan on the middle rack of the pre-heated oven and bake for 70-80 minutes. Resist opening the oven to check before the 60 minute mark! The cake is done with the sides have pulled away from the pan and the surface is firm to touch.

Remove the cake from the oven and place on a cooling rack and let it cool completely in the pan. The surface of the cake might sink a little, this is ok!

Once completely cooled, flip the cake onto a serving tray. Pull the sides of the silicone bundt pan to release the cake. I also like to squeeze the center part of the bundt pan to make sure the inner circle of the cake also releases completely. The cook should easily pop out. Now drizzle with ½ the Orange Cashew Drizzle and garnish with toasted pecans (instructions below) and pomegranates. Use the remainder to drizzle over individual slices once served.
Orange Cashew Drizzle:
Drain cashews and add to a blender along with all other ingredients. More almond milk will give you a thinner icing, and less almond milk will result in a thicker, spreadable icing. I usually use 7 to 8 tablespoons. For these pictures I used even more to have a "drizzle" effect.

Blend on high until the mixture is smooth. Add more almond milk, 1 tablespoon at a time, as needed to reach your desired consistency.
Notes
CAKE NOTES
Make your own oat flour by processing rolled oats in a blender or food processor until a flour-like consistency is reached. 
For the best results, grind the coconut sugar before adding it to the dry ingredients. Do this by adding the sugar to a food processor or blender and processing until the sugar reaches a fine powdery consistency. You can also do this in a coffee grinder.
If you don't have pomegranates, you can use garnish with dried cranberries or any fresh berry. 
If you don't have a silicone Bundt pan, be sure to lightly oil the Bundt pan so the cake doesn't stick. 
TOASTED PECAN DIRECTIONS
Spread the pecans out on a parchment-lined pan and bake in a 350ºF oven for 5 minutes. Watch them carefully as they burn quickly and easily!  They will start to brown and become fragrant when they're done. Once you remove from the oven, quickly transfer them to a glass plate to cool. Once cooled, roughly chop the pecans and set aside. 
Take a Peek Inside The Plant-Based Cookbook!