About This Farmers' Market Salad
First, why have I called this salad a Farmers' Market Salad?
Because it was inspired by what was fresh, local, and available! And you can easily make something similar with whatever you have!
This is the intention behind this recipe and salad making guide – to help you leave your local market with a bag of fresh veggies that will inspire a gorgeous summer salad! 
And anything goes when you're making a farmers' market salad as you'll see!
We're going to talk about:
ways of making your local veggies more interesting
how to upgrade your salad with some delicious and nutritious additions
the magic of pairing your veggies with a healthy and yummy sauce!
Ingredients You'll Need (& alternatives)
Here's what's in my farmers' market salad, but in the next section you'll see how you can pick and choose your own ingredients.
Lettuce and Greens – whatever you find that is fresh and beautiful! So many greens can be used as a base for salad. Try something new like watercress, red leaf, or radichio ! In this salad I used a combination of baby arugula, little gem, and endive. This is a great overview for inspiration from Epicurious.
Zucchini – abundant during the summer months in most farmers' markets and so versatile! 
Beet – early summer or autumn beet in any colour work for this farmers' market salad. Beets add colour and crunch but you can also use radishes or fennel bulb.
Cucumber – always a summer essential! You can also use fresh tomatoes or any juicy veggie you love.
Fresh herbs – used for the dressing. I use cilantro and basil but any delicate herb (mint, dill, parsley) will work. Of course the flavour will change but this is what cooking with fresh and local ingredients is all about. Experiment and combine. 
Cooked Quinoa –  cook ahead of time or skip it if you want a grain free farmers' market salad. 
Pumpkin Seeds – raw or toasted. You can also use any nut or other seed you love.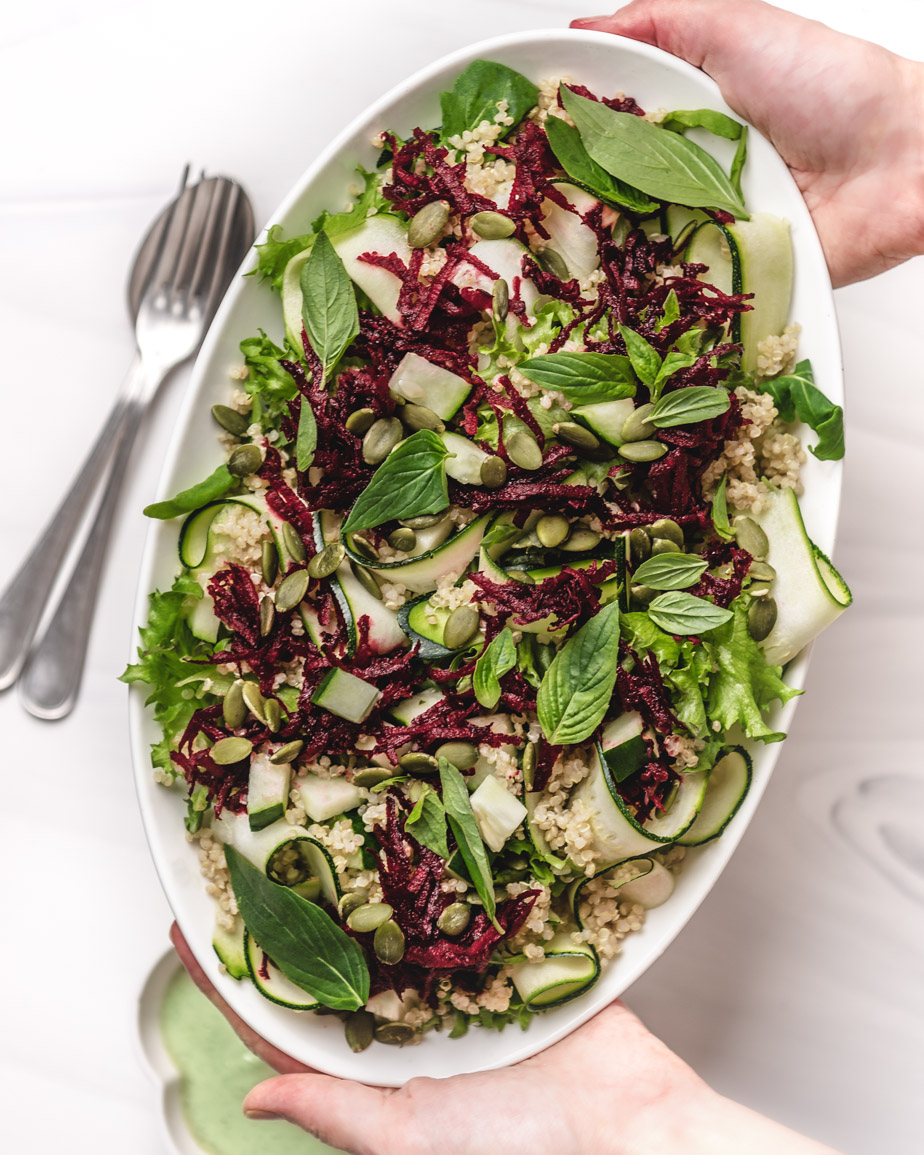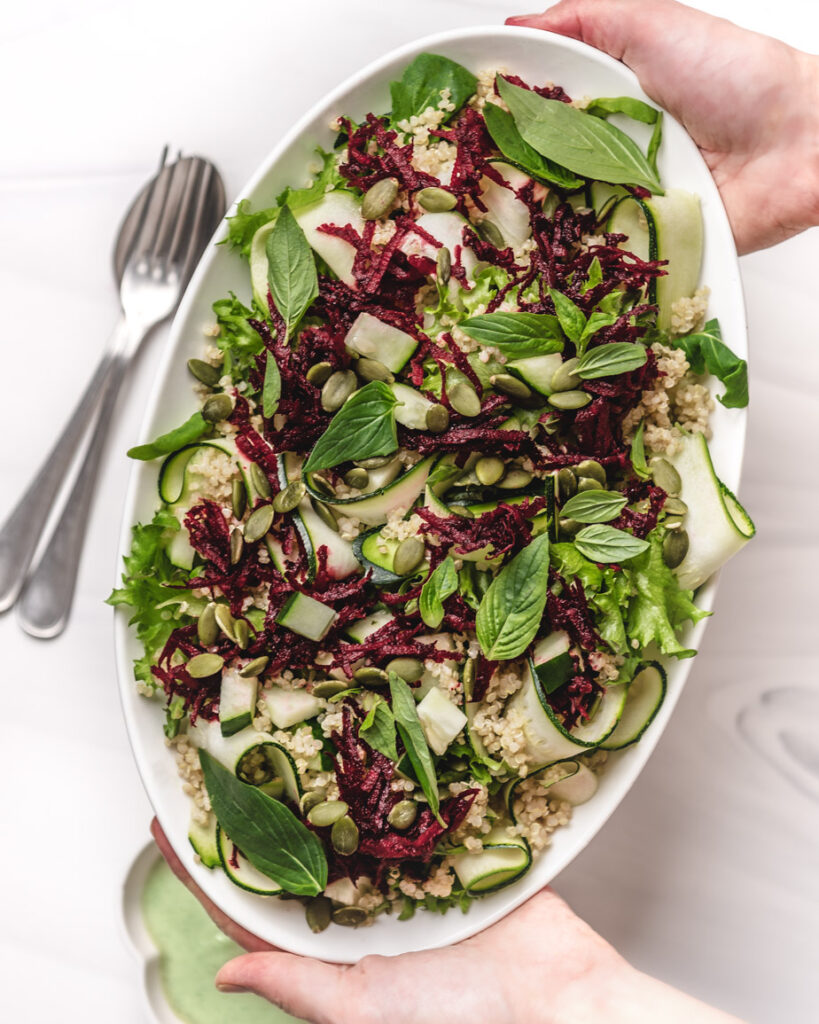 Tips For Making An Epic Farmers' Market Salad
You can turn almost any vegetable into an amazing salad and your salad does NOT need to be a bowl full of veggies, Here are some things to keep in mind when designing your own farmers' market salad!
CHANGE YOUR GREENS – If you always reach for the romaine lettuce or baby spinach (both delicious), try something new.  A farmers' market is a great place to find new varieties of lettuce and leafy greens. I like to rotate and mix and match,

VERSATILE CUTS – Shapes are important! Change up the way you cut your fresh veggies. You might think shapes won't affect taste but you'd be surprised how different visual cues can impact our experience of a meal. Here are some easy ways to switch up how you prepare your veggies:

Box Grater – grate any firm veggie using a cheap box grater. I like to grate beets, zucchini, carrots, turnip, and sweet potato. 
Spiralizer – a modern tool but one that doesn't require a big investment. You can make noodle-like shapes from many different veggies using a spiralizer but I generally use it to make zucchini noodles (also delightfully known as zoodles). 
Vegetable Peeler – you have this in your kitchen already! A good veggie peeler can be used to make ribbons from zucchini and root veggies.
Mandolin – mandolins vary but I like to use a cheap handheld one (watch your fingers!) to thinly slice radish, cucumber, carrots, bell peppers, and I use it to also finely grate cauliflower and broccoli. 

ESSENTIAL ADDITIONS – YES! You can totally make a delicious salad with just vegetables! But for a nutritious and well-rounded meal, I like to add a combination of cooked grains, beans, and/or nuts and seeds. These ingredients add essential nutrients, texture, and flavour.

Grains – add warm, cooked grains or leftover grains right from the fridge. In this farmers' market salad I used cooked quinoa but you can try buckwheat, millet, wild or brown rice.
Beans – an excellent addition for adding plant-based protein to any salad! Chickpeas are a favourite of mine for salads but any cooked bean will work!
Nuts/Seeds – nuts and seeds add essential minerals, healthy fats, protein, and fibre. Keep them raw or give them a light toast for added flavour. We use pumpkin seeds in this farmers' market salad. I love pumpkin seeds because they're a great source of zinc (essential for the immune system!).

SAUCES AND DRESSINGS – a good dressing can upgrade any bowl of veggies! I talk about this in The Plant-Based Cookbook (

and give you loads of oil-free sauce options

) but for this salad we're using a tahini-based dressing that's bright and lightly floral thanks to lemon and fresh herbs. Experiment with different kinds of dressings. A go-to of mine is this easy oil-free Maple-Dijon Dressing.
HERBS – not essential but a nice addition. Fresh, delicate herbs are such a lovely addition to any veggie-based salad. They add a light elegance and subtle flavour. In this farmers' market salad I've used fresh cilantro and basil in the dressing as well as for garnish. 
How to Know What Ingredients Work Together?
Really, there are no rules but remember this:
THINGS THAT GROW TOGETHER, GO TO TOGETHER!
If you're at the market and wondering what fresh produce will work together in a salad, let what is fresh guide you. Foods that grow in the same season generally work wonderfully together!
Here are some classic examples:
tomatoes + cucumber + basil
beets + carrots + swiss chard
asparagus + radish + green peas
Happy salad making and please take the time to peruse your local farmers' market! Make an afternoon of it and support local!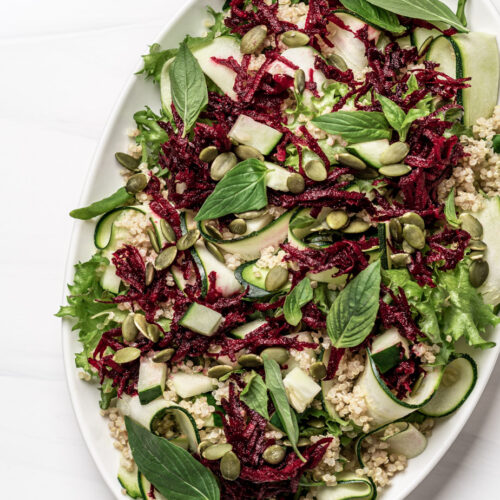 Turn a summer farmers' market visit into a gorgeous, nutritious, versatile salad! See the tips in the post on how to get creative with salads! The herb tahini dressing also makes for a great veggie dip! This recipes makes 2 to 3 large salads or 5 to 6 side salads.
Equipment
Blender (for the dressing)

Box Grater
Ingredients
Salad
6

cups

mixed greens

whatever is fresh and vibrant – gem lettuce, arugula, leafy green

1

zucchini

peeled into ribbons

1

medium beet

grated

1

English cucumber

diced small

1

cup

cooked and cooled quinoa

½

cup

pumpkin seeds

see notes for toasted

¼

teaspoon

sea salt

Fresh herbs

optional
Herb Tahini Dressing
¼

cup

stirred tahini

3

tablespoons

lemon juice

2

teaspoons

red wine vinegar

Large handful fresh basil

leaves and tender stems only

Large handful fresh cilantro

leaves and tender stems only

1

garlic clove

crushed and peeled

1 to 2

tablespoons

maple syrup

, adjust to your liking

¼

cup

water

plus more to thin
Instructions
First make the dressing.
Add all the ingredients to a blender and blend until smooth. Add more water, 1 tablespoon at a time, to thin as needed. Set aside.
Now prepare the salad.
Wash and spin dry the leafy greens you've chosen. Transfer to a large salad bowl.

Peel the zucchini into long, wide ribbons using a vegetable peeler. Scrub the beet, remove the root and stem and grate using the large hole on a box grater. Dice the cucumber (small or large, whatever you like).

Layer the prepared veggies into the bowl of lettuce and add the quinoa and pumpkin seeds. Add half the dressing and toss.

Divide among bowls and garnish with fresh herbs, more dressing, and/or pumpkin seeds if desired.
Notes
Add another layer of flavor by toasting the pumpkin seeds. Add them to a large pan and toast over medium heat for 4 to 6 minutes, stirring them around once or twice,  until fragrant and they start to pop. Transfer immediately to a bowl to cool.