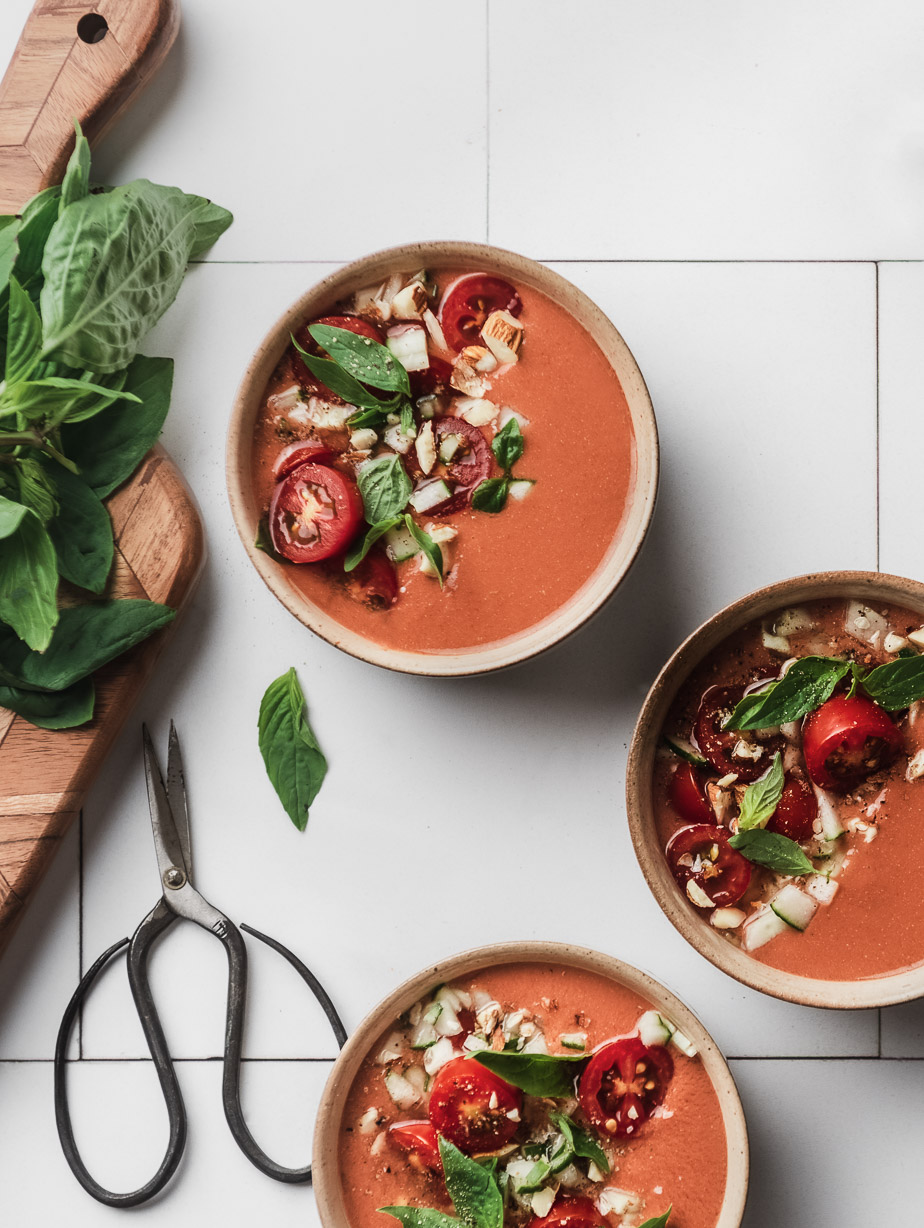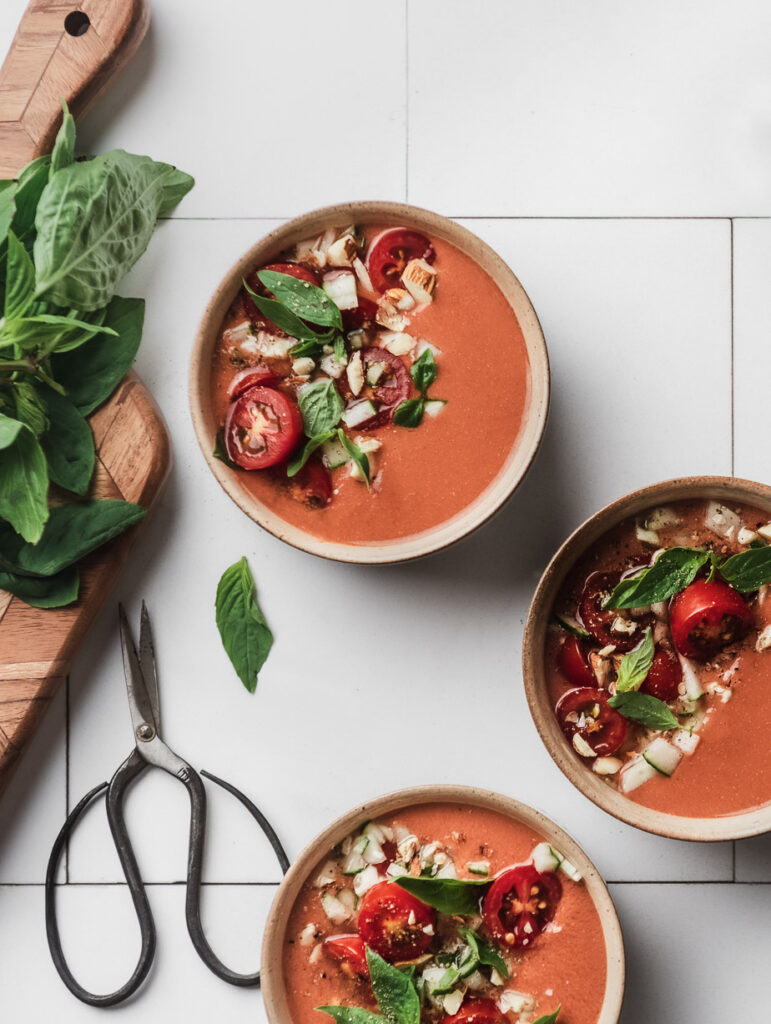 First, what is gazpacho? 
Gazpacho is a soup made from raw vegetables usually with fresh tomatoes as its base. 
It's often served as an appetizer, palette cleanser between courses, or light lunch especially during hot weather. 
There are so many ways to make gazpacho as you can use many fresh veggies and add almost any flavour – as you'll see in the recipe below. Different cultures and regions have their own signature versions, calling upon local ingredients and traditional preparation methods.
I call this a simple Gazpacho because the ingredient list is short and the procedure is straight forward – everything is added to a blender or food processor – but there are suggestions on how other fruits and veggies, herbs, and even nuts can jazz it up. 
Up until like a week ago I would say I was indifferent to gazpacho (also called gaspacho). Cold soup never spoke to me. 
But now that I live in a city with a my-body-feels-like-it's-on-fire kind of summer, I find myself craving gazpacho's vibrant, fresh flavours and light texture. 
This simple gazpacho is hydrating and refreshing!
It's easy to make and decidedly summery. I've been on a summer-y kind of recipe kick…hence Summer Refreshers, Basil Green Smoothies, and Farmers' Market Salads! 
I'm really leaning into what's seasonal which often leads me to recipes I wouldn't normally try!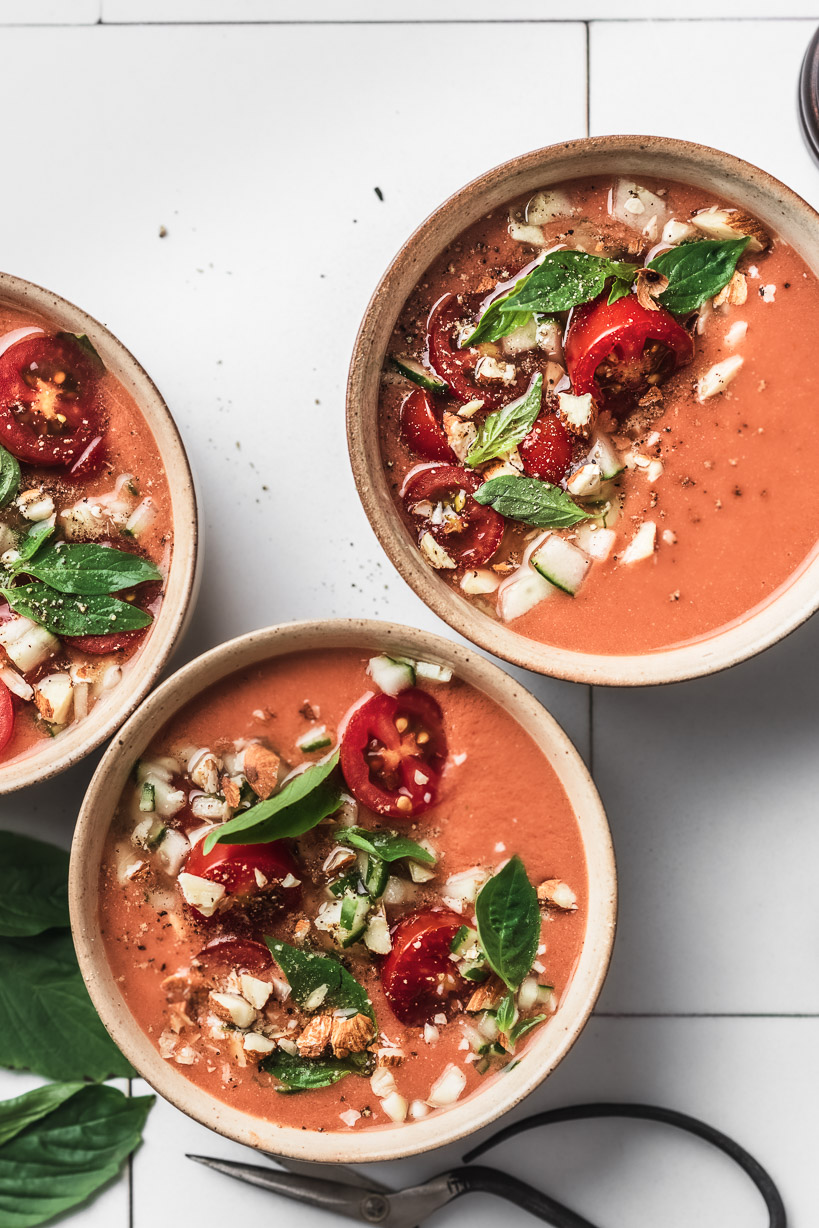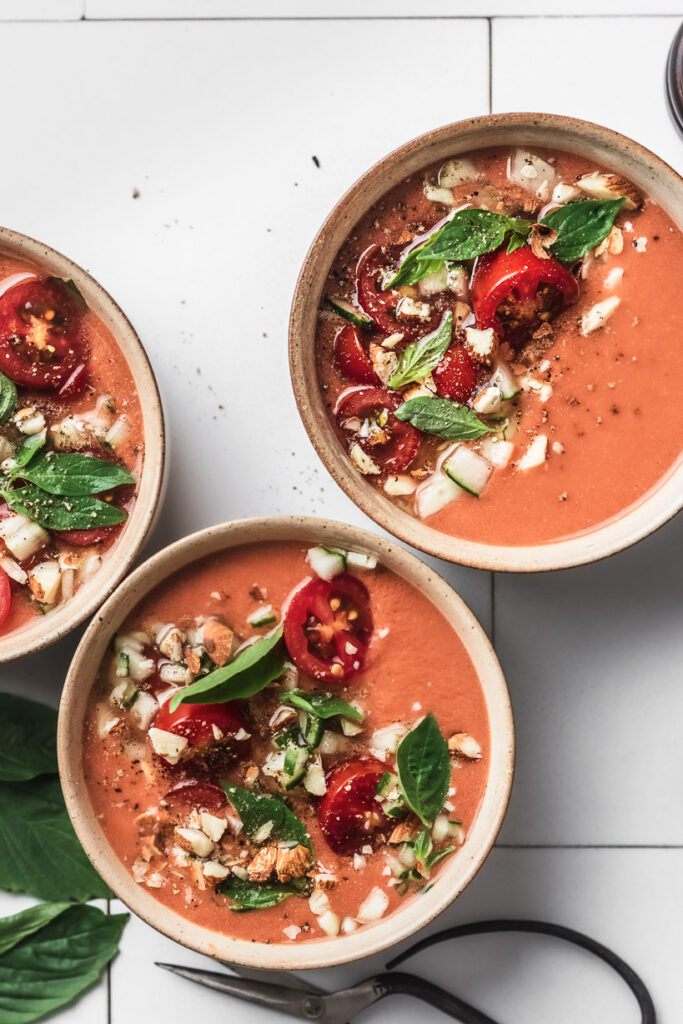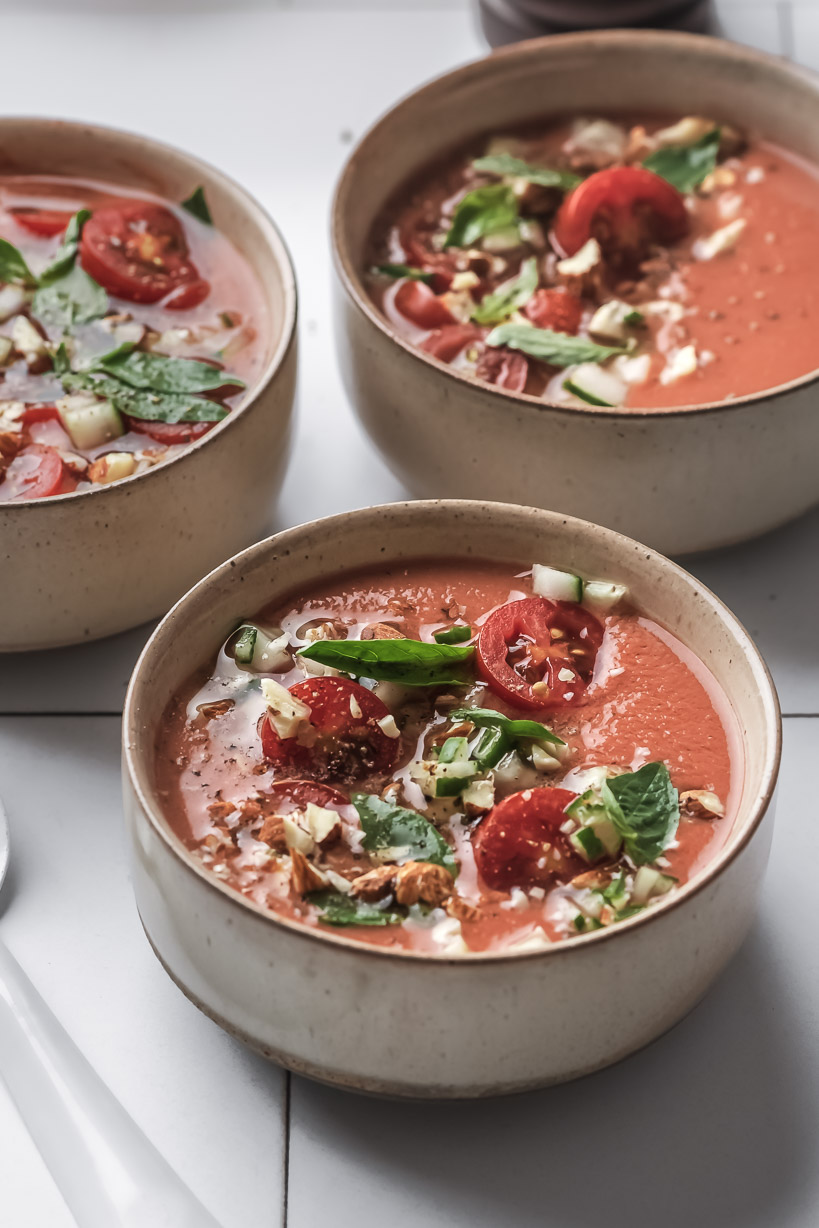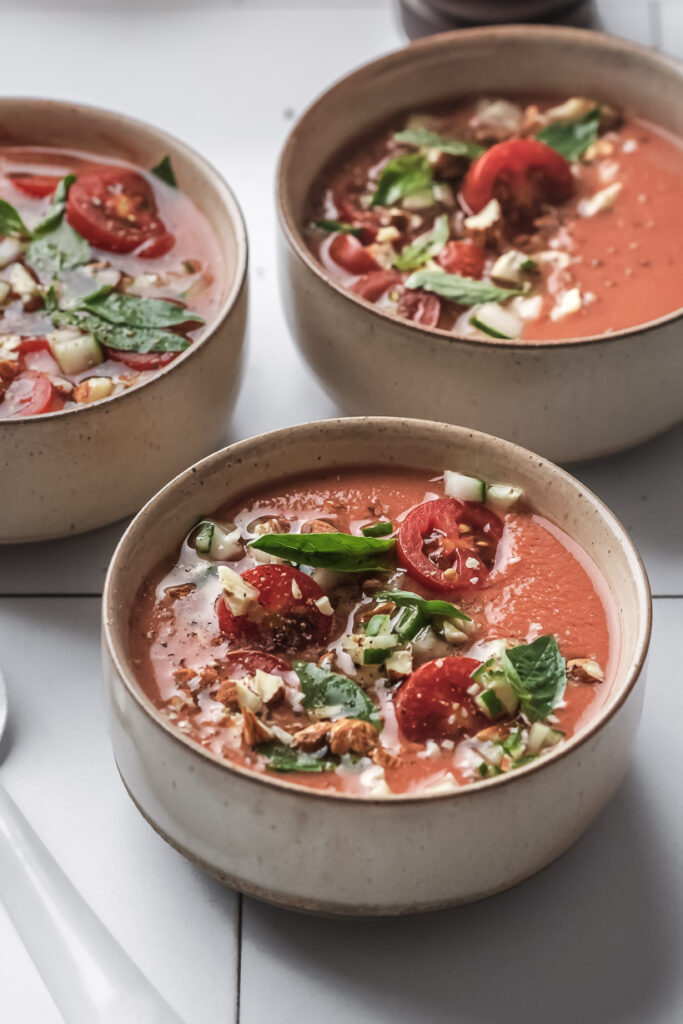 You can make this gazpacho your own depending on where you live and what's in season but I've kept the ingredients quite simple here (i.e. simple gazpacho) and they should be readily available.
Cherry tomatoes
English cucumber
Red bell pepper
Red onion
Garlic
Jalapeño (if you like a little heat)
Red wine or sherry vinegar
Salt
How To Make This Simple Gazpacho
Everything goes into a blender or food processor and is blended or processed to your desired texture.
I prefer a smooth gazpacho, so I use a blender and then pass the gazpacho through a sieve. I use a sieve like this.
If you like a more textured gazpacho, you can use a food processor and skip the sieve.
Variations, Tips, & Tricks
Here's where this simple gazpacho gets exciting!
You can add all kinds of additional ingredients like…
fresh herbs
summer vegetables 
fruit
even nuts
….to create new flavours and textures.
A note! Extra virgin olive oil is often used to give gazpacho a creamy texture and appealing mouthfeel. It's a very classic gazpacho additive. But this simple gazpacho is oil-free. 
You don't need the oil but if you want a creamy consistency, I suggest blending soaked and drained almonds or cashews into your gazpacho to create a similar effect.
To give gazpacho more flavour and interest I also like to add fresh basil. mint, or cilantro.
To make this simple gazpacho even more refreshing, try adding 2 cups of seedless watermelon.
You'll find even more variations for this simple gazpacho below in the recipe but ultimately the suggestions are just meant to inspire you to think a little outside the box and get creative in your kitchen!
And don't forget that you can add interest and some of that "WOW" factor by garnishing your gazpacho with all kinds of goodies!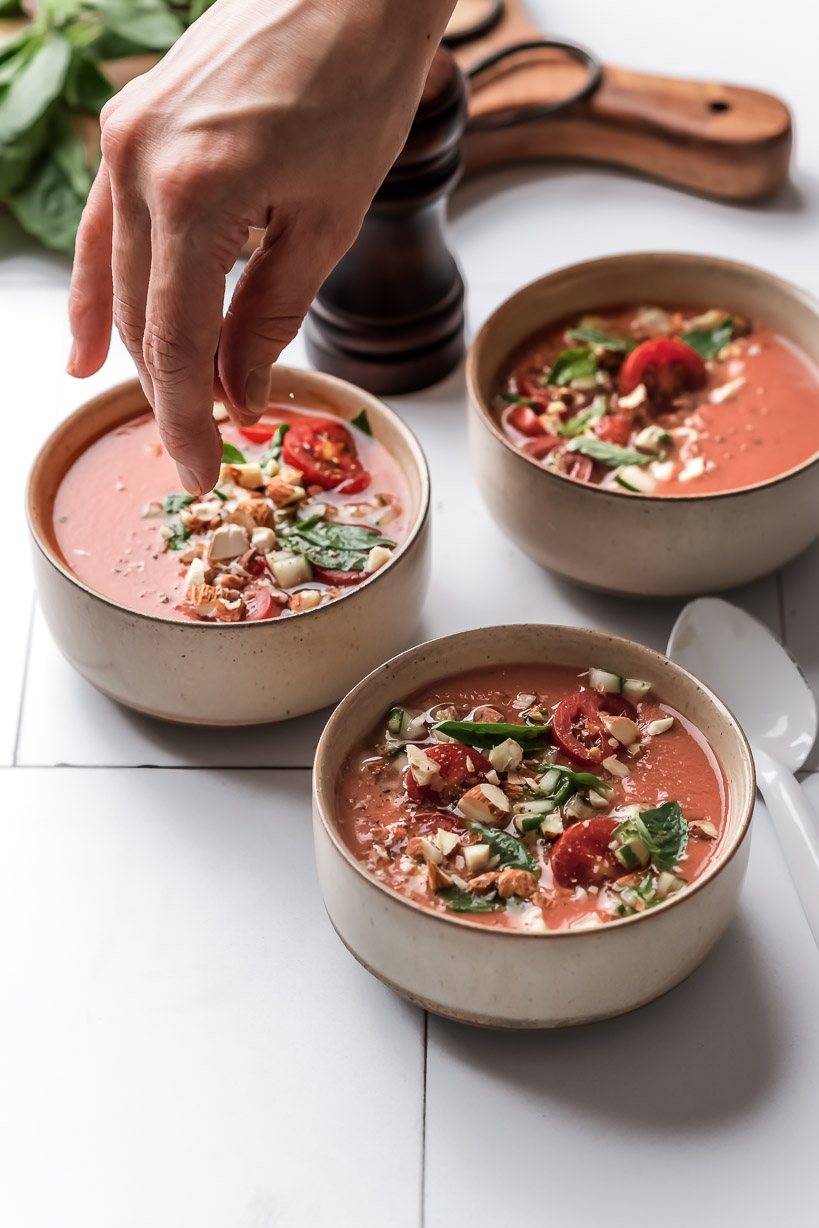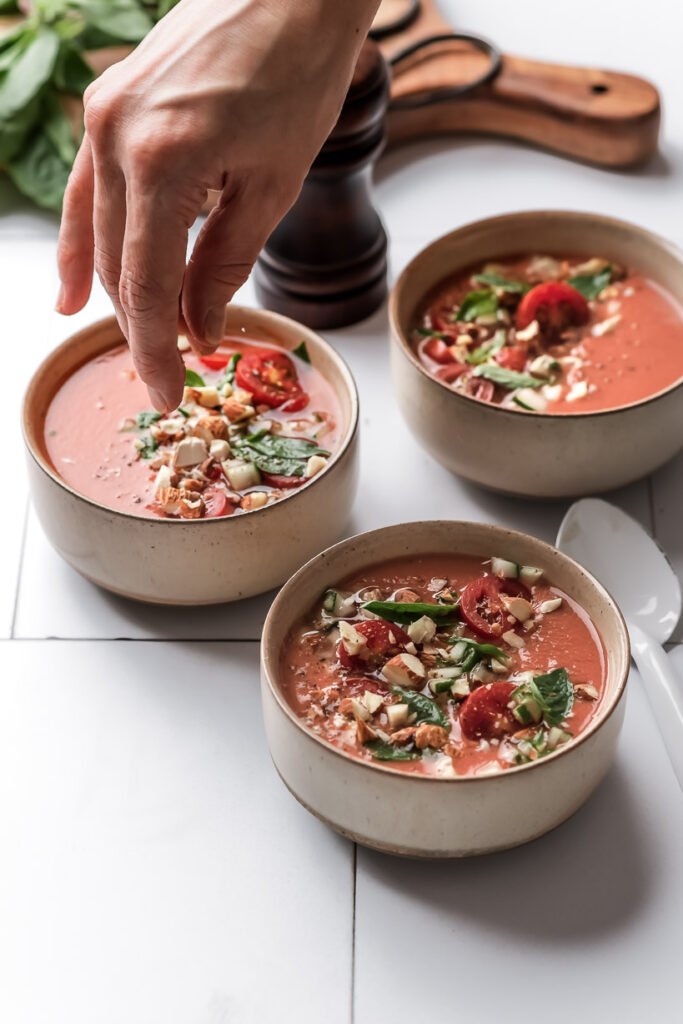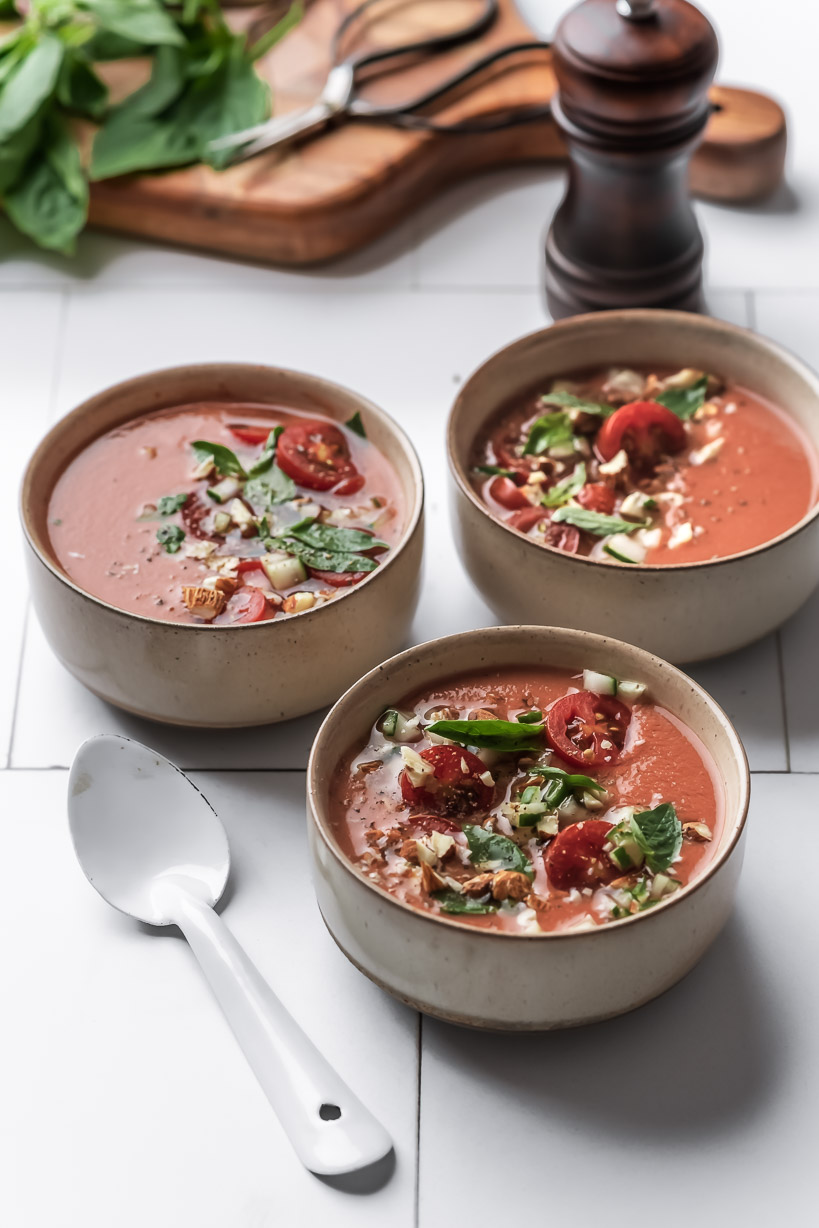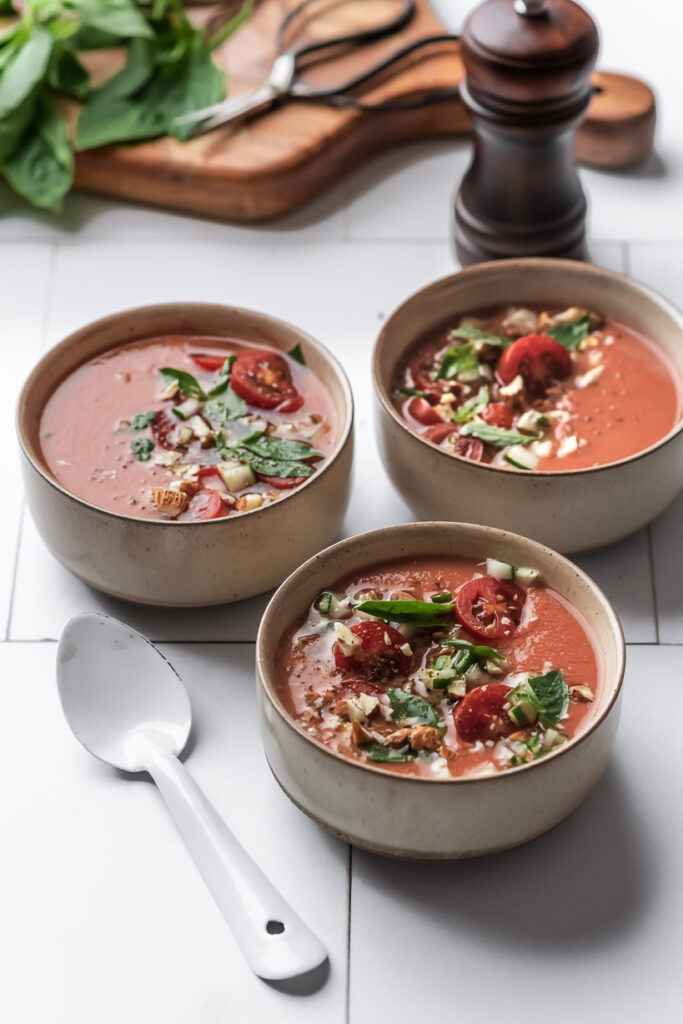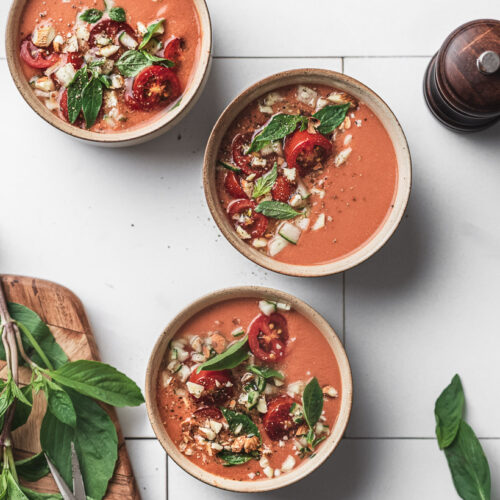 This is an oil-free version of a classic summer-y soup made from fresh vegetables! Gazpacho is usually served in smaller portions in glasses or small bowls and slightly chilled. This recipe can serve 4 to 6.
Equipment
Blender or food processor (see recipe)
Ingredients
800

grams

/28 ounces cherry tomatoes (5 cups)

1

(8-inch) English cucumber, peeled and roughly chopped

1

red bell pepper

seeds and stem removed, roughly chopped

¼

heaping cup diced red onion

1

garlic clove

crushed and peeled

1

small jalapeno

seeds and stem removed, optional

2

tablespoons

red wine or sherry vinegar

¾

teaspoon

sea salt
Optional additions
Zucchini

Beets

¼

teaspoon

ground cumin or smoked paprika

Handful fresh basil or cilantro or mint

Lime juice instead of vinegar

¼

cup

soaked almonds or cashews for a creamy version

(see notes)

2

cups

seedless watermelon
Optional garnishes
Sliced tomatoes

Diced cucumber

Fresh herbs

Diced avocado

Chopped almonds
Instructions
Add all the gazpacho ingredients to a high-speed blender (for a smooth gazpacho) or food processor (for more texture). Blend or process on low and then increase to high and blend until your desired texture is reached.

Next, I like to strain the gazpacho using a sieve or fine mesh strainer so the gazpacho is silky smooth. Set up a fine mesh sieve/strainer over a large bowl. Pour the gazpacho, a little at a time, through the sieve and use a large spoon or spatula to pass the gazpacho through the sieve. This will take a few minutes. Discard the pulp or add it to your next stock or soup recipe.

Taste and reseason as needed with salt, pepper, or vinegar (if you like a tangier flavor), then transfer the strained gazpacho to the fridge and let chill for a couple of hours.

To serve, divide among glasses or small bowls and garnish as you wish! If you want to thin the gazpacho, simply stir in a little cold water.
Notes
Notes:
I like adding nuts (almonds or cashews) to give my gazpacho a little hint of creamy but it's totally optional. Simply add

¼ cup

nuts to the blender with all other ingredients and blend until smooth. If you have a high-speed blender, you can also get away with not soaking the nuts although this does help with digestion. If you do choose to use nuts and soak them, soak almonds for 6 to 8 hours and cashews for about 3 hours. 
Serve this gazpacho chilled and ideally the same day you make it.