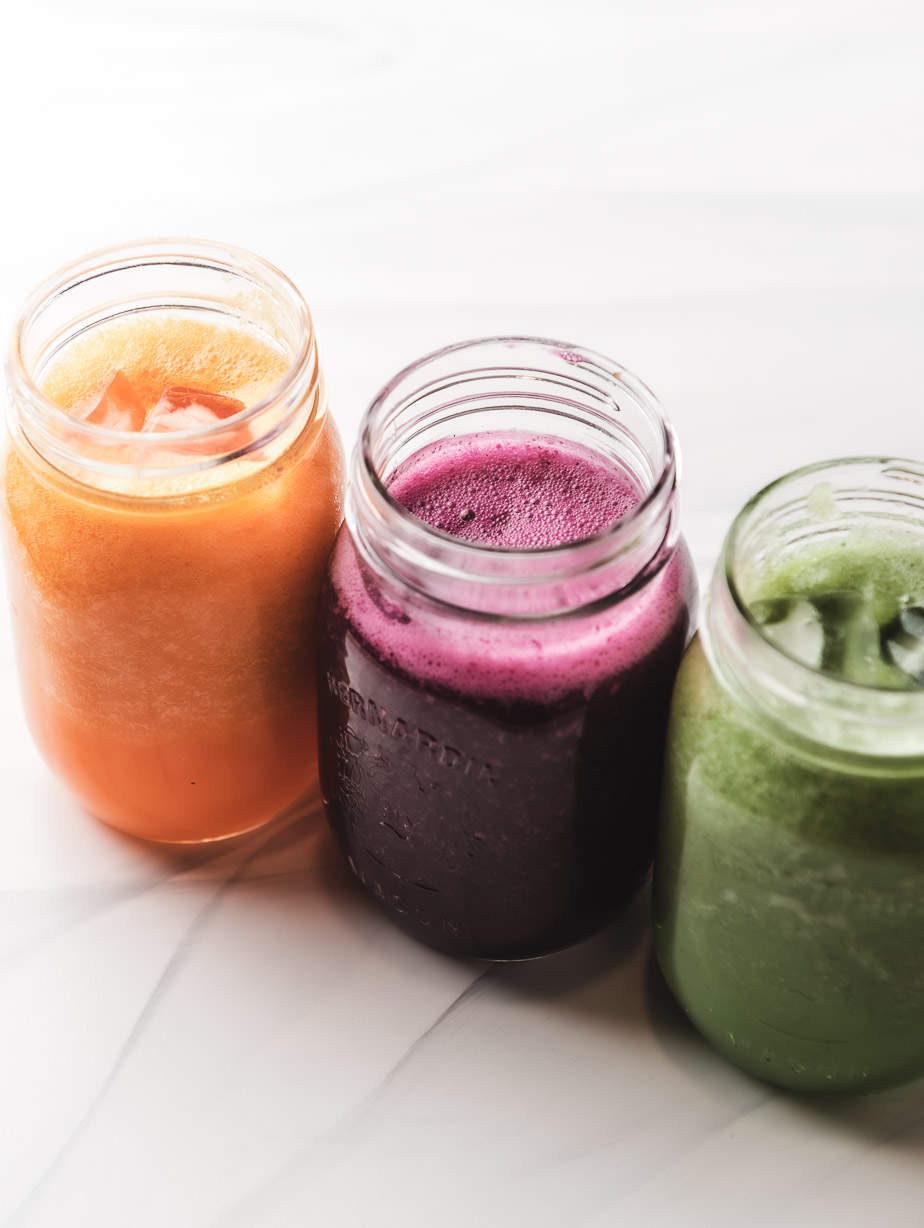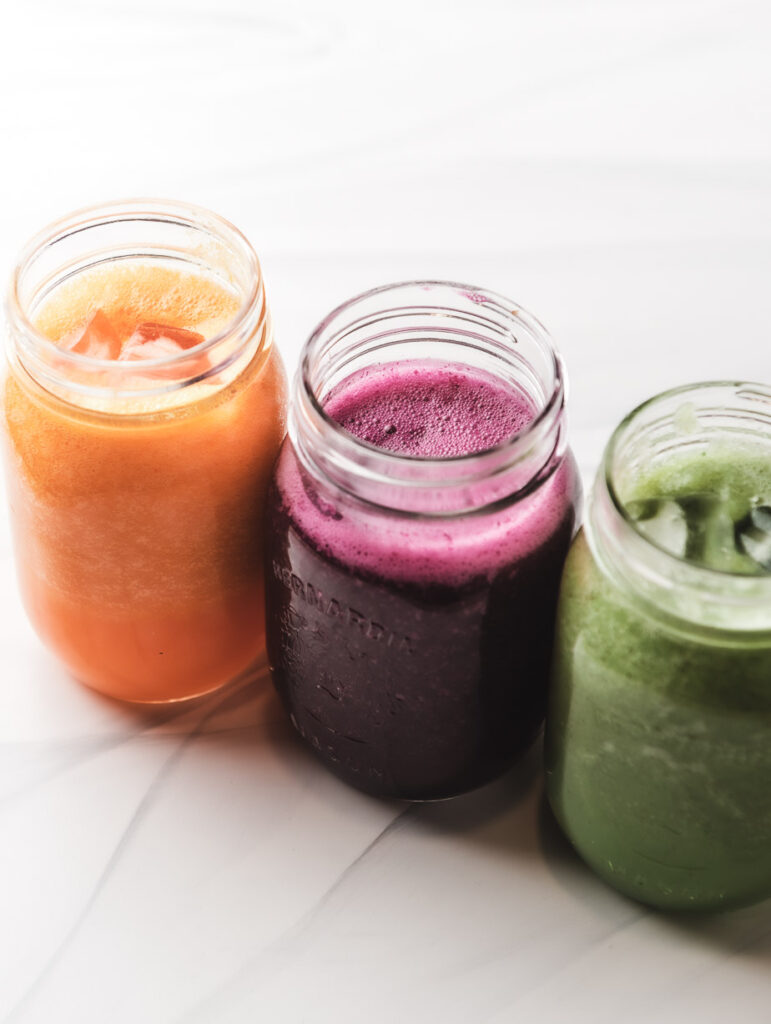 What Is A Summer Refresher?
A refreshing juice-smoothie hybrid I came up with for a light morning boost of nutrition or just a cooling beverage with some health benefits for when it's hot out! 
And it's so hot out here.
These refreshers also make excellent summer-brunch or BBQ additions but I've been swapping them for my morning smoothie and having something light to eat an hour or two later. 
These summer refreshers are immune-boosting, have no added sugar, are lightly sweetened thanks to fresh, seasonal fruits, and each version has a special immune-boosting spin. 
I've given you three options that I've been loving!
Fresh and Green 
A kiwi-cucumber-celery hybrid that has quickly become a staple in my morning routine. It sounds lame but you can almost feel your cells doing a happy dance as you sip!
Vitamin Summer 
This vibrant orange summer refresher is made from carrots, fresh mango, and orange. It's giving you anti-inflammatory vitamin C and beta-carotene. Fresh mango makes it extra summery! 
Pink Passion
Pink dragon fruit has changed my fruit life! If it's available to you, I highly recommend purchasing. Its sweet melon taste is just divine. In this refresher, dragon fruit's neon pink pigments mask the addition of spinach. So it's pink, but it's also green! Apple and ginger round out the nutrition and flavour profile.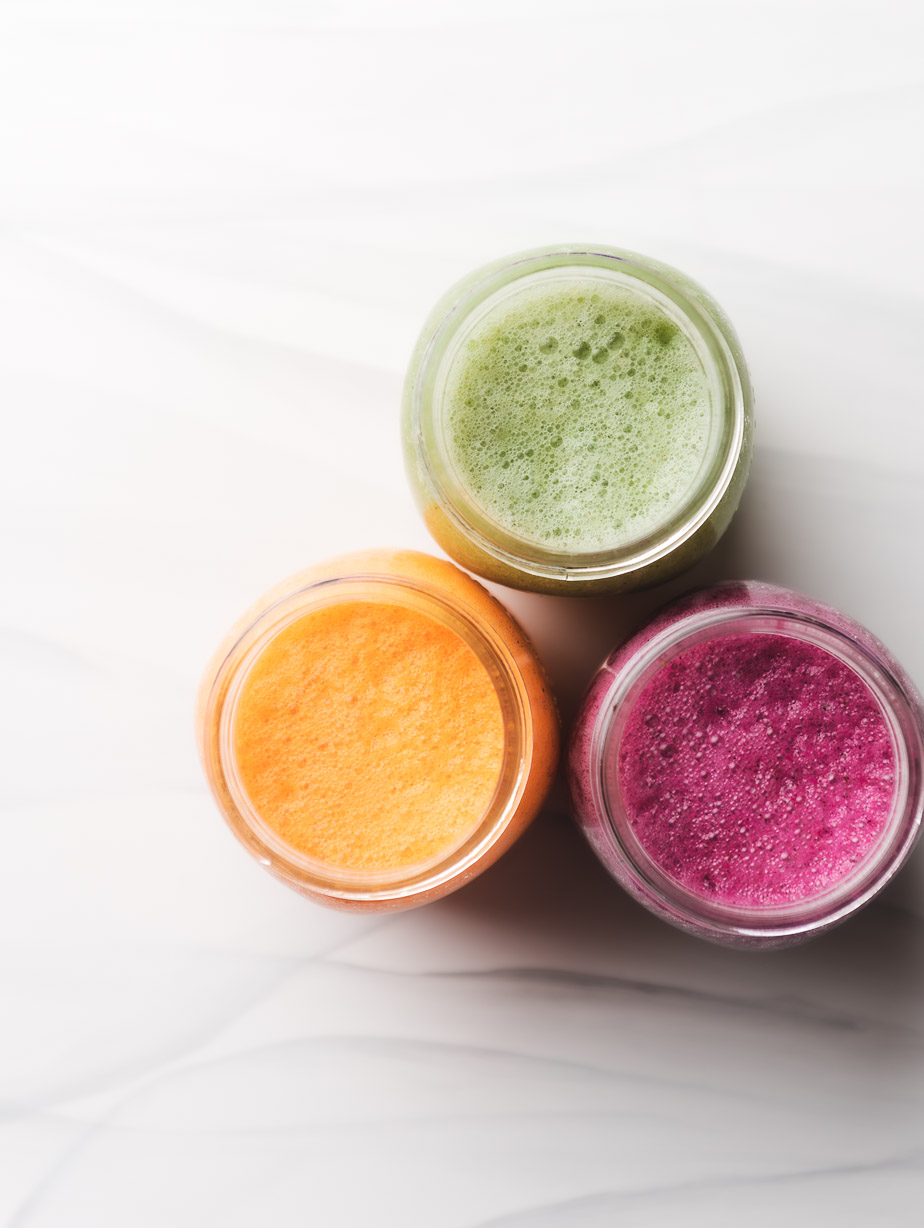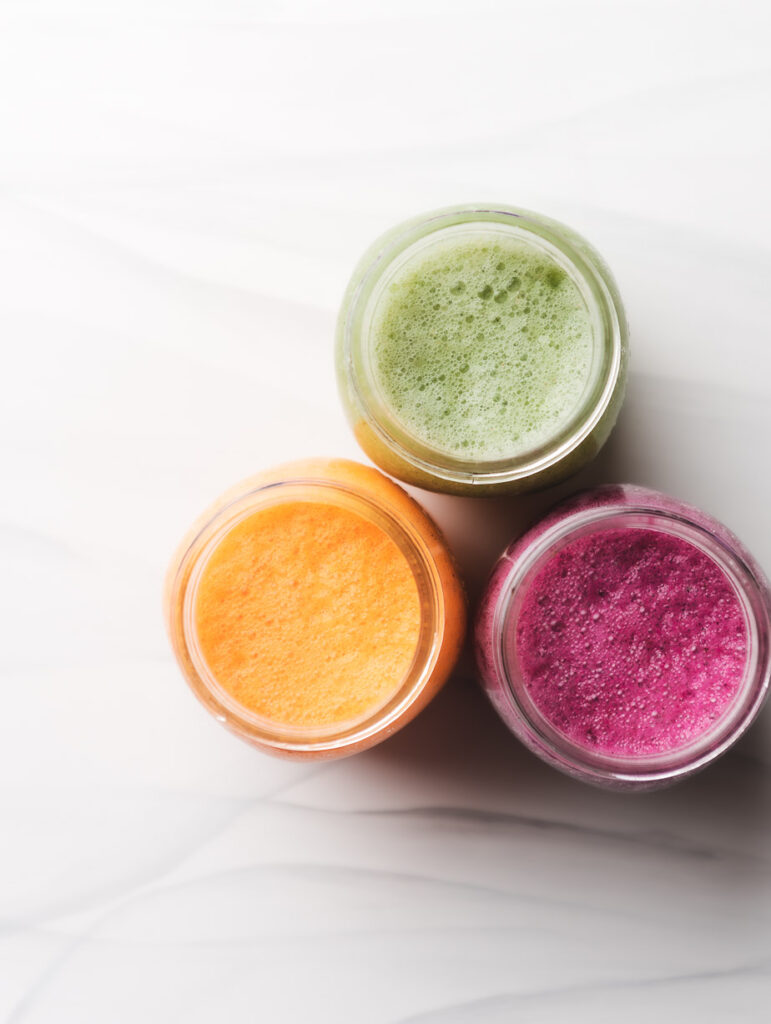 How To Make These Summer Refreshers?
You add all the ingredients to a blender with water and blend until smooth. Serve over lots of ice!
The question "which is better, juice or smoothie?" always comes up.
And here's the thing…
It depends!
Juices can pack a powerful healing and nutrient-dense punch with all kinds of greens and veggies whereas smoothies give you fibre and keep you full longer.
And the truth is you don't have to choose! Experiment with juice and smoothies and see how you feel.
These Refreshers are a little of both!
They're blended so they're like smoothies in that you're getting the whole food along with all the fibre and nothing is removed or sacrificed.
But they're like juice in that they're thin and light and hydrating. They're made with fresh fruit and vegetables as oppose to smoothies which usually have some frozen components.
In my mind, you're getting the best of both juice and smoothie worlds with these summer refreshers.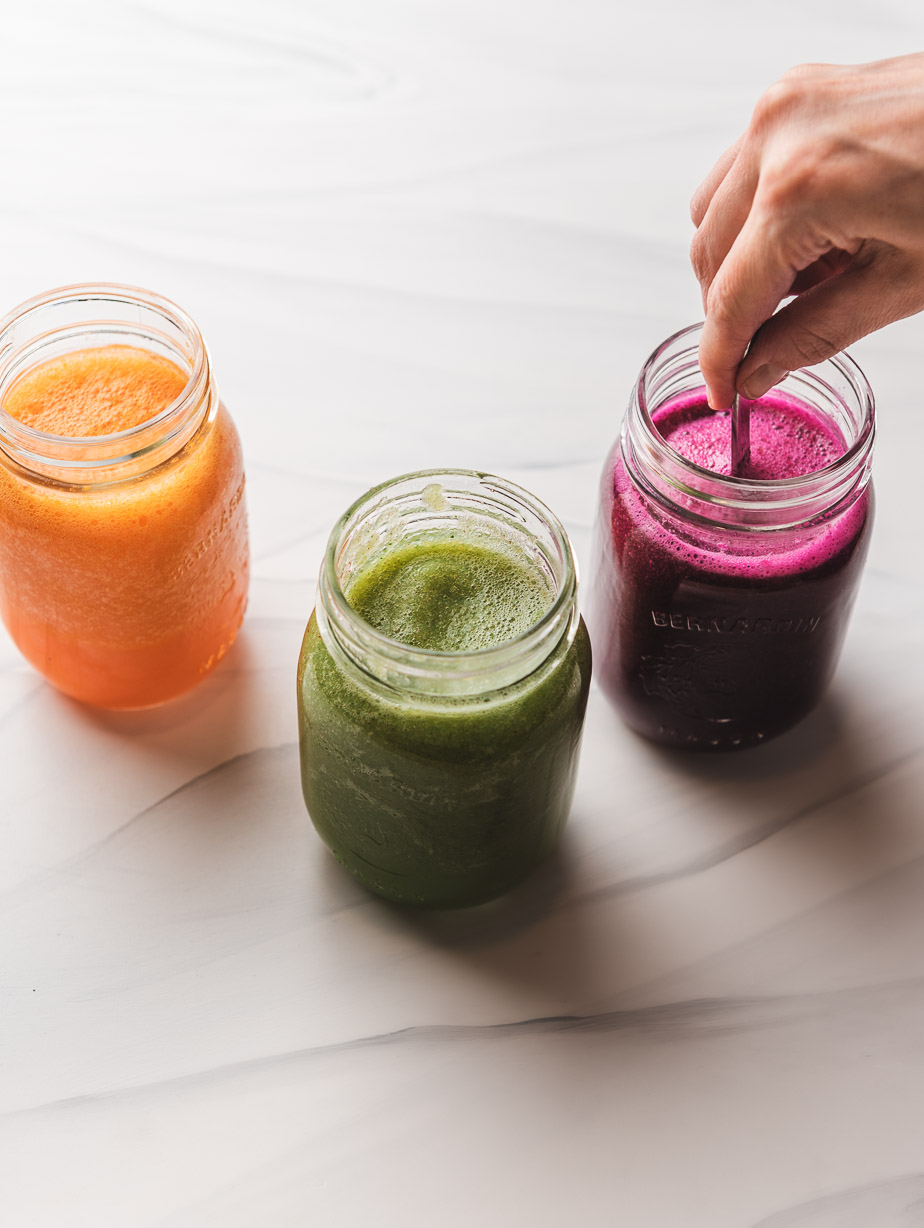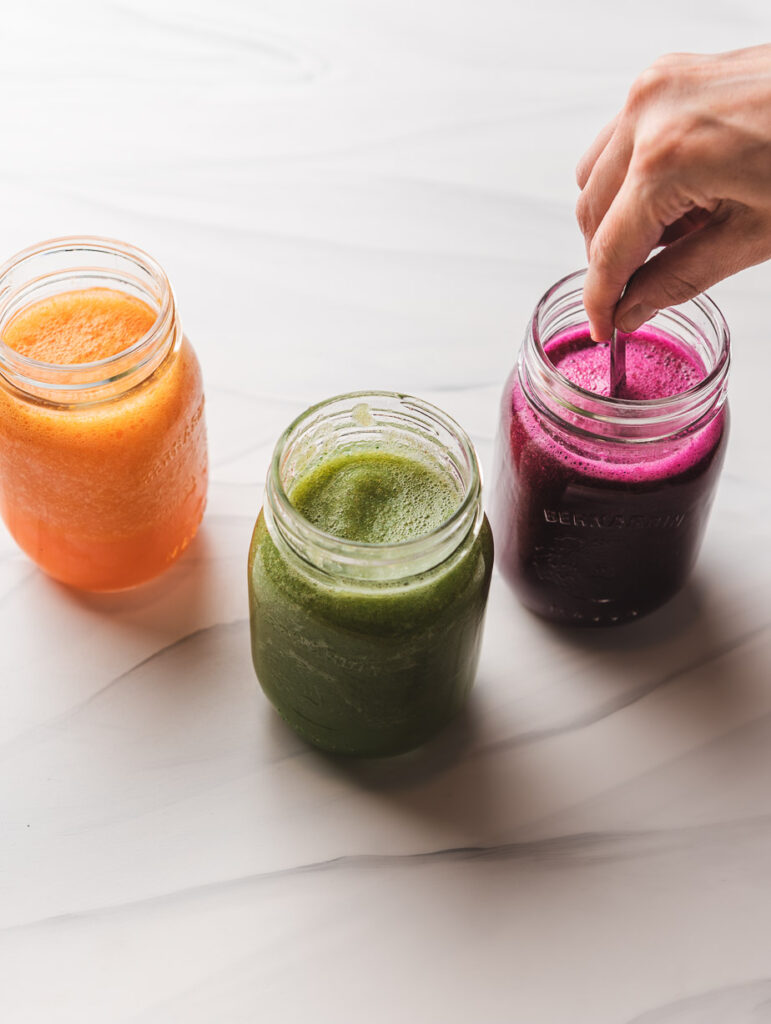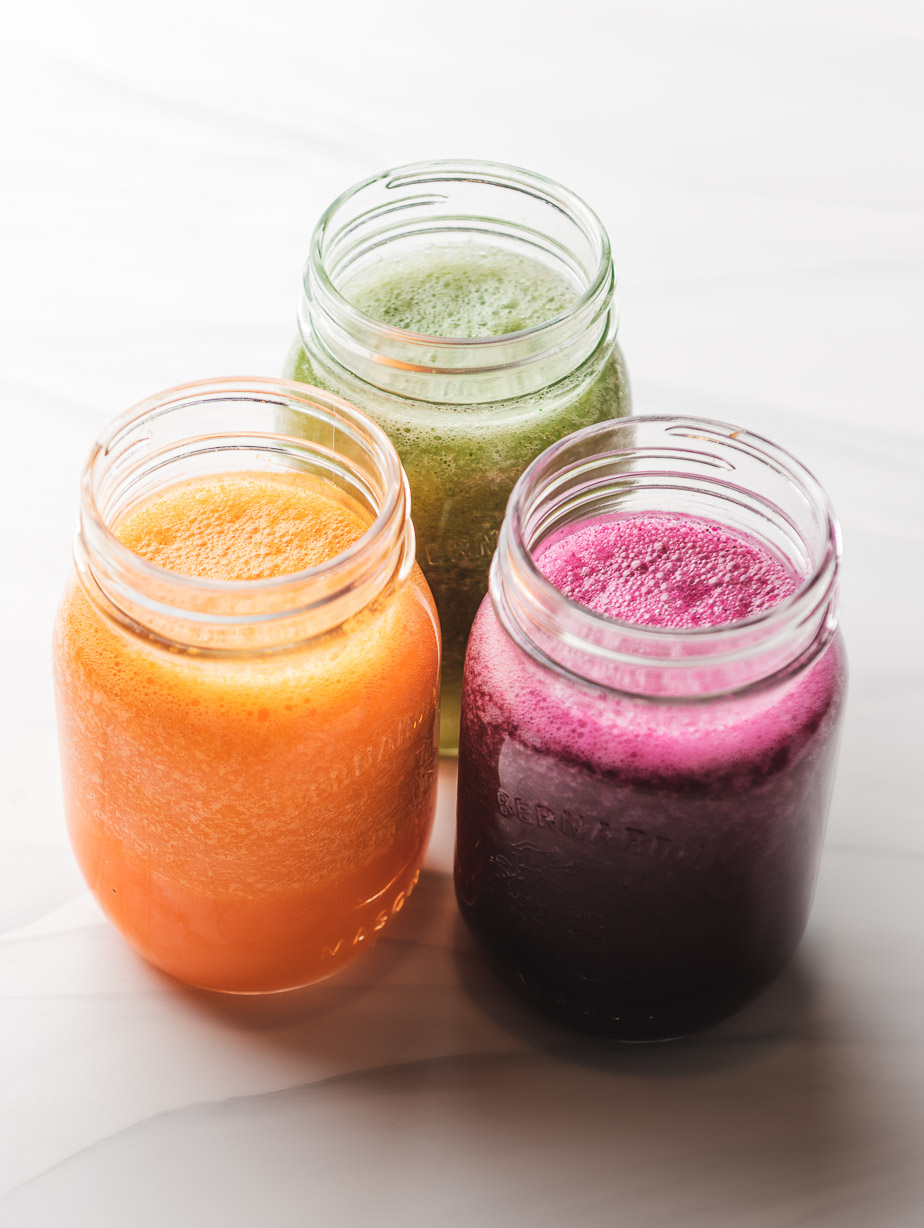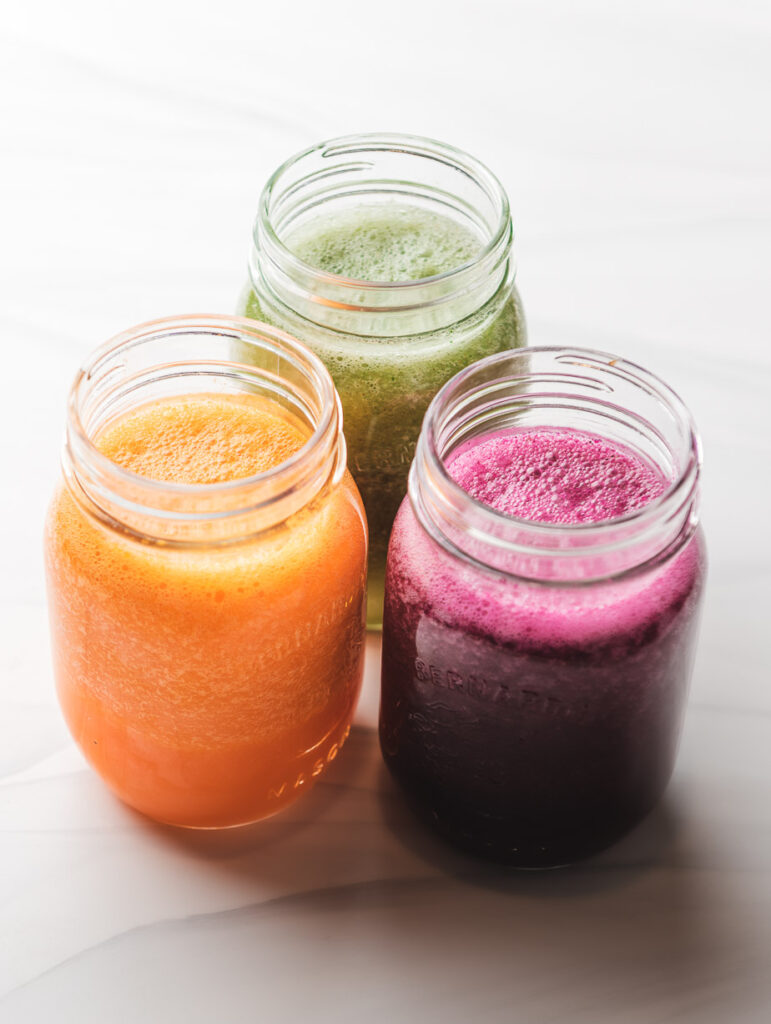 How to take it to the next level?
Add 2 teaspoons of chia seeds to the refresher after it's made (before adding ice), give it a good stir or shake and let it sit in the fridge for about 15 to 30 minutes – allowing the chia seeds to absorb some liquid and thicken the mixture. You can even let it sit longer if you like. 
I love to make the chia seed version of any of these refreshers, put it in a mason jar, and take it on the go. You can find this kind of chia-thickened juice in loads of fancy grocery stores but each bottle usually costs a fortune! So making your own is ideal.
Happy slurping! Enjoy your summer!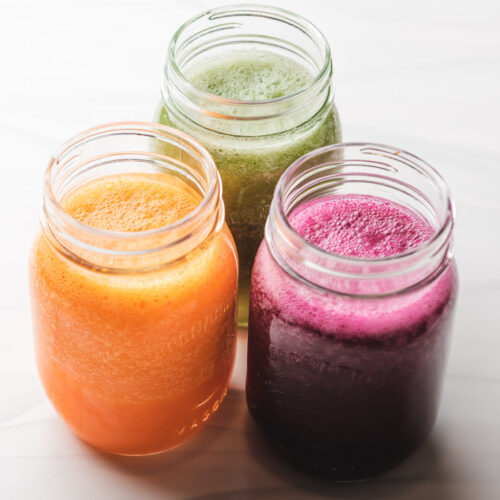 Three delicious options to upgdrade your summer beverage game! These blended concoctions are thin and hydrating but will have some fibres since we're using the whole food! I highly suggest serving with lots of ice! Enjoy as a light start to your day, at brunch, or as a mocktail! Each recipe makes 2 servings.
Ingredients
Vitamin Summer
½

orange

peeled and seeds removed

½

mango

peeled and pit removed

½

heaping cup chopped carrot

1

cup

water

Ice

optional
Fresh and Green
1

celery stalk

1

kiwi

peeled

1

cup

chopped cucumber

Juice of ½ lime

1

cup

water

Ice

optional
Pink Passion
1

cup

chopped pink dragon fruit

½

apple

peeled or unpeeled

½

inch

knob peeled ginger

peeled

Handful baby spinach

¾

cup

water

Ice

optional
Optional Chia Seed Addition (step 2)
Instructions
Choose your refresher. Add all the ingredients (except ice) to a blender and blend until smooth. Divide among 2 glasses and serve with ice.

If using chia seeds, pour the entire refresher into a container with tight fitting lid, add the chia seeds, and shake vigorously for 30 seconds. Place in the fridge for 15 to 30 minutes (or longer for thicker results). Shake two to three times throughout to ensure the chia seeds aren't clumped together. Serve and enjoy!
Notes
If serving as a mocktail, make these refreshers a little fancy by garnishing with fresh herbs, sliced lemon or lime, or fresh fruit.