inside Plant-based delicious!
One of my favourites – One Pot Tuscan Pasta from my new cookbook!
It's all happening! Plant-Based Delicious is for pre-order and I'm about 3 parts excited and 2 parts terrified.
Excited because I finally get to share what I've been working on for almost 2 years now.
Terrified because…. I am about to share what I've been working on for 2 years!
This cookbook is near and dear to my heart. It was my companion, my project, my sanity during the pandemic and the recipes are in regular rotation over here in our kitchen.
So, my vulnerability vibes are buzzing but this – the fusion of healthy and delicious food – is my calling and I'm ready to share this baby with the world!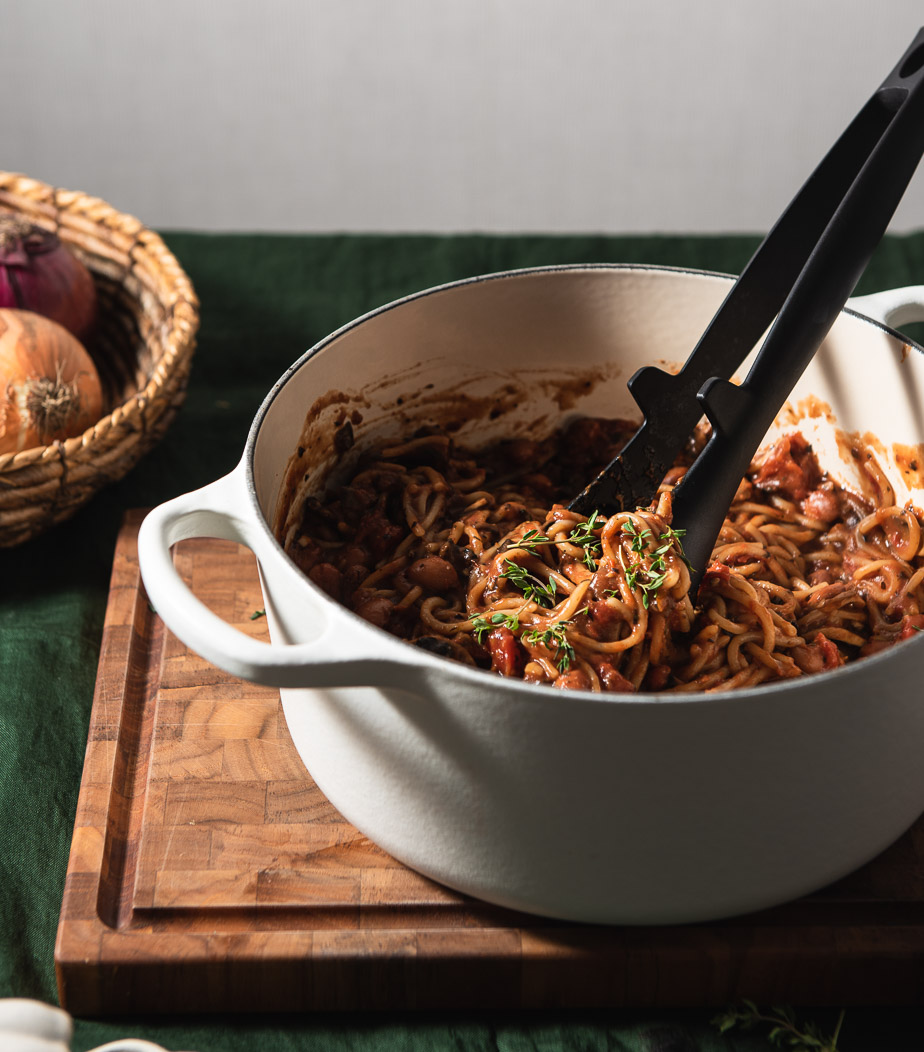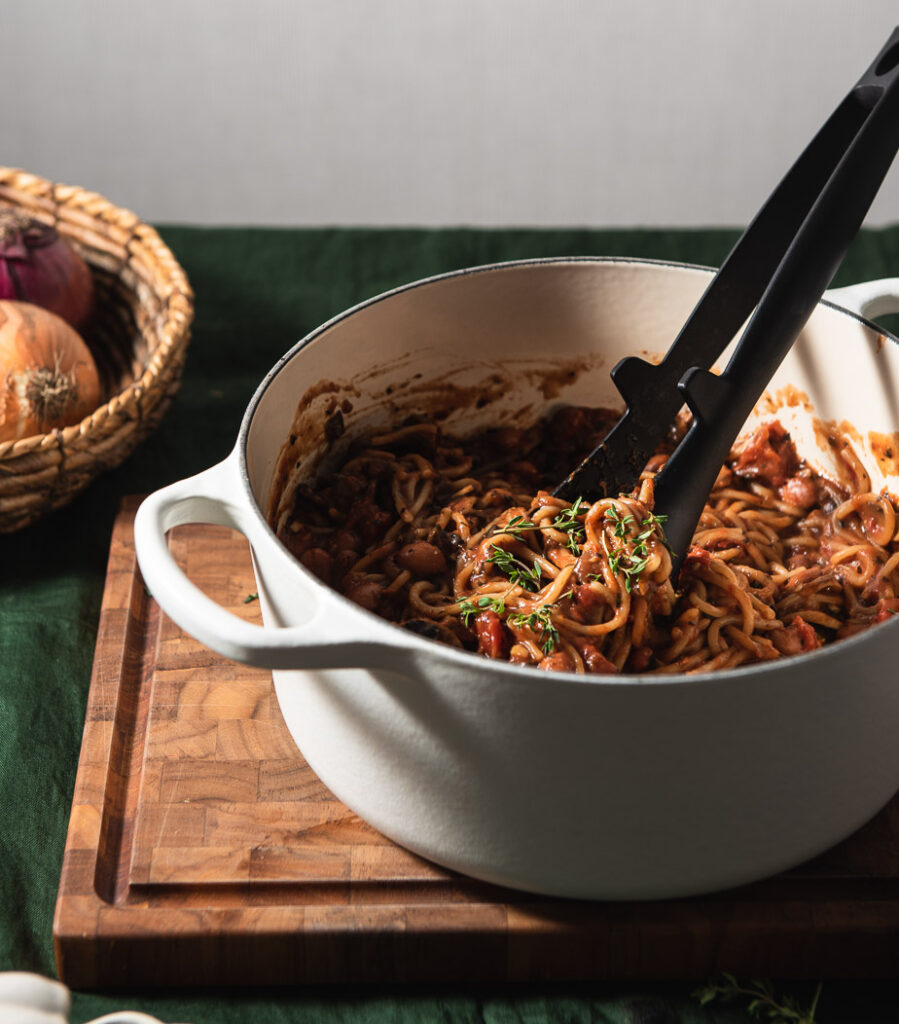 I wanted to give you a little sneak peek into the book so here is a one pot pasta recipe that I cannot live without! This one pot Tuscan pasta is a weeknight saviour for us.
I can't speak for like everyone everyone, but generally everyone loves it! Even my 1-year-old.
It's quick and easy and ready in 30 minutes.
Yeeeeees! That part right!? Here's a little more about this recipe…
Amazing and easy?
YES! Everything – the veg, pasta, beans, sauce – is all cooked simultaneously in one pot. It's the poster meal for easy.
Is it delicious?
OMG you bet! You start with leeks (or onions), garlic, and mushrooms. This builds deep, delicious flavour. You also add spices and cheesy nutritional yeast along with some canned tomatoes and creamy beans. Toss in the pasta and simmer. When it's done you have a thick and fragrant sauce with perfectly cooked pasta. Ya-umm!
Is it healthy?
Absolutely! This one pot Tuscan pasta is the kind of meal that proves that healthy tastes delicious! Not only do you have anti-inflammatory ingredients like portobello mushrooms, kale, and beans but this whole dish is made without any added oils.
Substitutions!
Coconut sugar: You can omit the coconut sugar if you wish. This is added to balance the acidity of the tomatoes but isn't essential.
Pasta: You can use whatever pasta you love. I like brown rice spaghetti for this dish, but you can use whole wheat, quinoa, or a legume-based pasta. The only note is that other pastas may require more or less liquid to cook properly. As long as the pasta is fully submerged while cooking, it will work out fine.
Beans: I like to use Tuscan style beans like borlotti or cannellini, but you can use chickpeas, black beans, or even kidney beans. The recipe works without beans at all too!
Order plant-based delicious!
You can pre-order Plant-Based Delicious now and you'll get Plant-Based Delicious BONUS Recipes as a thank you! If you try and love this recipe, please let me know on social media or comment below!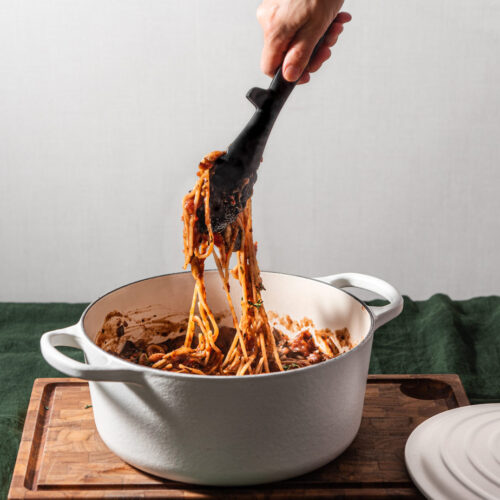 A sneak peek into Plant-Based Delicious – my new cookbook! This plant-based, oil-free one pot tuscan pasta is easy (really!) and delicious! It's a great family meal to serve any weeknight.
Ingredients
1

leek

dark green tips and root removed and discarded, halved lengthwise and thinly sliced

4

cloves

garlic

minced

10

oz

(280 g) portobello mushrooms, thinly sliced (4 portobellos)

1

tbsp

(6 g) Italian seasoning

¼

tsp

red pepper flakes

optional

1

15-oz

[425-g] can diced tomatoes

1

15-oz

[425-g] can tomato sauce or passata

2¾

cups

(650 ml) low-sodium vegetable stock

½

tsp

sea salt

or to taste

10

oz

(280 g) dried brown rice spaghetti or linguine

1½

cups

(273 g) cooked or canned borlotti, navy or cannellini beans, drained and rinsed

1

tsp

coconut sugar

(optional)

1½

packed cups

(60 g) baby spinach

(optional) OR finely chopped kale

3

tbsp

(12 g) nutritional yeast

1

tsp

red wine vinegar

Freshly ground black pepper
Instructions
In a Dutch oven or soup pot, sauté the leeks and garlic with a few tablespoons (about 30 ml) of water over medium heat for 5 minutes or until softened. Add water, as needed, to prevent burning.

Add the mushrooms, Italian seasoning and red pepper flakes, and continue to sauté for another 5 minutes, or until the mushrooms have shrunken in size and begin releasing their juices. Now, add the diced tomatoes, tomato sauce, vegetable stock and salt, and bring to a boil.

Crack the pasta in half and add to the pot along with the beans. Lower the heat and simmer, uncovered, stirring often to prevent the noodles from sticking together or to the bottom of the pot and making sure the noodles are always submerged in the sauce for 12 to 15 minutes, or until the pasta is tender and the sauce has thickened.

Toward the end of the cooking time and as the sauce thickens, it might start sputtering and splashing. If so, partially cover the pot to avoid a mess.

Turn off the heat. Stir in the coconut sugar (if using), spinach or kale (if using), nutritional yeast and vinegar. Taste and reseason with pepper and salt, as needed, and divide among bowls. Garnish with fresh thyme or oregano if desired.
Notes
Notes
You can swap cremini or button mushrooms for the portobello.
If you don't have leeks, use one large yellow onion, diced.
If gluten isn't a problem, you can use whole wheat spaghetti or linguine.