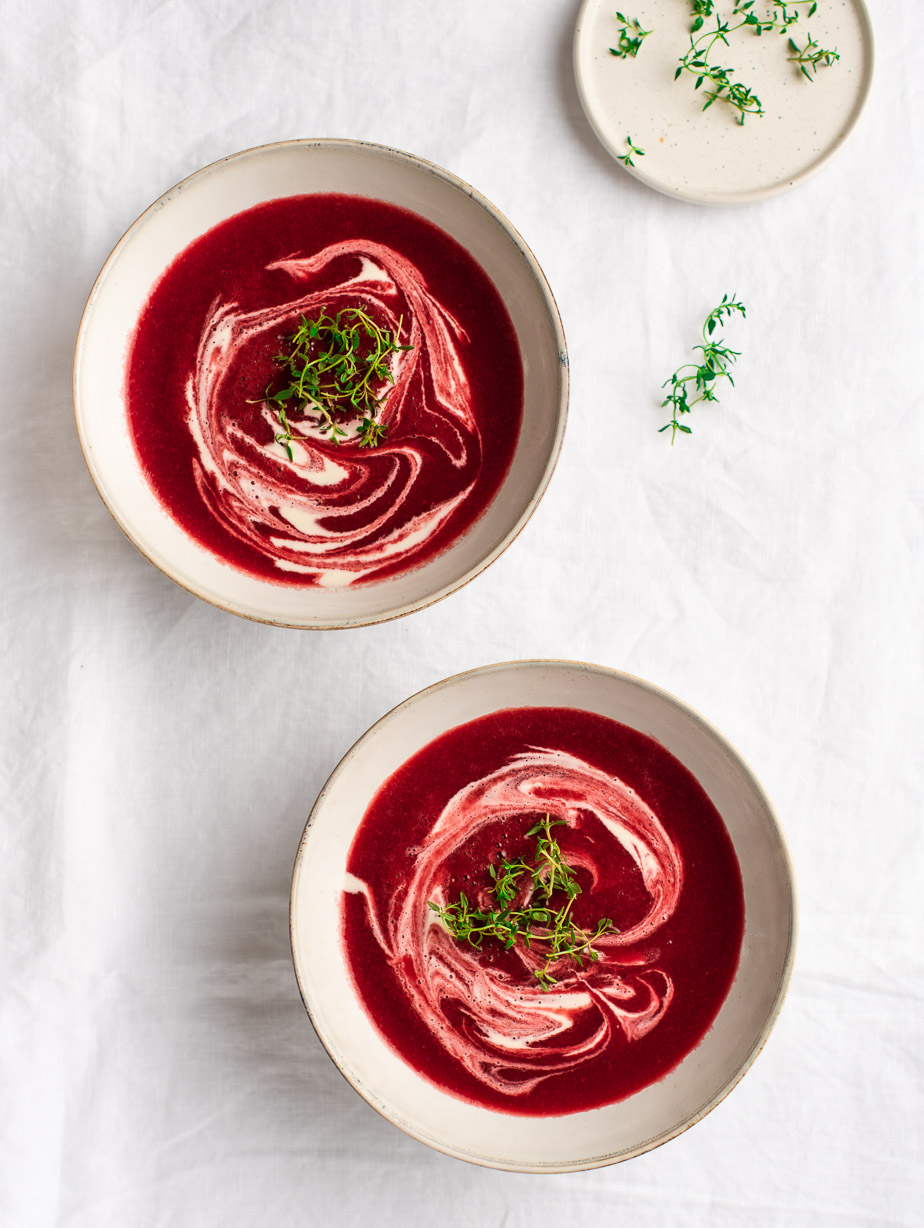 This beet and potato soup is as vibrant as it gets and was inspired by fall!
Fall is my favourite culinary season. Mostly because I could live on sweet potatoes and butternut squash for the rest of my life (if only someone else would peel the butternut squash for me…..culinary workout) but also because fall dishes are, by definition, just cozy! 
Who doesn't love cozy? 
Cuddle up with some fleece blankets, flannel pjs, hot chocolate, candles and a pile of books… this is a my definition of a good time. All roads lead to my coach and comfy pants. 
So in the name of cozy, seasonal produce and the fact that we all can all use some variety, I give you Beet and Potato Soup. 
Simple. Easy. Beet-y. 
It's the season for pink-stained everything – from fingernails to dishtowels. Bring on the beets! 
My biggest draw to beets is their colour! They can change the appearance of any dish and there aren't many hot pink foods to choose from. If you're trying to "eat the rainbow", beets are a good choice!
And although I love them, it isn't as easy to incorporate beets as let's say broccoli or carrots. 
Some simple ideas: throw some roasted beets in a salad with arugula and walnuts, make a beet hummus (my FAVORITE is in The Plant-Based Cookbook), try spirilized beets instead of pasta, or make this Beet and Potato soup! 
I like to contrast this earthy, pink soup with a drizzle of creamy tahini or thinned cashew sour cream.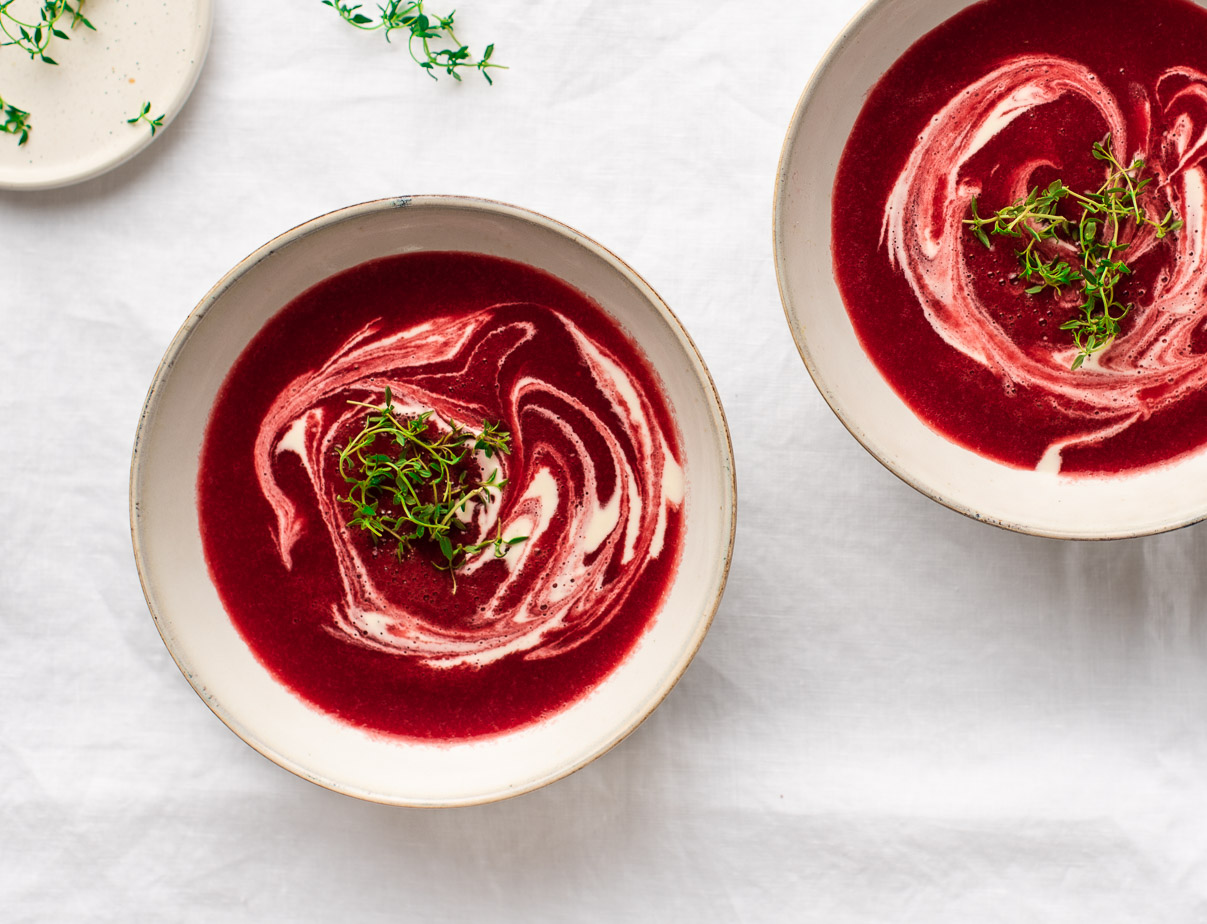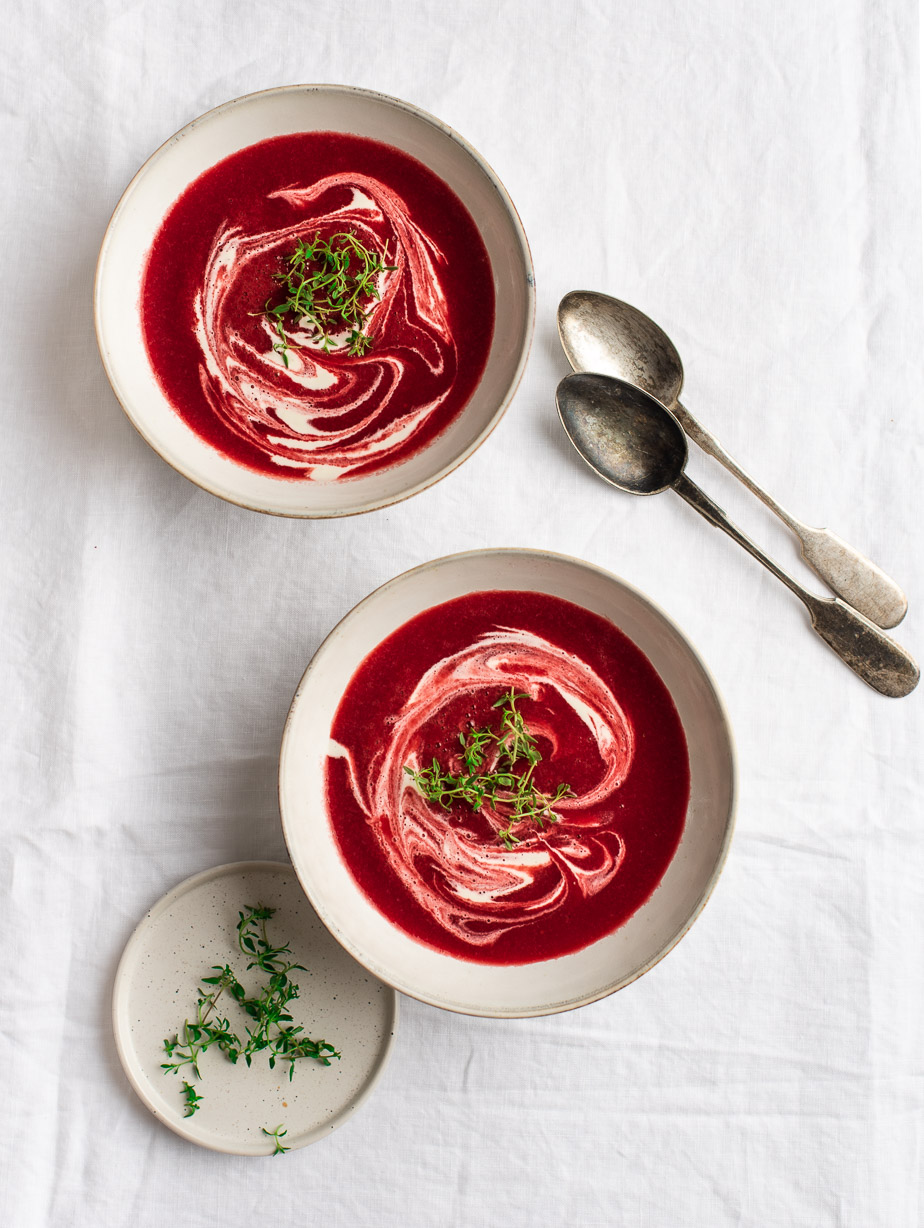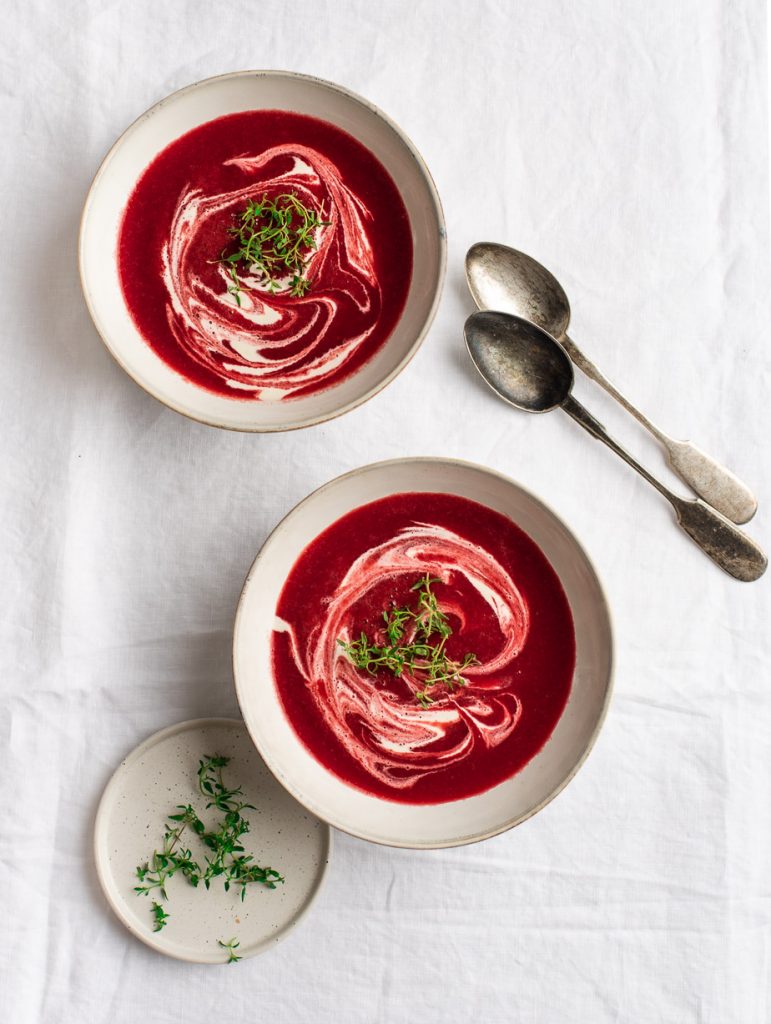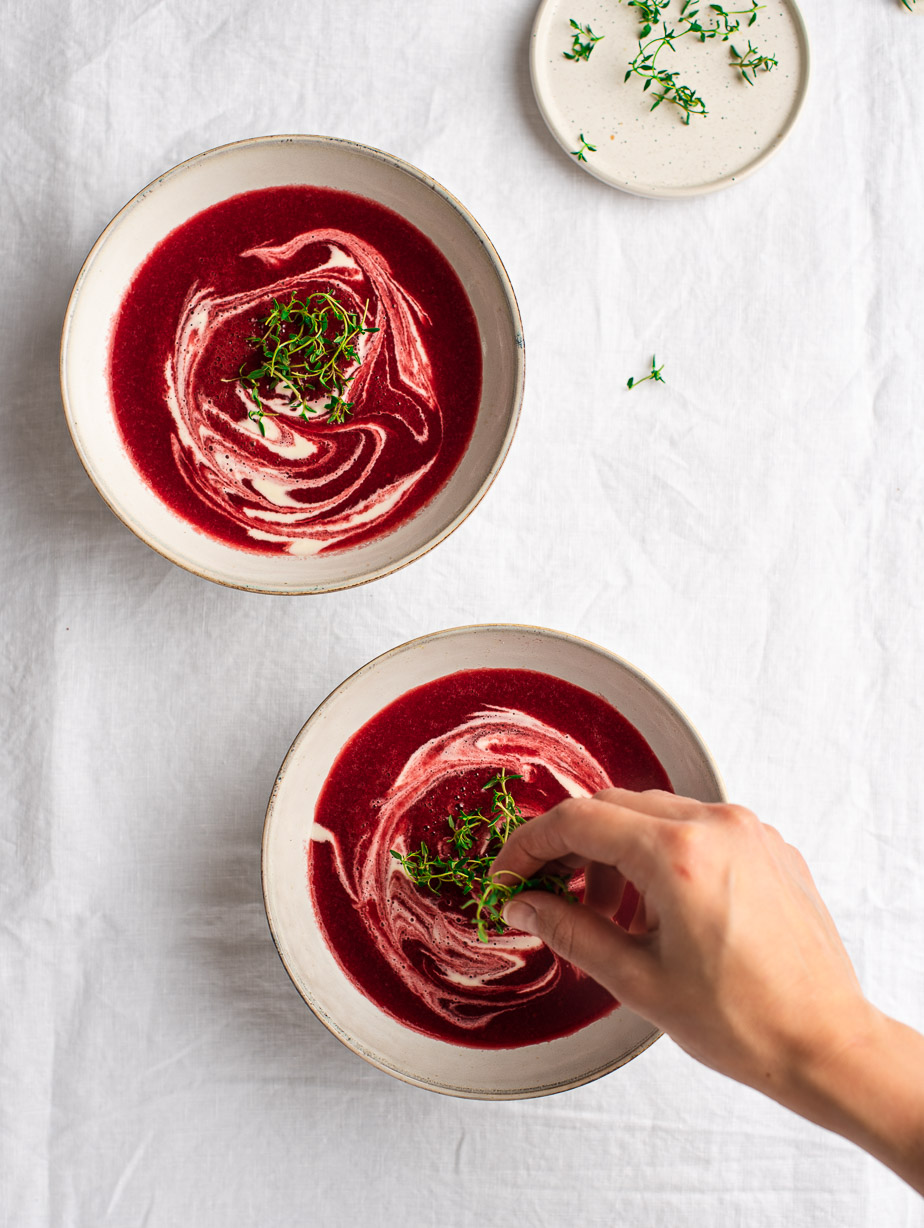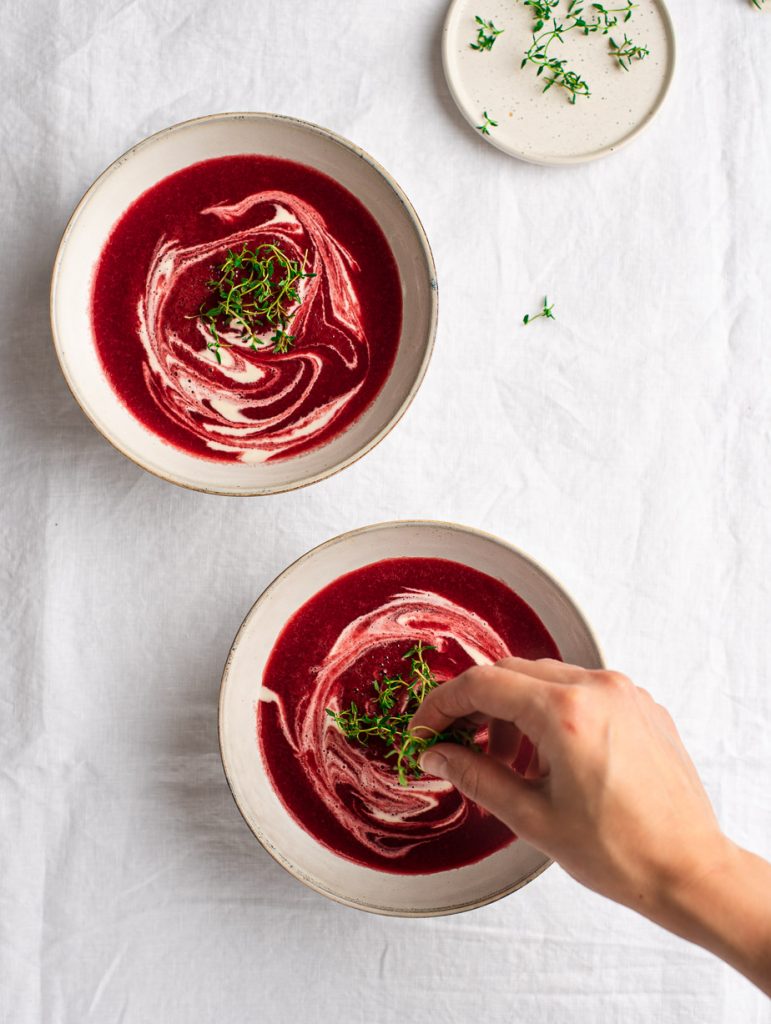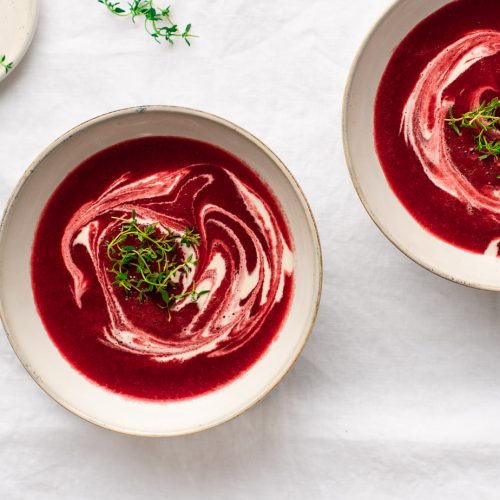 A brilliant pink Beet and Potato soup celebrating root veggies!
Ingredients
2

cups

chopped red/purple beets

~2 medium beets

2

cups

chopped red potatoes (peel on or off)

2 medium potatoes

1

red onion

roughly chopped (1 heaping cup)

2

garlic cloves

minced

¾

teaspoon

dried thyme

Pinch

red pepper flakes

4

cups

low-sodium vegetable broth

1

teaspoon

balsamic vinegar

2

teaspoons

red wine vinegar

½

teaspoon

salt or to taste
Optional additions:
1

cup

cooked or canned chickpeas

drained and rinsed

1

cup

baby spinach
Optional Garnishes
1-2

teaspoons

tahini per bowl or thinned Sour Cream

see notes

Fresh thyme for serving
Instructions
Preheat the oven to 425°F and line a large baking sheet with parchment paper.

Peel the beets. Wash and scrub the potatoes but leave the peels on. Chop the beet and potato so they are roughly the same size. Spread the chopped beet and potato on the baking sheet and roast in the oven for 40-45 minutes until you can just pierce the beet with a fork. The larger you chop them the longer they will take in the oven. When the beets and potato are done set aside and begin the soup.

In a large pot, sauté the onion with a few tablespoons of water until the onion begins to soften, about 5 minutes. Add the garlic, thyme, and red pepper flakes and cook for another minute. Now add the roasted beet and potato and vegetable broth and bring to a simmer. Simmer uncovered for a few minutes.

Turn the heat off and transfer the soup to a blender. Add the vinegars and ½ teaspoon salt and blend until smooth. Be careful not to overfill the blender, keep it at about ⅔ full. Blend the soup in batches if you must. Taste and reseason as needed

Pour the soup into bowls right from the blender container or return to the pot and keep warmed on low heat until needed. Add a dollop of thinned sour cream or tahini to each bowl and drag it through to create a swirl effect. Garnish with fresh thyme if desired.
Notes
Keep leftovers in the fridge for up to 3 days. Reheat on low heat and add more broth as needed to thin to desired consistency.
I like to use my Basic Sour Cream thinned with a little water to create a nice swirl effect. 
If adding chickpeas or spinach to the soup, add them once the soup is blended and returned to the pot. Warm on low heat until heated throughout and the spinach is wilted.