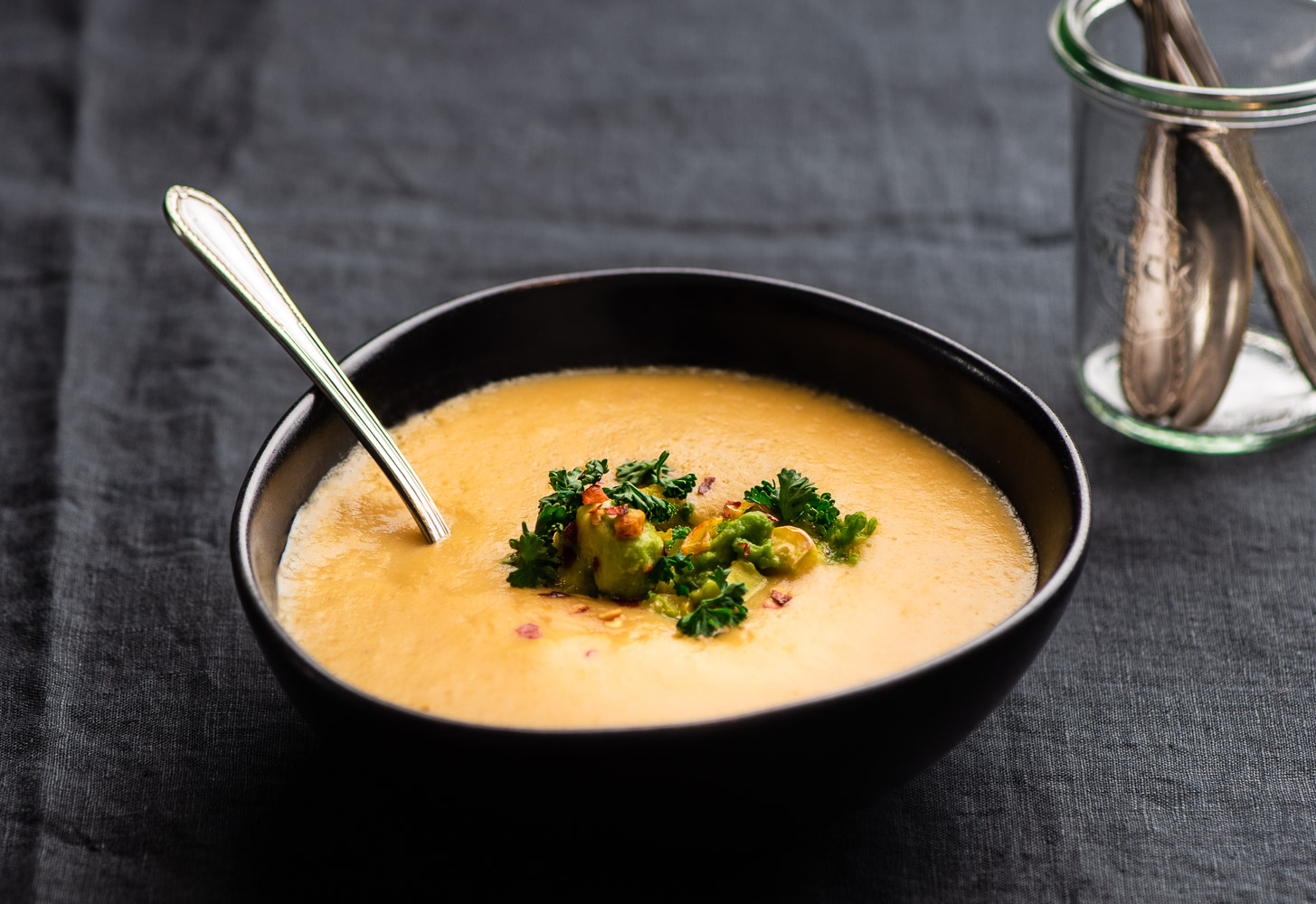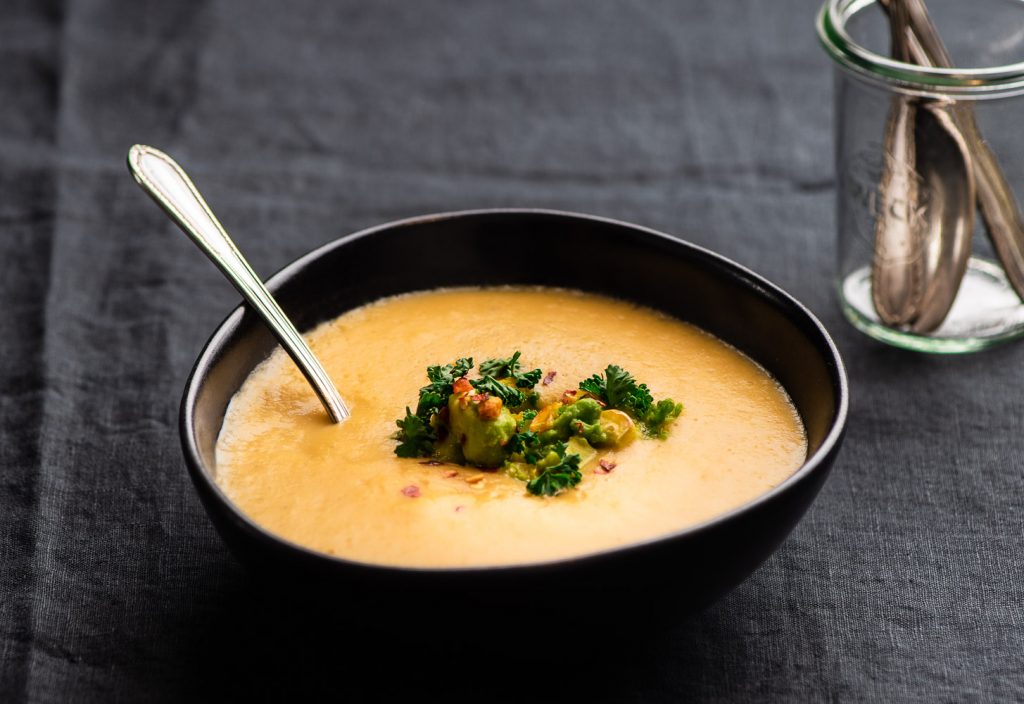 This roasted corn chowder brought to you by my unorganized freezer!
Lots of people think I'm really organized and neat.  That couldn't be any further from the truth. My kitchen looks like a culinary bomb went off every single day. 
I chop veggies and drop them all over the floor, I'm careless with my whisks and spatulas, dripping bits and drips all over the counter. I shove stuff in the fridge without paying attention to where I lay it. I put stuff in ziplock baggies without labeling them, I take bites out of cookies and decide I don't want the rest so I just lay it in the fridge. I'm a wee bit of a disaster. 
My stand up freezer is no different. There are so many frozen leftovers I've forgotten about, so time to clean 'er out! 
In digging out my freezer I found a few salvageable ingredients that needed to be used asap. Freezer burn was about to set in. One such discovery was a giant bag of organic corn kernels. Vegan corn chowder was on the brain. 
Corn gets a bad rap because of some very unhealthy corn by-products; think high fructose corn syrup (HFCS) , corn oil, and corn starch. These corn spin offs are high in refined sugar, fat and starch making them not so healthy. 
HFCS is being blamed for a lot of the health issues the modern day diet seems to cause. It's used to sweeten a lot of processed and packaged foods and beverages. In general steer clear of this crap!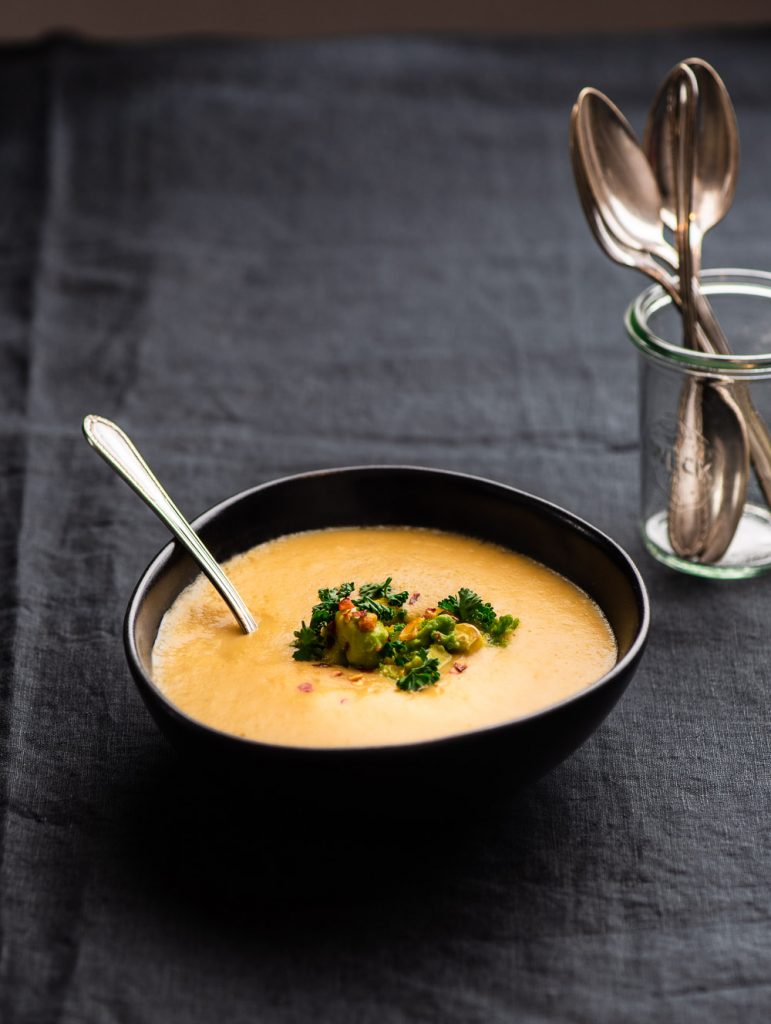 But corn ain't bad! It's good – this roasted corn chowder tells you so!
But corn ain't all bad, there's actually lots of good! Here are some corn highlights:
Fiber
Corn is a source of insoluble and soluble fibre, but is higher in the former, making it beneficial and supportive for the microbiome, the beneficial bacteria in your gut. One cup of corn has about 3 grams of fibre. 
Antioxidants
Corn is not nutrient deficient. A few weekends ago while I was chomping down on some fresh corn on the cob, someone asked "isn't corn just a waste of calories?" Not true! Corn is a source of antioxidants, in particular zeaxanthin and lutein, two phytonutrients that are good for eye health. Corn is also a source of minerals, like magnesium and potassium, and vitamins like vitamins B and C. 
GMO
Most sweet corn, the kind found on the cob and in supermarkets is not genetically modified. However, there are some genetically modified varieties that have been developed over the last few years. When in doubt, buy organic but don't worry too much about this.
Versatility
Fresh corn or frozen kernels can be used in so many ways. It's one of those foods you can just toss in anything! I've put corn in salads, soups, salsas, guacamoles (is this the plural of guacamole?) , stir-fry, bean dishes, pastas and on pizzas! It adds a nice hint of sweetness and an eye-catching pop of color.
So what did I do with all this corn? I made a gluten free, vegan and oil free roasted corn chowder and topped it with a simple smokey corn and cherry tomato guacamole. 
To roast the corn I lined 2 large baking sheets with parchment paper, spread out the corn and broiled the kernels on high until they were nice and browned, not burnt! Be careful with the broiler, anything under there for even 10 seconds too long is enough to ruin your dish.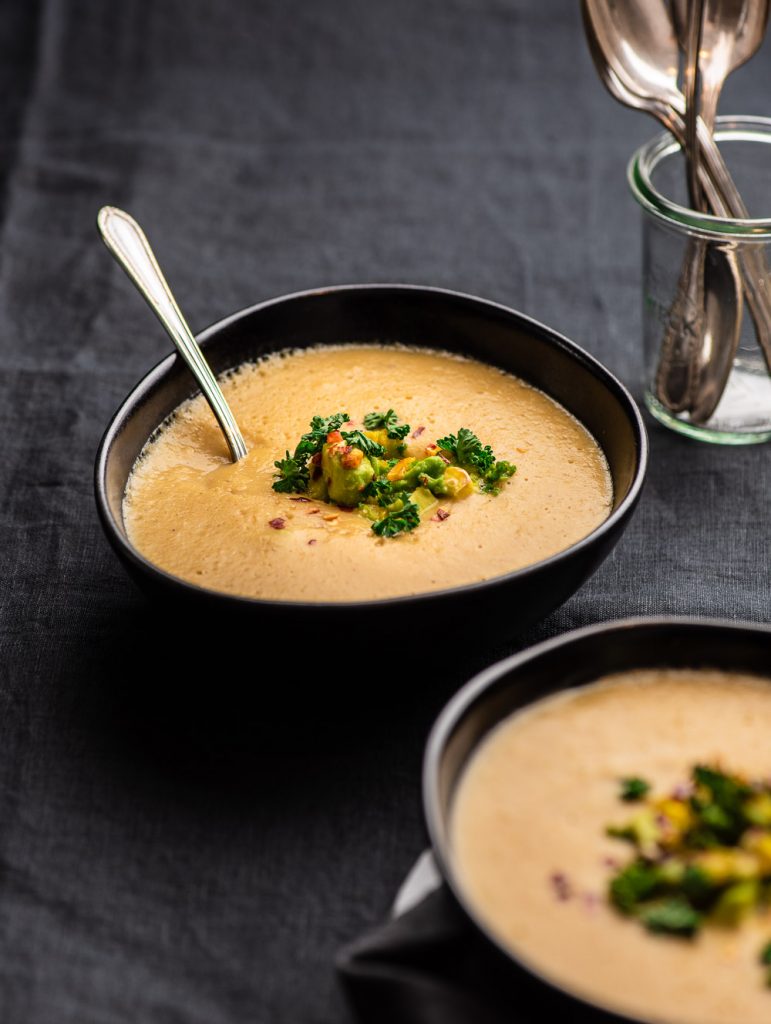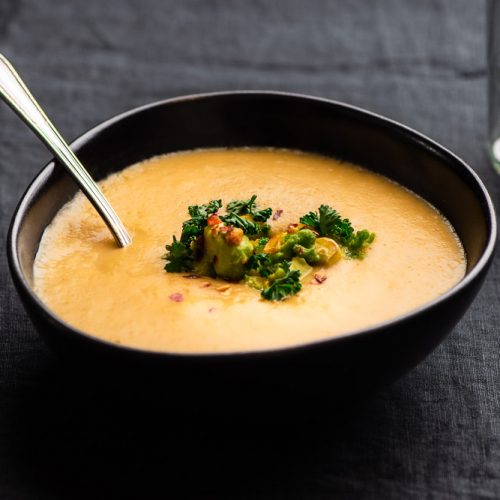 Roasted Corn Chowder with Avo Salsa
Roasted corn, cheesy flavor, creamy avocado salsa! A healthy soup to keep you warm and nourished!
Ingredients
4

cups

frozen organic corn kernels

1

medium yellow onion

diced (~ 1 cup)

2

celery stalks

thinly sliced

5

garlic cloves

minced

½

teaspoon

chili powder

½

teaspoon

ground cumin

¼

teaspoon

red pepper flakes

more if you like it spicy

1

yukon gold potato

peel on, chopped (1 heaping cup)

5

cups

low-sodium vegetable broth

¼

cup

nutritional yeast

2

tablespoons

freshly squeezed lime juice

¼

teaspoon

sea salt or to taste

Black pepper

Avocado Roasted Corn Salsa

¼

cup

reserved roasted corn kernels

1

avocado

peeled, pit removed, and diced

1

tablespoon

freshly squeezed lime juice

Pinch

red pepper flakes

Big pinch salt

¼

cup

loosely packed chopped cilantro

optional
Instructions
Preheat the oven to 425ºF and line a large baking sheet with parchment paper. Spread the frozen corn (right from the freezer) in a single layer on the baking pan and bake for 20 minutes. After 20 minutes, flip the corn or just stir it around, and bake for another 10 minutes. The corn should just start to brown. Remove from the oven and set aside. Set aside ¼ cup of roasted corn and transfer the rest to the container of a highspeed blender.

Meanwhile, in a large soup pot sauté the onion and celery with a few tablespoon of water for 5 to 7 minutes, adding water as needed, until the onion starts to soften. Now add the garlic, chili powder, cumin, red pepper flakes, and potato and continue to sauté for another minute.

Now add the vegetable broth and bring to a boil. Once boiling, reduce to a simmer and simmer, partially covered for 10 to 15 minutes or until the potatoes are fork tender. Remove from heat.

Add the nutritional yeast, lime juice, tamari, salt, and a pinch of black pepper to the blender with the corn and carefully add the soup as well. Do this in stages if needed.

Blend everything together until completely smooth.

Return the soup to the pot and warm on low heat while you make the salsa. Add all the salsa ingredients to a bowl and mix to combine.