Warm Roasted Squash & Quinoa Buddha Bowl with Almond Citrus Sauce ...what a delicious mouthful, literally!
What's the secret? Not like the law-of-attraction, think it and it will appear self-help new-age phenomenon. I mean what's the culinary secret?
The answer: a good sauce.
Well, maybe not THE secret, perhaps it's just my own personal motto in the kitchen. But it works!
Honestly, most of my meals are a combination of grains, beans, steamed veg and a badass sauce.
You could label this type of meal as a BOWL or now, as it's commonly nourish bowls, power bowls, or macro bowls. Bowls with grains as the base topped with various combinations of plants (cooked, raw or sautéed) are showing up on menus everywhere! And to that I say a long awaited WHOOP WHOOP!
Bowls are the best!
So a friend of mine, who also happens to be my number one fan and makes everything I post (and also makes me feel like I'm not insane for devoting my life to making recipes and posting them online for free along with the other 10 million food bloggers), says to me one day
"Do you ever make bowls"?
Me: "What? Of course! Every day!!!!! I'm bowl queen!"
To which she replies: "Why don't you ever post
Maybe it's because they are so common to me, or maybe because I make them without paying attention to what I'm doing.
Anyways, it's time for a bowl. A delicious, filling, flavourful bowl!
You can swap in your favourite veggies or a different grain but the magic is in the sauce!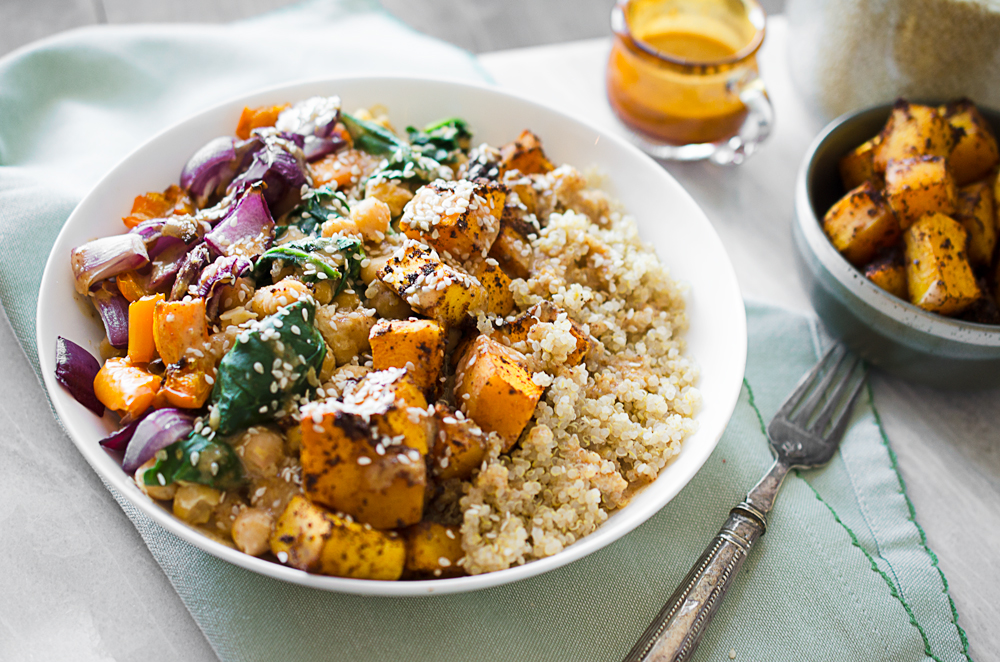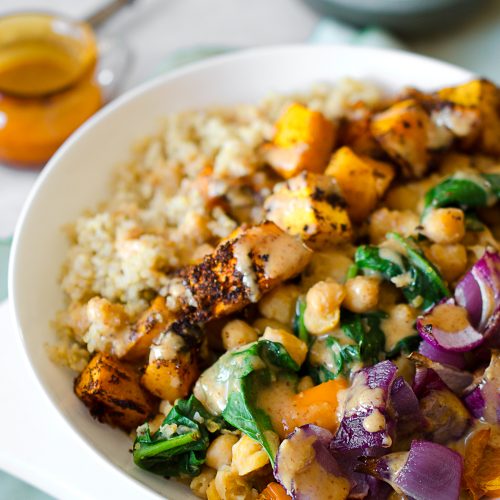 Roasted Squash And Quinoa Bowl With Almond Citrus Sauce
Warm Roasted Squash and Quinoa Bowls with Almond Citrus Sauce (what a delicious mouthful, literally).
Ingredients
Grains

3

cups

cooked quinoa

1 cup dry yields 3 cups cooked

Chilli Roasted Squash

6

cups

butternut squash

large dice

1

tablespoon

+ 2 teaspoons chilli powder

2

teaspoons

garlic powder

1

teaspoon

ground cumin

½

teaspoon

salt

black pepper

to taste

Roasted Red Onion and Pepper

2

large red onions

large diced

2

red bell peppers

large diced

Sautéed Chickpeas and Spinach

3

cups

cooked chickpeas

3

cups

packed spinach

2

cloves

garlic

minced

Almond Citrus Sauce

¼

cup

well-stirred almond butter

¼

cup

orange juice

2

tablespoons

apple cider vinegar

1

tablespoon

tamari

1

tablespoon

white miso

1

garlic clove

minced

1

teaspoon

minced ginger

½-1

teaspoon

hot sauce

1

teaspoon

maple syrup

optional
Instructions
Cook the quinoa according to directions and set aside when done. Keep covered.

Meanwhile, preheat the oven to 375ºF and line 2 baking sheets with parchment paper.

Add the chopped butternut squash to a large bowl. Mix the spices (chilli powder, garlic, cumin, salt) in a small bowl. Sprinkle half the spices over the squash and mix using a silicon spatula. Sprinkle the remaining spices and mix again. Make sure all squash is covered by in spices. Transfer to the baking sheet.

Spread the chopped red onion and red pepper out on the other baking sheet.

Place both baking sheets in the oven and bake for 30 minutes. Flip and bake for another 20 minutes. The squash is done when it is easily pierced with a fork. The onion/peppers might be done before the squash (depending on their size) and are done when the edges are beginning to brown. Check in every 10 minutes to avoid burning.

While the veggies are roasting, make the sauce by adding all sauce ingredients to a small blender and blending until smooth or whisk in a bowl. Set aside.

Add the chickpeas, spinach and minced garlic to a sauté pan and sauté on medium heat with a few tablespoons of water until the spinach is wilted. Then mix in 2 tablespoons of the Almond Citrus Sauce and cook on low heat for another 2 minutes.

To assemble the bowl place ¾ cup quinoa on bottom and arrange the butternut squash, roasted onion/bell pepper and spinach and chickpeas in separate sections. Top with extra Almond Citrus Sauce.
Notes
I like to make a double batch of the sauce because we are sauce-lovers!