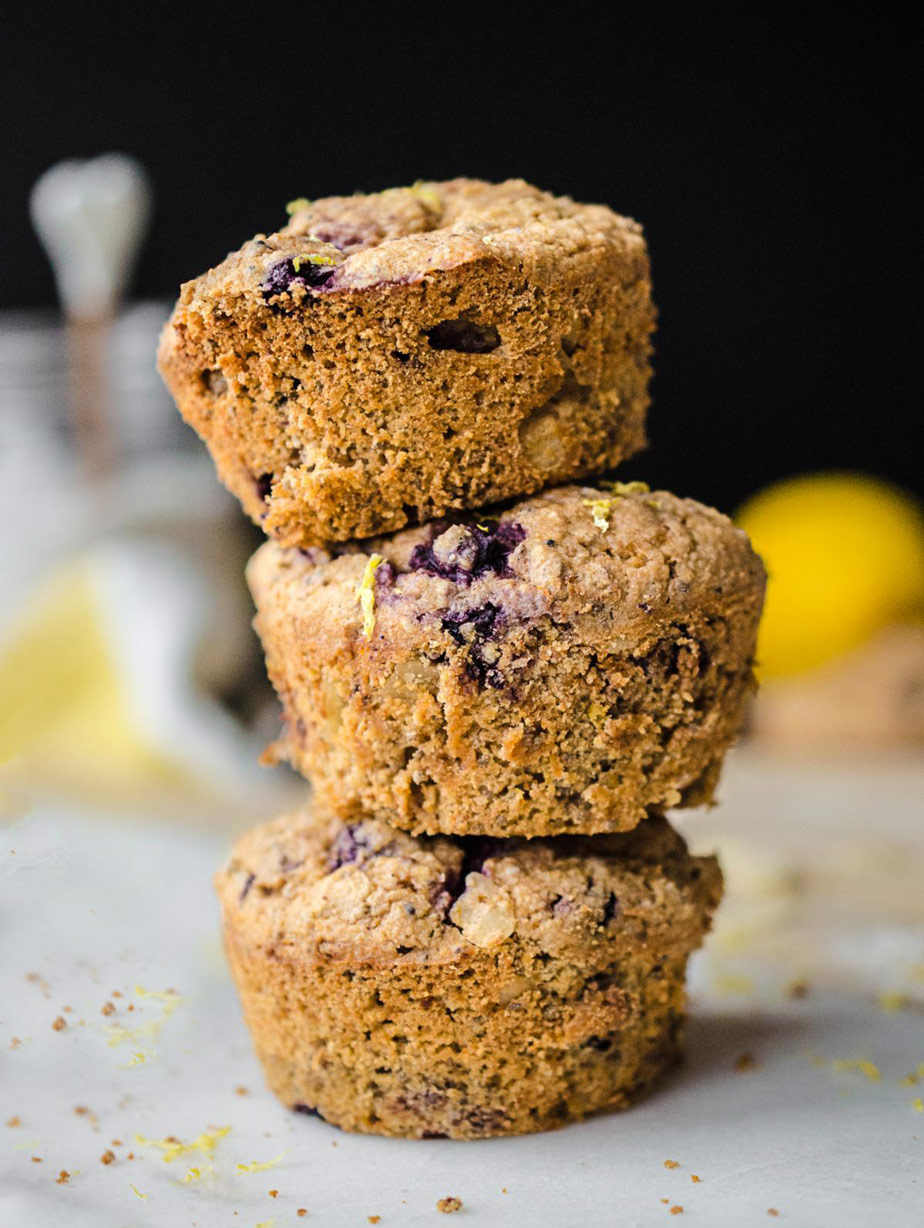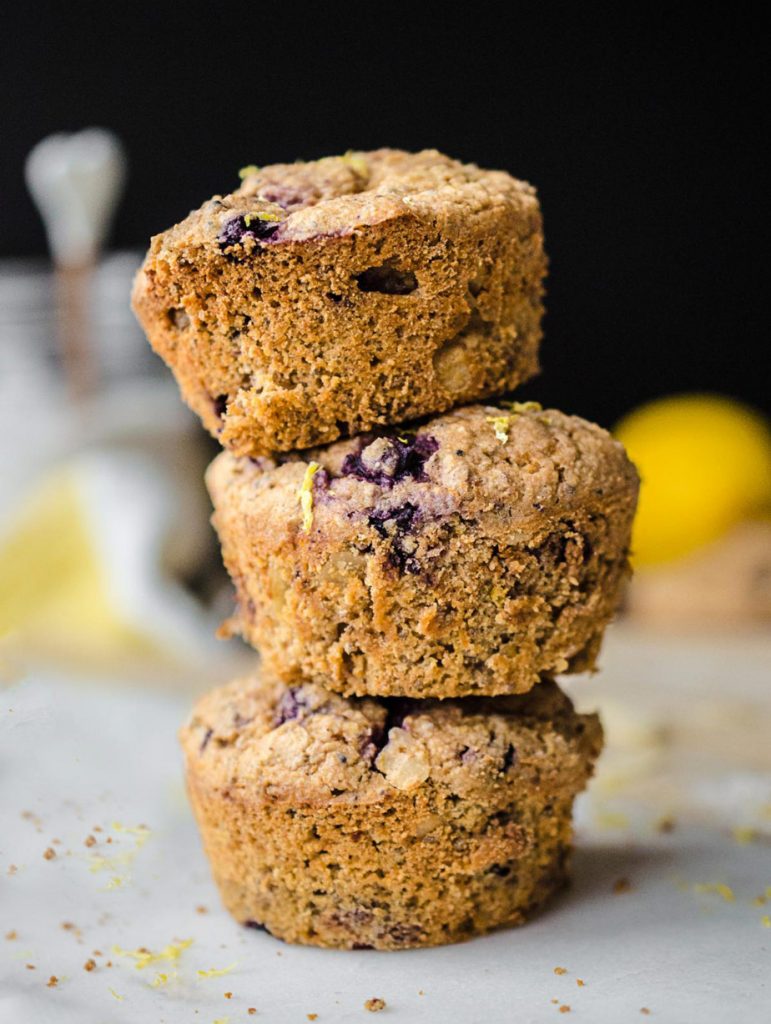 I had 13 lemons to be exact. More than I know what to do with, even though I love lemons and add a squeeze to just about everything!
I also use the weekend to get some baking done -muffins, breads, cakes – anything that I can pull out of the freezer during the week for a quick snack or breakfast. 
So Sunday morning plus a whole lot of lemons gave me the idea to make lemon poppy seed muffins!
But no poppy seeds. Hm, what looks just like poppy seeds but are even better? Chia seeds! 
Vegan and gluten free Lemon Chia Seed Muffins took over my morning… my whole morning.
This version you see here is delicious, light and lemony with an occasional crunch from chia and a fruity pop of colour from blueberries.
But this darling little muffin wasn't my first batch! The first round of these lemon chia seeds muffins that I made were terrible! 
I was a little absent minded and couldn't remember how much almond milk I added…..turns out not enough! 
The first batch was dry and dense and sucked! I mean I'll eat them and drown them in almond butter and chia jam but I wouldn't serve these to someone else! Except for Bernard, he's a garbage disposal. 
I couldn't let it go. I had to do it all again and it took up my entire Sunday morning. But it was worth it. 
Batch #2 of Lemon Chia Seed Muffins are delish!
I've used coconut palm sugar in these muffins because the maple flavour from my preferred sweetener (maple syrup) was too strong and didn't complement the lemon and I added slivered almonds to give it a little extra texture. 
I've learned, from what feels like a billion batches of muffins, that I am pretty unenthused by a plain muffin – one without a whole lot going on the inside. 
For two reasons… first I think a muffin is like a blank canvas begging to be filled with yummy nutritional superfoods-nuts, seeds, berries! Second, it's less boring this way. Each bite is a little party in your mouth. 
If you're looking for a nice snack muffin, this vegan gluten free Lemon Chia Seed Muffin is one you might want to try.
….I still have like 11 lemons. Any ideas?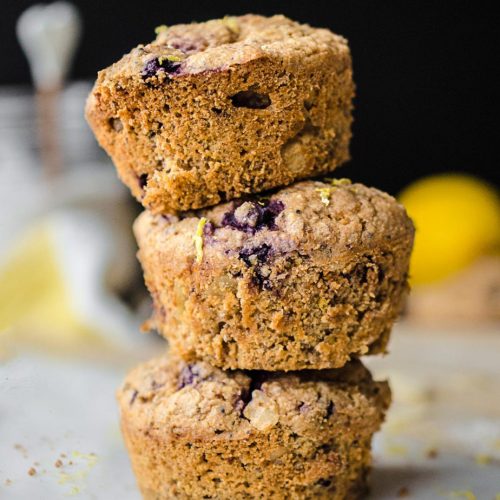 A muffin makeover- vegan and gluten-free lemon chia seed muffins with blueberries!
Ingredients
Dry

1½

cups

rolled oats ground into flour

½

cup

almond meal

½

cup

slivered almonds

⅓

cup

coconut palm sugar

¼

cup

chia seeds

2

teaspoons

psyllium husk or 2 tablespoons ground flaxseed

2

teaspoons

baking powder

½

teaspoon

sea or Himalayan salt

Wet

¾

cup

unsweetened almond milk

¼

cup

lemon juice

juice from ~2 lemons

⅓

cup

unsweetened applesauce

2

tablespoons

almond butter

1

tablespoon

lemon zest

1

cup

fresh or frozen blueberries
Instructions
Preheat the oven to 350°F (for a non-convection oven) and have a non-stick 12-muffin muffin pan ready on the counter.

Add your whole oats to a blender or food processor (you're using a blender later so that will be more convenient) and blend into a fine flour.

Add the oat flour and all other dry ingredients to a large bowl and mix well using a spatula.

Add all the wet ingredients (not including blueberries) to the blender and blend until smooth. You can also whisk the wet ingredients in a bowl but the almond butter will be a little difficult to incorporate.

Add the blended wet ingredients to the dry and combine using a spatula. Quickly fold in the blueberries and transfer the batter to the muffin tin. Don't wait too long between mixing the wet and dry ingredients and getting these muffins in the oven.

Bake for 26-28 minutes. Avoid opening the oven door and checking before the 25 minute mark otherwise your muffins might sink. The muffins are done when they are firm to touch and are golden brown.

Remove from the oven and let cool in the muffin pan for 15-20 minutes. Transfer to a cooling rack and let cool completely.
Notes
These muffins freeze well. If you won't enjoy them within 3 days, I suggest freezing them once cooled. The sooner they are frozen, the fresher they'll be when taken out of the freezer.