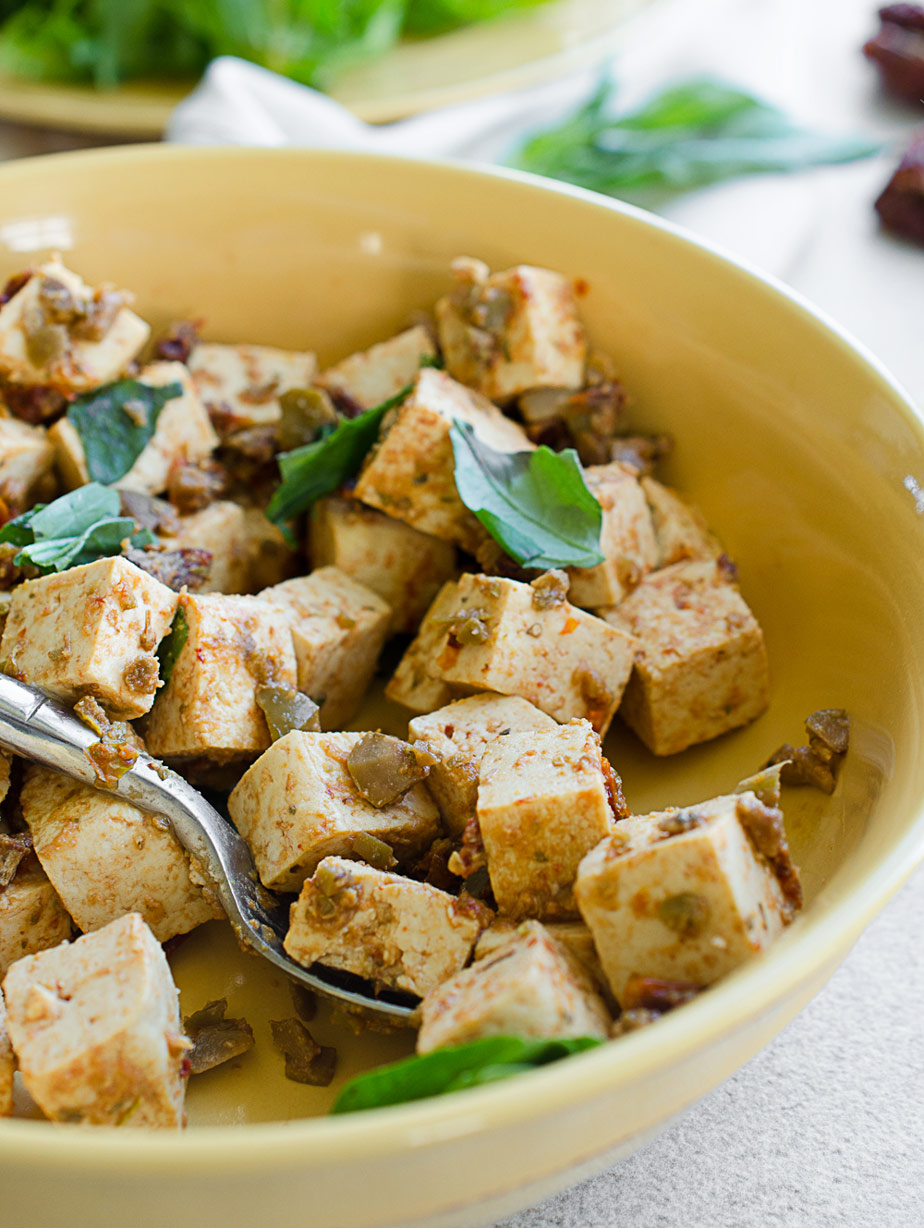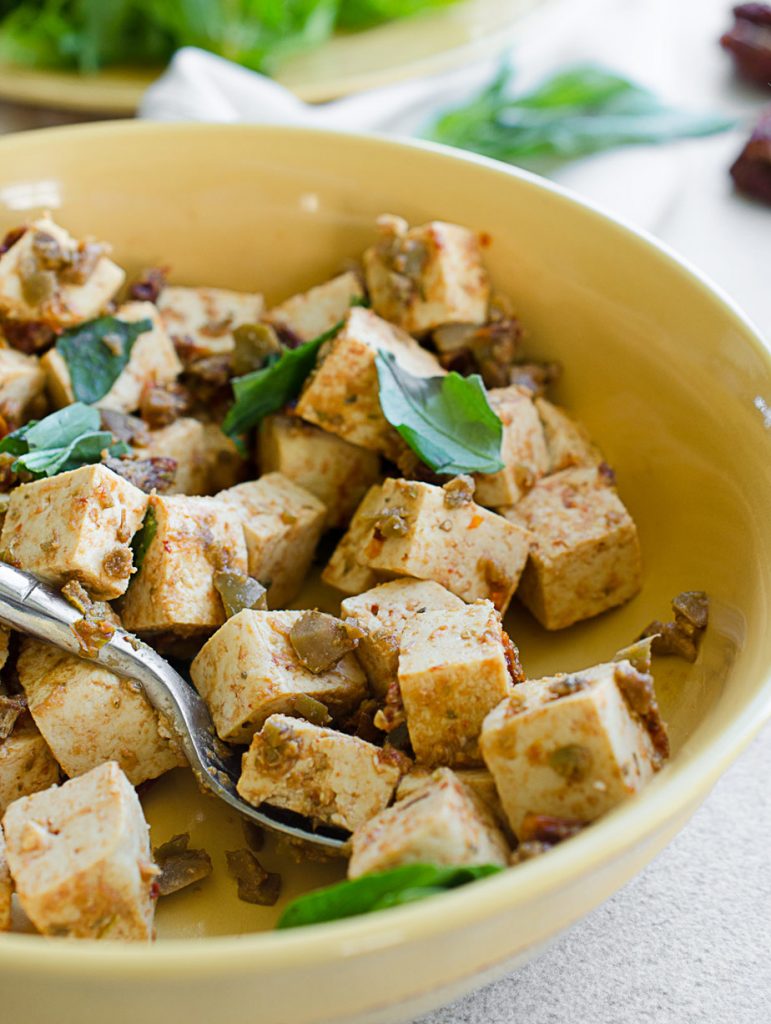 I am a big fan of big flavour. 
I like a when a food has distinct tastes – the kind that makes all the taste buds wake up and want more! 
Don't get me wrong, I like more subtle, less direct flavour as well but there is a widely accepted myth that you need oil, salt or supermarket packages of pre-mixed seasonings and powders to achieve a strong taste. The majority of these seasonings contain artificial ingredients like MSG and simulated flavours. 
Be skeptical of the "natural flavour" ingredient- "natural flavour" does not exist in nature. Go figure!
An easier way to achieve strong flavours is to use fresh herbs and spices or specific ingredients. Foods like sundried tomatoes, olives, chilli peppers, horseradish, vinegars, fresh lemon juice, ginger and garlic can significantly raise the flavour and complexity of really simple meals. 
These kinds of ingredients are what I used to make the most tasty Vegan Tofu Feta! This faux-feta is great mixed with leafy greens, on top of cooked grains, as a side dish or even a snack.
Sun-dried tomatoes, olives, lemon and spices come to together to build big, bold flavour that will surprise anyone who is sceptical about the potential of tofu.
This recipe is short and easy with very few steps. Be sure to choose organic (sprouted is ideal) tofu and dried sundried tomatoes – not the kind packed in oil.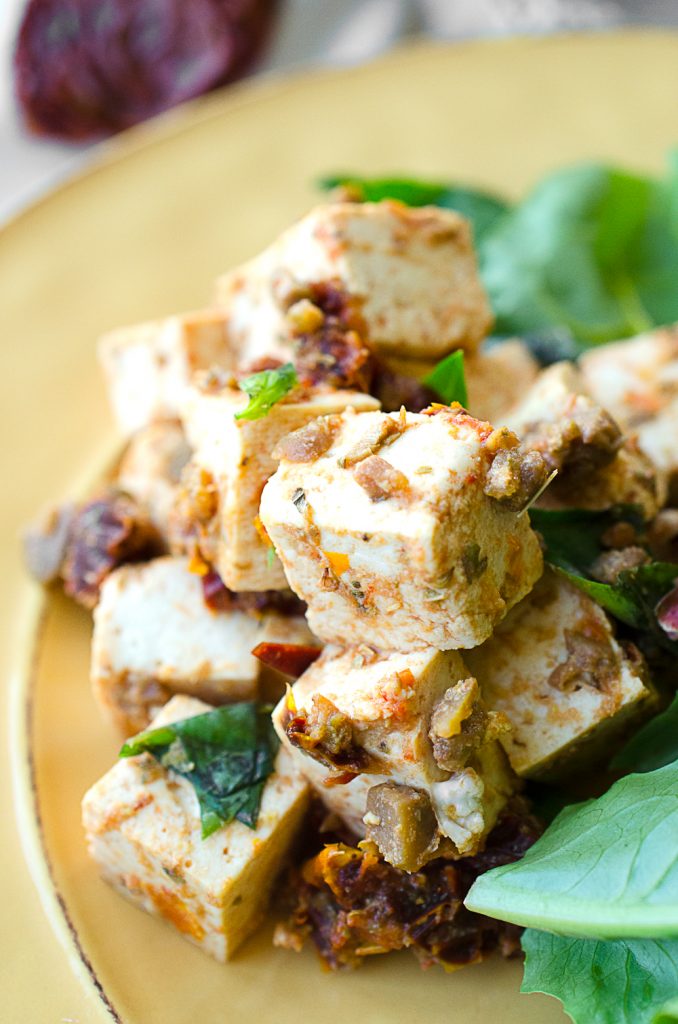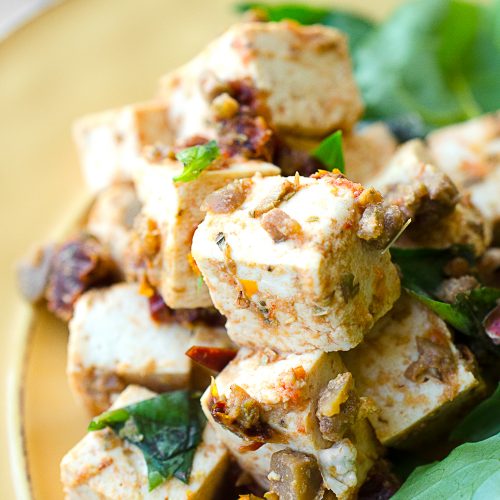 An easy and flavorful oil-free tofu "feta cheese".
Ingredients
1

350-400 gram/12-14 ounce package of firm tofu (organic is ideal)

⅓

cup

packed sun-dried tomatoes

soaked in water for 15 minutes

¼

cup

chopped green olives

pits removed

2

tablespoons

lemon juice

3

tablespoons

nutritional yeast

½

teaspoon

dried oregano

½

teaspoon

dried basil

½

teaspoon

garlic powder

½

teaspoon

sea or Himalayan salt

Optional: Pinch red pepper flakes
Instructions
Drain the tofu and cut into ½ inch cubes. Place the tofu in a steamer basket and into a pot with 2-3 inches of water (make sure the water is below the steamer basket). Cover and bring to a boil. Steam the tofu for 3-5 minutes.

Remove the tofu from the steamer basket and let it cool completely.

Meanwhile, drain the soaking sun-dried tomatoes and dice them. Add the cooled tofu, sun-dried tomatoes, chopped olives and lemon juice to a medium sized bowl and toss.

Add the remaining ingredients and mix until well combined and all tofu cubes are evenly coated with spices.

Serve as a side dish or in a salad or a wrap.
Notes
This dish can be made the night before and left in the fridge overnight – the tofu will absorb more of the flavour.
Make sure the tofu is cooled before mixing with other ingredients.
Feel free to add hemp seeds, slivered almonds or chopped herbs like mint, basil or cilantro.