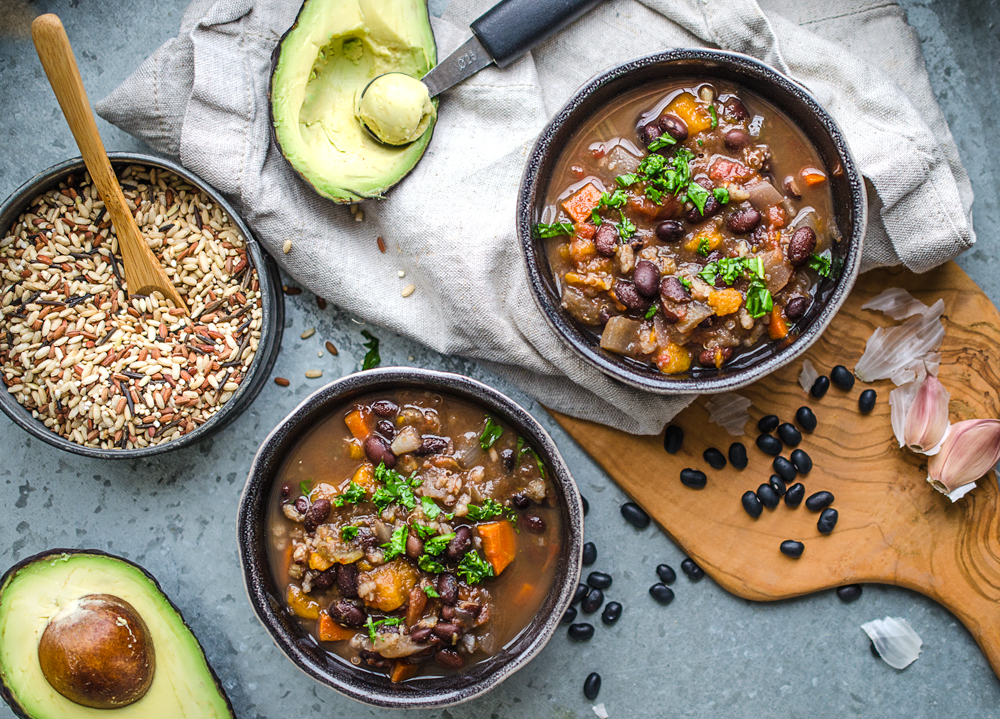 Ready, set, slow cook! 
More slow cooker recipes please.
This is a request I've received over and over again. 
Up until this point I've only posted one slow cooker recipe – Overnight Slow Cooker Oats. I make these oats every single Sunday night! They are a breakfast staple in my house. In this recipe, the slow cooker was used as a tool and not really because of convenience. 
No matter how long I cooked steel cut oats on the stove, I felt like they were never soft enough for my liking. Long, slow cooking delivers creamy steel cut oatmeal. 
I did some slow cooker soul searching (hyperbole for dramatic effect) and I realized that I didn't experiment much with the slow cooker because I thought it was kind of boring – categorically ho hum, one-dimensional cooking. 
But like anything, it's only boring if you have a boring approach to it and I was being such a slow cooker drag. 
I'm reinventing my approach and joining the ranks of slow cooker lovers. 
Why? 
Because as much as I love creative recipes, complicated flavour profiles and all the kitchen gadgets, slow cookers are practical, convenient, and allow lots of people who are short on time to enjoy home cooked meals every night. 
And I want to encourage these folks to make plant-based slow cooker recipes!
So I'm on a new mission to showcase some plant-based slow cooker recipes and I'm starting with this Spicy Slow Cooker Black Bean Soup (spice optional!).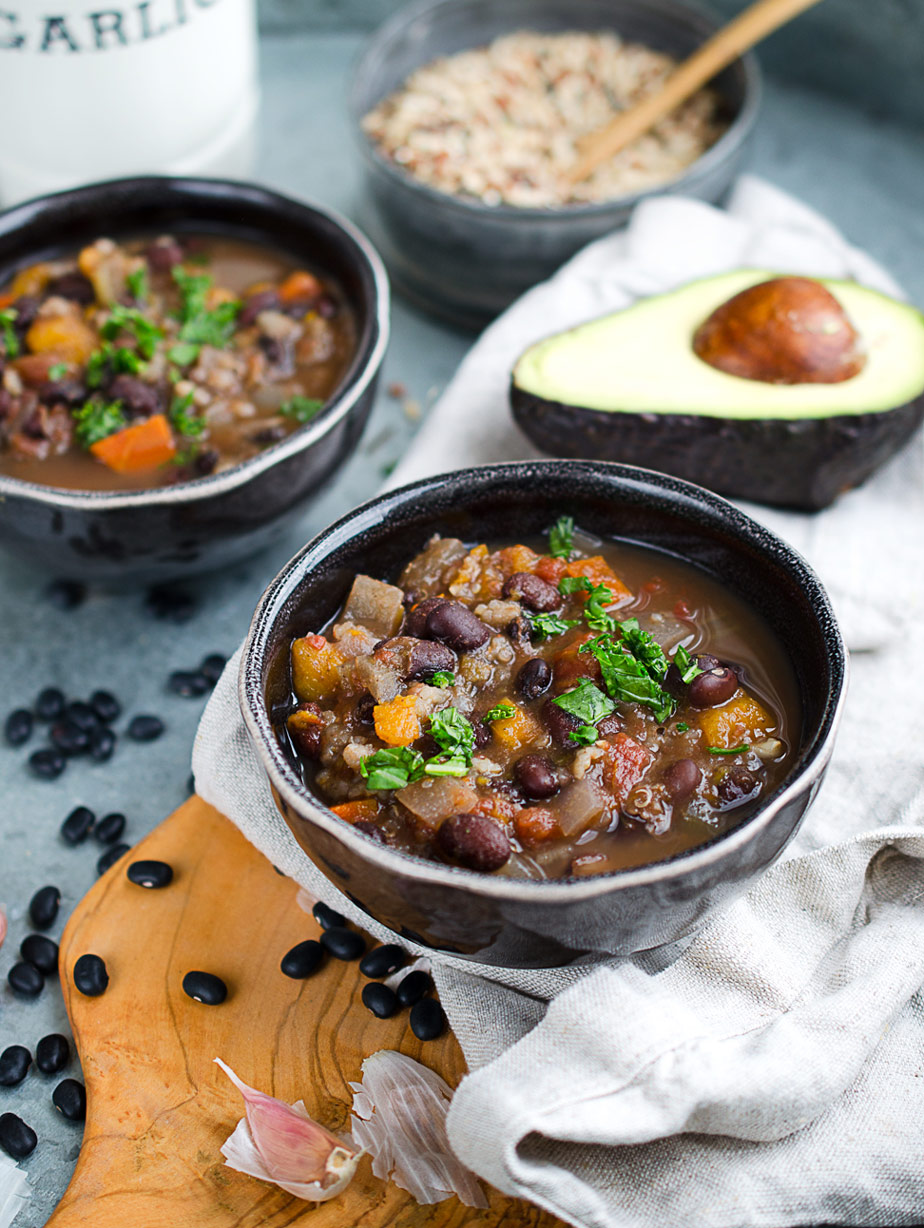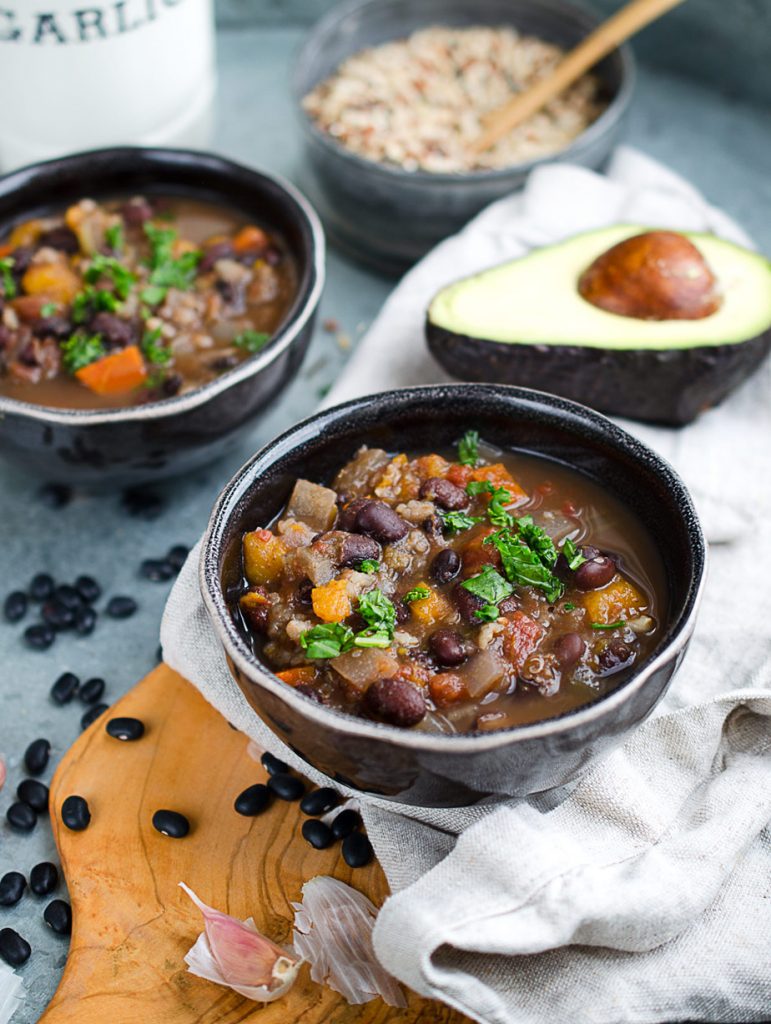 This Slow Cooker Black Bean Soup showcases one of my favourite ingredients – BEANS! I've been plugging my Everything Beans Class for the last few weeks because I seriously think we underutilize legumes in the kitchen! Beans are insanely healthy and unbelievably versatile!
A couple of recipes notes: 
Soaking! In this spicy black bean soup we use dried beans and not canned! Because we're using dried, you must soak the beans overnight before putting them in the slow cooker and be sure to drain the soaking liquid.
Slow and steady: I like to cook this soup on high for 6-7 hours. I prefer longer cooking on high to make sure the beans are cooked but I also love it when the sweet potato melts into the soup. This allows for a creamier texture and richer flavour. 
Spice it how you like it: Another recipe request I've received is more spice! I'm a spice wimp and mild is all the spice I need. For you spice lovers, this soup has directions for a super spicy alternative!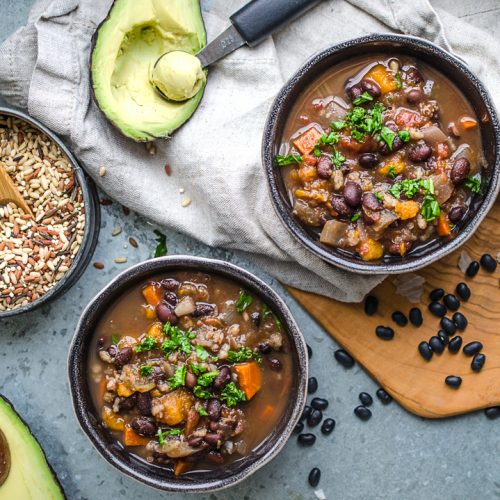 Slow Cooker Black Bean Soup
This vegan Slow Cooker Black Bean Soup showcases one the foundations of a plant-based diet – BEANS!
Ingredients
1

cup

dried black beans

soaked overnight (see directions)

1

red onion

small diced

5

cloves

garlic

minced

2

carrots

small diced (~ ½ cup)

3

stalks celery

small diced (~ ¾ cup)

1

cup

quartered cherry tomatoes

2½

cups

medium diced sweet potato

~ 1 medium-large sweet potato

½

cup

dried brown rice

2

tablespoons

ground cumin

1

tablespoon

coriander

2

teaspoons

oregano

1

teaspoon

chilli powder

½-1½

teaspoons

red pepper flakes

more for more spice

7

cups

low sodium vegetable broth

2

tablespoons

lime juice

2

cups

baby spinach

optional

Garnish: Guacamole or sliced avocado
Instructions
Put the beans in a large bowl and cover with 3 inches of water. Soak the black beans overnight ( ~ 8 hours). In the morning drain and rinse the beans and add them to the slow cooker.

Add all remaining ingredients except the lime juice, spinach and guacamole and cover the slow cooker and set it to high for 6-7 hours. Stir a few times throughout cooking if possible.

When the beans are cooked and the sweet potato is tender the soup is done. Stir in the lime juice and baby spinach (if using) and continue to cook on high until the spinach is wilted.

Divide among bowls and garnish with guacamole or sliced avocado!
Notes
If you want a less spicy soup, use ½ teaspoon red pepper flakes.
You can also use 2 cans of black beans instead of dried beans. If using canned beans, you can set the slow cooker to low and cook for 8 hours.