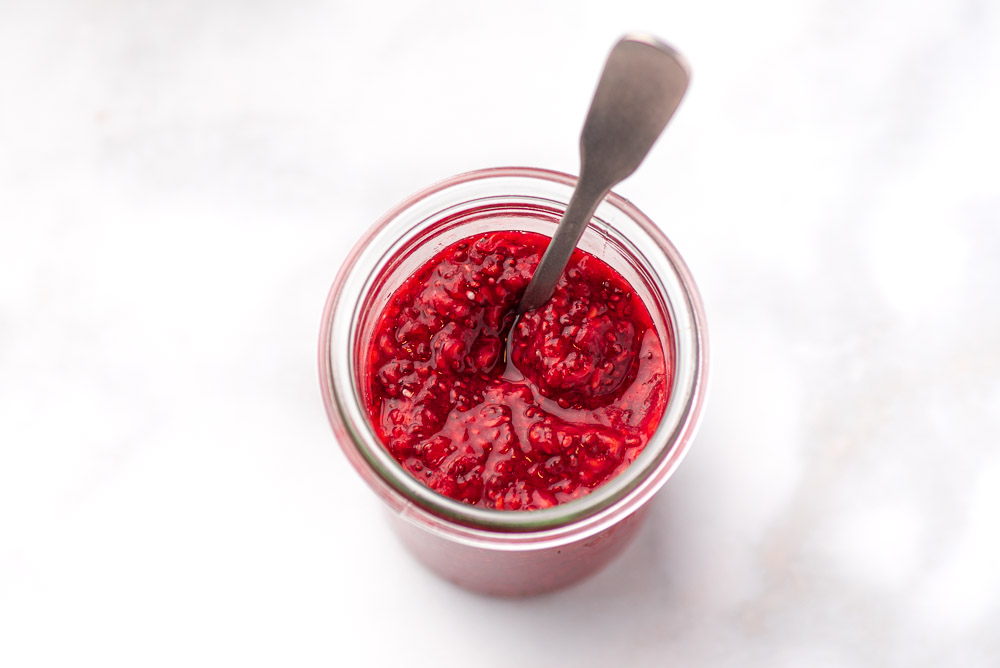 Anything with 2 ingredients gets my attention.  Like what more can we ask for people!
This basic raspberry chia jam is made from raspberries and chia seeds. That's how I do it! 
You can add extra sweetener or lemon juice, as many do, but I feel the tart raspberries do a perfect job.
Smother this on top of some toast with drippy almond butter. YAS YAS YAS!
This jam is a part of my Basic Recipes Series, because we can all benefit from going back to basics every now and then. Making easy foods from scratch, preparing whole foods in simple ways, and just taking a minute to appreciate basic, simple recipes. 
What is it? Chia jam is a jam recipe whereby the thickener is chia seeds as opposed to pectin. This raspberry chia jam uses frozen raspberries so it's easy to make when fresh are out of season.
Why is it a basic, must-have recipe? Jams are notorious for being a source of added sugars but jams are also delicious! They're so versatile and add a pop of fruit flavor to so many easy-to-make meals that a healthier version is in order! Good news for us, it's painfully easy to make. 
This is a basic recipe, it has 2 ingredients and takes 10 minutes. 
And it can be kept in your fridge and used in any way that you use jam. 
It's much healthier, has that home-made, instagram-able feel, and you can modify the sweetness to your liking!  Your toast is about to get a makeover!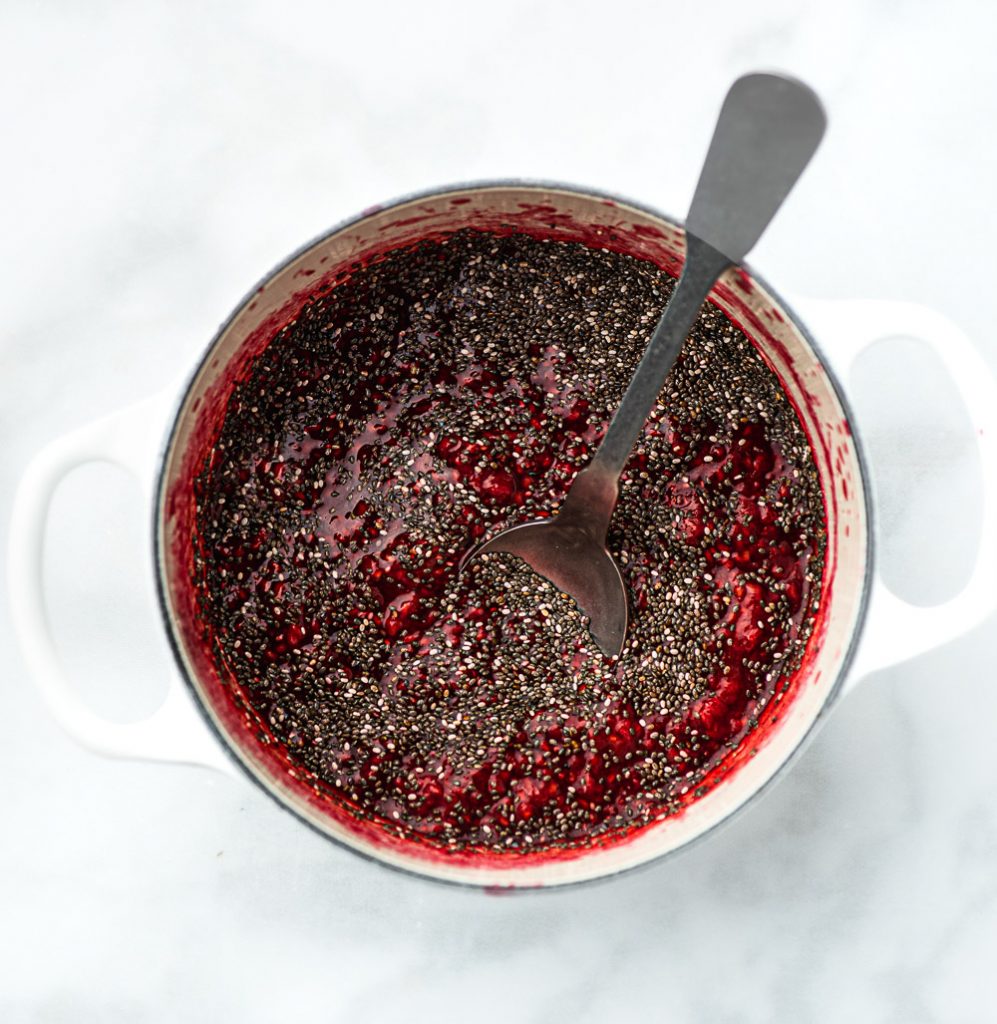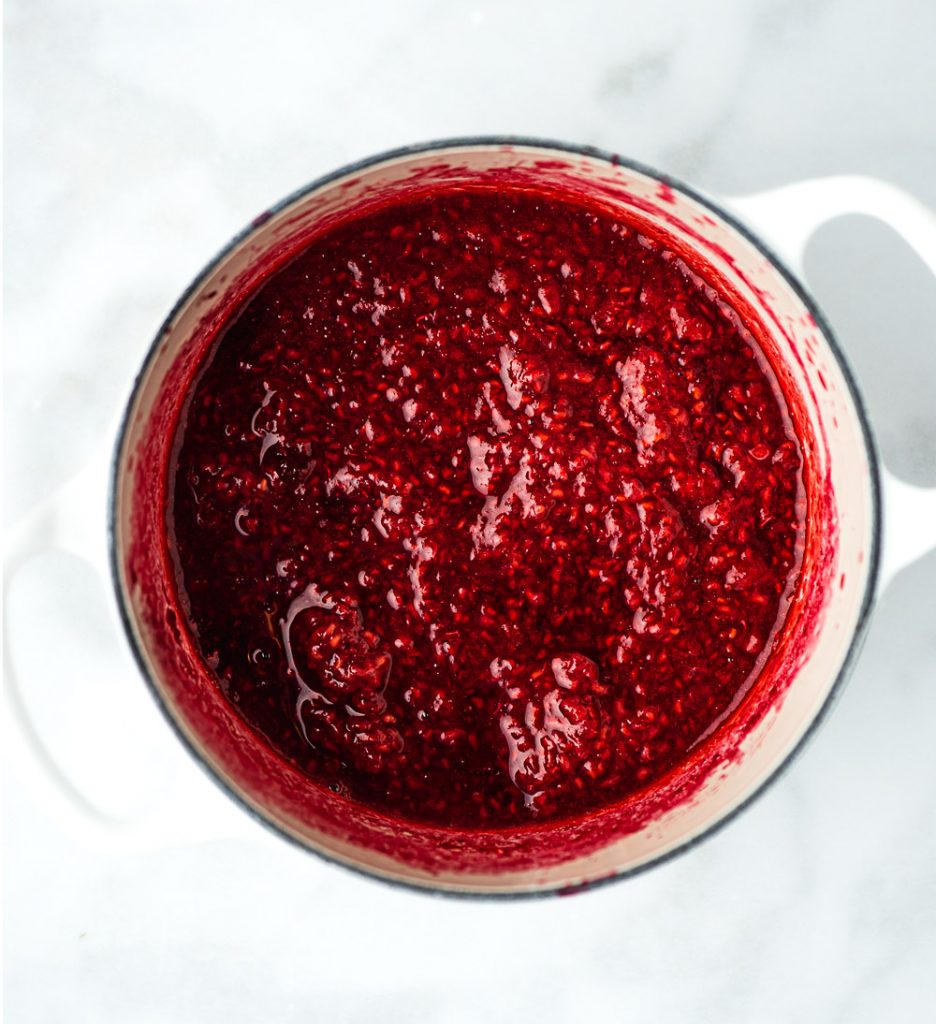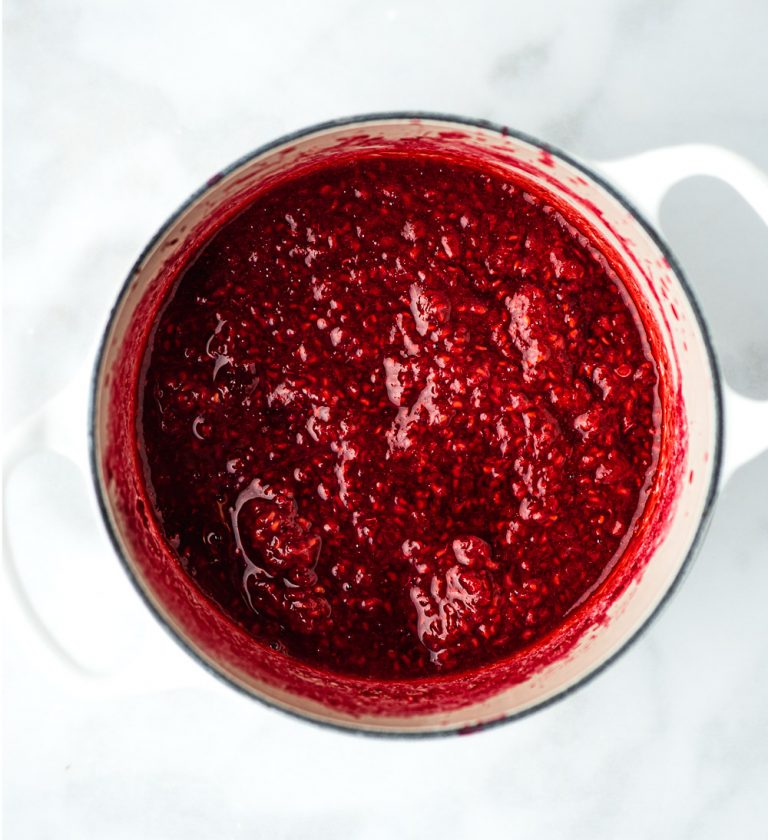 Here's How's You Make This Basic Raspberry Chia Jam
Step 1. Add the frozen raspberries to a small pot and warm on low heat until all the raspberries are defrosted and juices are released. Mash the raspberries. Remove from heat.
Step 2. Add the chia seeds and mix.
Step 3. Set aside and wait for 10 to 15 minutes for the jam to thicken and cool. 
That's it!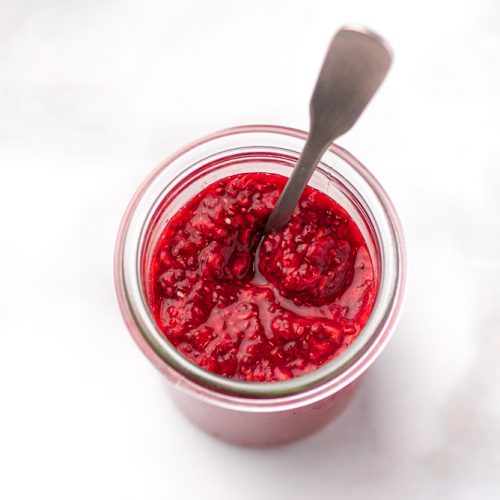 Ingredients
2

cups

frozen raspberries

2

tablespoons

chia seeds

1-3

teaspoons

maple syrup

optional
Instructions
Add the frozen raspberries to a small pot on warm on low heat, stirring often, until the raspberries defrost and release their liquids. Mash with a fork until all the berries are broken up. Remove from heat. Stir in the chia seeds (and maple syrup if using) and set aside for 10 to 15 minutes to thicken. Done!

Once cooled, put this raspberry chia jam in a mason jar and refrigerate for up to 5 days.
Notes
I like to smear this on toast, add a scoop to warm oatmeal or overnight oats, or even as the middle layer between tiered cakes!