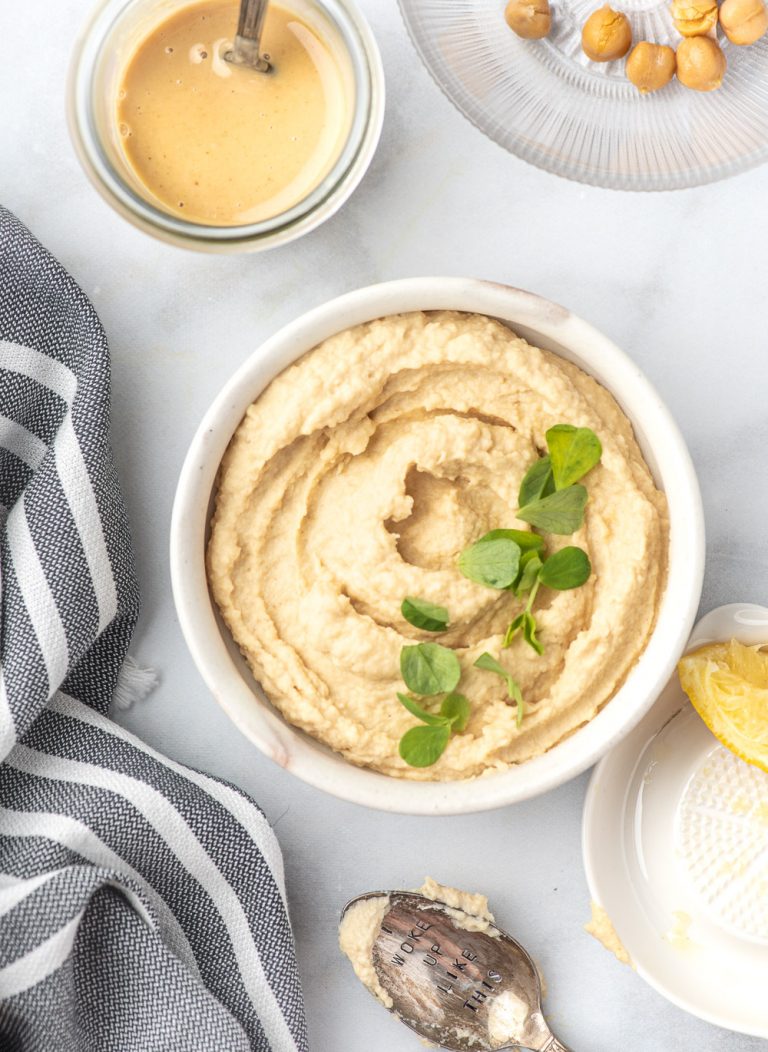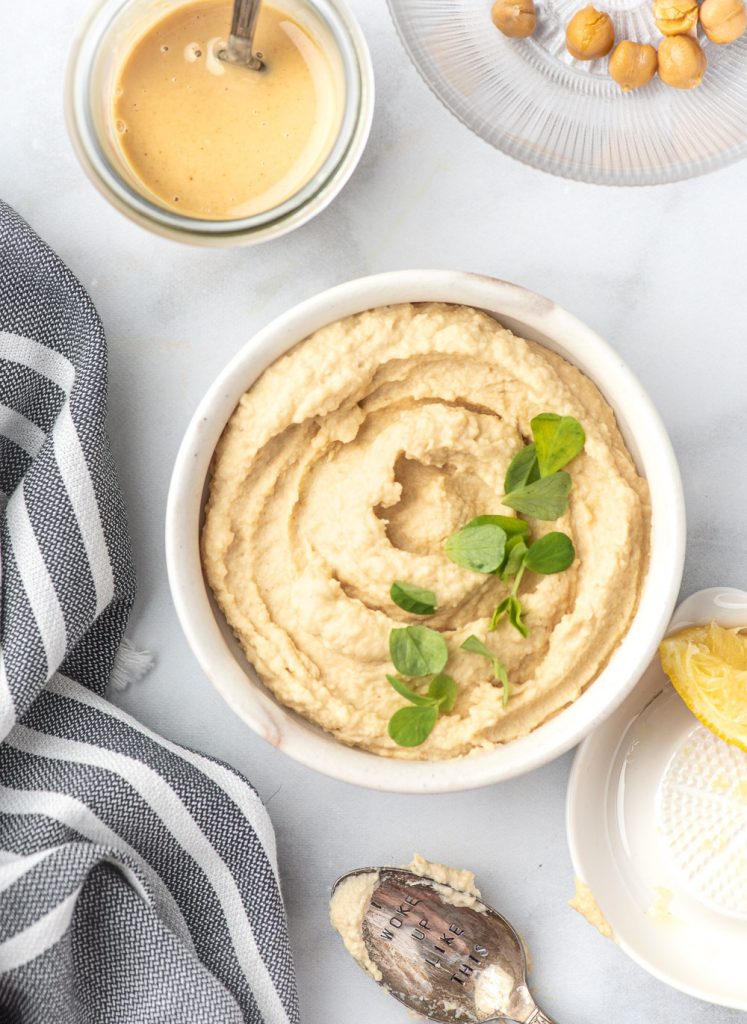 If I had to stay home with just one food for an undefined amount of time…
oh wow… that's happening. Well hopefully not with a limit of just one food! But, if that were the case I'd choose hummus! 
Put that on everything…toast, rice, soup, nachos, potatoes, burritos, wraps, tacos, eat it from a dish, eat it how you wish! 
Basic hummus is a must have home recipe. It's versatile and health supportive. 
What is it? Hummus is a spread made from chickpeas, tahini (ground sesame seeds), lemon juice, garlic, and, traditionally, oil. But, you can skip that and use water or liquid from your can of chickpeas (also known as aquafaba) instead. As I do in all my hummus recipes! 
Why is this a basic, must-have recipe? Because store-bought hummus is full of crap (canola oil, preservatives, etc) and doesn't taste anywhere near as good as homemade. And because hummus is a chameleon – it can make an appearance at any meal, breakfast through night-time snack. It's also nutritious! It provides a ton of protein, fiber, healthy fats and is filling and satisfying.
I've given a lot of my recipe experimentation over to hummus, the receipts: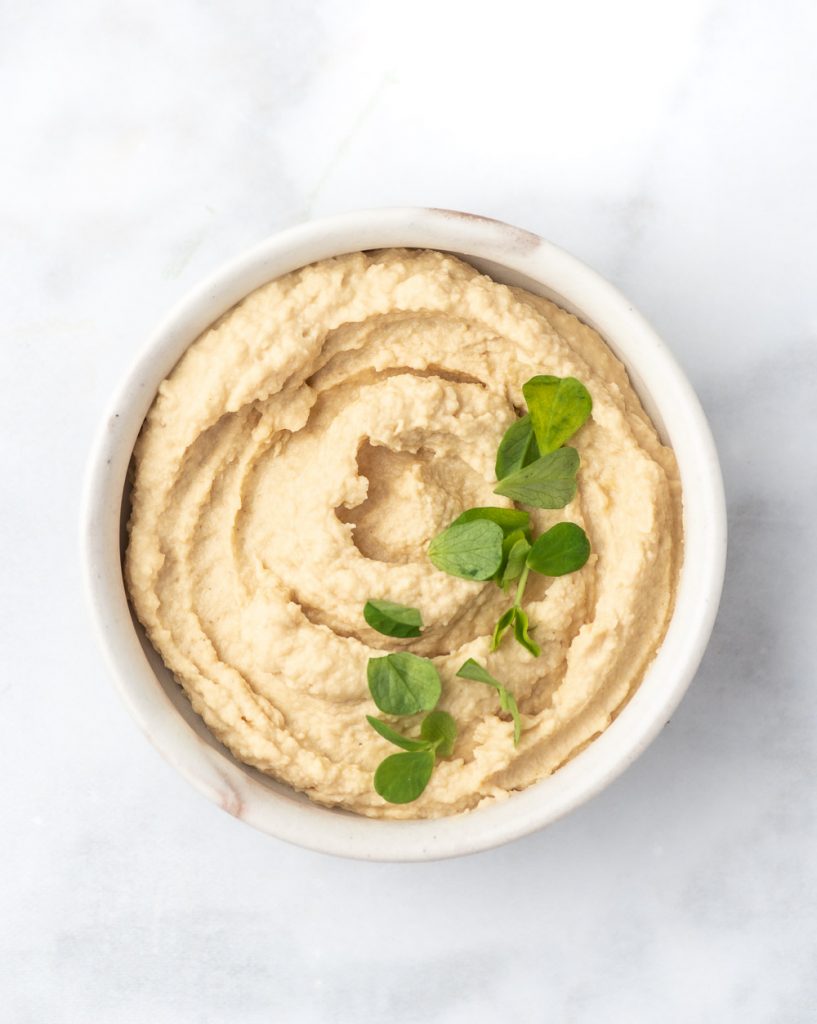 But here is a basic hummus that can be the canvas for all your hummus dreams! Add more lemon, less salt, add sunflower seed butter instead of tahini, add chocolate chips if you're feeling it! Just a warning, that might be gross.
Use this as a basic recipe and adjust and add flavors as you see fit! If you've never made hummus at home, what are you waiting for?!
You'll love the control you have over the flavor and eating it directly from the container is almost as good as eating ice cream straight from the container! Almost.
How To Make This Basic Hummus
Step 1. Add all the ingredients to a food processor (or a blender like a Vitamix).
Step 2. Start processing and add more water as needed to achieve a creamy consistency.
Step 3. Keep processing! People often skip this crucial step. Process for a long time if you like a creamy consistency. Anywhere from 2 to 5 minutes! This applies to processors, not blenders!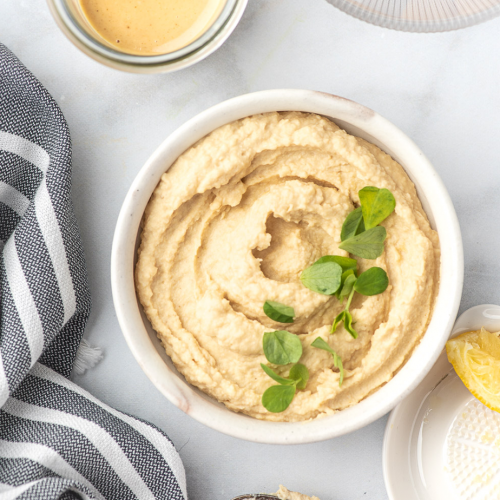 Hummus is a spread made from chickpeas, tahini (ground sesame seeds), lemon juice, garlic, and, traditionally, oil.
Ingredients
2

cups

cooked or canned chickpeas

rinsed and drained

2

tablespoons

freshly squeezed lemon juice

2

tablespoons

well-stirred tahini

2

small garlic cloves

minced

¼

teaspoon

ground cumin

¼

teaspoon

salt + more to taste

¼ - ½

cup

water
Instructions
Add all ingredients (except water) in order listed to a food processor and begin processing. Add ¼ cup water through the feed tube and process continuously (for up to 4 minutes) until creamy.

Add more water as needed to achieve your desired consistency. Taste and reseason with salt if needed. Keep in a sealed container in the fridge for up to 5 days.
Notes
You can also make this in a blender. Start on low and increase to high until a creamy consistency is reached. Do not blend for 4 minutes! This recommendation applies to food processors only.