Listen up, healthy-hummus lovers! This is one my fav veggie-forward hummus recipes: oil-free Roasted Tomato Hummus.
Hummus-ish? By hummus I definitely mean the traditional chickpea pureed dip but I'm also referring to any dip/spread made with legumes including lentils, black beans, mung beans and green peas! So by hummus-ish I mean a pureed spread or dip that has a bean or legume as its base.  
What ingredients? Classic hummus is made with lemon juice, garlic, cumin and olive oil. I like to experiment with other nut and seed butters, roasted vegetables, other citrus fruits and of course I skip the oil without skipping the creamy texture. 
What to do with hummus? Hummus is usually served with grilled pita bread, chips or raw veggies. In other words, it's used as a dip most of the time. But for me, hummus is the most multi-use recipe in the kitchen. I'll highlight how I use different hummus recipes as sauces and salad dressing and how I use them to make casseroles, quick lunches, and creamy pasta dishes! 
Nutritional Criteria? The nutritional benefit of each ingredient is always on my mind. I like to choose a combination of ingredients that offer micronutrients, anti-oxidants but also healthy fats, complex carbs and a variety of amino acids (a.k.a. protein). I always keep my hummus oil-free because I just don't think you need it!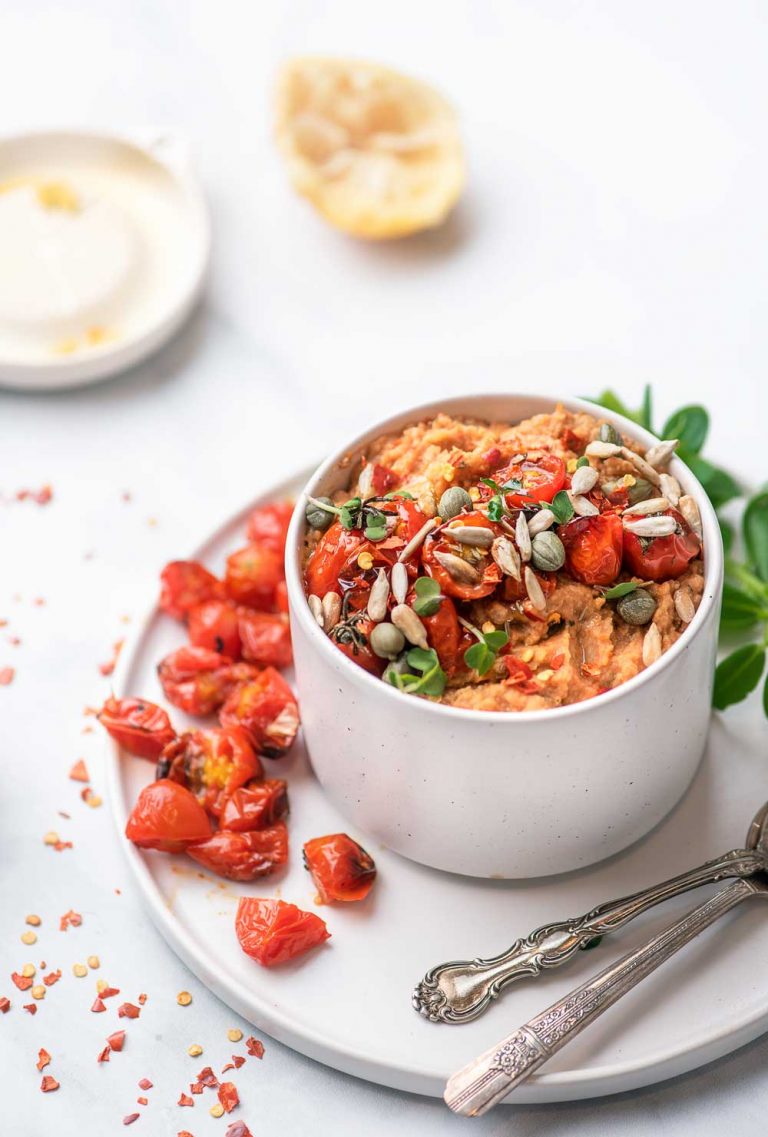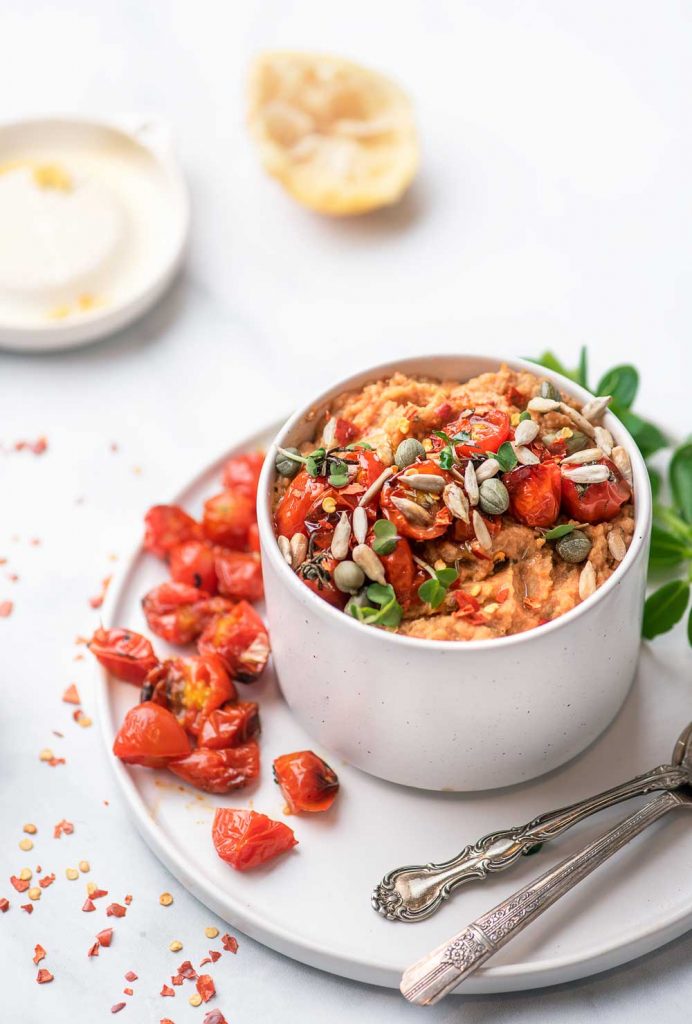 About this oil-free roasted tomato hummus:
In addition to chickpeas, the following ingredients are the culinary highlights of my Mediterranean inspired oil-free roasted tomato hummus:
Sunflower Seeds: Sunflower seeds are a great source of Vitamin E, magnesium and copper. I've lightly toasted them for this roasted tomato hummus because it really brings out their mild nutty flavor. Feel free to use raw sunflower seeds if you prefer.  
Capers: Capers are pickled edible flower buds. I love the salty, bright flavor they add to recipes. Capers are a regular ingredient in Mediterranean dishes and often bring a recipe from good to amazing! You can find them in slender jars (why I'm not sure!) near the pickles and olives in most grocery stores. If you can't find them, swap in pitted green olives instead.  
Roasted Cherry Tomatoes: The sweet but charred flavor of roasted cherry tomatoes is the basis for so many of my sauce recipes. I generally cook tomatoes by either sautéing them in water or roasting them in the oven before I add them to recipes. Cooking tomatoes makes some of their nutrients, like lycopene, more available for absorption.   
Type of Hummus? I would call this the ultimate party hummus! Garnished with roasted tomatoes and sunflower seeds, it's pretty but it's also intense in flavor. 
Suggested Serving: Best served with crisp crackers like Mary's Crackers or baked plain pita bread (if gluten is in your diet).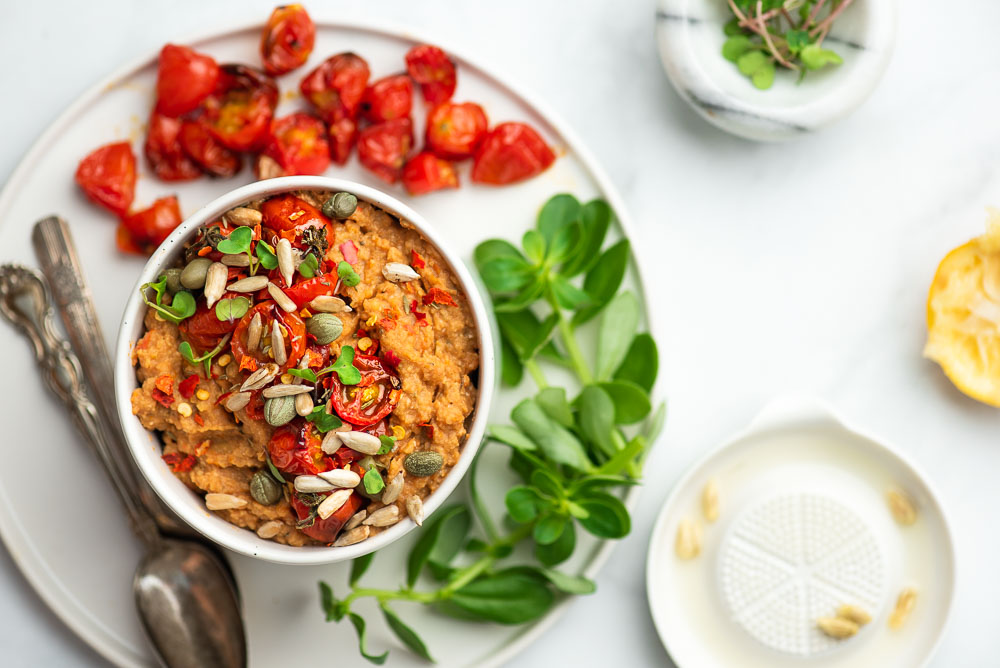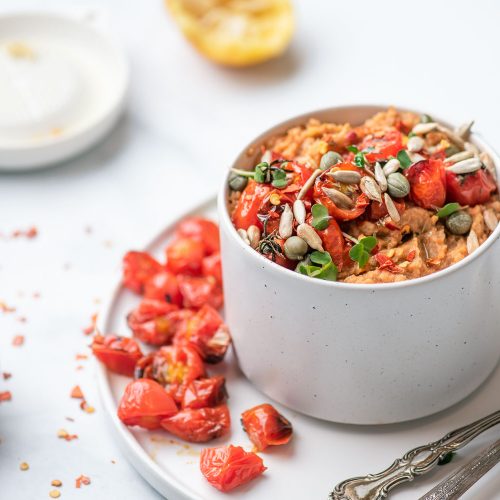 Oil-Free Roasted Tomato Hummus
I would call this the ultimate party hummus! Garnished with roasted tomatoes and sunflower seeds, it's pretty but it's also intensely flavorful.
Ingredients
⅓

cup

sunflower seeds

2½

cups

cherry tomatoes

2

tablespoons

capers

chopped

2

garlic cloves

minced

1½

cups

cooked or canned chickpeas

save the cooking or canned liquid

2

tablespoons

lemon juice

(juice of ½ lemon)

¼

teaspoon

dried thyme

¼

teaspoon

red pepper flakes

½-¾

teaspoon

salt
Instructions
Preheat the oven to 375ºF (190ºC) and line a baking sheet with parchment paper.

Spread the sunflower seeds on the baking sheet in a single layer and bake in the preheated oven for 5-10 minutes. The seeds are toast when they turn a golden color and become fragrant. Remove from the oven and immediately transfer the seeds to a plate.

Increase the temperature of the oven to 400ºF (200ºC). Take ½ cup of the cherry tomatoes and slice them in half. Spread the whole tomatoes and the halves out on the pan. Bake in the oven for 30-25 minutes until the cherry tomatoes are blistering and begin to char in areas. Remove from the oven and let the tomatoes cool.

Once the tomatoes are cool enough to handle, set aside the halved tomatoes, you will use these as a garnish.

Now add the whole roasted tomatoes, toasted sunflower seeds, chickpeas capers, garlic, lemon juice, thyme, red pepper flakes, and salt to a food processor.

Pulse 7-10 times to combine and then process continuously. Pour ¼ cup of the chickpea cooking liquid or canned liquid (or water if you have neither) while processing. Add more liquid as needed until the mixture comes together but there is still some texture (if you like a smoother hummus, continue to process until desired texture is reached). Taste and re-season. Transfer to a serving dish and garnish with the roasted tomato halves, sunflower seeds, and red pepper flakes.