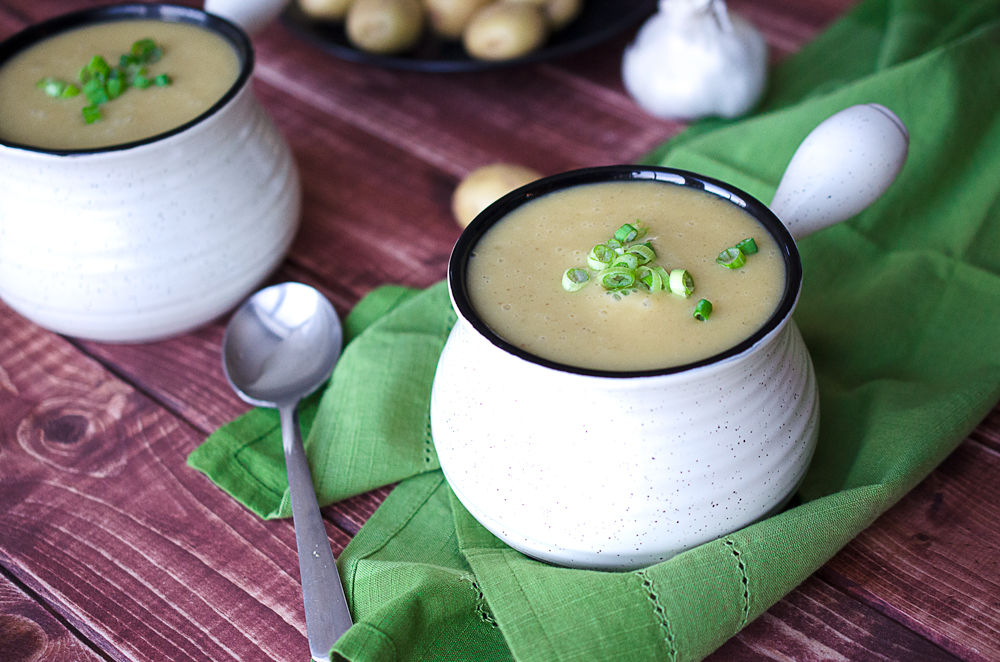 This vegan Leek and Potato Soup is exactly what I needed!
I've been running around like a chicken with its head cut off this week. Eeek…that idiom sounds horrific once you write it out! Rest assured, no heads off chickens 'round here! Chicken friendly zone!
I've been dabbling in all kinds of things – cooking classes, demos, magazine articles, recipe development. I love it all and am so thankful but I've been pretty crappy at time management. I'm up at midnight making muffins and answering emails while I'm eating my lunch. NO BUENO!
So this soup happened first because I had a 5 pound bag of baby potatoes on my counter and 2 leeks that were looking a little tired after hanging out in my fridge for almost 2 weeks.
Some people have retail therapy, I have grocery therapy. I browse the grocery store and impulsively buy foods while I dream up all the fun and interesting things I'm going to do with them!
Most of the time these culinary fantasies come to fruition…other times I have to make giant pots of "random food in the fridge soup" to keep the produce from going to waste.
Anywho, with a bag of potatoes that could feed a family of 10 and some ill looking leeks, this soup was created and the sum is most definitely greater than its parts!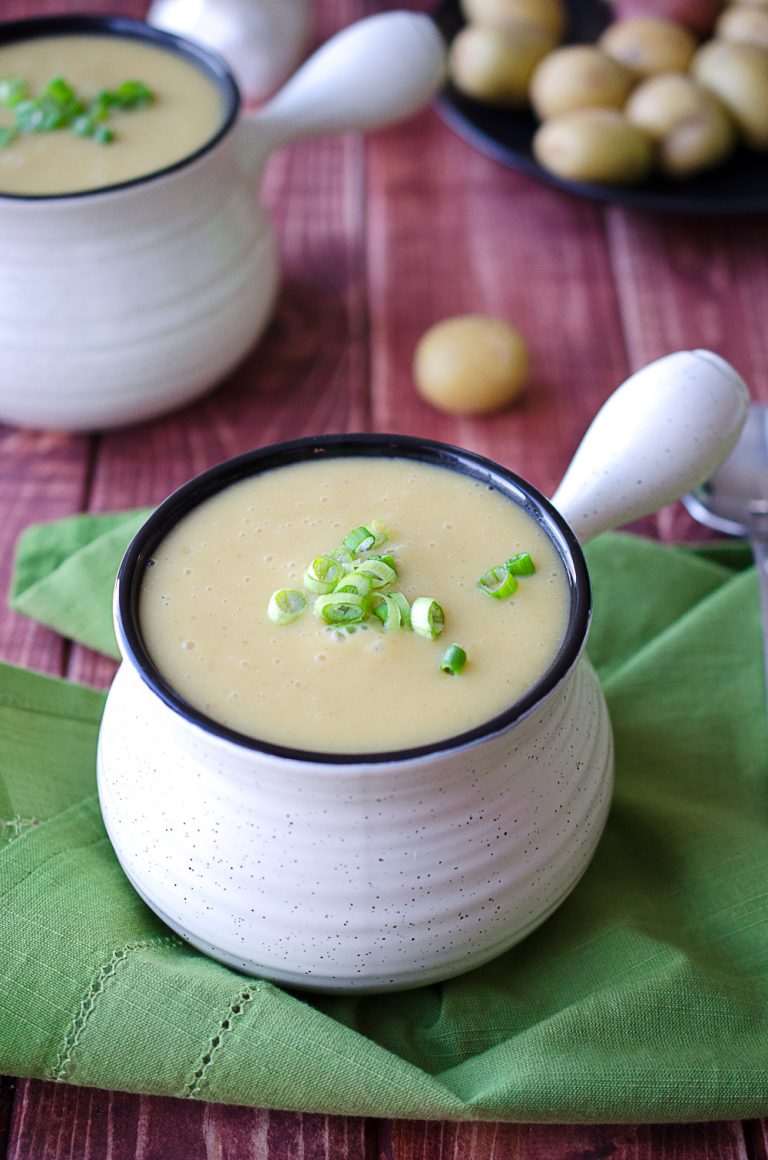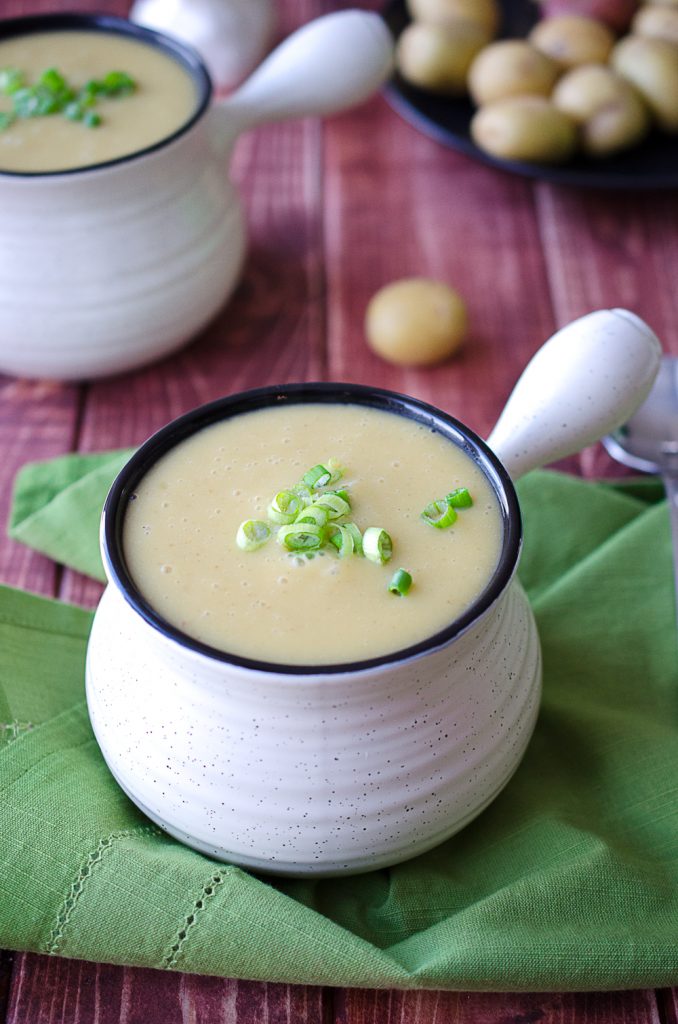 This soup is my lunch most of this week and is warming me up on these cold winter (windy as hell) days! 
What are leeks?
Leeks are from the same family as onions. They're long and cylindrical. They have a mild onion taste and the edible parts are the white above the stem and light green parts below the dark green tops. Be sure to rinse leeks well as dirt hides in between the layers!
This leek and potato combo is a classic. I like to serve the vegan leek and potato soup version as an appetizer, garnished with chives, green onions, or swirl of hot sauce. I make it a little more hearty by adding chickpeas and baby spinach. To switch up the flavour try adding 2 tablespoons of nutritional yeast and a spoonful of hot sauce!
Why baby potatoes?
I have a mountain of them but also because I love baby potatoes! You get more potato skin! Potato skin is loaded with fibre and other good-for-you nutrients. I make this soup without peeling the potatoes – peeling baby potatoes would be a special kind of hell either way – so you get all that potato peel goodness blended up in the soup!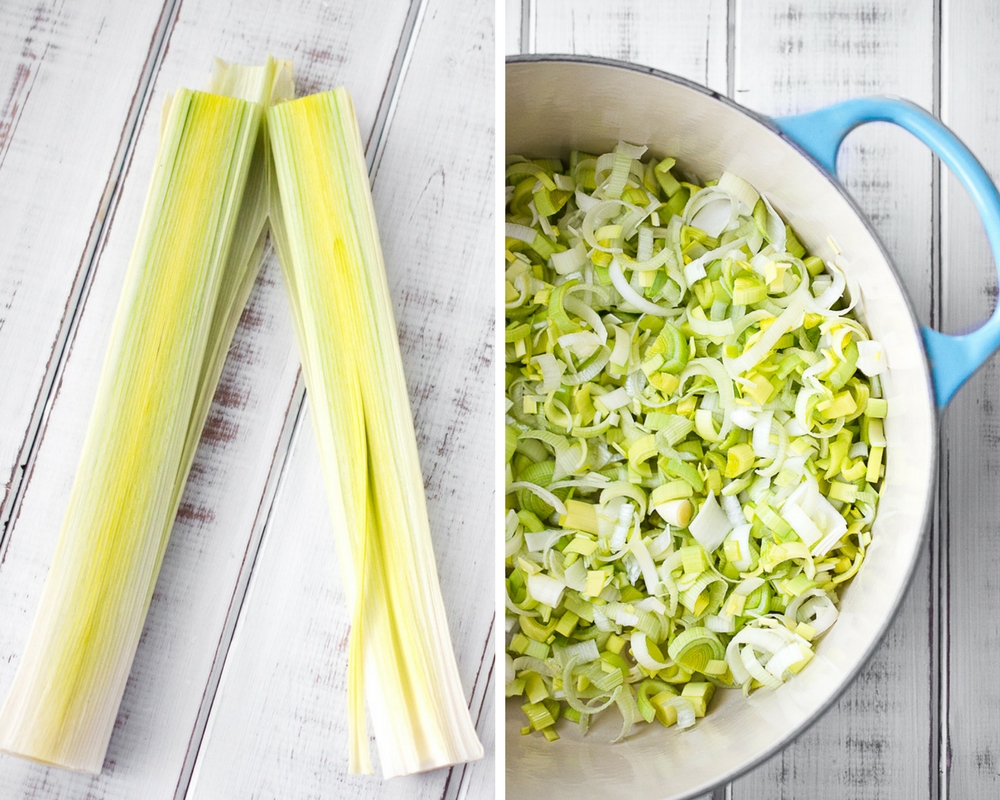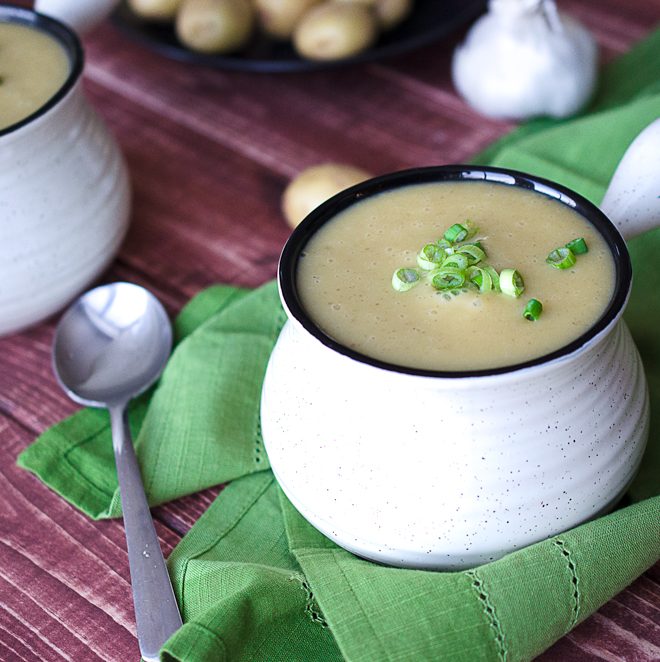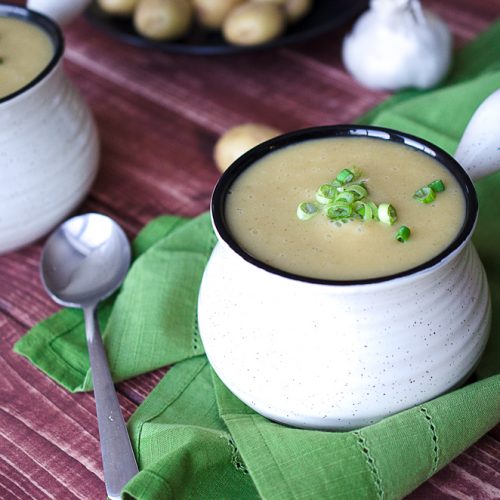 A warming but light soup celebrating aromatic leeks and flavorful baby potatoes!
Equipment
Blender or Immersion Blender
Ingredients
2

leeks

white and light green parts only (~5-6 cup sliced)

4

cloves

garlic

minced

4

heaping cups baby potatoes,

halved

4

cups

low-sodium vegetable broth

2

bay leaves

¼

teaspoon

dried thyme

¼

teaspoon

red pepper flakes

½

teaspoon

salt

1

cup

unsweetened soy milk

1

tablespoon

lemon juice

Garnish: 3 green onions

thinly sliced
Instructions
Remove the dark green tops of the leeks and trim the root. Cut the leek in half lengthwise then thinly slice the two halves. Add the sliced leeks to a large bowl of water rinse and drain three times to clean the leeks. Transfer to a soup pot, add a few tablespoons of water and sauté for 5-7 minutes, adding water as needed to prevent burning.

Once the leeks have softened, add the garlic and continue to sauté for 2-3 minutes until the garlic is fragrant.

Add the halved potatoes, 3 ½ cups vegetable broth, spices, bay leaves and salt. Bring to a simmer, cover the pot and simmer on low heat for 20 minutes until the potatoes are tender. Add more veg broth if needed to keep the potatoes covered while cooking.

When the potatoes are tender transfer the soup to a blender. Add the soymilk and lemon juice and blend on high until smooth. Be careful to not overfill the blender and keep at no more than 2/3 full. Blend in batches if necessary. Also be sure to hold a clean dishcloth on the lid of the blender to avoid steam burns.

Transfer the soup back to the pot, taste and reseason with salt and pepper and serve garnished with chives or green onions.
Notes
Add 1 cup baby spinach and 1½ cups cooked chickpeas to make this a more filling soup.
Serve with a big dollop of hummus on top of this soup to make it even creamier and more filling!