This protein-packed quinoa edamame salad is a perfect example of how protein on a plant-based diet is a non-issue…and it just happens to make a delicious lunch to-go.
Even though evidence shows time and time again that vegans need not worry about protein, the spotlight is always on this outdated, ill-informed argument.
If you divide this recipe into 6 servings you get over 10 grams of protein just from the quinoa and edamame alone. And both quinoa and edamame are sources of complete protein – which means they provide all essential amino acids.
This salad is a protein parade! So if you worry about protein on a plant-based diet (reminder; if you're eating enough calories, you're likely getting adequate protein) or you're looking to bump your protein intake, this quinoa edamame salad is an easy and definitely tasty solution!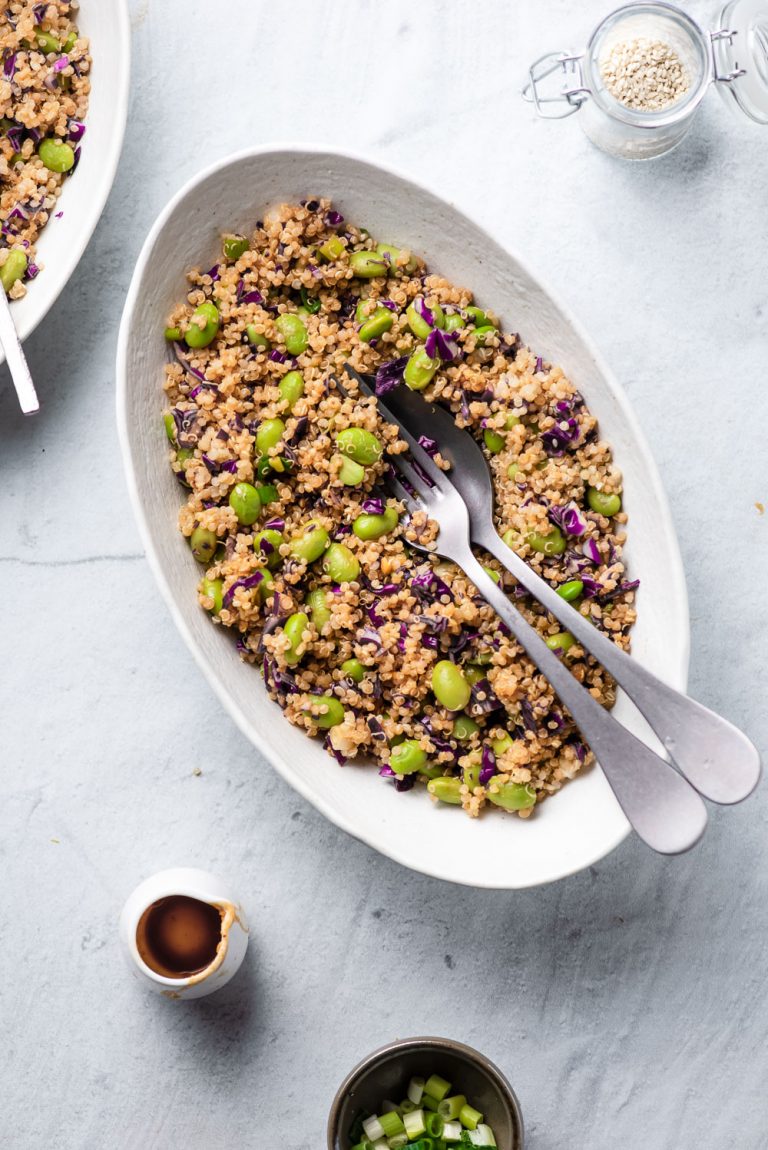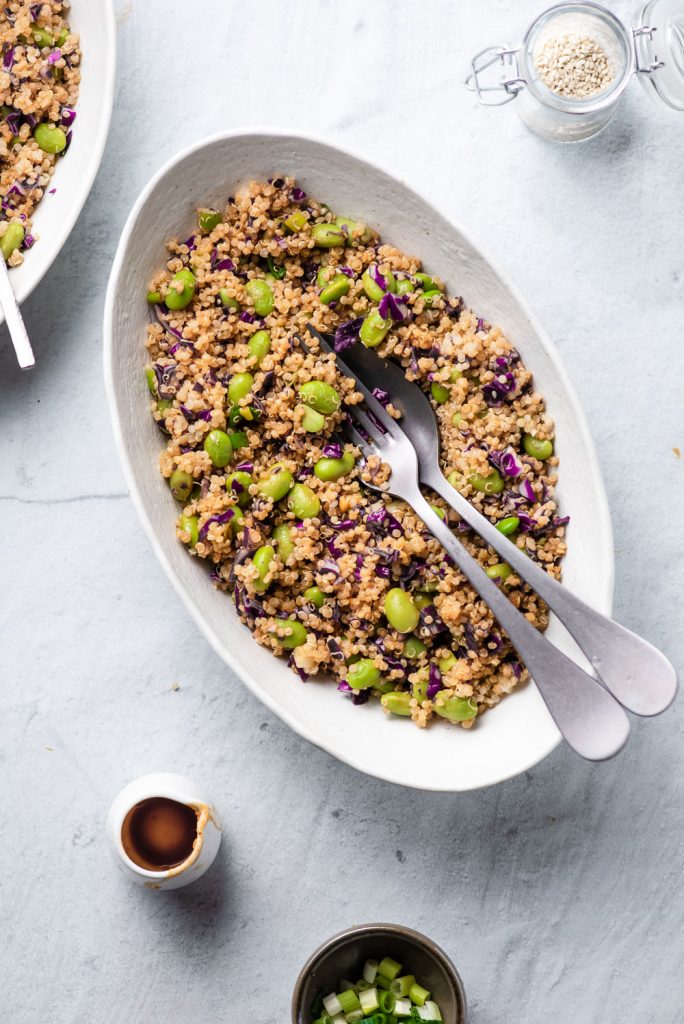 I recently had a conversation with a fellow Canadian here in Taipei who steers clear of many "healthy" recipes because she doesn't know what the ingredients are or where to find them. Similarly, if she sees "cooked millet" or "cooked quinoa" listed, she turns the page or keeps on scrolling.
Why?
Because she, like me, didn't grow up learning how to cook these foods. Her exact words were "like I don't know how to cook quinoa!"
That really stuck with me. Healthy recipes can be a cocktail of confusion if you're not familiar with the "basics".
I've been thinking a lot about the assumptions we make (I make) when writing recipes. I assume that everyone knows how to make quinoa when I only learned how to cook grains properly in culinary school!
So, no assumptions are being made!
I review how to make quinoa in the recipe instructions but here are some additional tips that will almost always guarantee well-cooked, delicious whole grains. These are things I didn't know before I spent the first week of culinary school (an entire week!) just cooking brown rice and other whole grains.
Pick The Appropriate Size Pot:
Too large a pot and the grains won't cook properly. The water will evaporate before the grains absorb it – meaning they'll still have a crunch.
Too small a pot and you'll have an overflow of boiling water.
The perfect size pot is one that leaves about 1-2 inches of space between the rim of the pot and the water. Saucepots, as oppose to pans, are ideal. To cook 1 cup of quinoa I use my 1.5-quart stainless steel sauce pot. This is a nice guide to pots and pans. 
The Magic Formula For Cooking Grains: 
Rinse the dry grains well in a fine mesh strainer.
Add the rinsed grains, the appropriate amount of water and salt to a sauce pot (this will depend on the type of grain you're using), cover with a lid and bring the water to a boil. 
Once boiling, reduce the water to a simmer and simmer for the instructed amount of time. And, hear this clearly… 
Do Not Remove The Lid. 
…and definitely, don't stir! Keep the cover on, no peeking for the majority of the cooking time. This is important for even cooking and fluffy grains. In the last few minutes of cooking, you can quickly remove the lid and use a butter knife or wooden spoon to move the grains to the side and check the bottom of the pot to assess how much water is left. 
When all the water is absorbed and the grains are fully cooked, remove the pot from the stove, fluff the grains with a fork, recover and let the grains sit and steam for about 5 minutes. 
If you're just learning how to cook grains, I suggest paying close attention to this process. It will get easier and easier and soon you'll be a pro.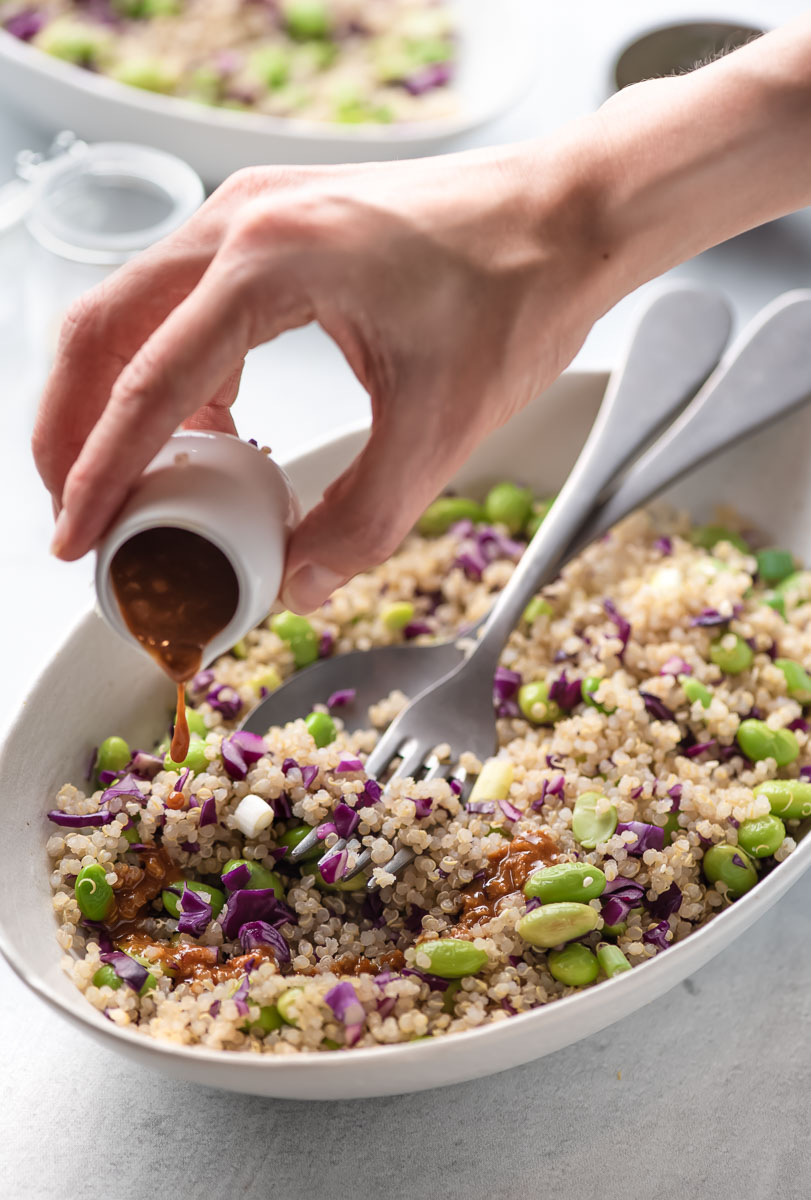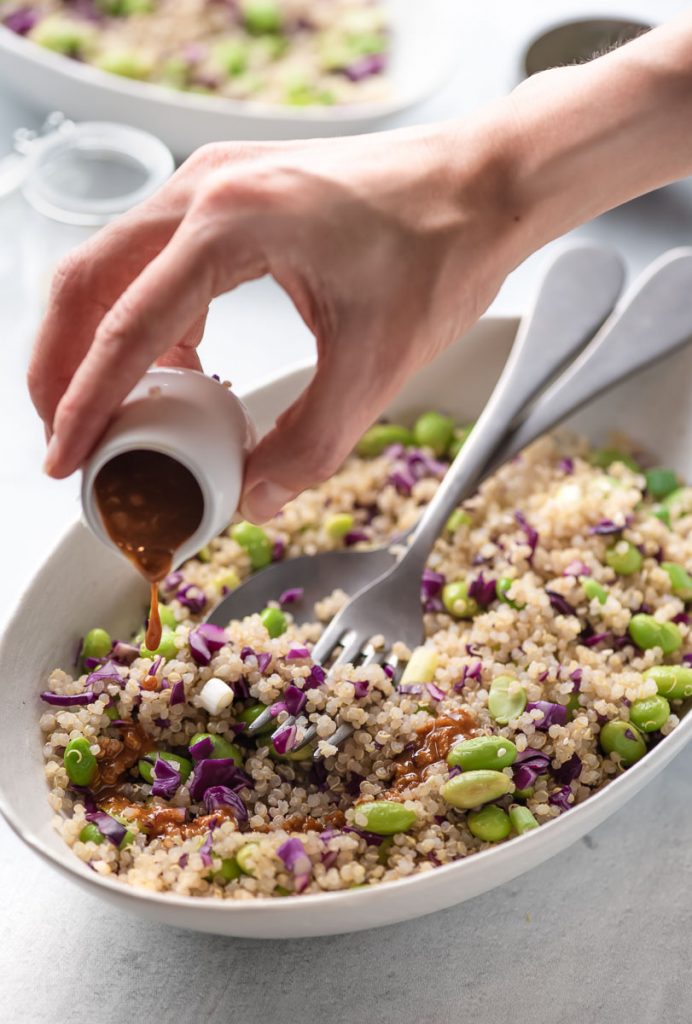 Here are some quick notes about other ingredients in this recipe to make this straightforward and easy!
Edamame
Edamame are young soybeans. They're found in the frozen section of most grocery stores and often in the health food aisle. They're in bags just like frozen peas. Once you get them home, keep them in the freezer until you're ready to use them. You prepare edamame by boiling them in water for 3-4 minutes. Easy. 
Rice Vinegar
Also known as rice wine vinegar, this is a vinegar made from rice. It's a little less acidic than white wine vinegar and is available in seasoned and unseasoned varieties. I like to use unseasoned rice vinegar because seasoned often has added sugars. You can find rice vinegar in the same aisle as other vinegars.
Stirred Nut Butters
The sauce in this quinoa edamame salad calls for almond butter (or sunflower seed butter for a nut-free version). Here's an important tip when using nut/seed butters; stir the nut and seed butters well before using them. This ensures that any oils are mixed in and the texture is homogeneous. If you don't, then you'll either get too much oil or, if you're at the bottom of the jar, the consistency will be hard and dry and won't mix well with other ingredients. 
Assembly
Once you've cooked the rice and the edamame, you can make the salad right away or wait for the quinoa and edamame to cool and serve the salad at room temperature. Assembly involves mixing the quinoa and edamame with the shredded cabbage and green onion and finally tossing the salad with the almond sauce! Garnish and enjoy!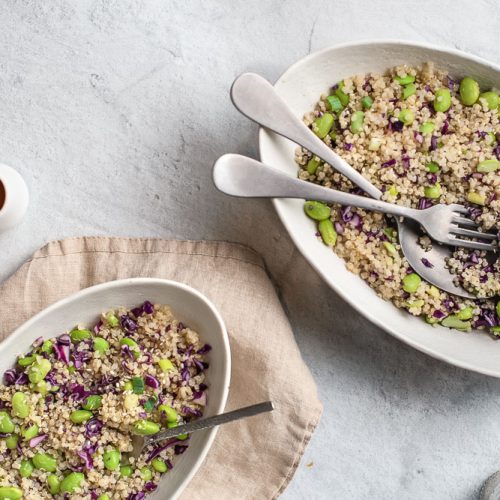 This protein-packed quinoa edamame salad is a perfect example of how protein on a plant-based diet is a non-issue...and it just happens to make a delicious lunch to-go.
Ingredients
1

cup

dry white quinoa

2½

cups

frozen edamame

2

cups

finely shredded red cabbage

6

green onions

thinly sliced

2

tablespoons

well-stirred almond butter

or sunflower seed butter for a nut-free option

¼

cup

reduced sodium tamari

or soy sauce

3

tablespoons

rice wine vinegar

2

teaspoons

agave

2

small garlic cloves

minced

¼

teaspoon

red pepper flakes or 1-2 teaspoons hot sauce

Optional garnish: 3 tablespoons sesame seeds

sliced green onion
Instructions
Rinse the quinoa in a fine mesh strainer and transfer to a small pot (this is important, don't use a big pot!) and add 2 of cups of water and ¼ teaspoon salt. Cover the pot and bring the water to a boil. Once boiling, reduce to a simmer and simmer for 12-15 minutes or until the quinoa has absorbed all the water. Remove the pot from the burner, fluff with a fork, recover and set aside on a cooling rack or heat-proof surface to cool.

Fill a separate, medium-sized pot with water and bring to a boil. Once boiling, add the frozen edamame. Wait for the water to return to boiling and then boil for 3-4 minutes. Drain in a colander and set the edamame aside.

Meanwhile, shred the cabbage with a mandolin or with a chef's knife and make the sauce: add the almond butter and soy sauce to a small bowl. Using a fork or small whisk, whisk together until smooth. Then add the rice wine vinegar, agave, garlic, and hot sauce and whisk until smooth. Set aside.

Time to assemble. You can serve this salad warm or at room temperature. If serving at room temperature, wait for the edamame and quinoa to cool completely before assembling the salad. If serving warm, go ahead and add the quinoa, edamame, cabbage, and green onion to a medium-sized bowl and toss. Pour the sauce evenly over the salad and then toss again. Garnish with sesame seeds and more green onion if desired and serve.