First, what is kitchari?
Kitchari (also called khichdi) is a wholesome Indian dish made from mung beans, rice, and warming spices. 
Kitchari is also a one-pot dish where everything is added in stages and then simmered until the rice and beans are tender. You can simplify kitchari and make it very basic or add more flavor and texture with spices and a variety of vegetables. 
This easy kitchari is one I've been altering and adjusting over the years. Some kitchari recipes are more mellow and even bland but I like using additional spices. A touch of garam masala, for example, is an addition I've come to love. 
You might be surprised to know that in India kitchari is usually served for breakfast! In western cuisine we're not used to this type of meal early in the day but it's worth trying. All the same, I most often serve this healthy and easy kitchari for dinner. 
Health Benefits of Kitchari
In ayurvedic medicine, which is one of the oldest medical systems in the world, kitchari is said to be detoxifying, healing, and good for digestion. 
Traditional kitchari is made with split mung beans and white rice (both very easy to digest) but this version is inspired by whole foods and is made with whole mung beans and brown rice. Soaking the beans and rice overnight and combining anti-inflammatory spices also aids in digestion and assimilation of nutrients. 
mung beans (I use Bob's Red Mill)
long-grain brown or brown basmati rice
whole cumin seeds
black mustard seeds
onion
carrots
garlic 
ginger
tomato
ground spices (garam masala, coriander, turmeric)
sea salt
vegetable broth
How To Make Easy Kitchari
Kitchari is a one-pot dish but there are two key steps before we start cooking; first, soaking the beans and rice to speed up the cooking time and aid in digestion and second, toasting the whole seeds. This adds depth of flavor and helps build this beautiful dish into a wholesome meal. 
Recipe Steps:
1. Soak the beans and rice overnight.
2. Toast the whole spices until fragrant. 
3. Add veggies and sauté until softened. 
4. Add remaining spices, beans, and rice. 
5. Add broth and simmer until everything is cooked. 
6. Serve as is or with optional garnishes.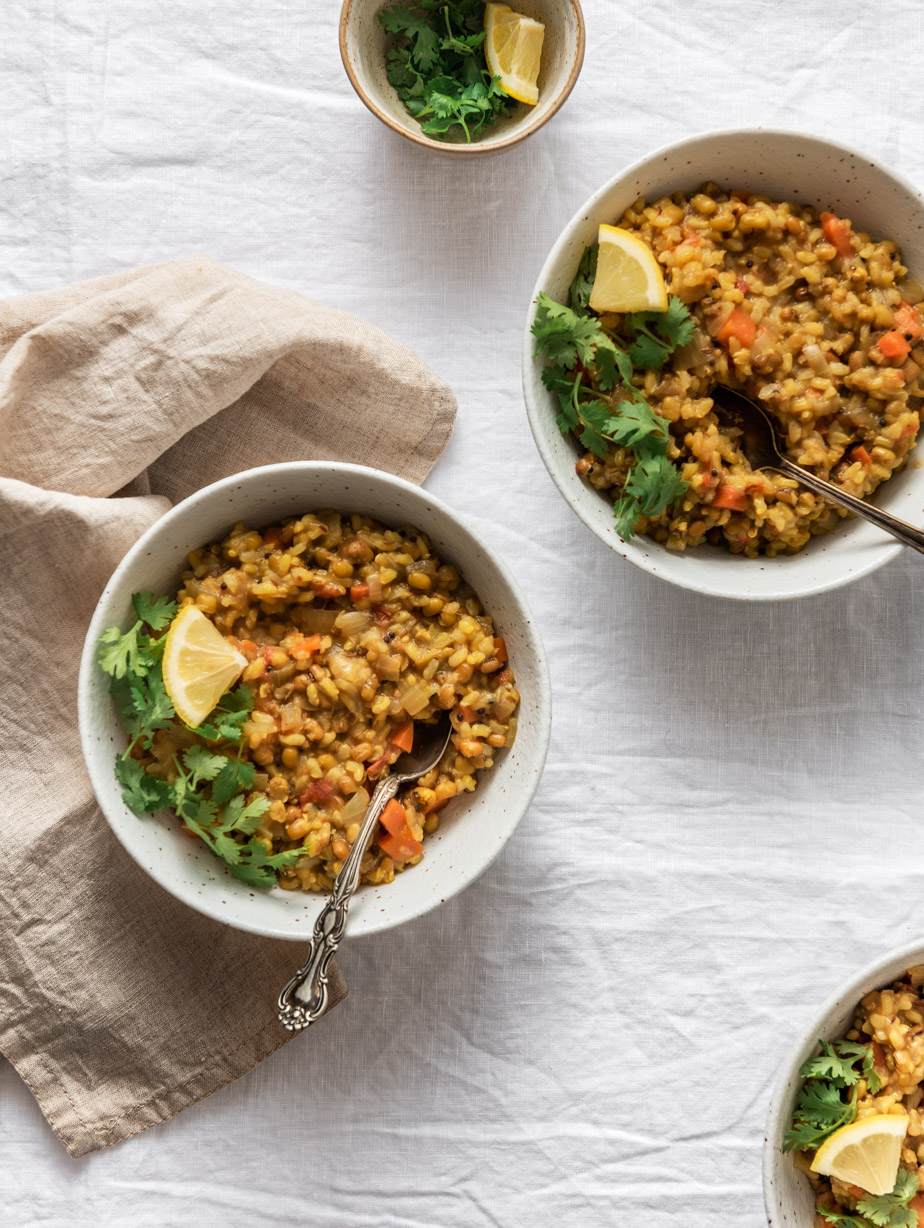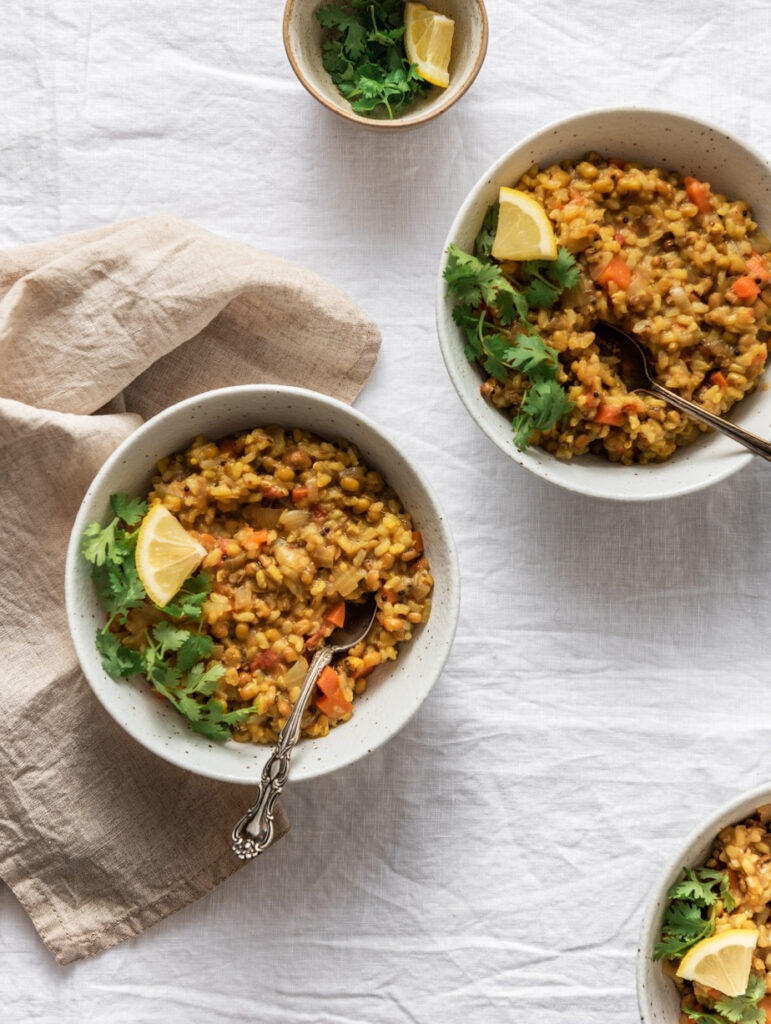 What are mung beans?
Mung beans are small, green beans that are native to Asia. They cook quickly and are used in sweet and savory dishes.
Mung beans, also call moong beans, are quick cooking and extremely nutritious.
Mung beans are particularly rich in protein, fibre, and non-heme iron.
In this kitchari, we're using dried mung beans and cooking them from scratch.
Where to buy mung beans?
In Taiwan, mung beans are easy to find and widely available. If you can't find mung beans in your local grocery store (check the organic and health food aisles), try a health food store, Indian grocery store, bulk food store, or online.
Store mung beans in a sealed container in a cool, dry place.
What to do with leftover mung beans?
Cook them and use them instead of adzuki beans in this easy Adzuki Bean Hummus. 
Cook and add to salads, soups, or stews. 
Cook and season with tamari or soy sauce and rice vinegar and serve with steamed veggies and cooked whole grains. A simple dish I love!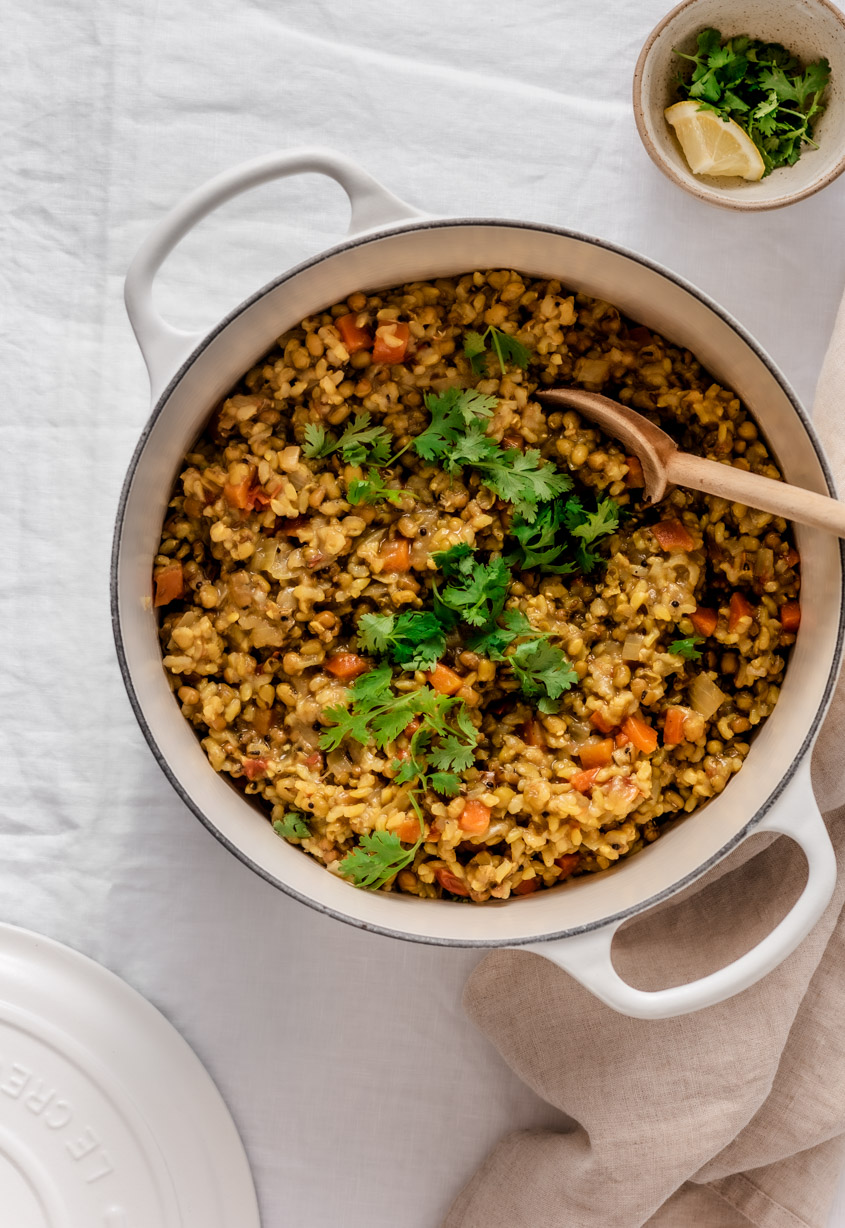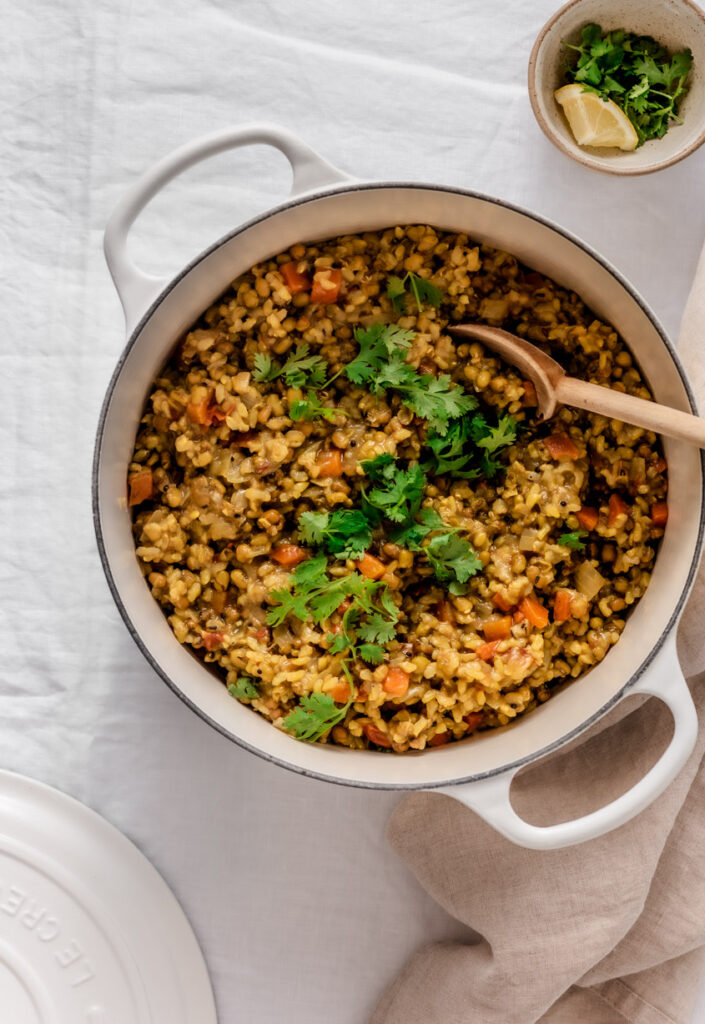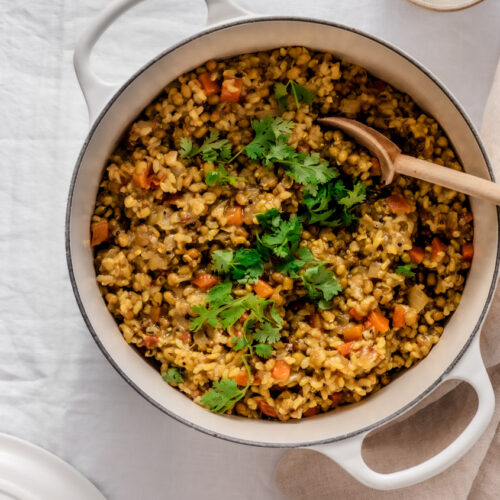 Easy Kitchari (oil-free, vegan, gluten-free)
Rich in fibre, protein, anti-inflammatory nutrients, and all made in one pot! Kitchari is a meal to keep in rotation. Makes 4 to 6 servings. Cook time doesn't include soaking time for beans and rice.
Ingredients
¾

cup

mung beans

(dry/uncooked)

¾

cup

brown basmati rice

(dry/uncooked and not "quick" cooking rice)

2

teaspoons

whole cumin seeds

*

2

teaspoons

whole black mustard seeds

*

1

large yellow onion

diced

2

medium carrots

diced

4

garlic cloves

minced

2

tablespoons

finely grated ginger

1

large tomato

diced

1

teaspoon

garam masala

1

teaspoon

ground coriander

1

teaspoon

ground turmeric

1

teaspoon

sea salt

Pinch

of black pepper plus more to taste

4

cups

low sodium vegetable broth

, plus more if needed
For Serving (optional)
1

small

bunch cilantro

Lemon wedges

1

avocado, peeled, pit removed, sliced
Instructions
Place the mung beans and brown rice in a medium bowl and cover with water by 3 inches. Let soak overnight or for 8 hours. The next day, drain the beans and rice and set aside.

In a large soup pot, toast the cumin and mustard seeds over medium heat for 3 to 4 minutes until they become fragrant and you start hearing them pop.

Add the onion and carrot and a few tablespoons of water and increase the heat. The water and onions will sizzle since the pot is already hot. Sauté for 5 to 7 minutes until the onions begin to soften, adding water as needed to prevent burning.

Next add the garlic, ginger, tomato, garam masala, coriander, turmeric, salt, and pepper and cook for another 30 seconds. Add the mung beans and rice and cook for another minute, stirring.

Next, add the broth and bring to a boil. Once boiling, reduce to a simmer. Cover and simmer over low heat for 45 to 50 minutes, stirring occasionally, until the beans and rice are very tender and cooked through.

Remove the kitchari from heat and let rest for a few minutes. If you want a looser, more brothy kitchari, you can add more broth. I like a thicker kitchari and let it rest covered for 10 minutes so all the broth gets absorbed before spooning into bowls! Taste and reseason as needed. Serve topped with cilantro, lemon wedge, and diced avocado (if desired).
Notes
*If you don't want to toast the cumin and mustard seeds or you don't have the whole seeds, replace the cumin with 1 teaspoon of ground cumin and omit the mustard seeds. Add the ground cumin when you add the rest of the spices. 
Leftover kitchari will thicken even more as it rests in the fridge. You can add more broth when reheating if desired or enjoy it as a hearty grain/bean dish. You can liven up leftovers with a dash of tamari, hot sauce, or fresh herbs.