About This Adzuki Bean Hummus
Adzuki beans, also known as aduki beans, are amazing little legumes! If you're not already, get acquainted with them and start by making adzuki bean hummus!
We're borderline hummus addicts over here. We just cannot get enough! 
Hummus is the perfect snack – smear it on Mary's crackers or fresh pita bread. It's a great dinner saver too! Mash a scoop of hummus into some baked potatoes and pair with steamed veg or a salad. Use hummus instead of marinara on pizza, spread it on a sandwich. 
You get it!
But I've been switching up my hummus game a lot in the last year to reap the benefits of other beans. I love chickpeas, but other legumes with slightly different nutritional profiles are also beneficial, sometimes more beneficial!
In The Plant-Based Cookbook, you'll see that I have an entire chapter dedicated to beans and veggies spreads because I believe in the power of a good dip! I use black beans, navy beans, green peas, and edamame. But I left out one recipe that I knew I wanted to share here – adzuki bean hummus!
Adzuki beans are little red/brown beans native to Northeast Asia and used often in Chinese, Taiwanese, Japanese, and Korean cuisine. In these parts of the world they're often used as a sweet paste in desserts and even ice cream. Adzuki beans have a subtle nutty taste.
Adzuki beans are also categorized as a more "alkaline" or less acidic legume. In Chinese medicine they're labeled the most "yang" of all the beans and are popular on a macrobiotic diet. 
Don't worry if none of that resonates with you!  Just know that they are good for you and popular across many diets and cultures. See below for more details on their health benefits.
You make this adzuki bean hummus the same you would any hummus. 
Put all the ingredients in a food processor and process until smooth. 
I like to pour additional water or aquafaba (viscous liquid from the can or cooking water from the cooked adzuki beans) as the hummus is processing. This helps make the hummus fluffy and smooth.
Adzuki beans. I buy dried adzuki beans from Bob's Red Mill and cook them myself (see below for how-to) but you can also get canned. I suggest buying EDEN brand because they don't use BPA in their cans. 
Tahini. Tahini is pureed sesame seeds and it's one of my favorite seed butters. I use raw and roasted tahinis but any brand is fine. Just make sure there is no additional added oil in the ingredients. The ingredient label should have "sesame seeds" as the only ingredient. 
Lemon Juice. Use fresh! It brightens the hummus and adds balance. 
Sea Salt. You should add enough salt so it has flavor but it should not taste salty! Add slowly and a little bit at a time and taste and re-season as needed. 
Garlic. Because you can't have hummus without garlic! Use fresh cloves. You can throw the garlic in the processor whole. The food processor (or high-speed blender) will take care of the rest. 
Adzuki Beans are powerhouse superfoods. They're a phenomenal source of some important minerals that can be difficult to consume on a plant-based diet. Azuki beans offer zinc, iron, potassium, magnesium, copper, phosphorus, and manganese. Not to mention B vitamins, protein and fibre. 
In about 1 cup of cooked adzuki beans you get roughly:
17 grams of fibre

17 grams of protein

4.6 mg elemental iron. For context, the recommended daily allowance (RDA) for a man is about 8 mg and for a woman about 18 mg (more if pregnant). 
4.1 mg elemental zinc 
What To Do With Adzuki Bean Hummus ?
Avocado Toast – Spread a layer of adzuki bean hummus on toast and then top with creamy avocado and a pinch of salt. Add some fresh herbs or sprouts if desired. 
Lunch – Add a good scoop of adzuki beans hummus to a wrap, salad, or sandwich and add fresh veggies and whatever dressing or fixins you like. 
Snack – I love Mary's Crackers but I'm also a big fan of this adzuki bean hummus paired with roasted veggies or warmed pita bread. 
Adzuki Bean Hummus Variations
You can make this adzuki bean hummus your own by adjusting the ingredients or adding new ones! Add more garlic or add roasted garlic! Add fresh cilantro or roasted red peppers. If you're used to making your own hummus, you can get creative and make it whatever way you like it!
How To Cook Adzuki Beans From Scratch
First, put your dried adzuki beans in a large bowl and cover with 3 inches of water. Let soak overnight on the counter. 
The next day, drain the water and transfer the beans to a medium pot. Cover with fresh water by 3 inches (ish). 
Bring to a boil and then reduce to a simmer and simmer for 1 to 1.5 hours (depending on your beans) until the adzuki beans are easily squished when pressed between your fingers. You want them soft but not falling apart. Add water as needed if they cooking water evaporates.
Drain the cooking liquid from the beans and they're ready to use. OR store the cooked adzuki beans in their cooking liquid until needed. Remember that the cooking liquid (and the canned liquid) is called aquafaba and is ideal for making hummus more fluffy and whipped. Store the cooled adzuki beans in the fridge for up to 5 days. 
Generally, 1 cup dried = 3 cups cooked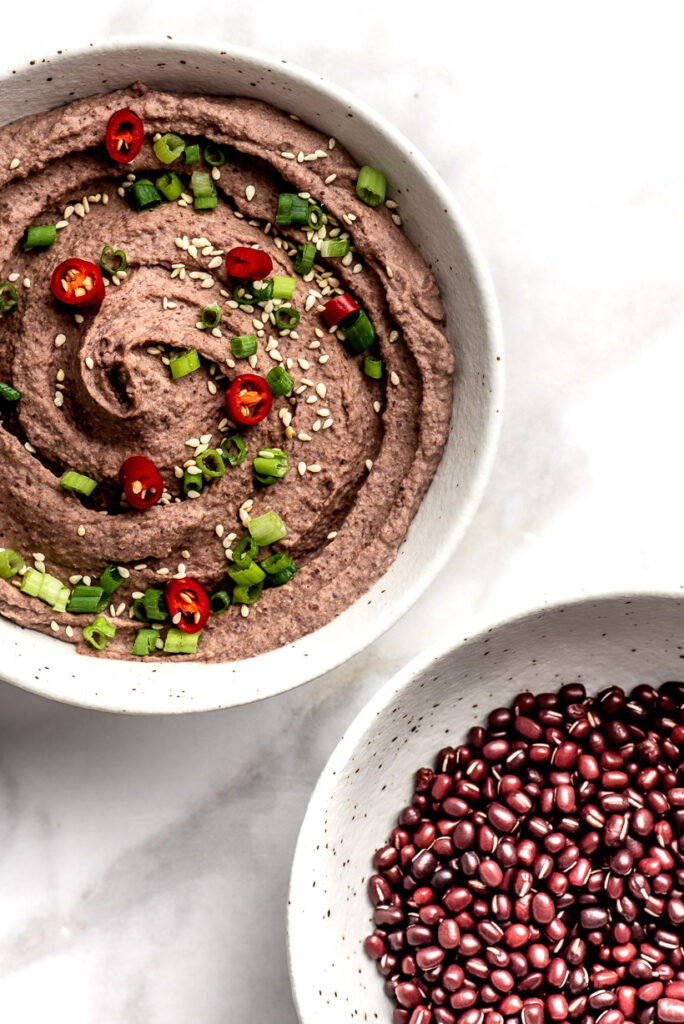 The Plant-Based Cookbook was named one of Amazon.com Editor's Top Picks for Best Cookbooks and I am freaking out! The best kind of freaking out!
Thank you to everyone who ordered and helped promote this book! It's been one the best experiences of my life and I hope you love this cookbook as much as I do!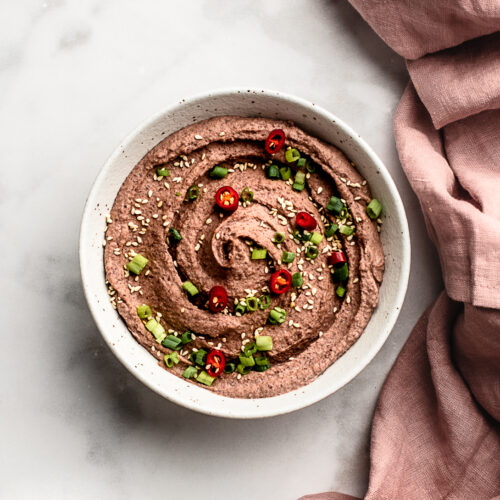 A different spin on a traditional hummus that's creamy and a good source of iron!
Ingredients
3

cups

cooked or canned adzuki beans

, drained and rinsed

2

small garlic cloves

¼

cup

well-stirred tahini

¼

cup

freshly squeezed lemon juice

½

teaspoon

sea salt

, or to taste

2

tablespoons

water or aquafaba

, plus more as needed (see instructions)
Instructions
Add all the ingredients to a food processor in the order listed. Process continuously. While processing, pour more water or aquafaba through the feeding tube until a creamy, smooth consistency is reached.

I usually use a total of ¼ cup water or aquafaba but remember that if you make your hummus while the beans are still warm (if you cooked them from dried) then the hummus will firm up a lot once it cools!

Make your hummus with room temperature beans and add as much water as is needed to make it creamy but not wet!

Garnish with sesame seeds, sliced scallions, or red pepper flakes if desired. This will keep in the fridge for 5 days.
Notes
Aquafaba is the thick liquid in a can of beans or the cooking liquid left in the pot when the beans are cooked. It has a unique combination of carbohydrates and proteins that help create texture when blended or whipped.