About this Healthy Vegetable "Fried" Rice
I consider this a recipe for plant-based beginners but it doesn't mean it's boring or any less delicious. Healthy vegetable "fried" rice is a dish we crave! It has tons (TONS) of nutrition and flavour but is easy to put together. Check out the HOW-TO VIDEO below!
t's a perfect recipe to help you add more colour and variety to your diet while hitting your fibre and protein targets!
You can definitely add this vegetable fried rice to your weeknight rotation and there are options to modify as you see fit (see the recipe below).
It's not "fried" (it's totally oil-free) but you won't miss it!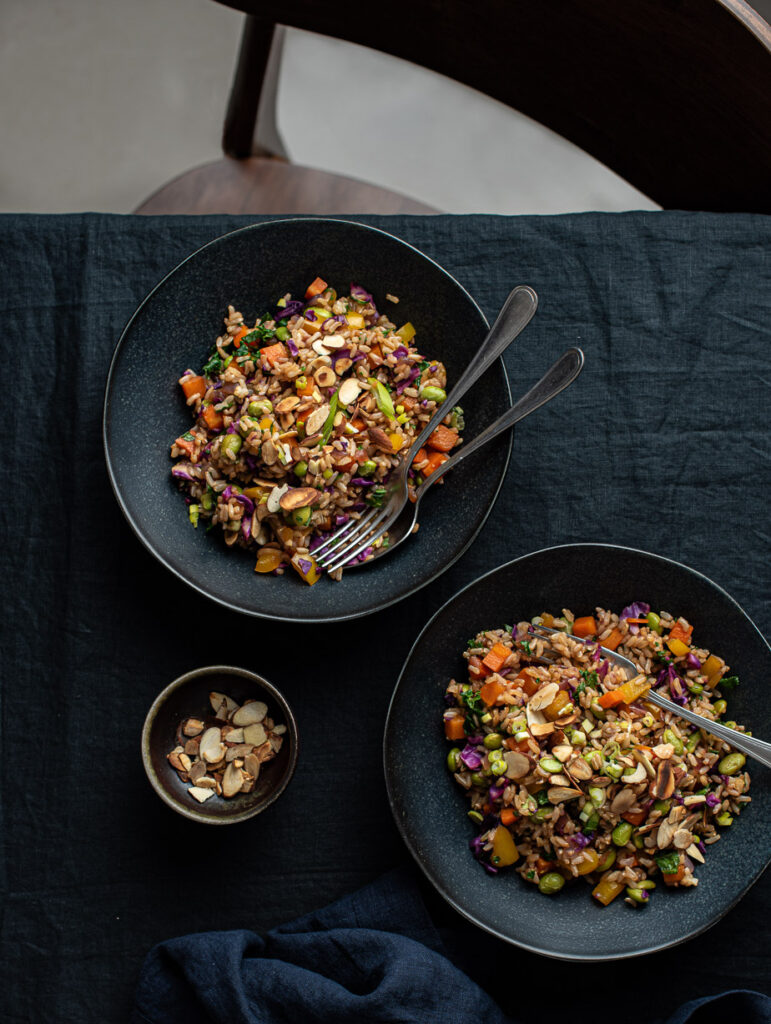 Brown rice – you can use long or short grain or whatever brown rice variety you have on hand. I like Lundberg brands.
Frozen Edamame – You need frozen edamame that's already been shelled, meaning the soy beans have been removed from their pods. Like this.
Onion
Carrot
Garlic
Fresh Ginger
Bell Pepper (you pick your fav colour)
Red Cabbage
Kale 
Tamari or Soy Sauce
Lime (juice of ½ )
Scallions or Green Onion
Toasted Almonds (optional but adds a memorable flavour)
First, make the rice and edamame. If you want this to be a quick meal, make the rice and edamame the day before and keep in the fridge until needed. To make the rice, follow the directions on the package –which is usually 1 cup of rice and about 2 cups of water, pinch salt, and simmer covered for 35-45 minutes, but will vary according to different brands. To make the edamame, put it in a pot and cover with water. Bring to a boil and simmer for 3 to 5 minutes. Then drain and it's ready. Easy!
Sauté the veggies in a large pan. Add the rice, edamame, tamari, lime juice, and cook a little more. Fold in the kale and cook a bit longer. Season to taste. 
Serve as is or top with scallions and toasted almonds.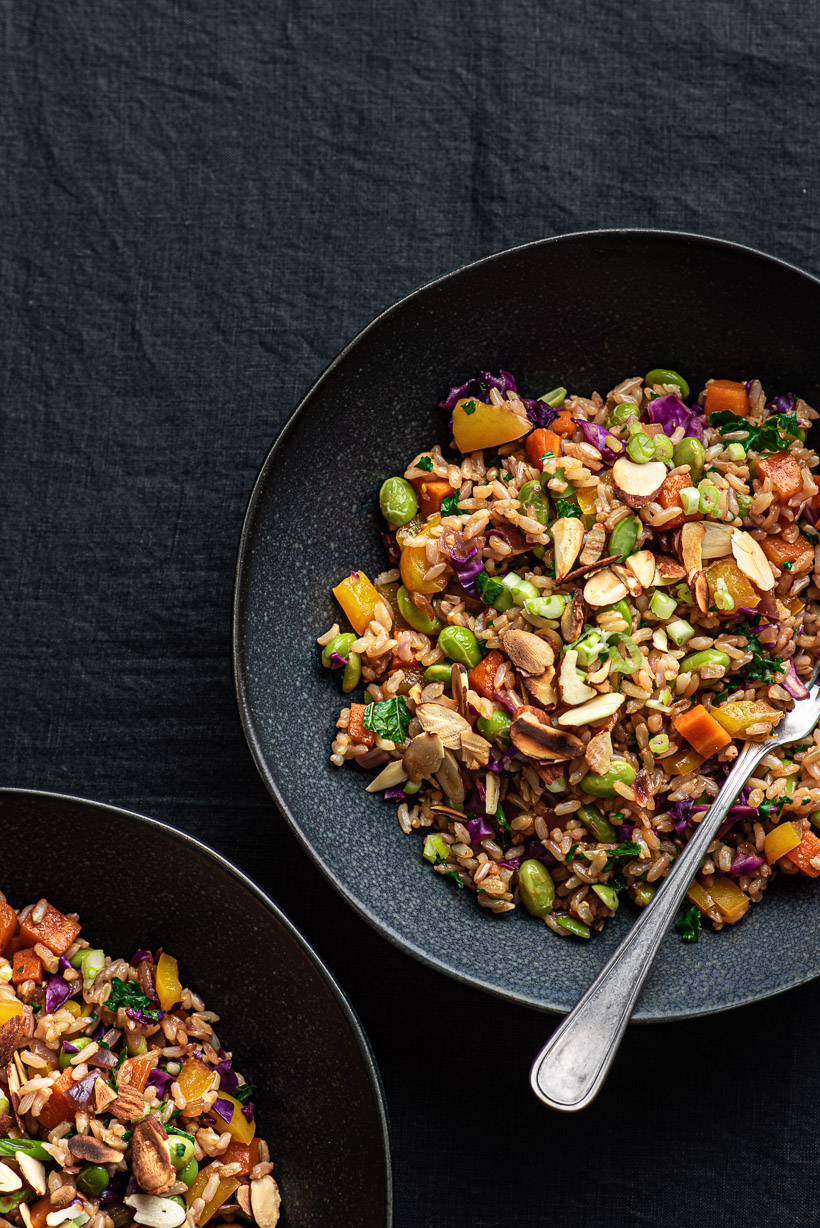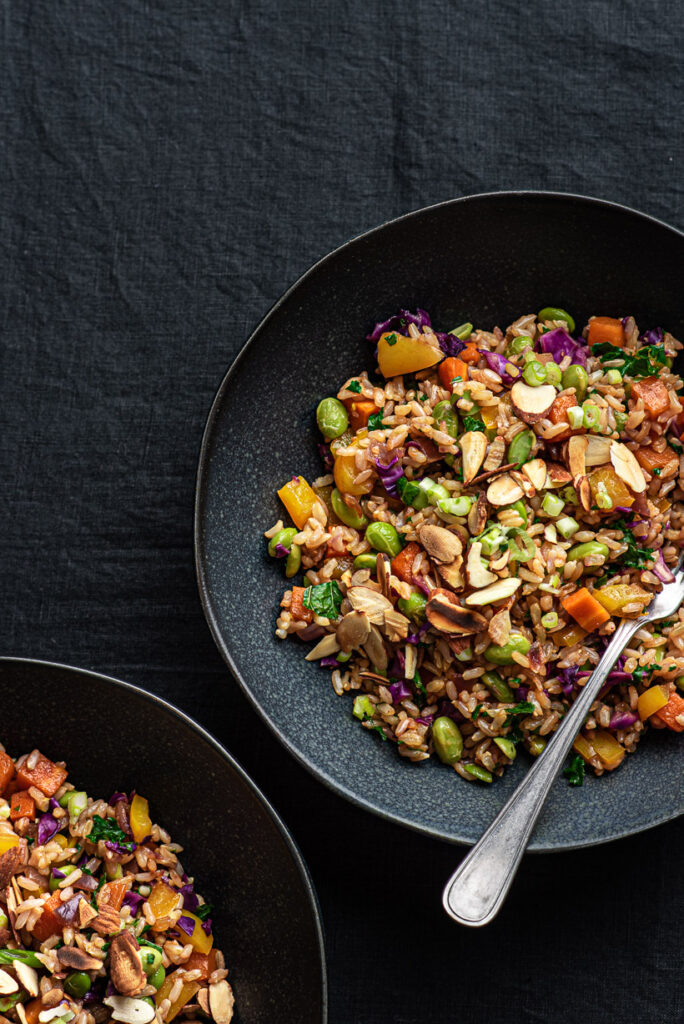 Edamame – Edamame are immature soy beans. They're a great source of complete protein and mild in flavour. I like to buy organic when possible. And I know soy has so many health myths in its orbit, but whole soy products are part of a healthy diet. This latest study debunks the rumour that soy has any type of negative impact on male reproductive hormones. 
Ginger – Taking a moment to highlight fresh ginger because I've noticed people often pass on it or use dried instead. Don't! Use fresh ginger root. 
Ginger has been shown to have powerful anti-inflammatory and immune boosting properties and it's a wonderful ingredient to have in your pantry or fridge to add bright flavour to recipes but also to improve the nutrient density of your diet. I like to use a micro plane to finely mince my ginger. Like this one. 
Red Cabbage or Purple Cabbage – Cabbage is a member of the cruciferous or brassica family and is repeatedly listed as one of the healthiest veggies! Cabbage has sulphur-based compounds that help decrease inflammation, improve immune response, and potentially decrease certain forms of cancer. Eat more cabbage! It's also pretty cheap in comparison to some other veggies! Cabbage is an affordable super food!
Cabbage is an affordable superfood!
Tips, Tricks & Variations
Make Ahead – Cook your rice and edamame a couple of hours or even up to two days before to speed up meal prep.
Non-Stick Pans – I really like using a non-stick pan for this recipe. It's not essential but will be easier in keeping the rice from sticking. I use this one from Pampered Chef but I've also used my enamel coated Le Creuset.
Not Into Edamame? Skip it or replace it with cooked or canned chickpeas or black beans. 
Grains. Swap the brown rice for an equal amount of black rice or quinoa. 
Nuts. I do think a little crunch from almonds adds a nice finish but feel free to omit or use sunflower or pumpkin seeds instead of almonds for a nut-free option. 
If you like this easy "fried" rice recipe, you'll definitely enjoy the "Quinoa Fried Rice" in The Plant-Based Cookbook. In that recipe, we add crumbled tofu to mimic Chinese fried rice. It has authentic flavour and texture and is one of my favourite under 30 minute recipes in the book!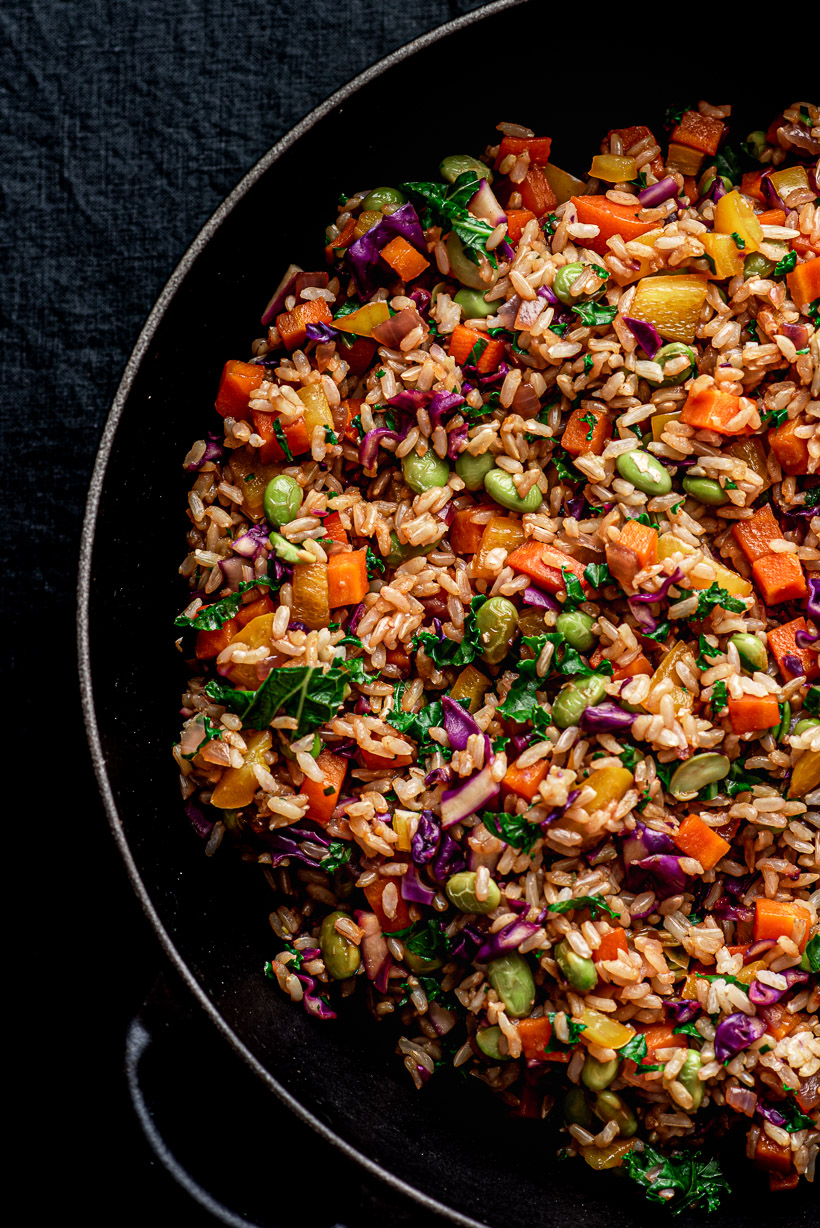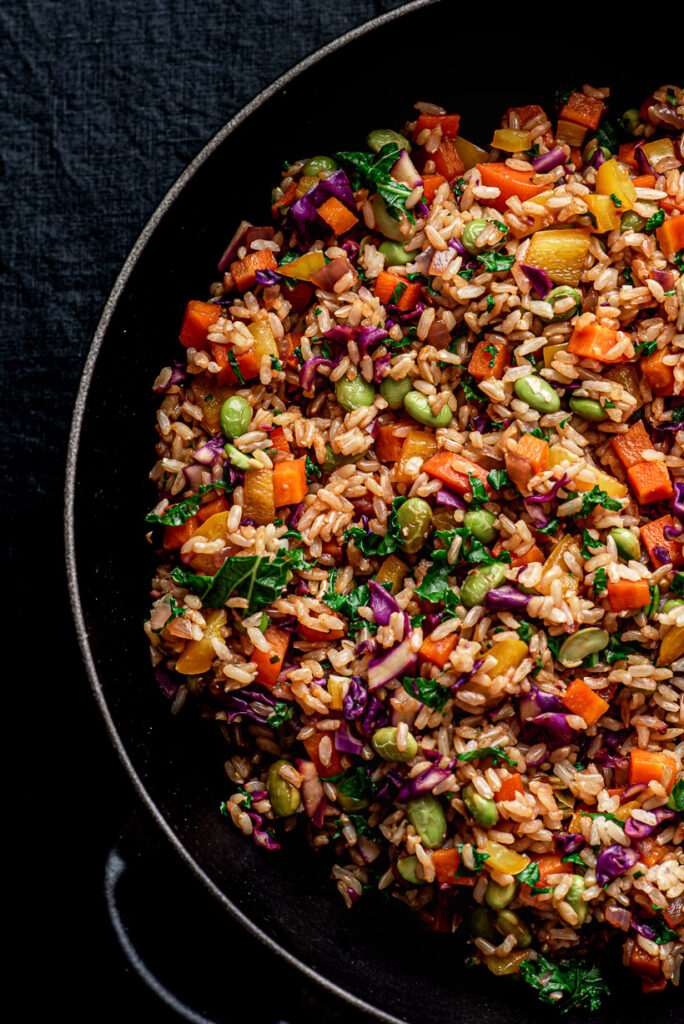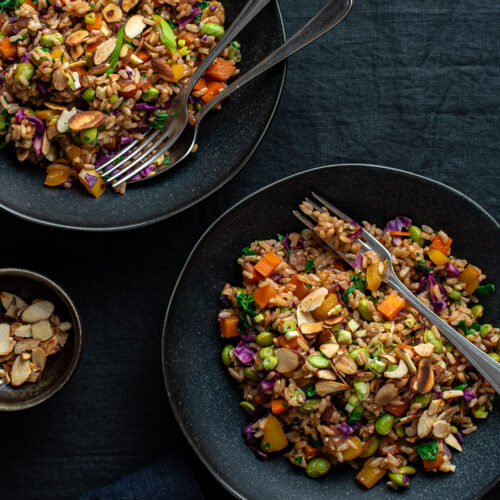 Healthy Vegetable "Fried" Rice
A complete meal! Veggie-packed "fried" rice that's quick, easy, delicious, and super healthy! Speed up prep by cooking the rice and edamame the day before and keep in the fridge until needed. I think this can serve 2 to 3 people as a whole meal or 4 to 6 as a side dish. Cooking time doesn't include rice cooking time.
Equipment
Large Sauté Pan (non-stick is ideal)
Ingredients
1

cup

dry brown rice

or about 3 cups cooked

1

cup

frozen shelled edamame

½

red onion

diced

1

large carrot

finely diced

2

garlic cloves

minced

1

teaspoon

finely grated fresh ginger

1

bell pepper

core and seeds removed, diced (whatever color you love!)

1

heaping cup finely shredded red cabbage

2 to 3

tablespoons

tamari or soy sauce

Juice of ½ lime

1

large leaf of curly or lacinato kale

, destemmed and finely chopped (about 1 packed cup)
Optional Garnish
3

scallions

thinly sliced

¼

cup

toasted almonds or pumpkin seeds

(see notes)

Hot sauce
Instructions
First cook the rice according to directions. Once done, fluff with a fork and set aside. While the rice is cooking, prepare the edamame. Add the edamame to a small pot, cover with water and bring to a boil. Once boiling, reduce to a simmer and simmer for 3 minutes. Drain well and set aside. I like to make the rice and edamame ahead of time to speed up dinner prep.

In a large non-stick sauté pan, sauté the onion and carrot with a few tablespoons of water for about 3 minutes. Add water as needed, a couple of tablespoons at a time. It's convenient to keep a measuring cup of water next to the stove when you're sautéing. Now cover the pan and continue to cook (now we're steaming the veggies) for 5 to 7 minutes or until the carrots are tender. Lift the cover and check a few times throughout to make sure all the water hasn't evaporated.

Next, add the garlic, ginger, and bell pepper and sauté for another few minutes, uncovered. Again add water, a couple of tablespoons at a time, to prevent burning.

Now add the brown rice, cooked edamame, and red cabbage and cook, stirring, for 2 to 3 minutes until heated throughout. Finally add the tamari, lime juice, and finely shredded kale. Stir and cook over medium heat until the kale is bright green and wilted.

Remove from heat and taste and reseason with tamari (or soy sauce) and lime juice as needed. Divide among bowls and top with scallions, toasted almonds, or a dash of hot sauce, if using. Enjoy!
Notes
To toast almonds, place in a dry skillet or non-stick pan and cook over medium heat for 3 to 5 minutes until fragrant and starting to brown. Transfer immediately to a plate.