About These Creamy Overnight Oats
If you're looking to upgrade breakfast, consider adding more oats to your meal plan! These creamy overnight oats offer protein, fibre, iron, and omega-3 (anti-inflammatory) fats. More on this later!
Food trends come and go, especially "health food" trends. We've done some pretty insane things throughout history in hopes of eating healthier.
And some of these things stick with us but a lot of them fade away (are we done putting coconut oil in EVERYTHING yet?) only to resurge a decade later for another generation.
But sometimes a trend hits, sticks, and stays! And makes our lives so much better!
Overnight oats are proving to be timeless!
Really. I couldn't love them more. But if you're not into them, you might like this version!
This recipe for creamy overnight oats is from my cookbook The Plant-Based Cookbook where they're layered with berry chia pudding and served as a breakfast parfait. I wanted to give readers more ideas on how to serve and style overnight oats to keep breakfast (and even brunch) fun and interesting.
But I mostly make these creamy overnight oats on their own and layer them with whatever fruit I have on hand. I just find this version so delicious! I look forward to breakfast and it simplifies my morning.
So what makes these creamy overnight oats "creamy"?
The addition of nut butter (up to you which one!) and banana blended together. I don't add any additional sweetener but you certainly can. I also like a loose overnight oat recipe but if you want a stiffer/thicker version, feel free to reduce the milk.
Rolled oats (gluten-free if needed)
Unsweetened dairy-free milk
Nut butter of choice (almond butter is my fav)
Banana
Cinnamon 
Vanilla
Ground flax seeds (also known as flax meal)
How To Make Creamy Overnight Oats?
Blend all the wet ingredients together and then mix with the oats.
Let sit overnight and they're ready in the morning. 
Oats are phenomenal. 
Humble, yes, but also versatile and nutritious beyond measure! 
Here are some important notes on oats:
In 1 cup of rolled oats there is roughly 10 grams of fibre!
Oats are a great source of soluble and insoluble fibre. Soluble fibre can help lower cholesterol and regulate blood sugar (this particular fibre is called beta-glucan) and insoluble fibre helps move things along and maintain a healthy digestive system. 
In 1 cup of rolled oats there is ~ 12 grams of protein!
Oats are higher in protein than most other grains. This protein (in addition to fibre) helps keep you full and regulates digestion and blood sugar. 
In 1 cup of oats there is ~ 4 mg of iron! 
Oats are a great source of non-heme iron. This is iron from non-animal sources. Iron is a hot topic when it comes to plant-based nutrition and ensuring you're getting enough is important. The daily iron recommendation for the average adult male and post-menopausal woman is 8mg and 18 mg for adult premenopausal women (who aren't pregnant). 
Oats are cheap, easily available, convenient, and versatile. 
If you're looking to simplify breakfast while also upgrading the nutritional flex of the first meal of the day, try incorporating more oats and give these creamy overnight oats a whirl!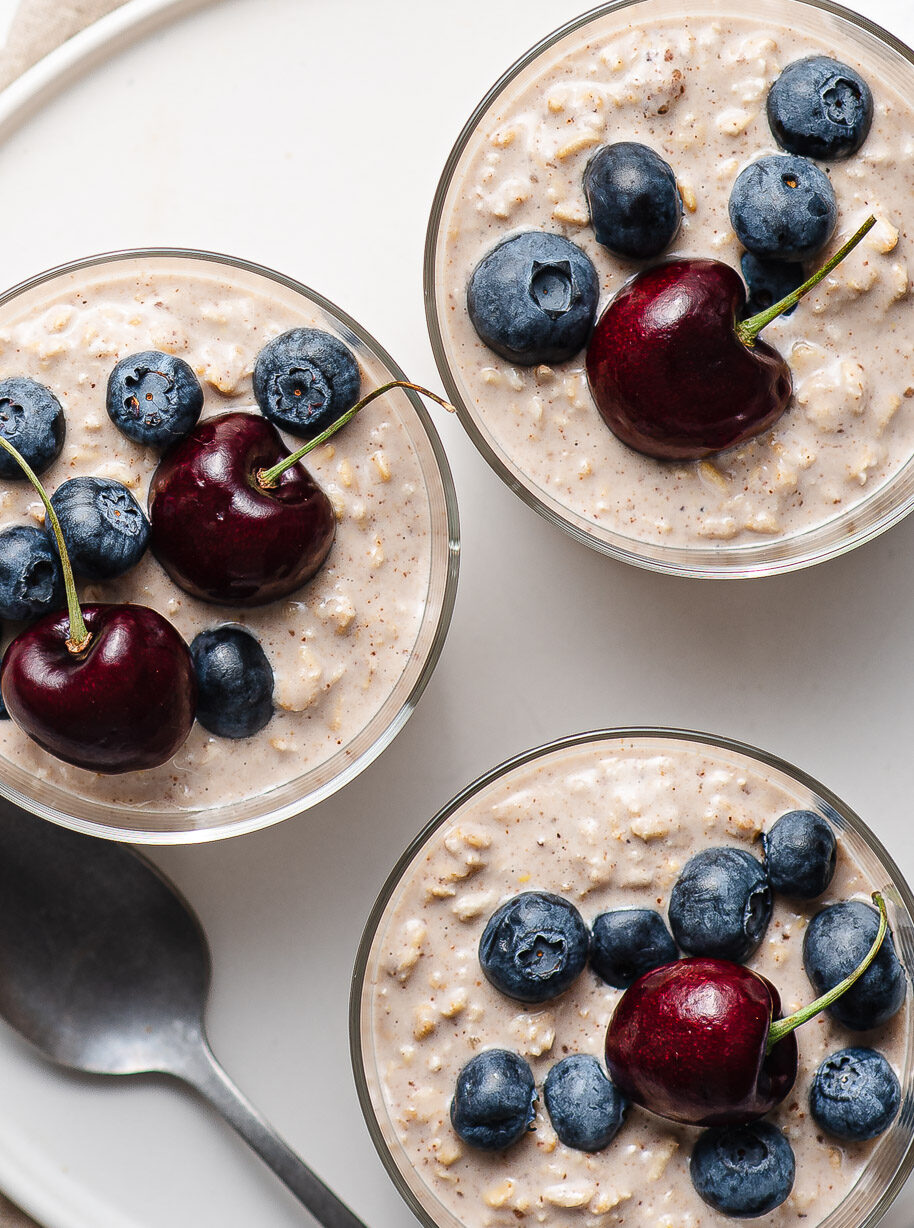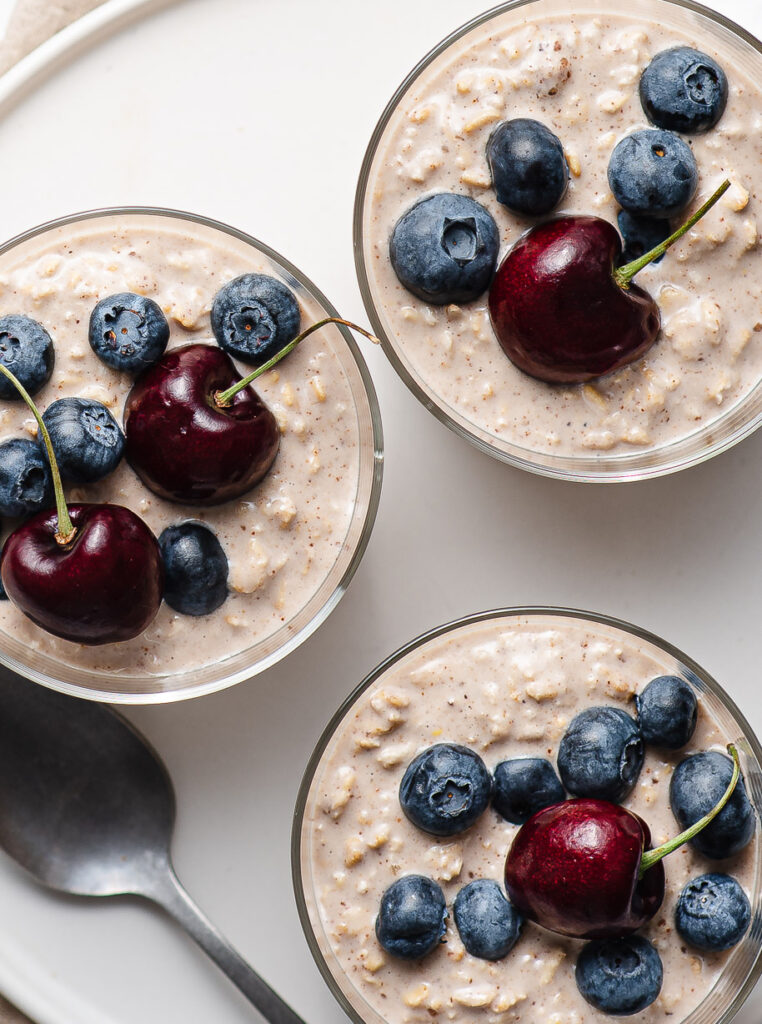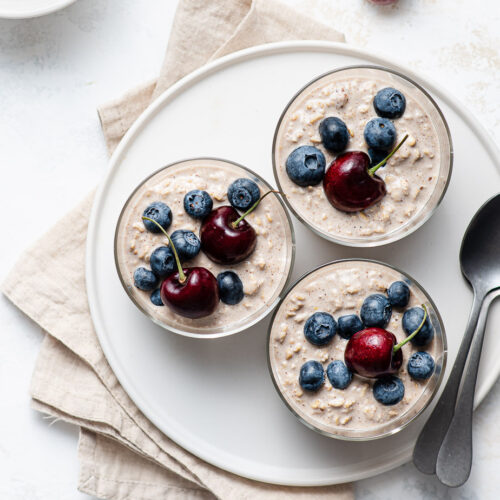 Creamy Overnight Oats (from The Plant-Based Cookbook)
An easy but upgraded overnight oats recipe offering fibre, protein, and iron! Prep time doesn't include overnight soaking.
Ingredients
2

cups

unsweetened dairy-free milk

1

ripe banana

¼

cup

stirred nut butter

your choice! I like almond butter

¼

teaspoon

cinnamon

½

teaspoon

pure vanilla extract

Pinch

sea salt

2

cups

old fashioned rolled oats

1

tablespoon

ground flaxseed

Berries or seasonal fruit of choice
Instructions
Add all the ingredients (except oats, flax, and berries) to a blender and blend until smooth.

Pour the blended mixture into a container with a fitted lid. Add the oats and ground flaxseeds and stir. Cover and place in the fridge overnight.

In the morning divide among bowls and top with fresh berries or whatever fruit you love.
Notes
Notes:
Add 1 to 3 tablespoons of maple syrup if you want a sweeter overnight oats.
Adding vitamin C to this recipe in the form of berries or citrus fruit increases the absorption of iron from the oats. 
Use sunflower seed butter for a nut-free option. 
Be sure to use certified gluten-free oats if you cannot tolerate gluten. 
These oats will keep in the fridge, covered, for up to 4 days.