About This Vegan Poke Bowl
If you're looking for something different to make for dinner or something with a pit of WOW factor (without WOW effort), this vegan poke bowl is a great option! It's plant-based, easy, and delicious!
"Poke" means cut or sliced in Hawaiian and usually refers to diced raw fish. A poke bowl is a Hawaiian dish that has cooked rice as its base followed by toppings including diced raw fish, vegetables, and usually a spicy sauce or a variety of seasonings.
Poke bowls are pretty trendy, and a vegan poke bowl is easy to make.
In fact, you can think of a vegan poke bowl like a grain or macro bowl where different whole food ingredients are organized into sections and of course you can customize the ingredients and make it your own.
I tried to keep this vegan poke bowl fresh with lots of different textures and flavours. It's nutritionally dense giving you loads of protein (quinoa and tofu) as well as healthy fats (avocado and spicy vegan mayo made from cashews). You get lots of crunch from cucumber and a little bit of whimsy (which I love to add to any bowl) from the zucchini ribbons!
cashews
limes
hot sauce
extra firm tofu
garlic powder
brown rice flour
cooked quinoa
frozen, shelled edamame
zucchini
cucumber
avocado
soy sauce, tamari, or shoyu
spring onion (green onion)
sesame seeds
I chose a spicy vegan mayo for the sauce as spicy mayo is often used in sushi. Fun fact, I make this spicy vegan mayo and add to veggie sushi whenever we order it. I also bring this sauce with me if we go out for sushi!
Lightly Battered and Baked Tofu
By tossing the tofu with brown rice flour and baking it we get a nice finished product! It's a little crispy with no oils and no deep frying! If you want to skip this step you can just bake the tofu plain or like this BASIC BAKED TOFU recipe.
This vegan poke bowl can be served warm by making the quinoa, edamame, and tofu right before serving or it can be served at room temperature if you make these components ahead of time. Both options work well. I generally like to mix it up and make the quinoa and edamame ahead of time but serve the tofu hot. 
To simplify prep make the quinoa and edamame ahead of time and add them to the vegan poke bowl cold or at room temperature.
You can also make the spicy vegan mayo ahead of time and keep it in the fridge until needed.
To simplify:
Skip the vegan spicy mayo and season the poke bowl with a dash of tamari (gluten-free) or shoyu (Japanese soy sauce) and squeeze of lime juice. Maybe add a dash of hot sauce too!
Bake the tofu plain or try this basic baked tofu.
Cook the quinoa ahead of time.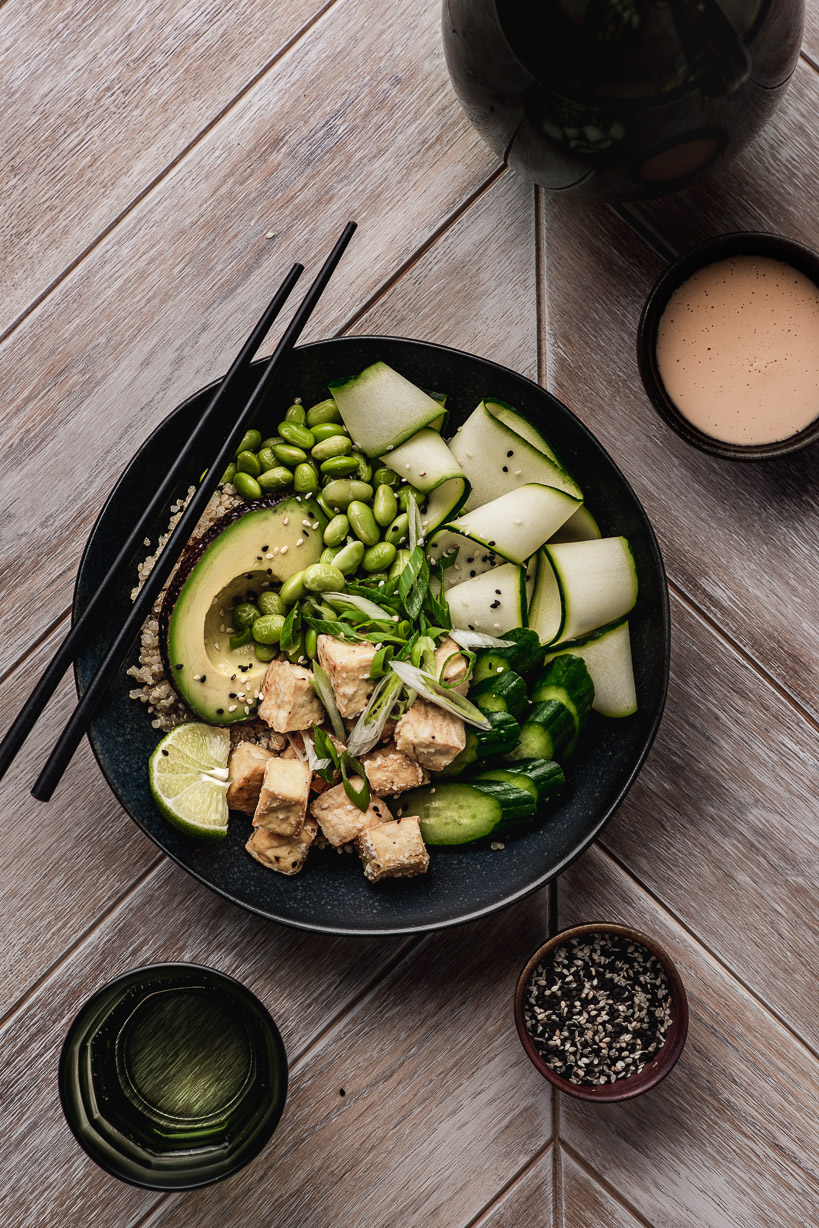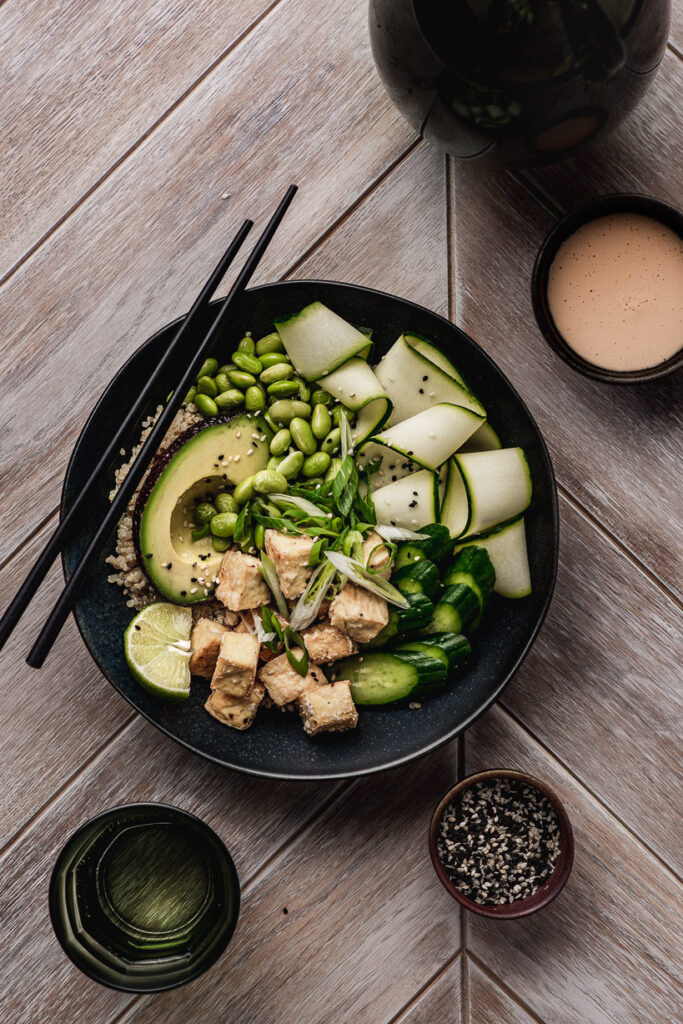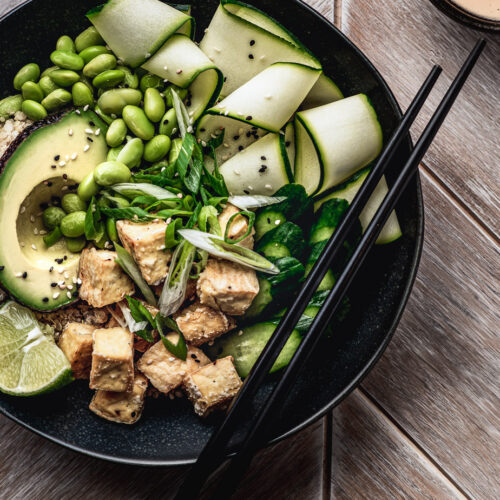 A vegan version of a dish that's usually focused on raw fish. This vegan poke bowl is equally rich in protein and healthy fats and has a gorgeous green theme! I love to serve this to dinner guests because it's fresh and different and makes for a beautiful bowl!
Ingredients
Poke Bowl
1

(12-14 ounce) block extra firm tofu, pressed *

1

tablespoon

brown rice flour

¼

teaspoon

sea salt

¼

teaspoon

garlic powder

Pinch

black pepper

3

cups

cooked white quinoa

(1 cup uncooked)

2

cups

frozen shelled edamame

1

medium zucchini

peeled into ribbons

1

English cucumber

sliced thinly on a diagonal

1 to 2

ripe avocados

pits removed and peeled, cut in half or quarters

For garnish/seasoning

sesame seeds

black or white

3

spring onions

thinly sliced

shoyu or tamari
Spicy Mayo
½

cup

cashews

soaked for 2 to 3 hours in water

1/3

cup

water

plus more if needed

2

tablespoons

lime juice

1 to 2

tablespoons

vinegar-based hot sauce

adjust to your preference
Instructions
Preheat the oven to 375ºF and line a baking sheet with parchment paper. If you've pressed the tofu, unwrap it and cut into 1-inch cubes and place in a medium bowl. Sprinkle the brown rice flour, salt, garlic powder, and black pepper and toss to coat all the tofu. Transfer to the baking pan and bake for 30 minutes. No need to flip.

While the tofu is baking cook the edamame, blend the spicy mayo, and prepare the zucchini, cucumber, and avocado.

Edamame: Place the frozen edamame in a small pot and cover with water. Bring to a boil and then simmer for 3 to 5 minutes. Drain and set aside.

Spicy Mayo: Drain the cashews and place in a high-speed blender with the water, lime juice, and hot sauce. Blend until smooth and add more water if needed to thin. Set aside.

Quinoa: Reheat the quinoa if desired. Remember you can serve this bowl hot or room temperature.

Now it's time to assemble! Use the quinoa as the base of each bowl and then place the remaining ingredients in sections (baked tofu, edamame, avocado, zucchini ribbons, chopped cucumber). Drizzle with spicy cashew sauce and garnish with sesame seeds and spring onions. Serve with shoyu/tamari/soy sauce and additional hot sauce if desired.
Notes
*I often skip pressing tofu to save time but if you like firmer tofu, wrap the tofu in a clean dishcloth and place a heavy pot or book on top for 20 minutes. Otherwise, skip wrapping and follow the recipe as written. **This recipe is a great way to use already cooked quinoa or even brown rice. If you're cooking the grains specifically for this recipe, cook according to directions, fluff with a fork, and set aside until needed. 1 cup of uncooked quinoa = 3 cups cooked Make ahead option: You can make the sauce, quinoa, and edamame beforehand to save time!