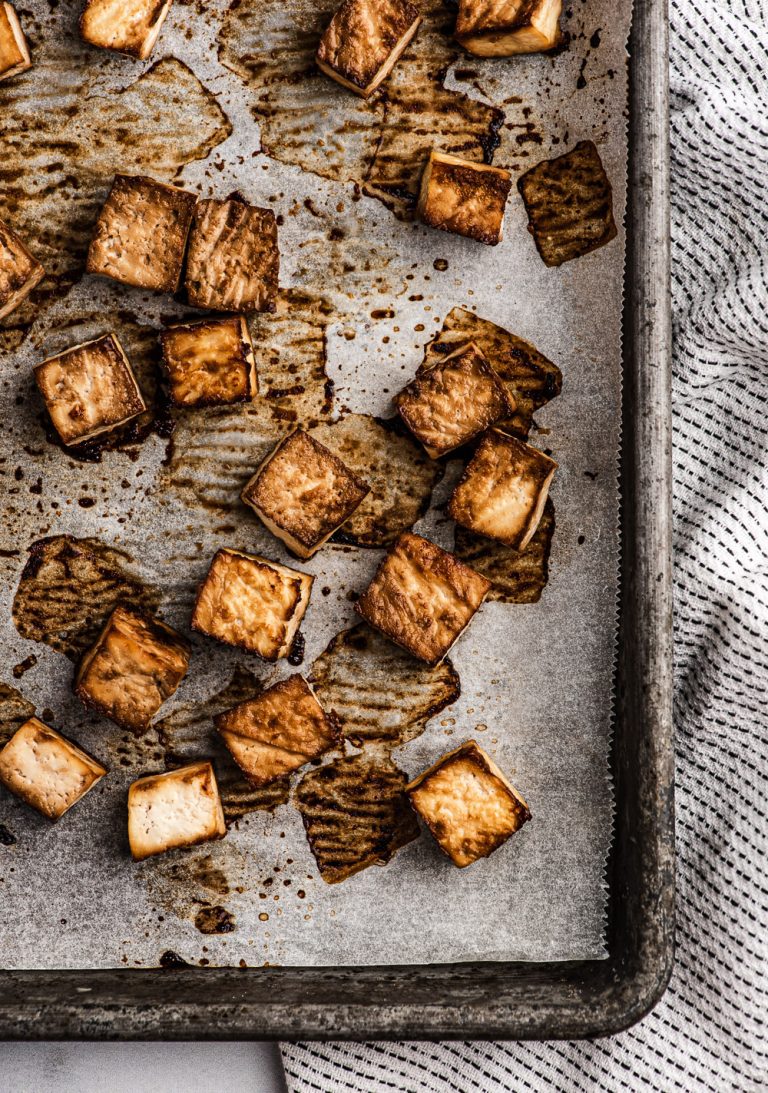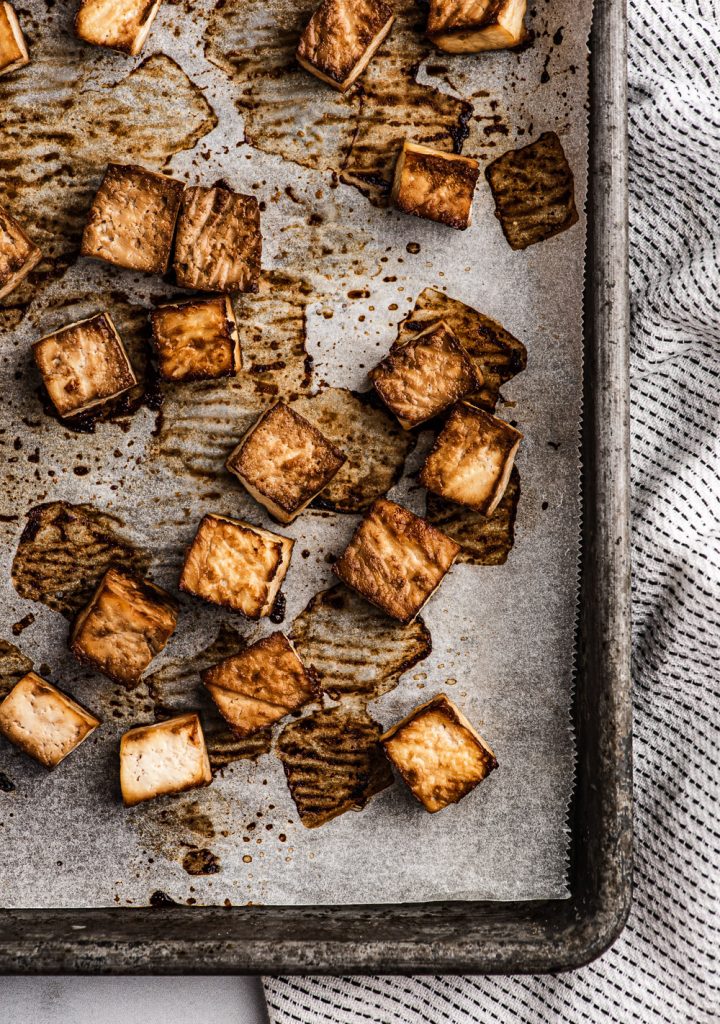 Let's get back to basics with this basic baked tofu recipe!
First, what is tofu? 
Tofu is soybeans that have been blended and pressed into a block.
I prefer the texture of extra-firm tofu. Tofu is pretty much flavorless or has a mild flavor but takes on the flavor of whatever it's cooked with.
It's high in protein and easy to prepare. Today you can find it refrigerated in the health food and organic aisles in most grocery stores. Thank god for that! I used to drive through the city hitting up every grocery store, looking like a mad hippie woman as I pleaded with the store manager to order tofu. Wait, maybe it worked!!!!
You're welcome.
Why is it a basic, must-have recipe? 
Tofu is cheap. It's versatile. It's nutritious. For me, knowing how to make basic baked tofu makes meal prep simple. You can add baked tofu to salads or stir-fries. You can mix it with cooked grains, put in a wrap, or even eat a few cubes as a snack (we do this all the time!). If you're new to plant-based food prep, this is a great recipe to help you become familiar with tofu.
How do you make this basic baked tofu?
The simplest method to bake tofu is to cut it into cubes, rectangles, or any shape that makes you happy, toss it with tamari or soy sauce (I like to add some nutritional yeast too), and bake it in the oven until browned.
But there is a step that's usually involved with preparing tofu that takes some planning ahead.
And that's pressing tofu.
Pressing Tofu?
Pressing tofu simply means putting something heavy on top of the block of tofu (once it's out of the package and drained) to press out the extra liquid to create a firmer texture. It's easy to do and chefs recommend this step all the time.
But… here's my secret…
I skip pressing 80% of the time!!!
Why? Because I'm usually really hungry, pressed for time, or impatient (mostly all three). So if you're short on time, skip pressing. The tofu won't be as firm but if you're already using extra firm tofu, it's fine!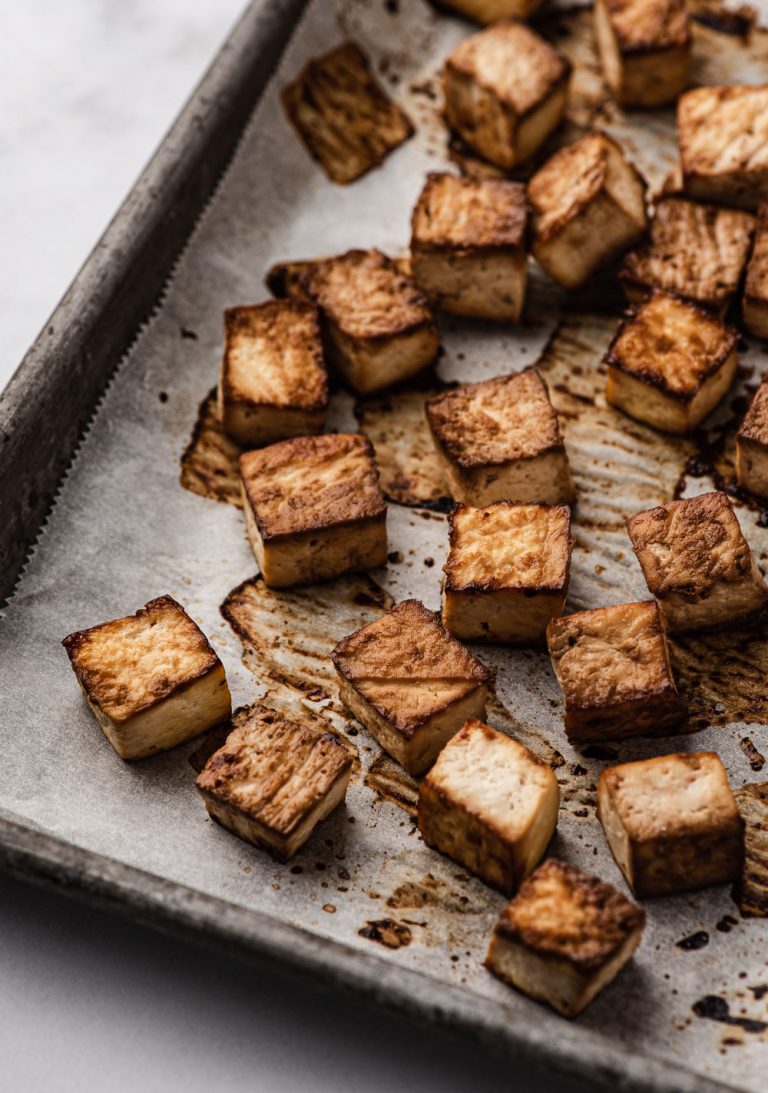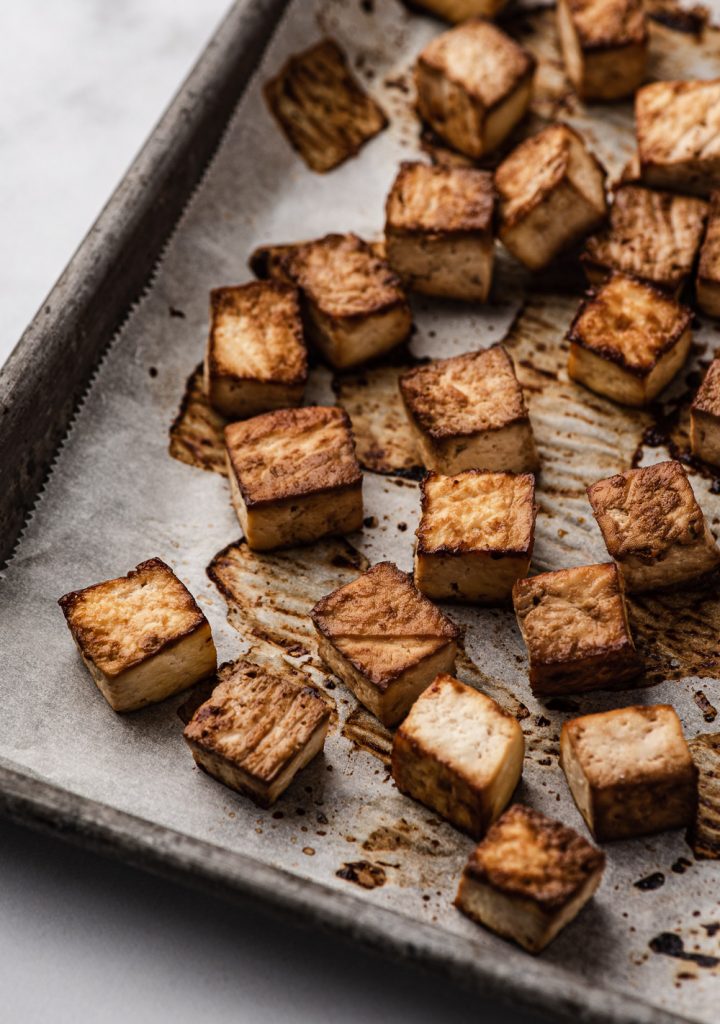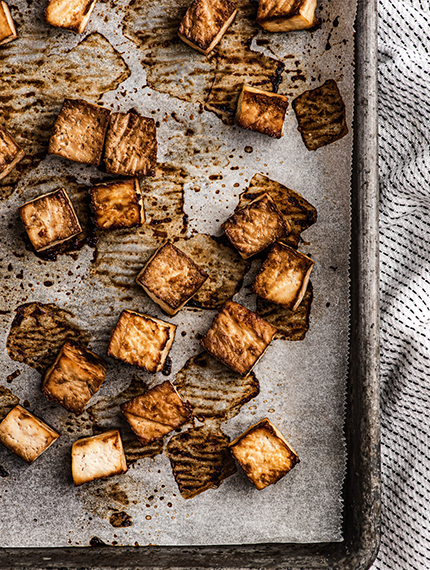 Ingredients
1

(12-14 ounce) container extra firm tofu (organic is ideal)

2

tablespoons

tamari

or soy sauce if gluten isn't an issue

1½

teaspoons

nutritional yeast
Instructions
First you have the option to press the tofu. This is exactly what it sounds like. You wrap the tofu in a clean dish cloth, lay something heavy on top (something that won't fall off like a heavy book), and leave it for 15 to 20 minutes so extra liquid is pressed out of the tofu. This makes the tofu more firm. If you're in a hurry, you can totally skip this step! I do all the time.

While pressing, preheat the oven to 375ºF and line a baking sheet with parchment paper. Mix together the tamari (or soy sauce) and nutritional yeast in a small bowl.

Unwrap the tofu, dice it into cubes, and spread it out on the pan. Drizzle the tamari/nutritional yeast mix over the tofu (or mix together with the tofu in a large bowl) and bake for 45 minutes, flipping halfway through. The tofu is done when browned and firm.
Notes
Once cooled, you can keep this tofu in a sealed container for up to 4 days in the fridge.