Basic recipes can be combined to make delicious, wholesome, not to mention easy, meals! This basic buddha bowl is a great example.
Here I threw together some basic foods in the same bowl and used some basic hummus as the "sauce". The only things I actually cooked were the quinoa and steamed veggies. The hummus and basic baked tofu were already in my fridge, prepared the day before. 
For me, the foundation of any buddha bowl has to be cooked whole grains and vegetables prepared in healthy ways (no deep drying or drenched in oil situations). 
And just so we're all on the same recipe page, here's how you make basic quinoa (my fav grain) and steamed veg!
The components of any buddha bowl can be as simple or intricate as you like. But when I'm putting together a "bowl" for dinner here are the main components. 
Grains. Whole grains like brown rice and quinoa are a must. I usually make a double batch so that I have some in the fridge for the next few days. Quinoa is usually my first choice because it only takes 15 minutes. 
Veggies. Half my bowl is vegetables and it's usually a combination of cooked and raw. Steamed, roasted, stir-fried (with broth or water) are my main cooking methods. 
Protein. I hate to break my buddha bowl down into macronutrient terms but this component of my buddha bowl is usually a higher-in-protein item like hummus, baked tofu or tempeh, bean burgers, falafel, cooked beans, lentils or edamame. This component is probably the most versatile and is where I incorporate more flavor! 
Sauce. Sauce is everything! It's the secret sauce to an amazing bowl! Tahini Dill, Almond Citrus, Cashew Caesar are options I use often. But you can also just use a drizzle of tamari (or soy sauce), hot sauce, or, like I did for this bowl, a creamy oil-free hummus! I like to have at least one savoury sauce in my fridge at all times. This Almond Citrus Sauce is amazing!
Extras. Extras for your buddha bowl include nuts, seeds, seaweed, sprouts, fresh herbs, sauerkraut, kimchi, or other fermented goodies. I like to add these if they're already in my fridge. They're fun, but not essential!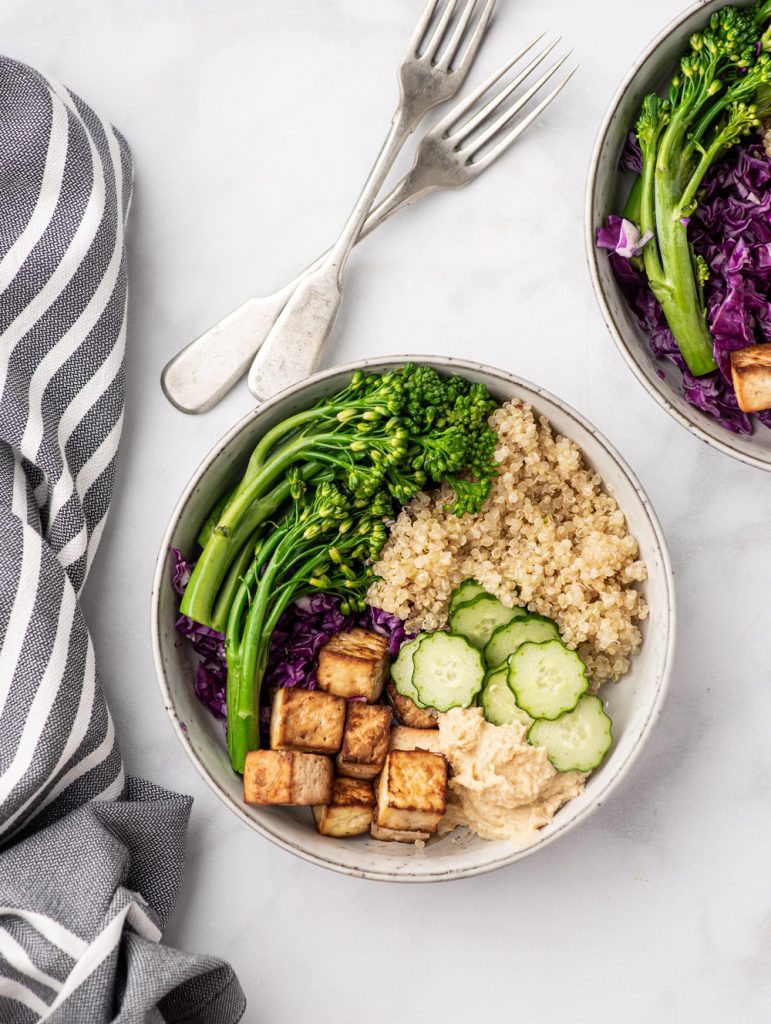 I like to do this with an inexpensive steamer basket. All you do is place the steamer basket in a pot, a medium-sized pot will do. Add water to the pot, enough so that the water almost reaches the steaming basket but not quite. If you can see the water above the surface of the steaming basket, you've added too much. Empty some out. 
Now place your veggies in the steamer basket. Cover the pot and bring to a boil and then reduce to a rolling simmer. Now you're steaming! 
Tips!
Steam the veggies until just tender and bright in color. This can be anywhere from 2 to 15 minutes and will depend on the vegetables you're steaming. 
Tender, delicate veggies, like zucchini, will take a couple of minutes, whereas heartier veggies, like potato, will take longer. 
If you're steaming different kinds of vegetables at once, first add the tougher veggies, like root veggies, and then gradually add the more delicate ones as you go. 
I pretty much steam vegetables every single night. If my main meal isn't veggie-forward then a pile of steamed veg gets added to the plate. 
Now to put it all together!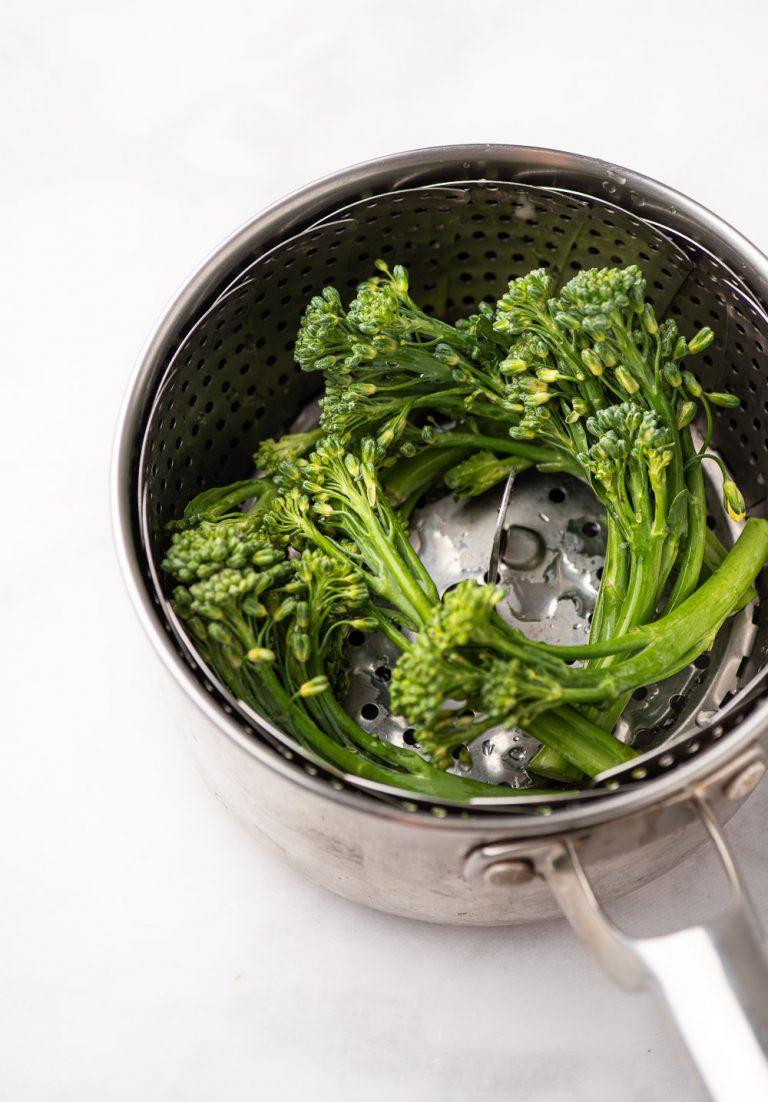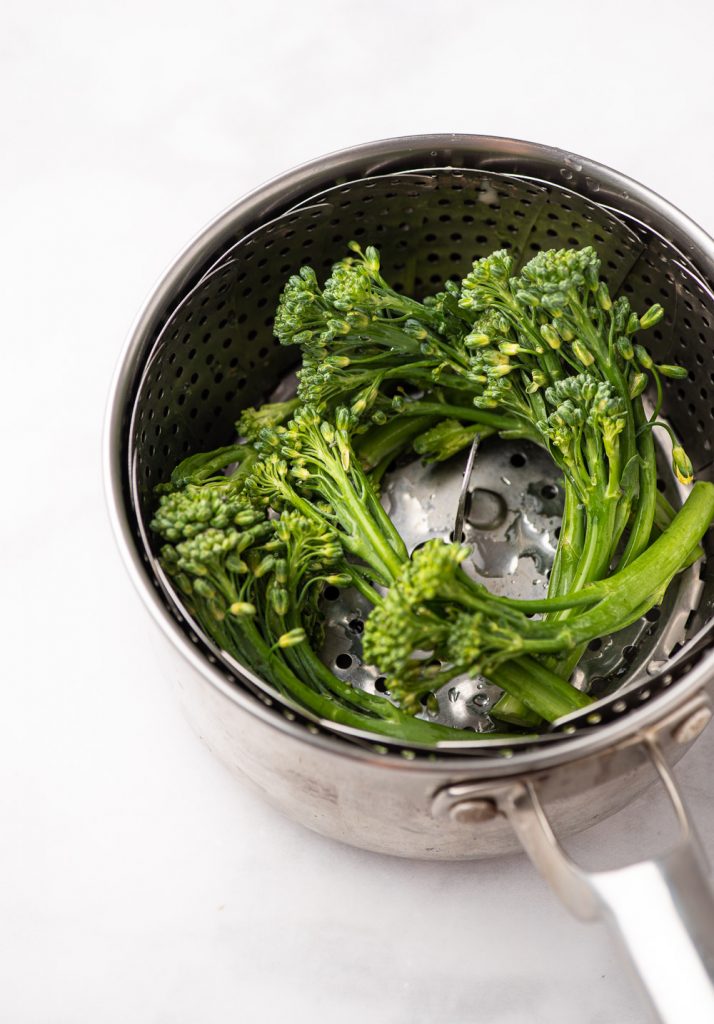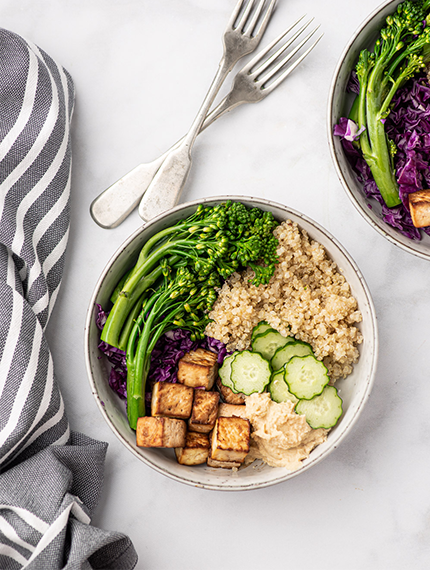 Basic recipes can be combined to make delicious, wholesome, not to mention easy, meals! This basic buddha bowl is a great example.
Ingredients
Quinoa
1

cup

dry white quinoa

(uncooked)

¼

teaspoon

salt

2

cups

water
Bowl
1

batch Basic Baked Tofu

(see link in notes)

1

batch Basic Hummus

(see link in notes)

1

head broccoli or 2 bunches broccolini

steamed (see in post above)

1

cucumber

thinly sliced

1

cup

finely chopped red cabbage
Instructions
Put the quinoa in a fine mesh strainer and rinse under running water. This removes a compound called saponin (this can give quinoa a bitter taste). Then transfer to a 2 qt (or similarP) pot.

Add the salt and water. Cover and bring to a boil. Once boiling reduce to a simmer and simmer, covered, for 15 minutes. Resist taking the lid off! A clear lid for the pot will help you keep an eye on the cooking progress. After 13 minutes, you can very quickly take the lid off and use a butter knife to reach the bottom of the pot and push the quinoa over to see if there's any water left. Return the lid and continue to cook until all the water is absorbed.

Once done, fluff with a fork, recover, and set aside for 5 to 10 minutes to continue steaming (this is important for a fluffy texture).

Meanwhile, make the Baked Basic Tofu (recipe link in notes) or use any leftover plant-based protein you have like cooked beans, tofu scramble, baked tempeh, etc.

When the quinoa is cooked and the tofu is baked, steam the broccoli until bright green and tender. Assemble the bowls and enjoy!

Assemble the bowls and add a drizzle of tamari, hot sauce, or any sauce you have already hanging out in your fridge.