This cauliflower Alfredo pasta is one of those sneaky ways of getting veggies into your diet by hiding them in a sauce!
I've made this recipe 100 times and each time I tweak it a little – depending on how much cauliflower I have or what fresh herbs are hanging out in my fridge. But, this is the version I've made most consistently!
Here's how to keep your pasta healthy!
Whole grain or Legume Pasta! I like brown rice and quinoa pasta but I've most recently fallen in love with red lentil and chickpea pasta!
Check That Sauce! Traditional pasta sauces are usually heavy and rich and made with lots of fat or oil. Not saying fat is bad but sauce can be very calorie-dense and nutrient-poor. Lose, lose. Opt for veggie based sauce like tomato sauce or try this vegan cauliflower Alfredo – super nutrient dense!
Portion and Put Away! I love to get up and have seconds and thirds and then lick the pot. So I try to plate my serving and put the rest in a container immediately after. Now if you're super hungry, of course have more but, in general, overeating (even healthy foods) isn't ideal. 
Half Veggies! Either make half your pasta dish vegetables, meaning add veggies to the recipe, or make half your bowl or plate vegetables (raw, roasted, steamed) and eat all the veg before pasta seconds hit your plate!
Enjoy! So often satisfaction and nourishing the soul is downplayed. Deprivation sucks. Moderation, healthy alternatives, enjoying, savouring, and sharing a fantastic meal is very important! Especially now.
Recipe Hack: Add more cashews and more milk for a creamier version of this sauce. I would call the current version a weeknight dinner. Throw in more cashews, some crusty bread and a bottle of wine and that's my Friday night version!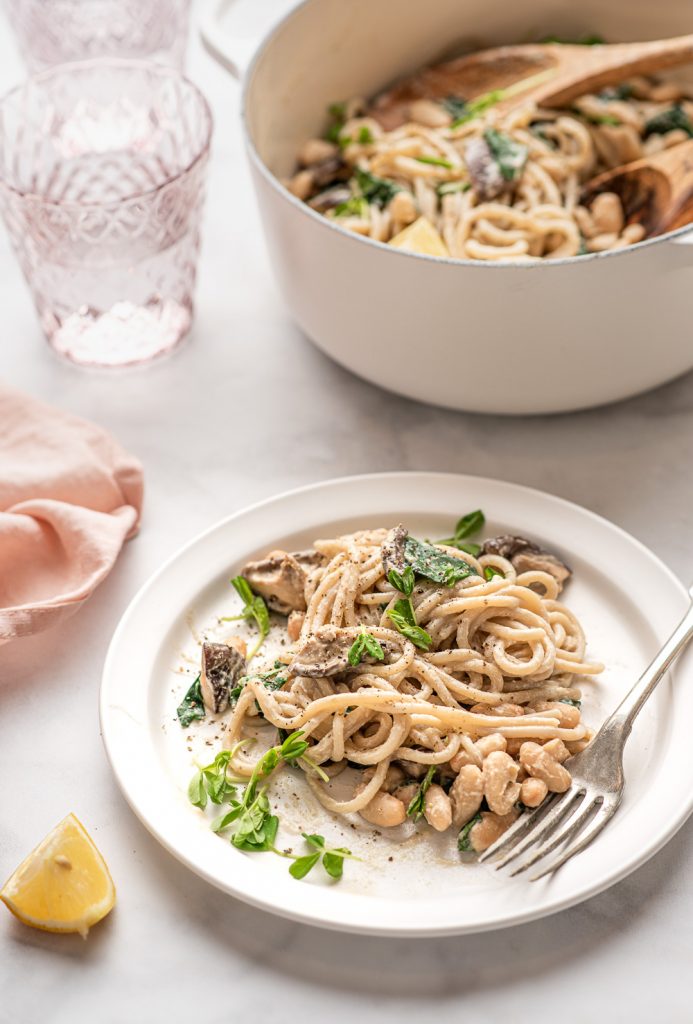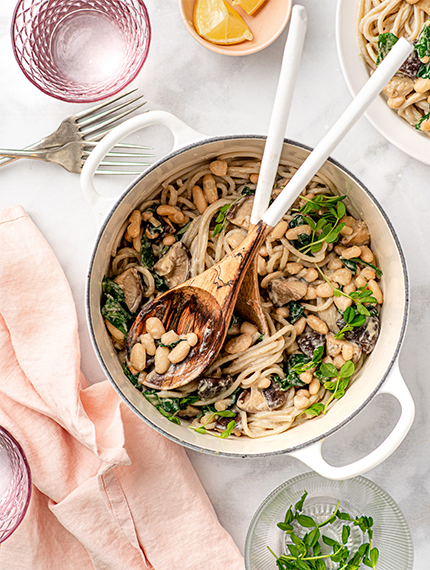 Vegan Cauliflower Alfredo Pasta (Calfredo!)
I've been sitting on this cauliflower alfredo recipes for years. I've made it 100 times and each time I've tweaked it a little, trying to achieve that perfect version.
Ingredients
Alfredo Sauce
2

heaping cups roughly chopped cauliflower florets

½

cup

diced yellow onion

4

cloves

garlic

minced

1

teaspoon

dried thyme

¼

cup

raw cashews

soaked in warm water for 1 to 2 hours

1

cup

unsweetened soy milk

unsweetened almond milk works too

2

tablespoons

nutritional yeast

1

tablespoon

low-sodium tamari

2

tablespoons

lemon juice

~ juice of ½ a lemon

⅛

teaspoon

nutmeg

½

teaspoon

Himalayan salt

fresh cracked black pepper
Pasta
10 to 12

ounces

brown rice or quinoa pasta

spaghetti, fettuccini, penne

10

ounces

cremini or button mushrooms

quartered

2

cups

packed baby spinach or chopped kale

1½

cups

cooked or canned chickpeas or white beans

drained and rinsed
Instructions
Place the cauliflower in a steamer basket and steam the cauliflower until tender. How-to on steaming here. This will take about 7-10 minutes. Once tender, set aside.

Meanwhile in a large sauté pan, sauté the onions, garlic and thyme with a few tablespoons of water until the onions are translucent (about 5 to 7 minutes). Continue to add water as needed to prevent burning. Once cooked, transfer the onion and garlic to a blender. Keep the pan nearby as you will use again to sauté the mushrooms.

Drain the cashews, discard the soaking liquid, and add them to the blender along with the steamed cauliflower and remaining sauce ingredients (milk through pepper). Blend on high until smooth. Set the sauce aside.

Add the mushrooms to the same pan used to sauté onions and garlic. Add a few tablespoons of water, black pepper and a pinch of salt and cook on medium heat for 5 to 7 minutes until the mushrooms shrink in size and release their juices.

Add the alfredo sauce to the pan of mushrooms and warm on low heat.

Meanwhile, bring a large pot of salted water to a boil and cook pasta according to directions until pasta is al dente.

In the last 30 seconds of cooking the pasta, add the spinach and beans to the pot. Turn the heat off and drain the pasta/chickpea/spinach mix. Rinse with water and drain very well and then return the pasta to the pot.

Immediately add the alfredo sauce and mushrooms to the pasta (you can adjust how creamy the pasta is by adding more or less sauce). Toss the mix with tongs until well combined. Garnish with almond parmesan and chopped parsley or basil and serve.
Notes
I like to make this sauce ahead of time and reheat as needed.
Use whatever pasta you love – quinoa, chickpea, whole wheat!
This pasta is best served immediately.