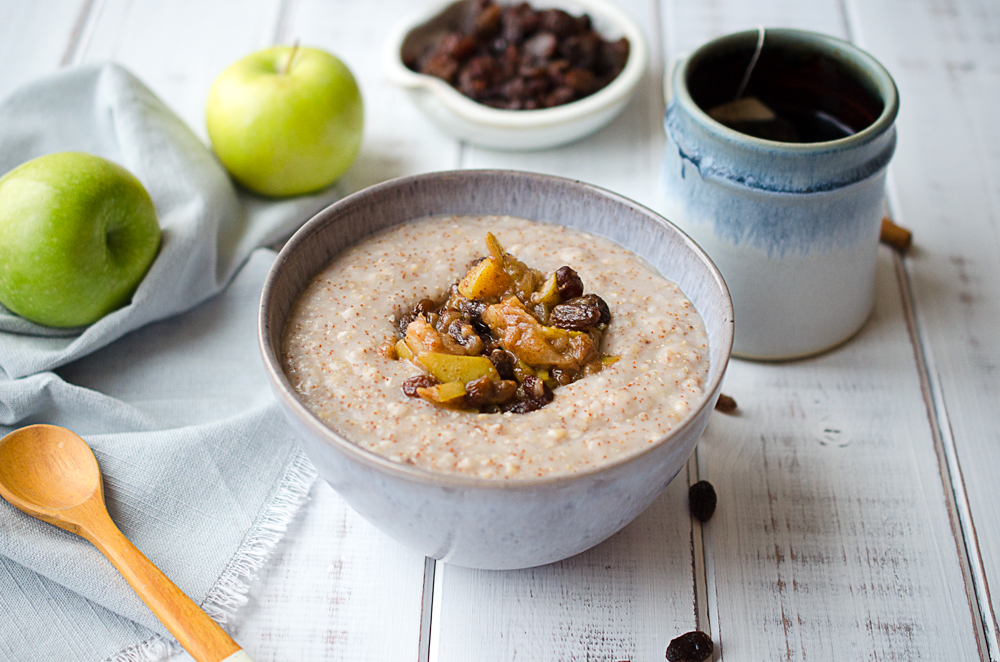 Whole grains are one of the most important plant-based food groups! They provide fibre, complex carbs, protein,  minerals and vitamins. 
Full discloser, 10 years ago I could not name more than 2 kinds of whole grains; wheat and rice.
I didn't know what I didn't know and I just became accustomed to the norm in my household. 
As my love of healthy foods unfolds I discover new things all the time! Sometimes I know exactly what I'm going to do with said new discovery and other times I have to hit up google.
When I started to expand my whole grain repertoire there was a lot of googling!
The first question you might be asking yourself is what exactly is a whole grain?
Whole grains are the seed of a plant, in this case cereal plants. Whole grains have three parts; the bran, endosperm and germ. 
Each part is important and comes with its own package of nutritional goodies. 
The bran gives you fibre and important minerals.
The endosperm provides carbohydrates.
The germ provides healthy fats, B vitamins and vitamin E.
Refined grains on the other hand have the bran and germ removed meaning those precious nutrients are also discarded. So whenever you can, choose whole grains in their most natural form and cook them at home from scratch.
Here are some whole grains (and pseudo-whole grains) I keep in my kitchen on the regular:
Amaranth
Brown rice (all kinds of rice!)
Buckwheat
Millet
Oats
Quinoa
Teff
There is considerable variation in terms of size, colour, texture, taste and cooking times within this list of grains and each one also differs in nutrient profile.
For example, quinoa and buckwheat are great sources of protein whereas teff and amaranth are a great source of manganese. For more on whole grain nutrition I like this summary. 
Some grains also contain the protein known as gluten (a nutritional celebrity these days) and these grains include: wheat, bulgur, rye, barley, triticale and some oats (depending on how they are processed). 
So how can we incorporate more whole grains?
A very basic way of incorporating new whole grains is to substitute them for whole grains you already use. 
I find that millet, quinoa and brown rice are easily interchangeable but each has its own unique taste. Other whole grains like teff and amaranth are really small and a little more finicky.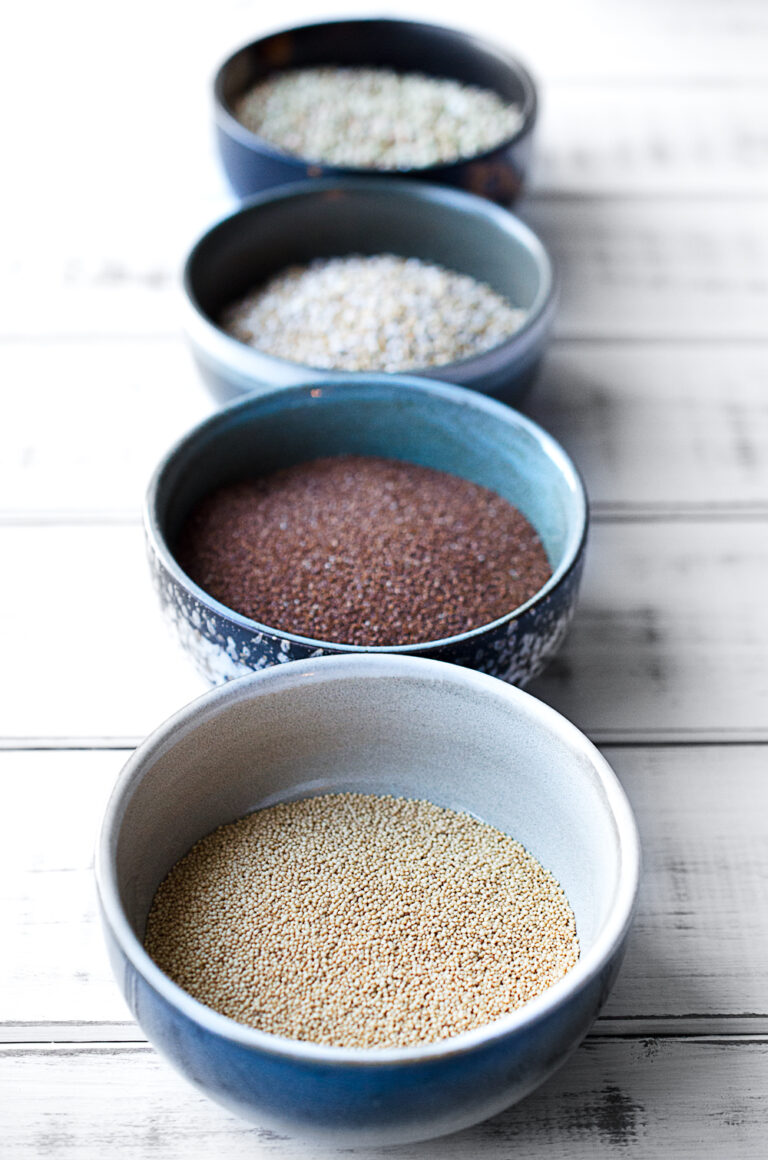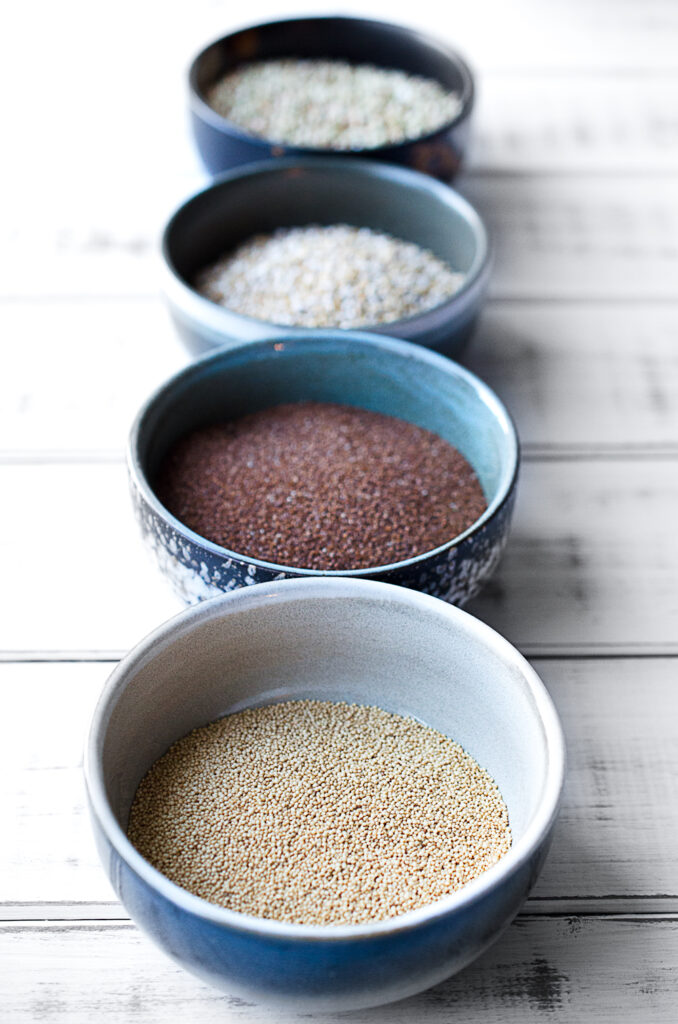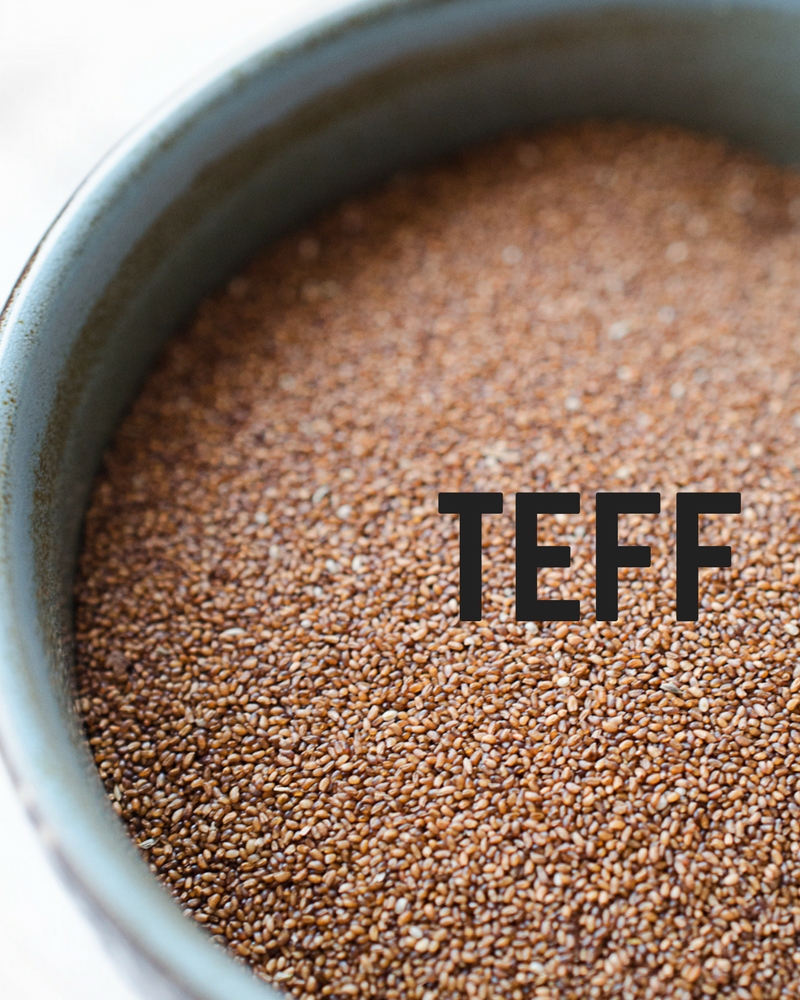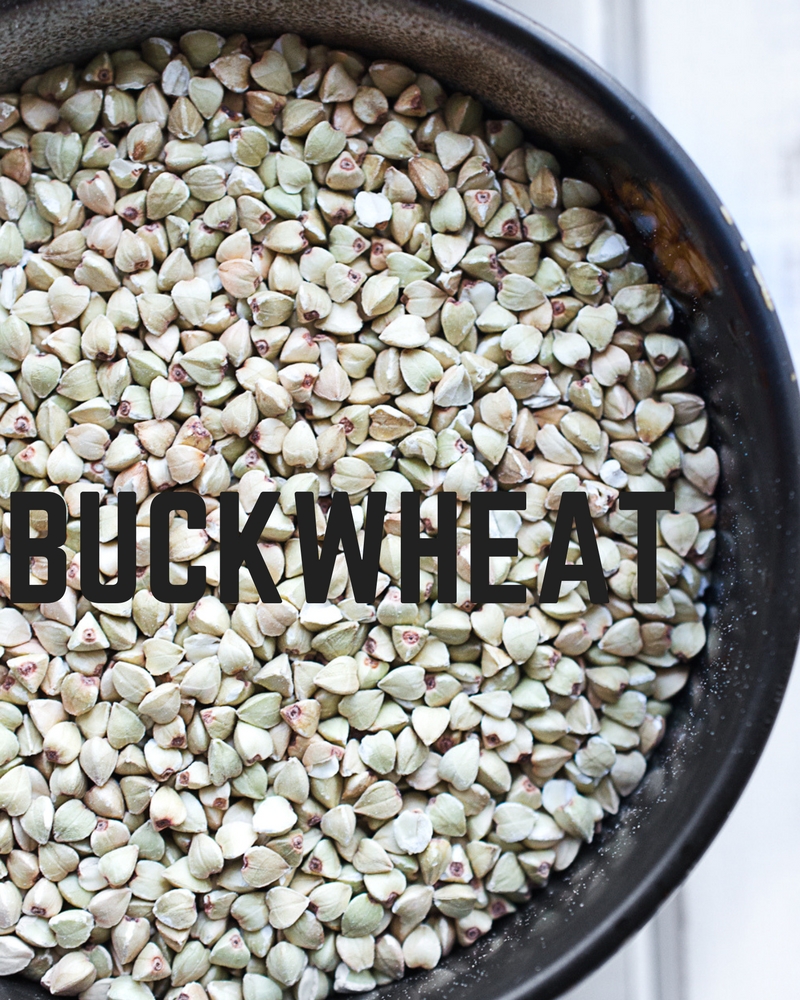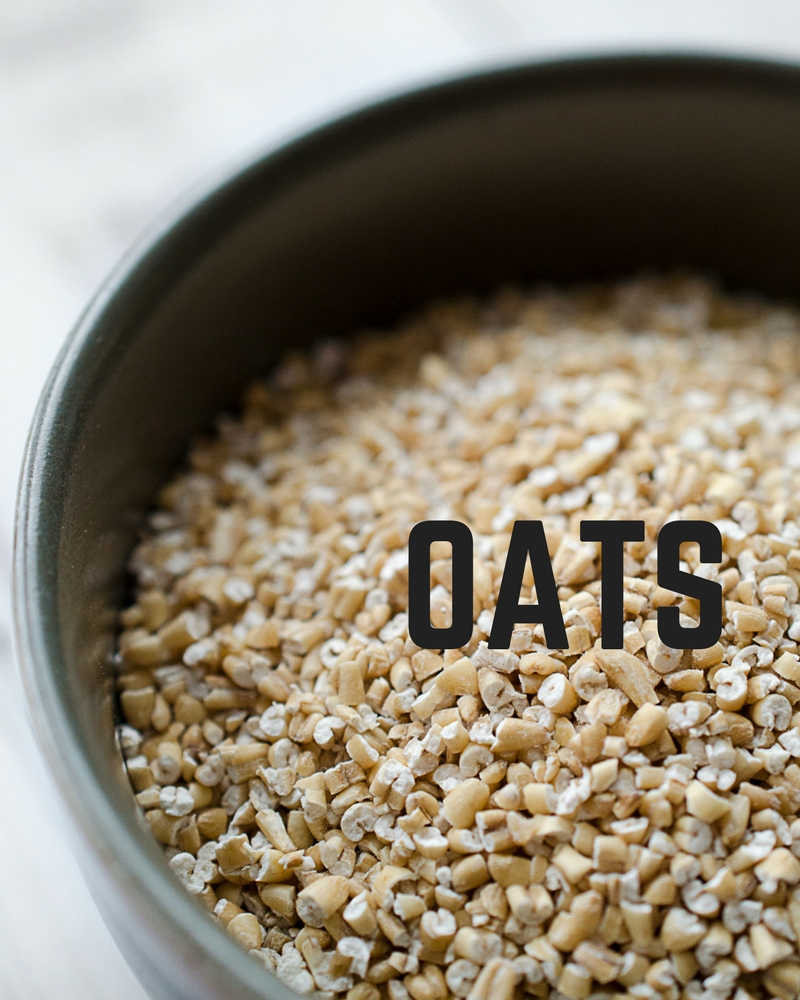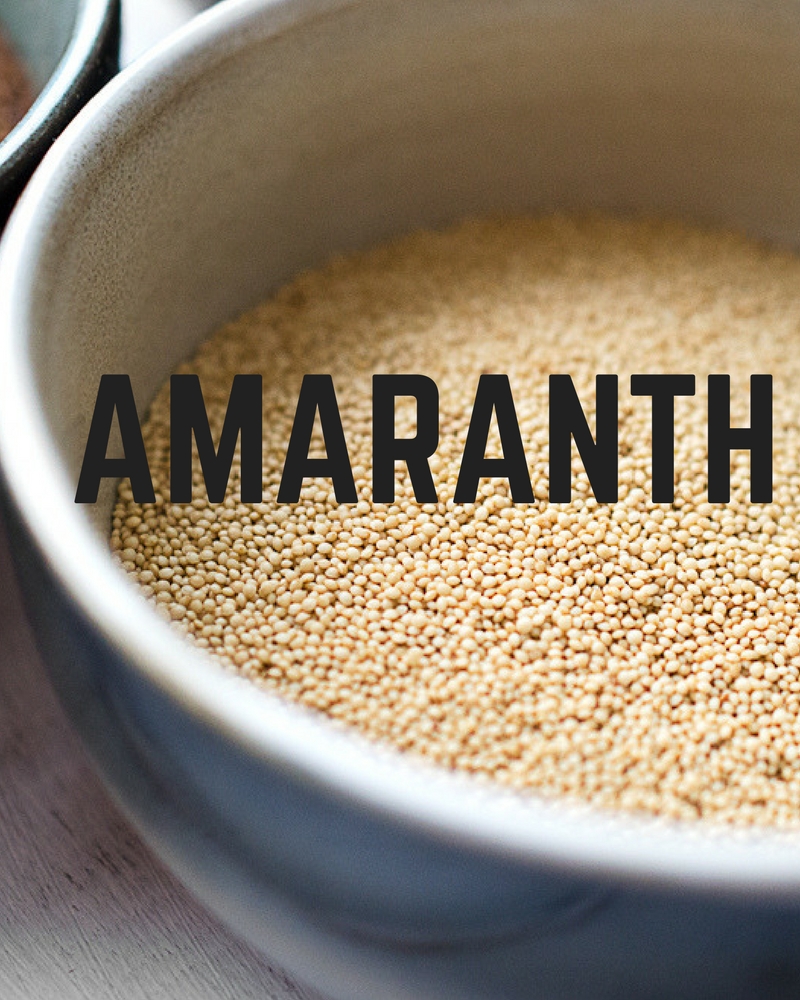 What's the easiest way to get a variety of whole grains into your diet? 
For me it's porridge! Even better, why not make it slow cooker porridge!
In this whole grain slow cooker porridge we combine steel cut oats, buckwheat, teff and amaranth! The result is a creamy oatmeal-like breakfast that will keep you full for hours!
This is a no-fuss way of experimenting with new whole grains. No new cooking methods or intricate recipes. You're just throwing them all together with water and setting the slow cooker to low and letting it do its thing!
Now you can have this vegan whole grain slow cooker porridge as is or you can jazz it up with creamy Apple Raisin Compote!
Don't let the name fool you, it's also easy as pie and is ready in under 15 minutes. This compote adds a dramatic finish to such a wholesome grain bowl!
What is a compote? 
A compote generally refers to fruits that have been stewed with sugar and spices. I'm taking a healthy approach by using apples, raisins and some almond butter to make this a creamy compote with less refined sugar. 
Blogged while simmering Broccoli Dahl. This was on of the first recipes I ever posted and it's still one of my favorites.
Recipe Hack: This recipe makes enough for a crowd. Feel free to half it if you're only preparing breakfast for a couple of people. I like to have leftovers for breakfast so I usually make the big batch just for the two of us! When re-heating be sure to add more liquid as the porridge will thicken up as it cools!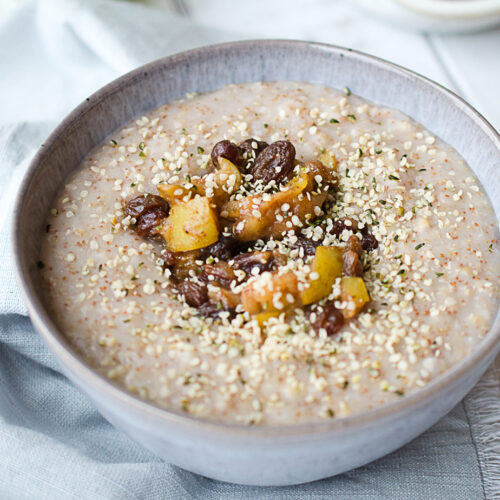 4-Grain Slow Cooker Porridge
A truly whole-grain porridge made overnight in the slow cooker! Paired with a delicious, low-sugar apple and raisin compote, this is a wholesome and filling breakfast!
Ingredients
1

cup

steel-cut oats

gluten-free if needed

½

cup

buckwheat groats

¼

cup

teff

¼

cup

amaranth

pinch

salt

8 to 9

cups

water
Apple Raisin Compote
4

cups

chopped apples, peel on

(3-4 apples)

¾

cup

raisins

2 to 4

tablespoons

maple syrup

(optional)

¼

teaspoon

pumpkin pie spice

2

tablespoons

stirred almond butter

pinch

sea salt
Instructions
Add all grains to a 4-liter slow cooker. Add a pinch of salt and water. If you like a really thick porridge, use 8 cups water. Set the slow cooker to low and cook for 7-8 hours. If you anticipate letting the slow cooker cook for 8 hours, I suggest using 9 cups of water.

In the morning give the porridge a good stir, add some almond or soy milk if needed. Set the slow cooker to warm and make the Apple Raisin Compote (recipe below).

Serve the porridge with a few spoonfuls of the compote (and a tablespoon of ground flaxseed for good measure!).
Apple Raisin Compote
Add the chopped apples (skin on!), raisins, maple syrup (if using), pumpkin spice and 1-2 tablespoons of water to a small-medium saucepot. Cover and cook over medium heat for 7-8 minutes until the apples release their juices and begin to shrink in size.

Remove the lid and continue to simmer over low-medium heat until most of the juice has evaporated. This will take around 8 to 10 minutes. Stir often to prevent burning.

Once all the juice has evaporated, turn off the heat and stir in the almond butter and pinch of salt. Put the lid back on the pot so the heat melts the almond butter. Once melted, stir and it's ready!
Notes
If you can't find teff or amaranth, use more buckwheat or more steel cut oats.