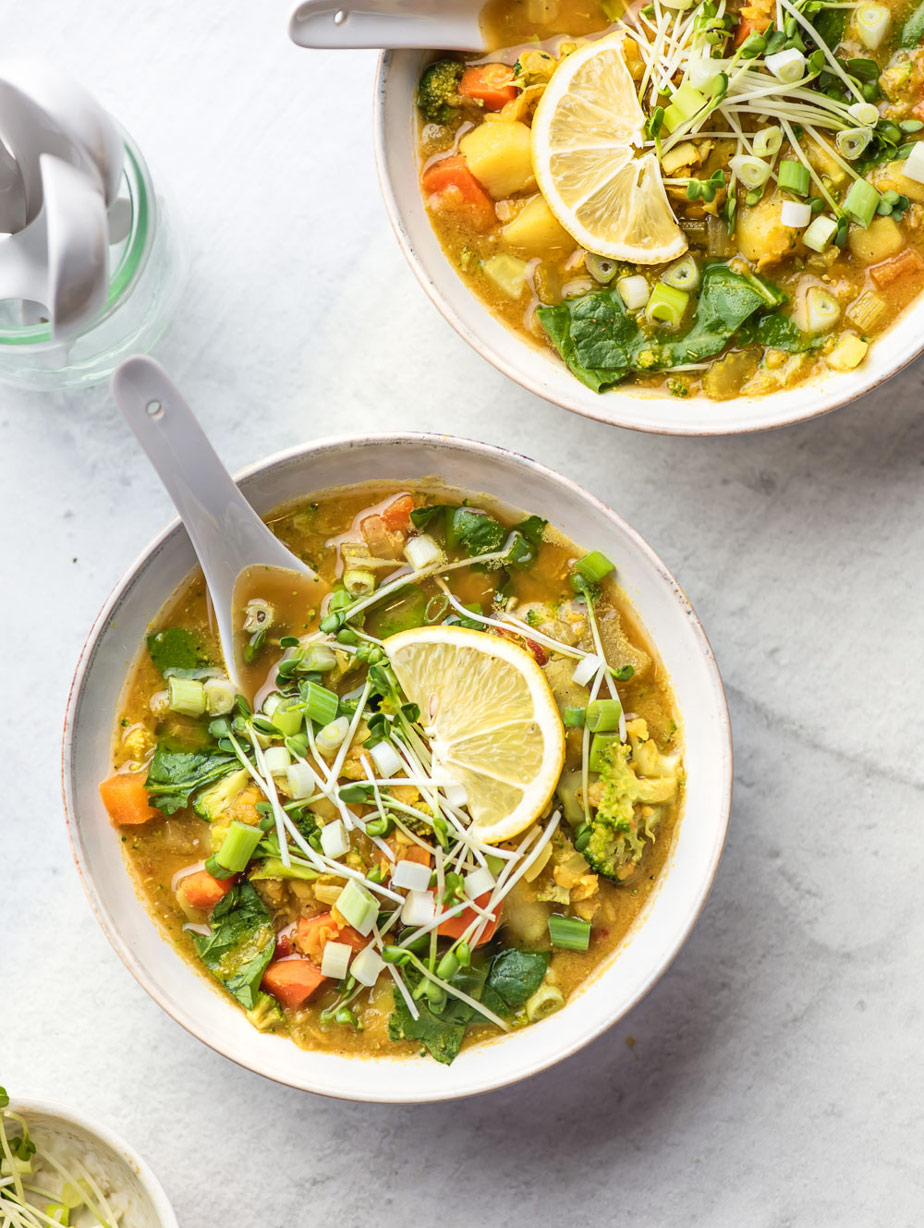 If you're not familiar with 'dahls', don't worry, stay with me!
I assure you this vegan broccoli dahl involves no new methods, kitchen gadgets, or unfamiliar ingredients. And if you're just getting your feet wet with cooking whole food recipes, I've listed some definitions and tips below to help.
I know the last thing your weeknight needs is more complication. Because life. 
I'll walk you through it! It's a one-pot, nutritional powerhouse, flavor-laden dish that you can make in less than an hour. 
First, I want to share a little about this recipe and what it means to me. 
This vegan Broccoli Dahl was one of the first recipes I ever made up on my own and shared online. 
I had just returned from culinary school and was full of fire and passion thinking I had done the work of becoming a chef, not knowing the work had only begun. 
I used this broccoli dahl as an opportunity to experiment with my new DSLR camera – the kit camera I had purchased at Costco.
I was proud…but I was such a novice.
And the original pictures certainly show it (check out the before and after on my Instagram). 
My first reaction to the pictures and even how I wrote the recipe was embarrassment and an earnest "what the hell was I thinking?"
But then I think hey, look how far I've come (with so much further to go)! I have to honor where I started and I'm reminded that progress is slow. There are still loads of recipes and pictures here on Rise Shine Cook that I look back at and am humbly reminded of how much I've improved.
So if you're working on something – a project, a musical instrument, writing, photography, cooking – and thinking "I suck", congratulations!
This means you're doing the work, you're in the arena, you're making progress every time you show up. I say this out loud for both of us.
I lovingly say that I did suck and some days I try stuff and I kindly acknowledge jeez this sucks… and keep working until it's better.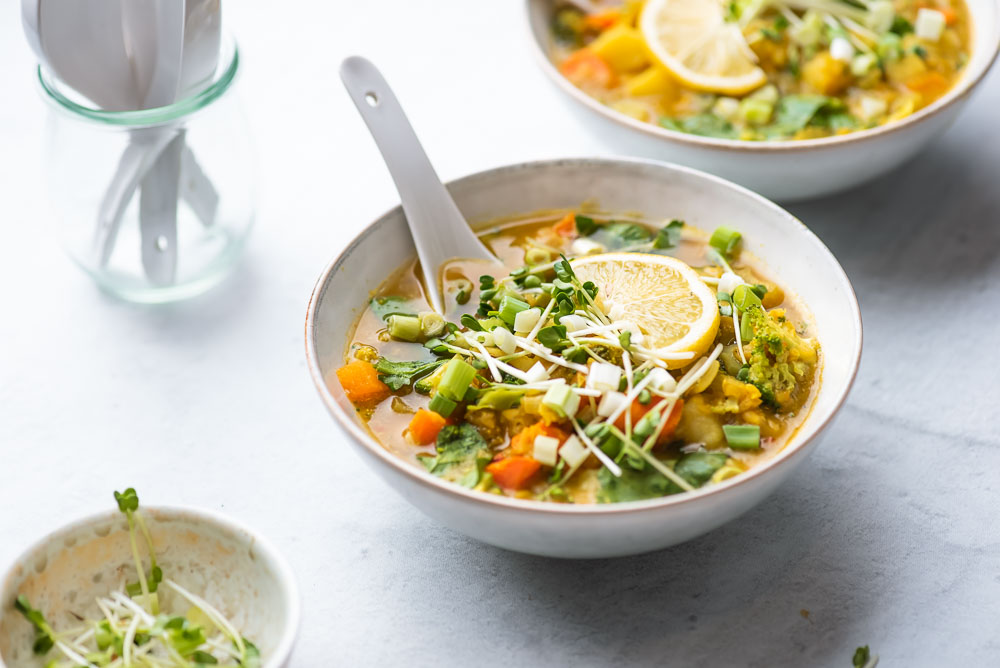 Definitions, Ingredients, & Tips
So as I take on version 2 of this vegan broccoli dahl recipe, there are a few ingredients I've changed but mostly it remains close to the original!
Here's a review of definitions, ingredients, and tips so you're comfortable with the recipe!
Dahl: Dahl is an Indian term used to describe dried legumes like lentils and peas and dishes made from these legumes, usually pureed or with various spices. It's also spelled dal or dhal. So this is a 'dahl' because it's made with split red lentils. You can find these in any grocery store near the dried beans.
Small Diced? Medium Diced? The terms small, medium and large diced aren't arbitrary, although they may seem so. Ultimately, don't worry too much about if you're chopping produce to the perfect size or shape. Getting it in the ballpark is perfect! Here is the culinary definition of these knife cuts and here's a quick review. 
Small diced: cubes with ¼ inch sides
Medium diced: cubes with ½ sides
Large diced: cubes with ¾ sides
Brown Mustard Seeds: This broccoli dahl uses a variety of spices like cumin and turmeric and mustard seeds that give it tons of flavor. Mustard seeds are found near all the other spices. They look like tiny, round, brown seeds.
Garam Masala: Another spice readily available in the spice aisle! Garam masala is actually a blend of ground Indian spices. I love this spice mix and use it often! Like in this Easy Curry Tofu recipe.
Cooking Without Oil: Sautéeing or cooking without oil throws a lot of people off. How do you cook without oil? It is possible and once you start doing it you'll never go back! You simply use water or vegetable broth instead of oil.
The first step in this vegan broccoli dahl (after preparing the veggies) is to sauté the onion, celery, and carrot in water. I usually add 2-4 tablespoons of water, bring the heat to medium-high temperature and cook the veggies while stirring occasionally with a wooden spoon. I keep a large glass of water near the stove and add more as needed. It's not an exact science so don't worry if you add too much or too little. You'll get the hang of it!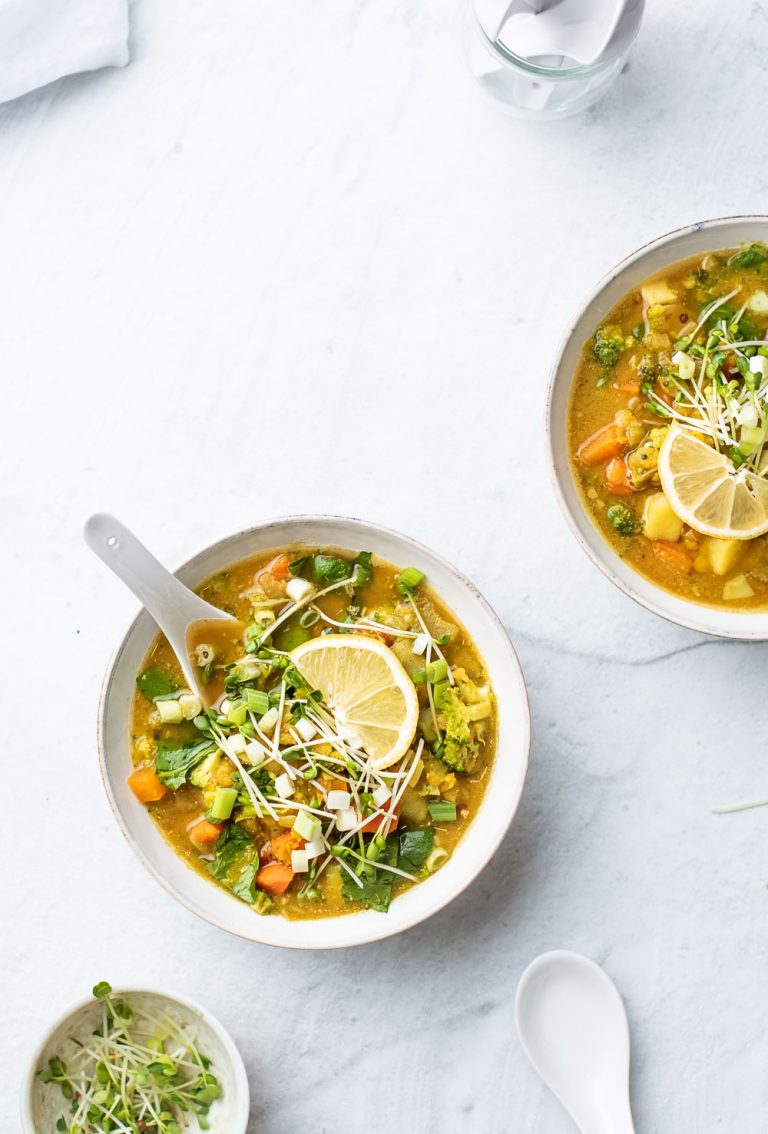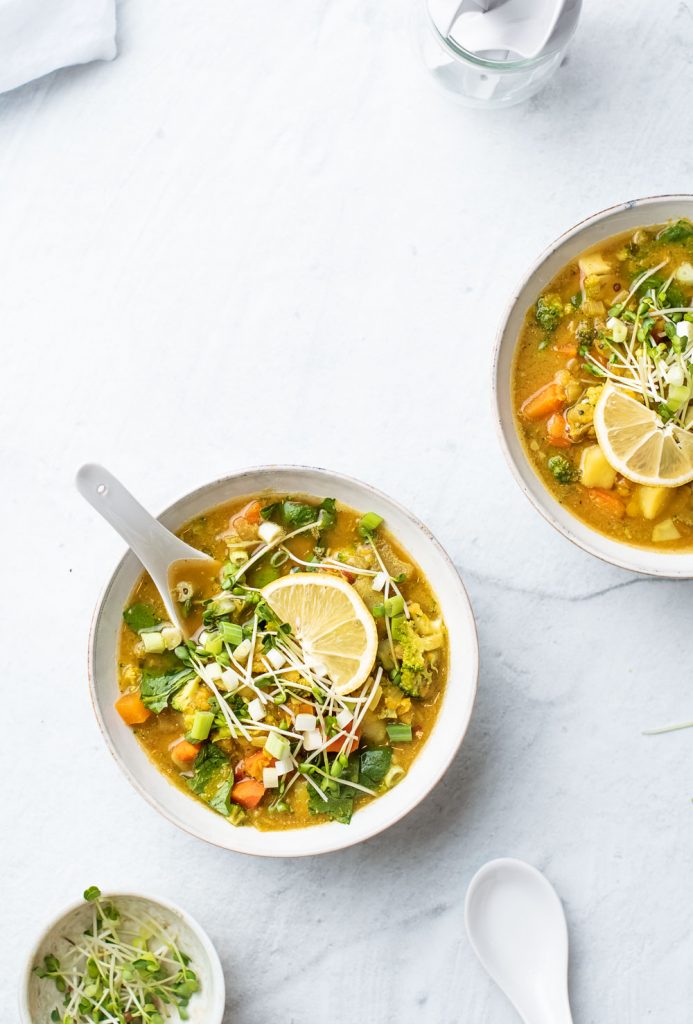 Your Recipe For Success
2 things you must do to guarantee recipe success!
1. Read the whole recipe before starting. 
Ideally the day before. Read through the recipe, look at the ingredients and all the steps and wrap your head around what you need, how long it will take, how you might serve it and if you need to pick up anything or figure out any substitutions.
2. Don't skip this hidden step, it's rarely written! 
Most often the ingredients in a recipe are listed not as whole foods but in the shape/state they're needed for the recipe. So really the first step isn't always listed! And this first step is to prepare all the vegetables, discard the peels and refuse and get all other ingredients out of the cupboard and ready to go.
I will repeat: Do all the vegetable prep before you start actually cooking. Peel, chop, slice and mince everything and arrange it so it's ready when needed.
If you're confident in the kitchen, you might not need to do this. But in general, this is a good starting point for following any recipe. I still do this! It keeps me organized and stress-free!
Recipe Hack: You can make all kinds of swaps in the recipe. Here are a few that you may find helpful:
Sweet potatoes for white potatoes
Cauliflower for broccoli
Soy milk for almond milk
Kale for spinach
Red onion for yellow onion
Water for vegetable broth
Coconut aminos for tamari or soy sauce
Swap the green onion garnish for cilantro, sesame seeds or chopped almonds!
Recipe Recycle: Switching up how you serve a recipe can make it seem like a new meal entirely. Try serving this vegan broccoli dahl with baked pita bread and top it with avocado for a more fun flair.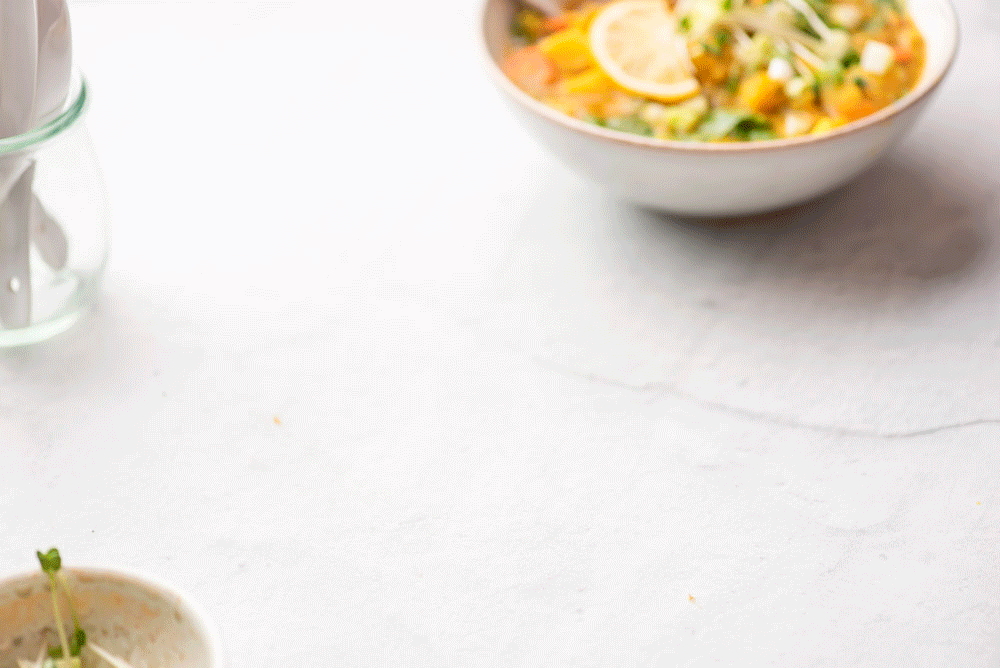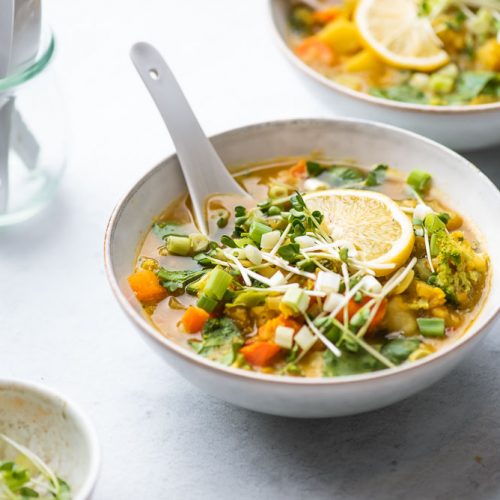 This dahl is an easy recipe to make when you don't have a ton of time but want something healthy and extra nutritious.
Ingredients
1

yellow onion

diced

1

stalk celery

diced

1

large carrot

diced

2

teaspoons

garam masala

2

teaspoons

ground cumin

2

teaspoons

black mustard seeds

½

teaspoon

red pepper flakes

or to your preference

½

teaspoon

sea salt

2

red potatos

peel on, diced into ½ inch cubes

1

cup

split red lentils

4

cups

low-sodium vegetable broth or water

3

cups

finely chopped broccoli

1

cup

unsweetened almond milk

1

cup

packed baby spinach

kale or swiss chard

1

tablespoon

tamari or soy sauce

2

tablespoons

lemon juice

~juice of ½ lemon

Optional garnish: sliced green onion

sprouts, hot sauce, sesame seeds
Instructions
Add the onions, celery, and carrots to a 4 qt pot with ¼ cup of water and sauté for 5-7 until the onions are soft. Stir occasionally and add water as needed, a couple tablespoons at a time, to prevent burning sticking.

Add all the spices (garam masala through red pepper flakes) and salt and cook for another minute or so until fragrant.

Add the potatoes, red lentils, and vegetable broth or water. Bring the dahl to a boil and then reduce to a simmer and partially cover the pot with the lid. Simmer for 15 minutes or until the potatoes are tender.

Add the chopped broccoli and almond milk and continue to simmer for another 3 to 5 minutes.

When the broccoli is tender and bright green turn the heat off and add the spinach, tamari, and lemon juice. Stir, taste and reseason with salt and pepper if needed. Garnish with green onion, sprouts, hot sauce, or sesame seeds!
Notes
Cut the tough parts of your broccoli off (especially the bottom part of the stems). Then chop the broccoli florets. I finely chopped the broccoli with my chef's knife but you can also toss the broccoli in a food processor and pulse it until it is small pieces if this is more appealing to you.
You can serve this along in a soup or stew bowl or put it on top of cooked grains like brown rice.
See above for tips and definitions to make this (and most recipes) fool proof!