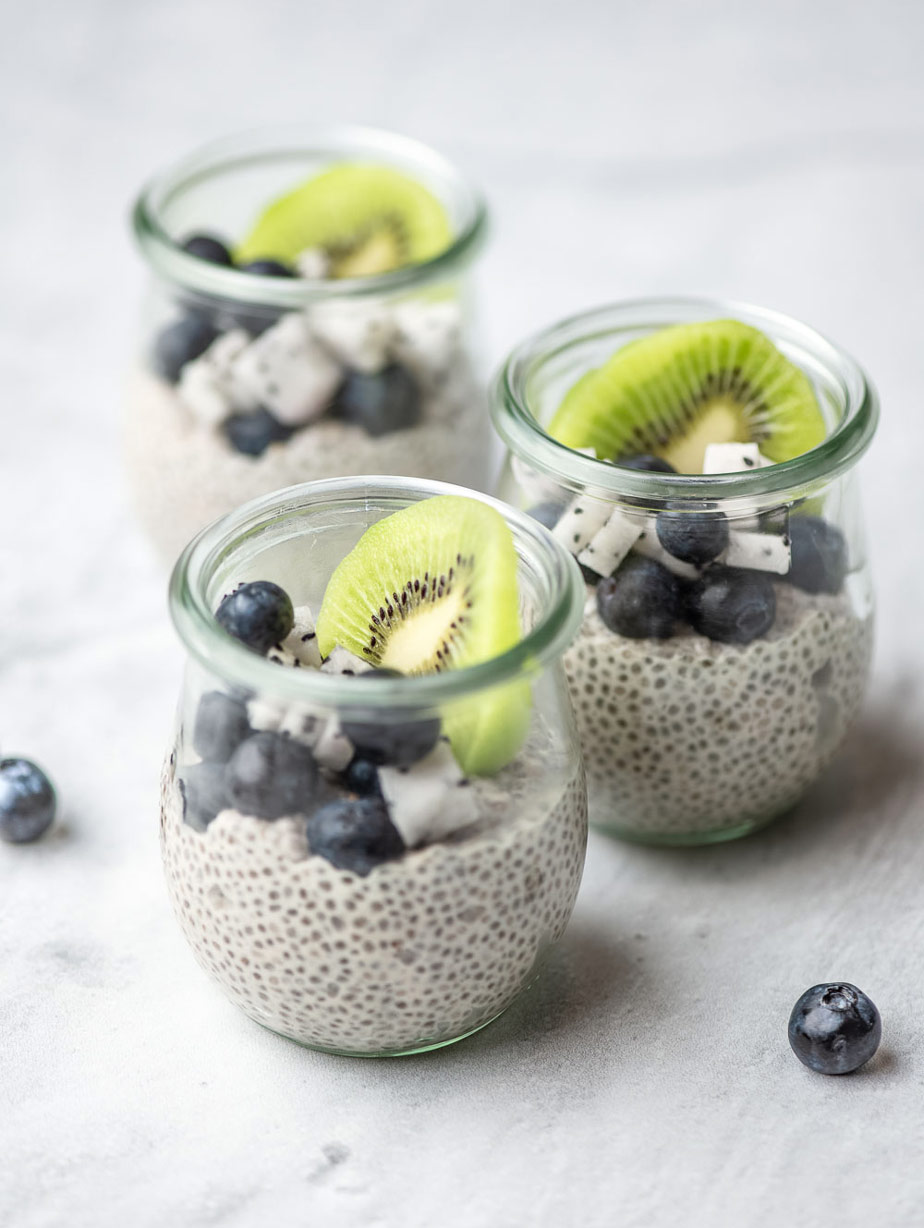 Watery, clumpy, flavorless chia puddings are super disappointing. If you're like me, a lot of your homemade chia puddings have sucked. 
I'm hoping this easy Cashew Chia Pudding can solve some problems.
First, I know not everyone is a chia pudding lover.
I recently asked some Instagram and Facebook friends if they're on or off the chia pudding bandwagon.  
I asked because chia pudding is one of the easiest, most convenient plant-based recipes to throw together for breakfast or even dessert – once you get the hang of it.
A lot of people steer clear! And I've learned it's for one of two reasons. 
First, the texture isn't your thing. The tapioca-ness isn't up your alley. I can understand that for sure but you do learn to love it!
Second, you've never been able to get it right! Either the chia pudding doesn't taste as good as the ones at your favorite health spot or the chia seeds clump together or you just can't get that smooth pudding-like end result. 
I have come up against all these chia-obstacles but I'm confident in saying I've figured it out. So if the latter reason is why you skip making your own chia pudding, let's break it down and come up with some solutions.
Here's why your homemade chia puddings suck & how you can make them better than ever! 
1. Store Bought Milk
The first or second instruction for most chia pudding recipes is to mix the chia seeds with a dairy-free milk. 
Most of us reach for the carton of almond milk in the fridge.  But this milk will almost never give you a creamy chia pudding. It will be watery and bland. After all, these commercial milks are mostly water.
The truth is that almost all restaurants, bloggers and recipe writers use homemade nut milks for chia puddings. The result is thicker, more flavorful and guarantees a better consistency.  
So, the answer could be to make your own almond milk. I do this often. I mix 2 cups of homemade almond milk with 5-6 tablespoons of chia seeds. 
But to do this you obviously need to make almond milk. This isn't difficult but it does add another step and you need a nut-milk bag or a fine mesh strainer, which not everyone has time for or wants to do. 
Solution: Use a shortcut to make your own nut milk. You don't need any nut-milk bag or strainer. Just a blender!  
In this easy cashew chia pudding, we're making cashew milk by blending the cashews with water and flavoring agents without straining. You can get away with this because cashews are higher in carbohydrates and they blend well without leaving too much texture. Almonds don't work as well for this method because they are more fibrous and gritty.  
2. Chia Clumps 
The infamous chia clumps! This happens when you add the chia seeds to the milk and then they seem to irreversibly stick together in a massive clump. They don't disperse properly and absorb the milk so your pudding dreams are crushed.  
Solution: Instead of mixing your chia pudding in a bowl, opt for a glass jar or container with a sealable, leak-proof lid. Then when you add the chia seeds IMMEDIATELY shake the jar/container for 5 seconds. Then shake it occasionally every couple of minutes for about 10 minutes. This prevents the chia seeds from prematurely clumping. For the first hour that the chia pudding is sitting shake again every 10-15 minutes if possible.
3. Impatience 
Patience is definitely a virtue! Not waiting long enough for the chia seeds to absorb as much liquid as possible is a common chia pudding mistake. It's ideal to leave your chia pudding to set for at least 3 hours but overnight is always ideal.  
Solution: Make your chia seed pudding after dinner so you're still awake to do some extra mixing and let it sit overnight so it's ready for you in the morning.
4. Sweeteners! 
If you struggle to make a chia pudding comparable to the one you buy at your favorite juice bar or hipster café , it might be because you're skipping on the sweetener. 
I don't like to eat a lot of sugar and I try and steer clear of all processed sugars. But the truth is that chia puddings are most delicious with a bit of sweetener added.  I've used maple syrup in this easy cashew chia pudding but if you prefer a whole food sweetener option, you can also use pitted Medjool dates.  
Similarly, other flavor ingredients like vanilla, citrus, spices, and fruit will add flavor and texture to your chia pudding.  
Solution: Add a touch of your favorite sweetener to your chia pudding. 
5. Dress it up
Plain chia pudding is a wholesome snack that I love love love. But, if you really want your chia pudding to deliver, you've got to dress it up! Top it with fresh fruit, nuts or seeds. I like to use whatever fruit I have and sometimes I used defrosted frozen fruit.
Today I had kiwis, dragonfruit and organic blueberries hanging out in my fridge.
Solution: Don't hesitate to add some of your food styling skills to your own food! We eat with our eyes first and pretty food tastes better. It's a fact.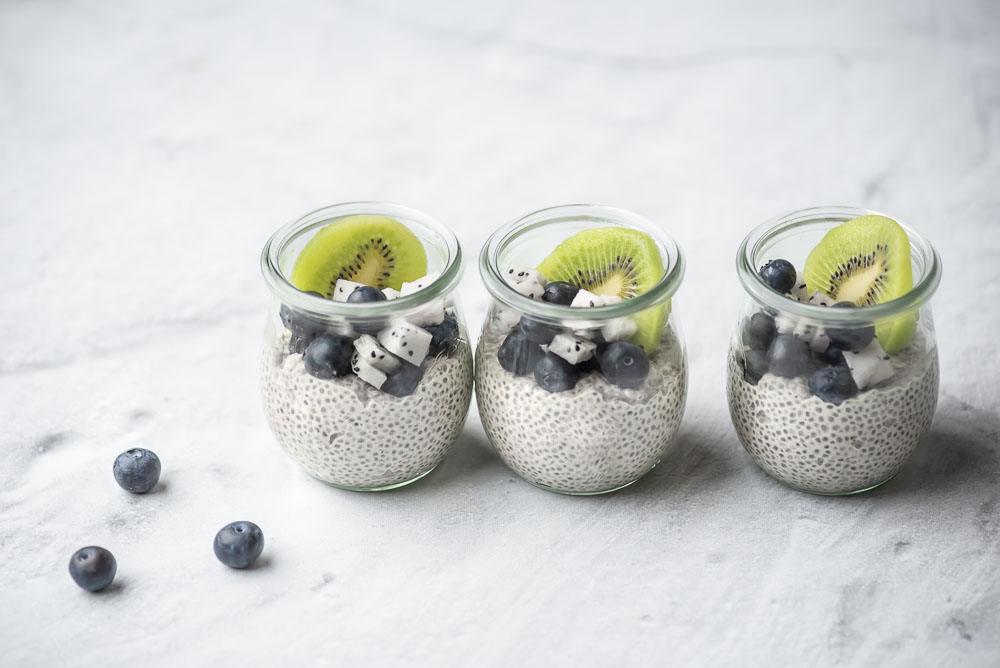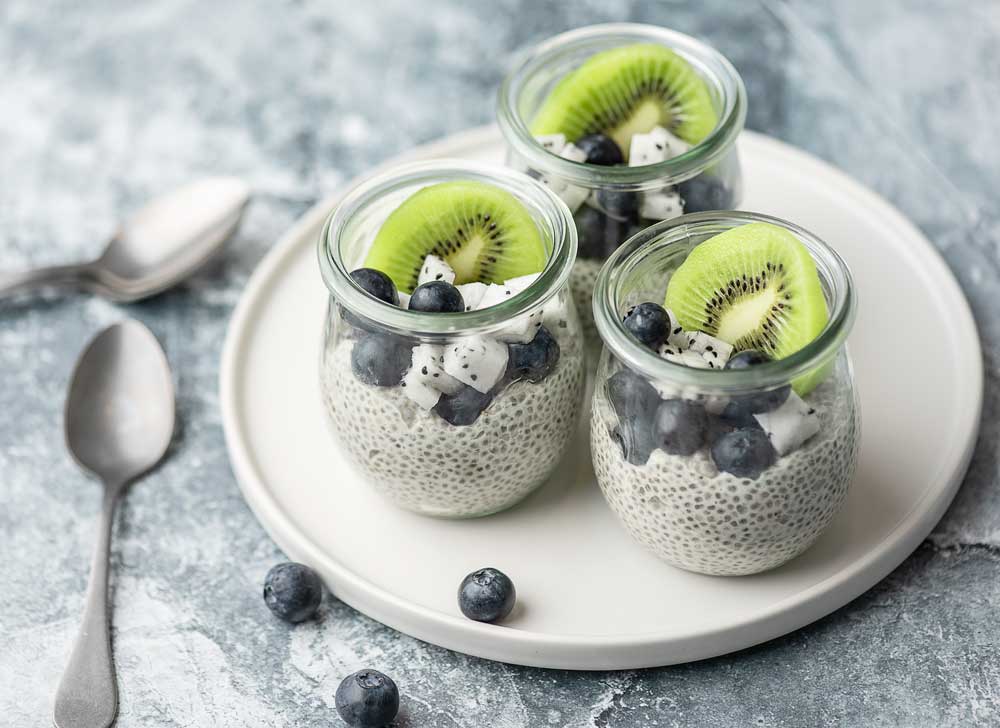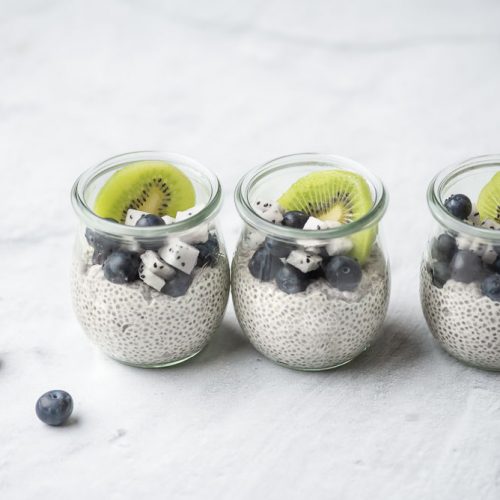 If you're like me, a lot of your homemade chia puddings have sucked. I'm hoping this easy Cashew Chia Pudding can solve some problems.
Ingredients
⅓

cup

whole cashews

2

tablespoons

maple syrup

or 4 Medjool dates, pitted

½

teaspoon

vanilla extract

Pinch

cinnamon

Pinch

salt

1½

cups

water

3 to 5

tablespoons

chia seeds

(see instructions)

Toppings: 1 cup blueberries

1 kiwi (or any other fruit), additional nuts or seeds
Instructions
Place the cashews in a small bowl and cover with warm water and let soak for an hour. If you have a Vitamix, soak them for about 15-20 minutes.

Drain the cashews and transfer them to a blender. Add the maple syrup, vanilla, a pinch of cinnamon, salt and water and blend until completely smooth (about 40 seconds to a minute).

Transfer the blended cashew milk to a glass container or jar with a leak-proof lid. Add 3 tablespoons of chia seeds for a looser chia pudding and up to 5 tablespoons for a stiffer chia pudding. I usually go with 4 tablespoons. Cover the container/jar making sure that it won't leak and then shake 4 to 5 times to evenly disperse the chia seeds. Shake the jar several times in the first 15 minutes to prevent big clumps of chia seeds from forming.

Place the chia pudding in the fridge for at least a few hours but overnight is ideal. Shake occasionally during the first hour if time allows (don't get out of bed to do this!). Divide among bowls and top with any fruit, nuts or seeds.
Notes
This chia pudding will last for up to 3 days in the fridge in a sealed container.
If you want a sweeter version, add an additional tablespoon of maple syrup.