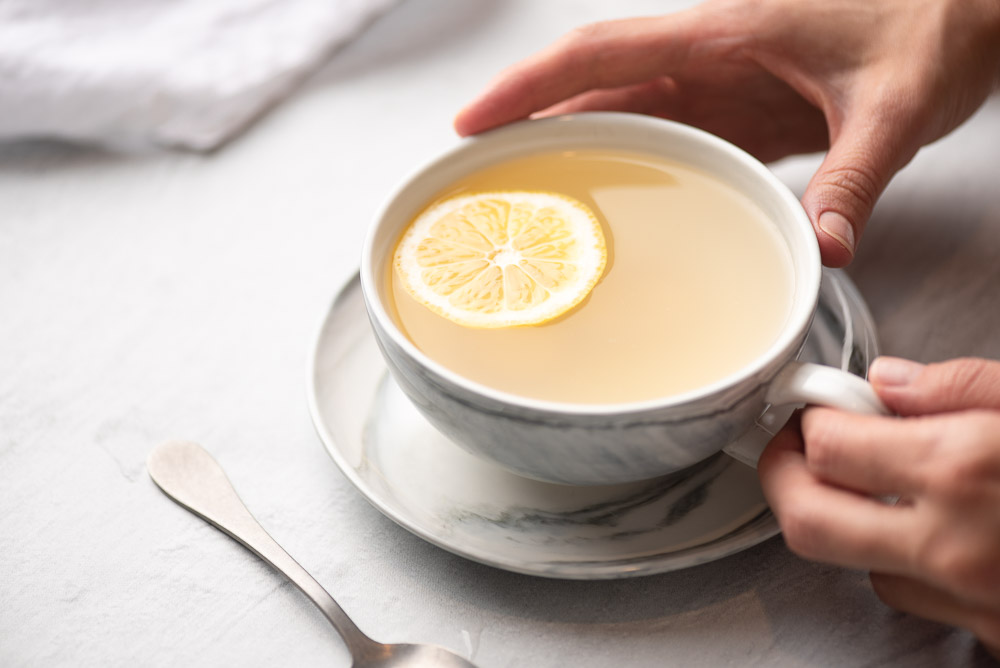 What do you think of when you hear or read the word "detox"?
This lemon ginger tea got me thinking about it because a few years ago I might have called this a "detox lemon ginger tea".
But now I hesitate to use the word detox (as it relates to food).  
Maybe it's because the word has become trendy or maybe it's because I see "health" products using the word to mislead the public.  Detox cookies, crackers, and processed juices kind of make me cringe.
Either way, I'm retiring from the word 'detox' even though I've used it.
I think originally detox was used to conjure images of cleaning out your body, of supporting your health, or giving your guts a break from the artificial sh*t in all of the cheap, easily accessible, super affordable garbage in our grocery stores. 
It also implies stimulating your elimination systems to clear out 'toxins' or metabolic byproducts that we don't want hanging out in the body too long.  
In a more general sense, detox can refer to rest, restoration or rejuvenation.  
And I can get behind all of that. Those are all good things.  
But the word is overused and I think has become a bit misleading.  
Detox teas, soups, smoothies, and even detox brownies (wtf?) have flooded the blogosphere (I'm guilty of adding a detox here or a detox there too) – well-intentioned but can cause readers or those seeking health and healing to feel like it's something they have to eat, drink or do to be truly healthy and "clean".  
Why the change of heart? 
Well over the last 10 years and through my work as a pharmacist, certified holistic nutritionist and chef I've met with real people striving to fit healthy habits and recipes into busy, every-day lives and I've seen how health messaging is received. 
The words and titles matter and are supposed to help people make decisions. But health marketing can be uber confusing, don't you think? 
So I've just changed my mind. 
On the flip side, there is an argument for trendiness – it can be fun and helpful to keep people on the up and up – so no shade to recipe developers who stand behind their detox creations. This is just my personal take on it.
I share this in hopes that you, as a consumer, will look at "health food" marketing with more scrutiny and perspective. It's common to choose one box of pasta, crackers, cereal etc, over another because of words that are slapped on the box! Organic, raw, green, alkaline, anti-inflammatory, cleansing, detox, plant-based are all descriptive words that we look for but that big companies have also begun using to manipulate or grab your attention. 
And it works! 
My advice is to read ingredient labels and lists like your life depends on it and remember that, for the most part, the foods that are really healthy, actually anti-inflammatory, cleansing, and plant-based don't have labels at all! 
Side note: I'm not talking about 'detox' in any medical or treatment sense, just as it relates to describing recipes!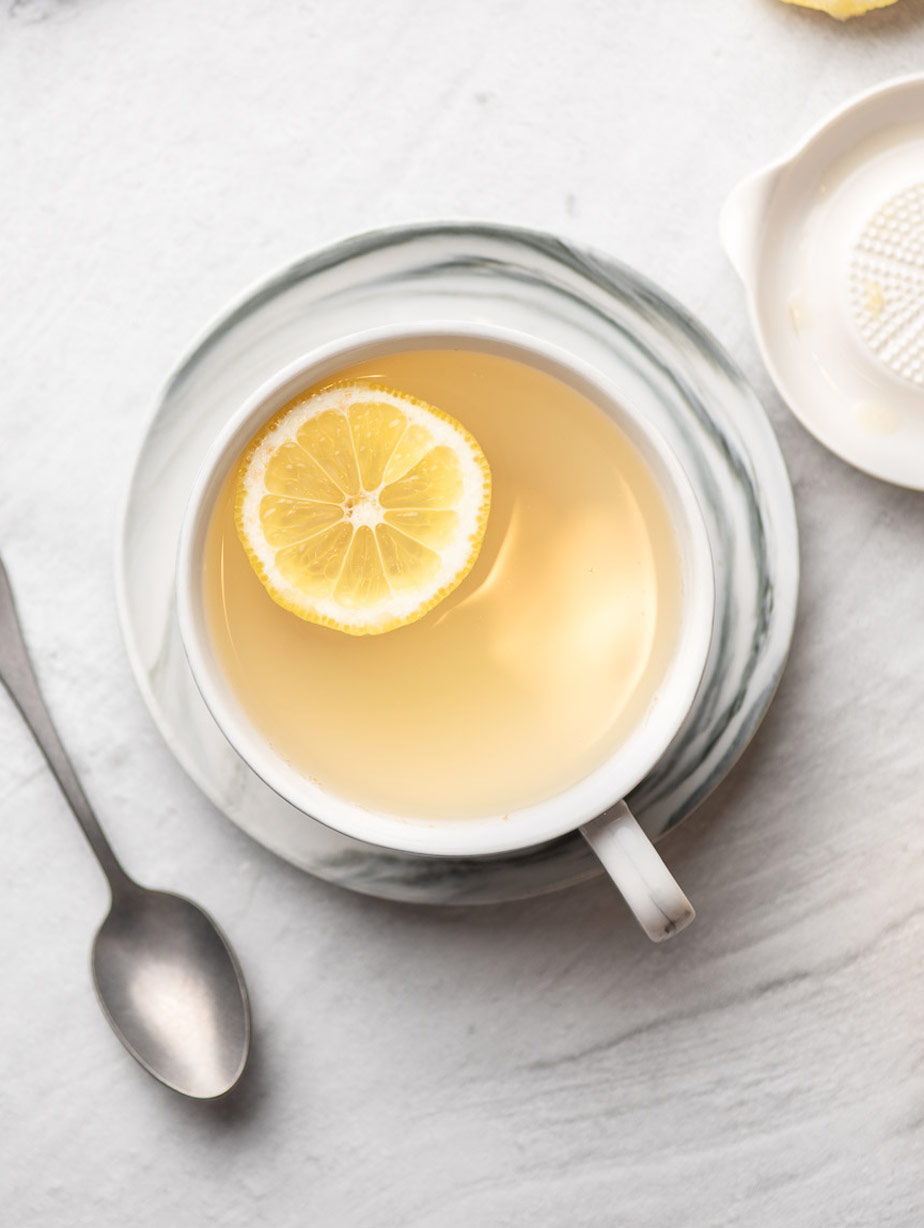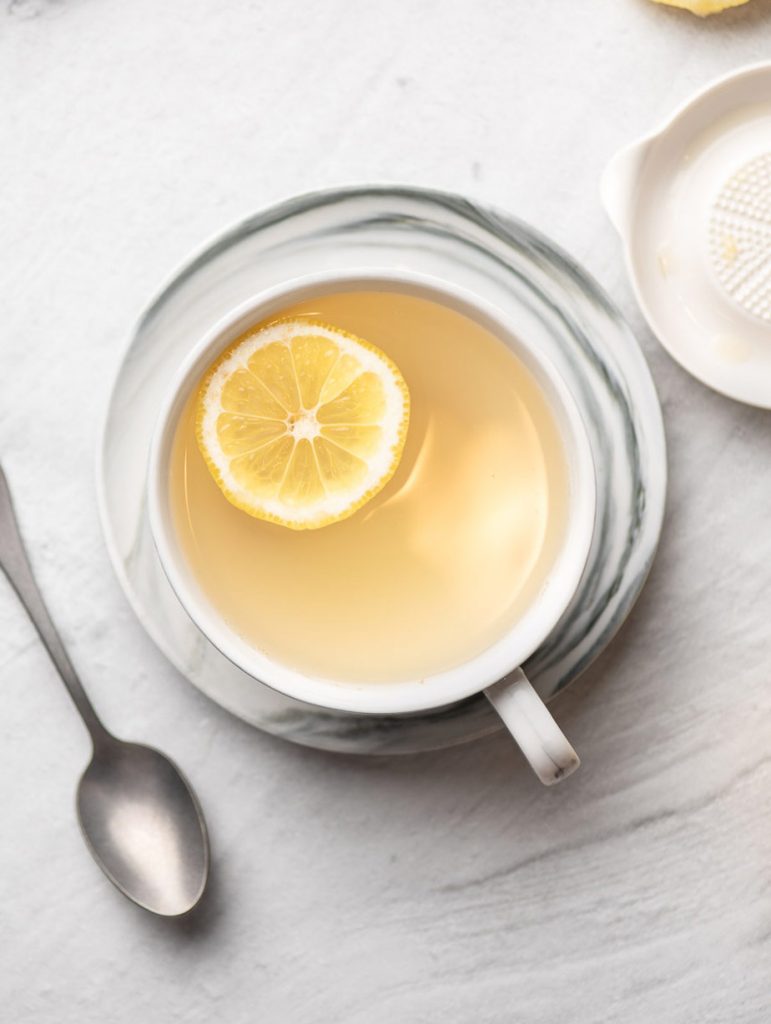 About this lemon ginger morning tea:
Really, this lemon ginger morning tea is a gentle, hydrating way to start your day. 
It's warm and slightly spicy, nudging your digestive system to wake up and get going (if you know what I mean).  
I try and have this at least a few mornings a week. It makes me feel like I'm waking up from the inside out.   
Here's how I do it.  
Wake up, boil the kettle, pour hot water over the sliced ginger and let it sit for 10 minutes. During that time I might shower, brush my teeth, make my bed, tidy up, meditate. Then I add lemon juice and filtered room temperature water to the hot water/ginger mix and drink it using a metal straw or sip it from a teacup depending on how much time I have.  
Sometimes I have this lemon ginger tea in the afternoon too if I feel a second coffee isn't a good idea…because, full transparency, I have an amazing cup of coffee shortly after my lemon ginger tea every morning!
Give it a try. Wake up 10 minutes earlier or carve out 10 minutes in the early hours of the day and see how it makes you feel.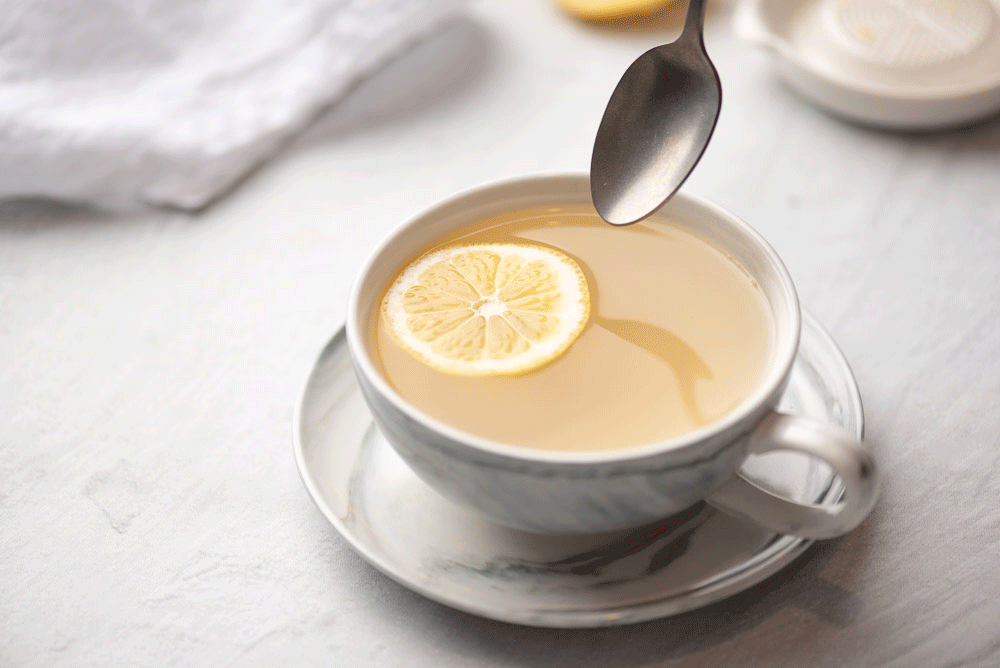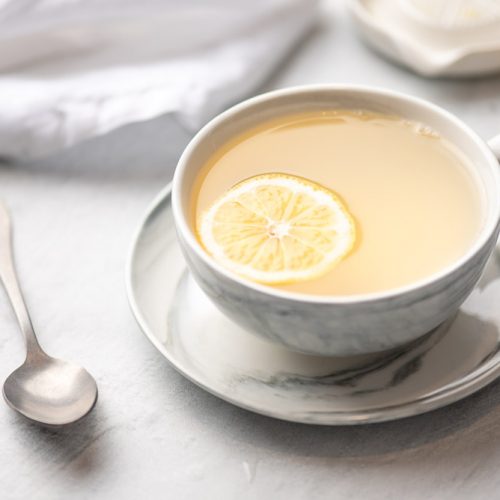 Ingredients
1

inch

ginger

thinly sliced

½

cup

boiling water

Juice of ½ lemon

¾

filtered room temperature water

Optional additions: pinch cayenne

1 teaspoon maple syrup, handful mint leaves
Instructions
This isn't a recipe but more of a guide. Clean and scrub the ginger to remove any dirt. Thinly slice the ginge and add it to a glass or muc. Pour about ½ cup of boiling water over the ginger. Cover the glass and let the ginger soak for at least 10 minutes.

Add the juice from ½ lemon and about ¾ cup of room temperature water. Here you can also add cayenne for a spicy version or a bit of maple syrup for a hint of sweetness. Sometimes I drink this out of a teacup or mug and sometimes in a glass with a straw, depending on how busy I am.