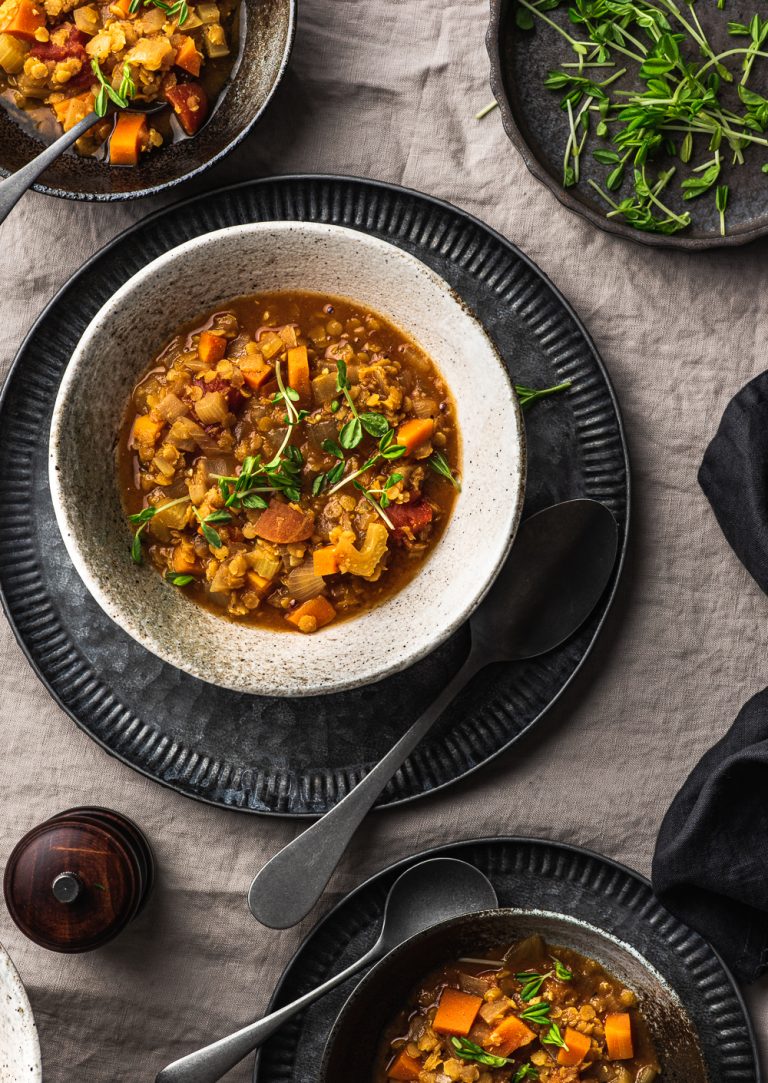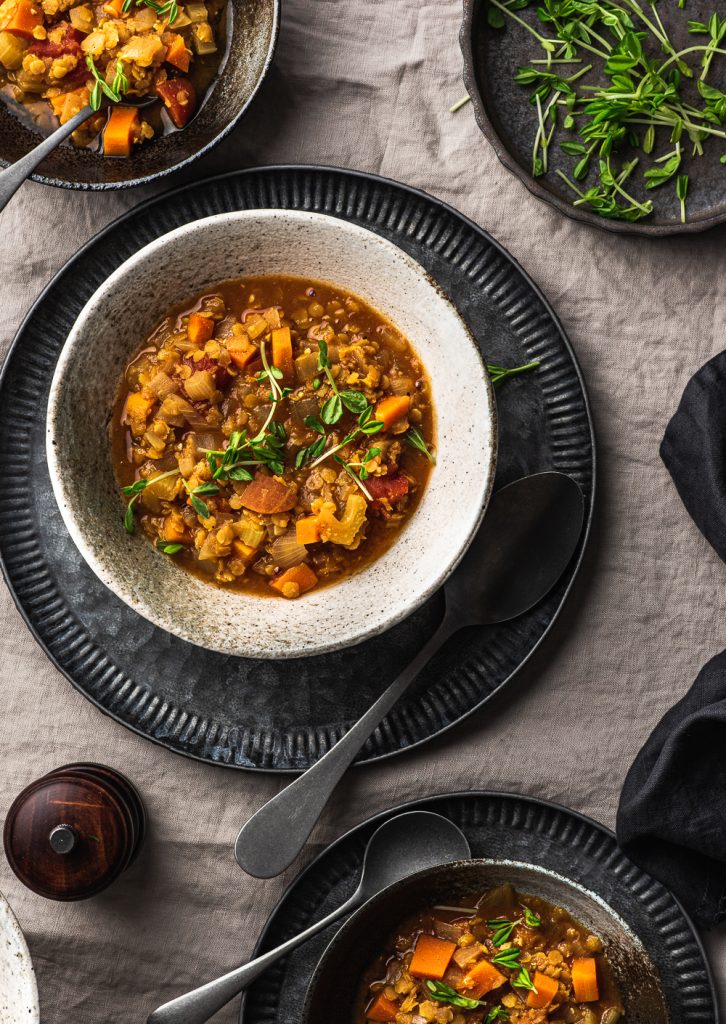 This vegan red lentil curry is comforting for the socially-distanced mind, body, and soul and comes together easily and under budget! Who doesn't love a cheap recipe? 
I've been balancing the chaos of the outer world with a lot of recipe creation and quiet cooking – kitchen time always calms my nerves! Maybe for you it's cleaning out the closets, rearranging the pantry, or a weekday Netflix binge (or several). Or, and this one definitely applies to me, maybe it's doing nothing at all. No matter your coping mechanism, it all belongs during these weird times. 
Being bored and spending a lot of time at home (a reality for most of us at this point) can make us crave rich, fat-heavy and carb-loaded foods. And understandably so might I add.  These types of foods taste amazing, light up our brains' pleasure centres, and get the feel-good serotonin levels flowing, even if just briefly. We're all looking for whatever hits of serotonin we can get!
In order to avoid a prolonged food coma, I like to balance these cravings by making loads and loads of delicious soups! They're hydrating, flavourful, warming, and generally a great opportunity to use up veggies you have on hand. Soups are also great at camouflaging all sorts of veggies for picky eaters – each slurp is secretly another dose of immune boosting phytonutrients. 
I guess what I'm saying is soups are capital H healthy. Make them often, experiment regularly.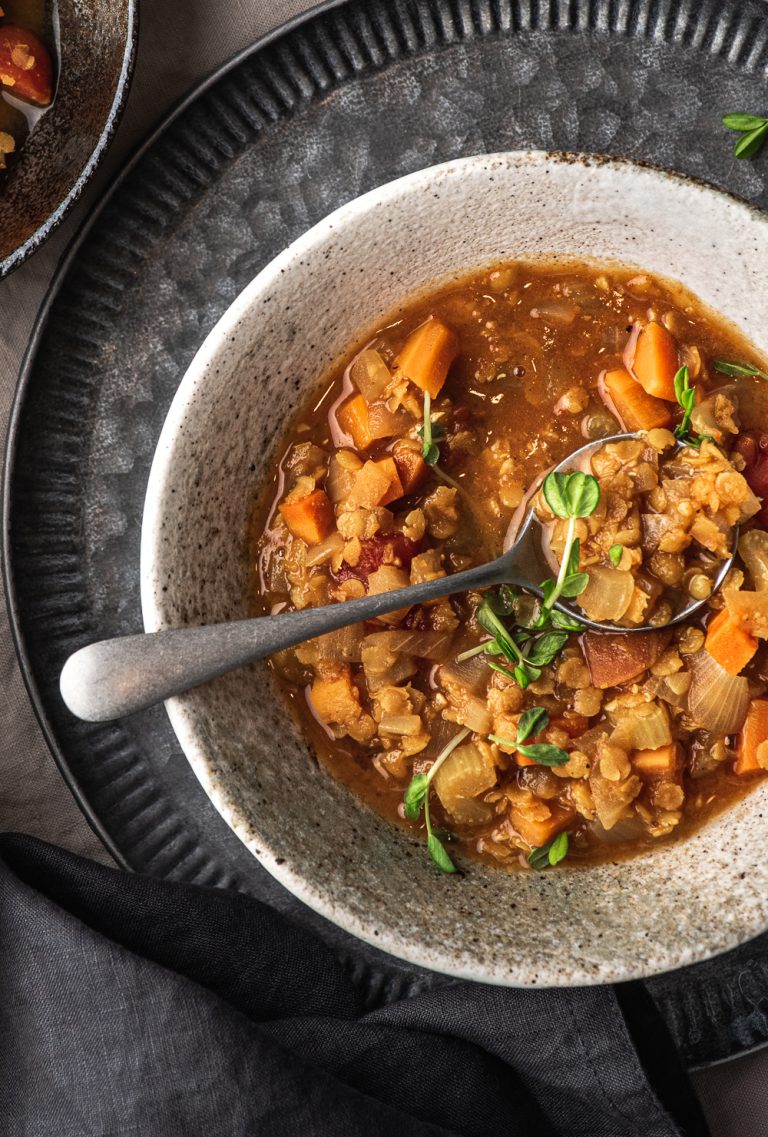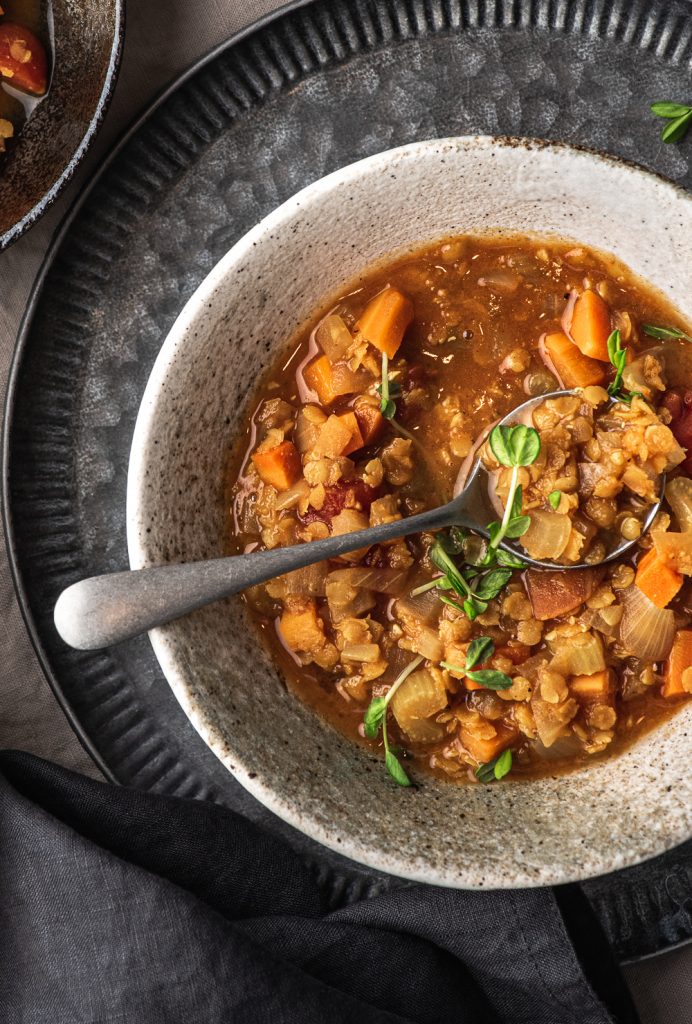 Even though the execution of this soup is really simple and basic (also what makes it convenient), here are a few tips for making this vegan red lentil curry soup.
Making Vegan Red Lentil Curry Soup
Water frying. Start by sautéing the onion, carrots, and celery in water for about 10 minutes, adding water as needed to prevent burning. I don't use oil in my sautéing but, instead, choose water or veggie broth. It's SO easy. Just keep an eye on the vegetables and add water, a few tablespoons at a time, as the liquid evaporates. 
Quality Curry Powder. A handful of simple ingredients make up this high-fiber and filling red lentil soup. But the real trick to quick and easy soups is using spice blends! Spice blends like Italian spices, herbs de Provence, garam masala, and curry powder make recipes like soups really easy to throw together! 
Measuring individual spices doesn't take that much extra time but having fewer ingredients does make a recipe seem easier. Not always the case, but I get it! First impressions matter and a long list of ingredients can be intimidating. Enter spice blends. 
Keep in mind that different brands have different flavors so it's helpful to try a few before you find your favorite. Here are my two go-to curry powder blends: Simply Organic Curry Powder and The Spice Hunter Curry Powder.
Citrus. I like to finish most of my savoury dishes with a hit of acid usually in the form of lemon or lime juice. It elevates and brightens the dish! Use freshly squeezed citrus whenever possible.
Salt. I suggest adding salt in stages or even at the very end of your recipe. You can always add more but it's hard to take away if you've added too much. And be mindful of the vegetable broth you use.  A lot of commercial brands are loaded with sodium so adjust as needed.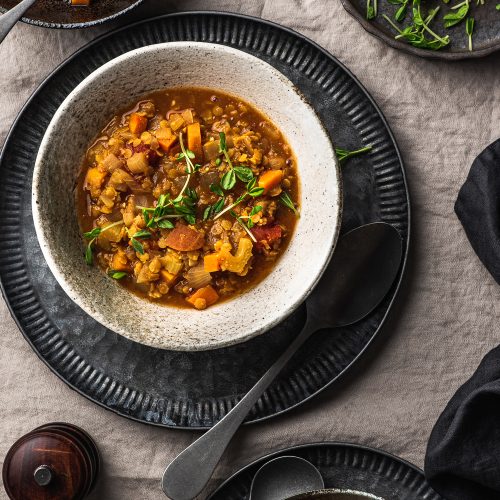 A simple yet flavourful red lentil curry soup full of protein and fiber!
Ingredients
1

large yellow onion

diced

2

stalks celery

diced

3

carrots

diced

4

garlic cloves

minced

1

tablespoon

finely minced fresh ginger

1

tablespoon

+ 1 teaspoon curry powder

1

teaspoon

ground cumin

½

teaspoon

smoked paprika

1

cup

split red lentils

3 ½

cups

low sodium vegetable broth

plus more if needed

1

14 ounce can diced tomatoes (regular or fire roasted)

1

cup

chopped kale or baby spinach

optional

2

teaspoons

lemon or lime juice

½

teaspoon

salt

Pepper to taste
Instructions
In medium soup pot, sauté the onions, celery, and carrots with ¼ cup of water or vegetable broth for 7 to 10 minutes, stirring often, until the onions have softened. Add water as needed to prevent burning.

Add the garlic, ginger, curry powder, cumin, and smoked paprika. Stir and continue to sauté for another minute.

Now add the lentils, broth, and diced tomatoes. Bring the soup to a boil. Once boiling, reduce to a simmer and simmer, partially covered, for 20 to 25 minutes.

Finally add the greens, if using, lemon or lime juice, salt and a pinch of black pepper. The greens will wilt quickly. Taste, reseason and serve!
Notes
For a creamy soup feel free to add ½ cup of coconut milk or stir in a couple of tablespoons tahini.