Christmas baker or a buyer?
To be honest, this Christmas I WISH I could just pay someone to bake for me. But finding someone willing to make vegan, gluten-free, oil-free health inspired baked goods? 
Laughable. 
I'm just back from Taiwan, suitcases quasi-unpacked and Christmas shopping barely begun.
What's first on my list? Baking!
Luckily, not all healthy or healthy-ish (let's be real) Christmas baked goods take forever to make…. these chocolate thumbprint cookies are a breeze and are cute to boot!
You have two options for these vegan cookies; Chocolate Thumbprint Cookies or Raspberry Thumbprint Cookies. The latter are made with raspberry chia jam, literally my jam! I put that sh*t on errything.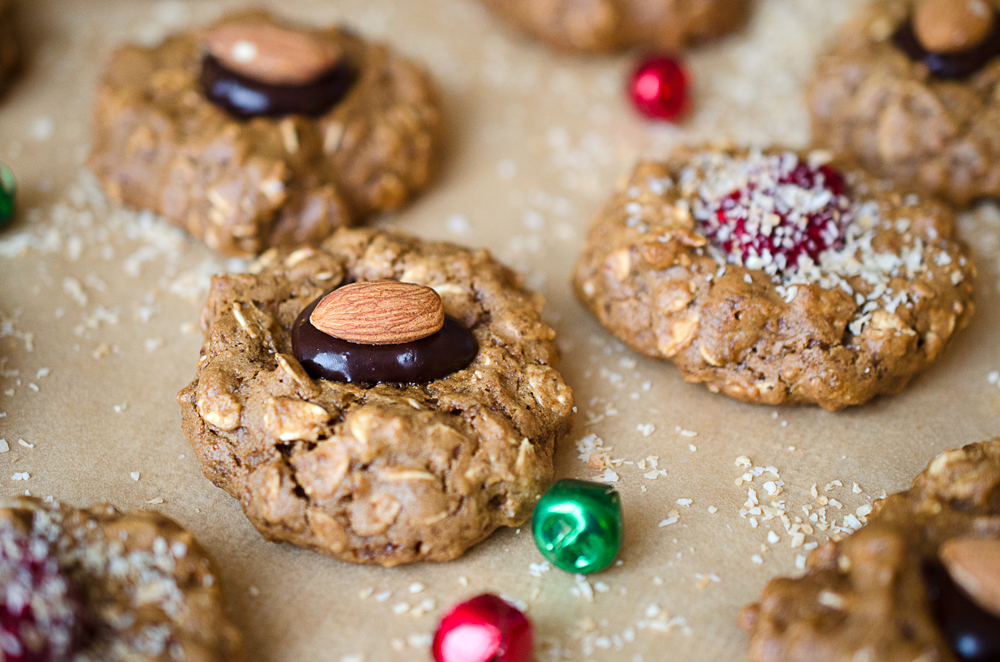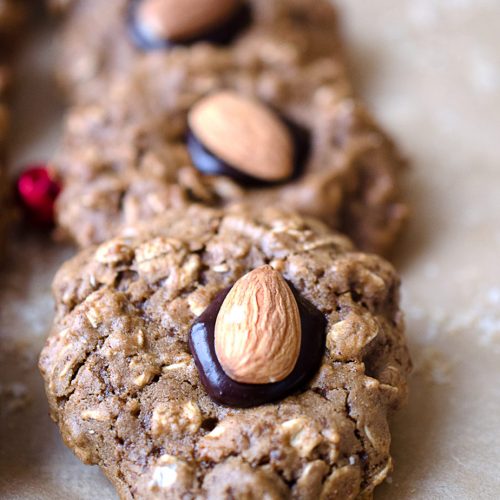 Vegan Chocolate Thumbprint Cookies
These chocolate thumbprint cookies are a breeze to make and are cute to boot! Oh, anddd delicious!
Ingredients
Dry

1

cup

brown rice flour

1

cup

old-fashioned rolled oats

gluten-free if needed

¾

cup

coconut palm sugar

¾

teaspoon

baking soda

¼

teaspoon

cinnamon

½

teaspoon

salt

Wet

½

cup

unsweetened soy milk

¼

cup

almond butter

sunflower seed or tahini for nut-free

½

teaspoon

vanilla extract

Chocolate Fudge Filling

¼

cup

unsweetened cocoa powder

2

tablespoons

maple syrup

2

tablespoons

soy milk

pinch

salt

Garnish

18

whole almonds

raw or toasted (goji berries or cacao nibs for nut-free)
Instructions
Preheat the oven to 350ºF and line a baking sheet with parchment paper.

Add the brown rice flour, oats, palm sugar, baking soda, cinnamon, and salt to a large bowl and mix well. Set aside.

Add the soymilk, almond butter and vanilla extract to a blender and blend until smooth. You can also use a handheld mixer or whisk by hand. Add the blender mix to the dry ingredients and mix using a spatula until all ingredients are well combined.

Scoop out a tablespoon of the cookie dough, shape into a ball and place on the baking sheet. Push your thumb down in the middle of the dough to create a little indentation. Repeat with remaining cookie dough. Bake in the oven on the middle rack for 14-16 minutes. They will look a little undercooked but will firm up once cool.

Meanwhile, mix all the chocolate fudge ingredients together in a small bowl until smooth and set aside (don't refrigerate, the mix will get hard).

When the cookies are done remove them from the oven and let them cool on the pan for 10 minutes. When they've cooled slightly press the center of the cookie again to make the indentation deeper as the cookies will rise slightly once baked. Transfer the cookies to a cooling rack and let them cool completely.

When the cookies have cooled completely, spoon 1 teaspoon of the chocolate fudge filling into the indentation. Garnish with an almond. Serve or refrigerate for up to 3 dates. Freeze to keep longer.