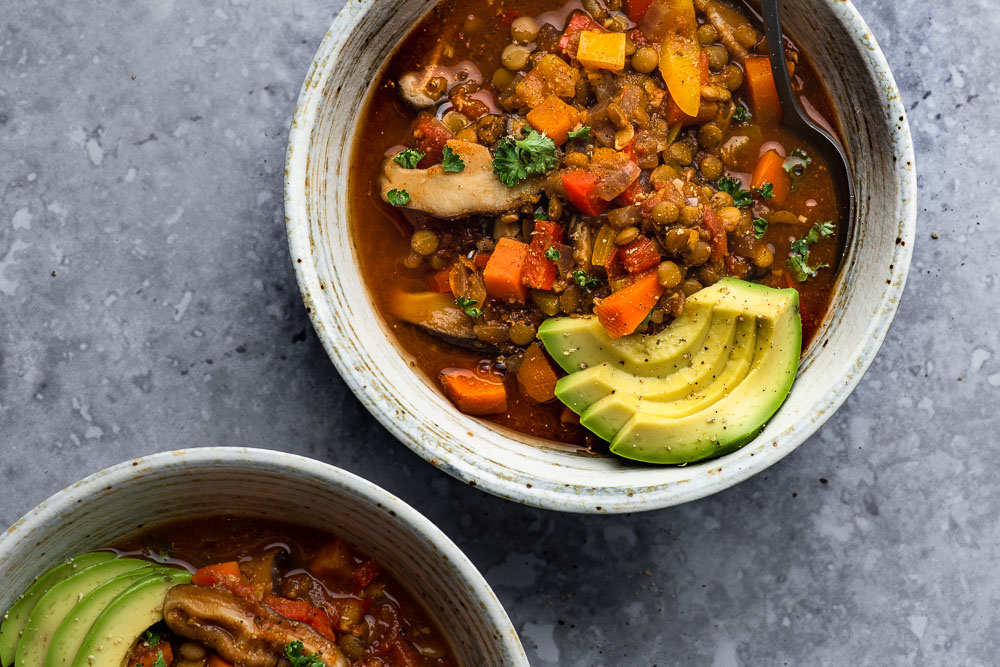 This one-pot vegan lentil chili solves your biggest beefs with chili (pun acknowledged… & maybe intended): TIME and CANNED BEANS. 
1) TIME! You have to soak and cook beans before making the chili. Often, not doable. Especially if time is an issue and isn't it always? 
What takes less time and the second issue… 
2) CANNED BEANS! Using canned beans and tomatoes saves time but makes your chili taste like, well … a tin can! I can taste metal on this kind of chili immediately but am also guilty of doing it.  
Of course, I rely on the occasional can of beans – I always have canned beans (ideally in BPA-free cans) in my cupboard for culinary emergencies. 
Unexpected guest hummus? Last-minute buddha bowl? That can of beans can save your butt and dinner in a pinch.  
But I try to use dried beans and make them at home as often as possible. It's cheaper and avoids the can dilemma.  
Cooking beans at home (chickpeas, black beans, navy beans, etc) is an easy three-step process – soak, discard soaking water, cook.  
BUT, and it's a BIG BUT, if you want to make bean chili after work on a weeknight, and you… 
Want to eat before 8 pm  
Don't have a buffet of beans already cooked in your fridge 
Would like to avoid using all canned everything
… then you were better off beginning your prep yesterday.  
Son of a black bean!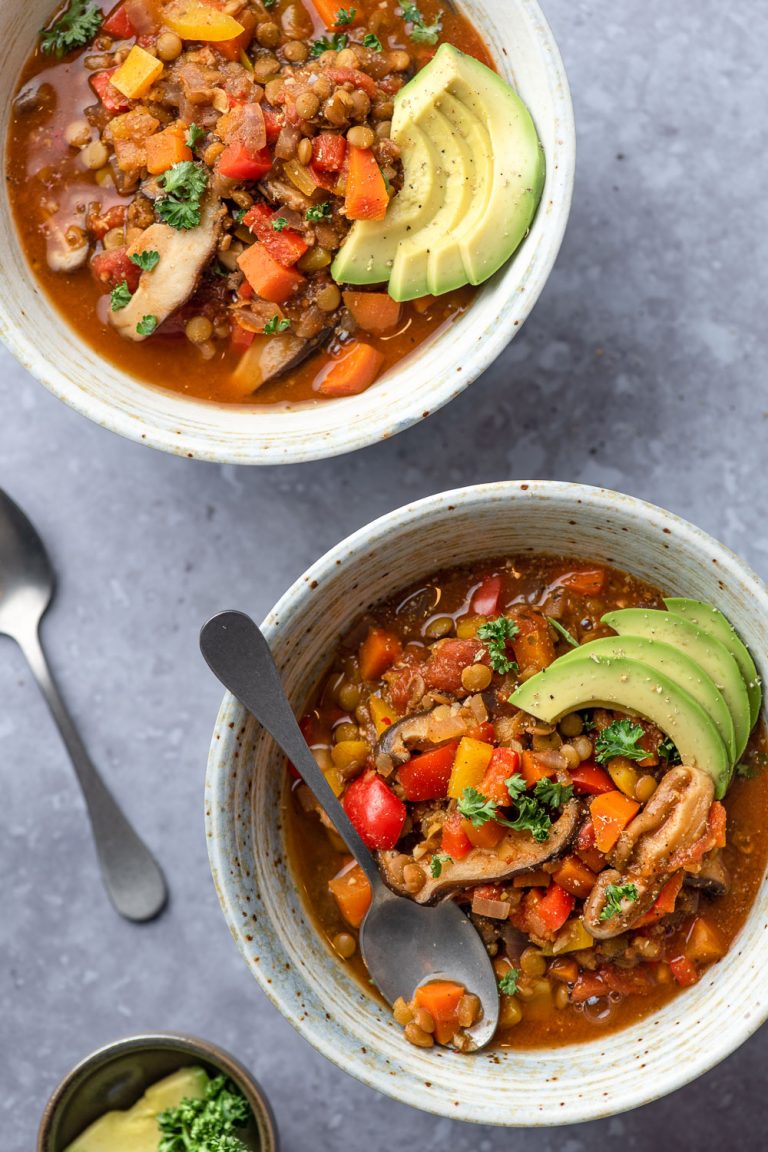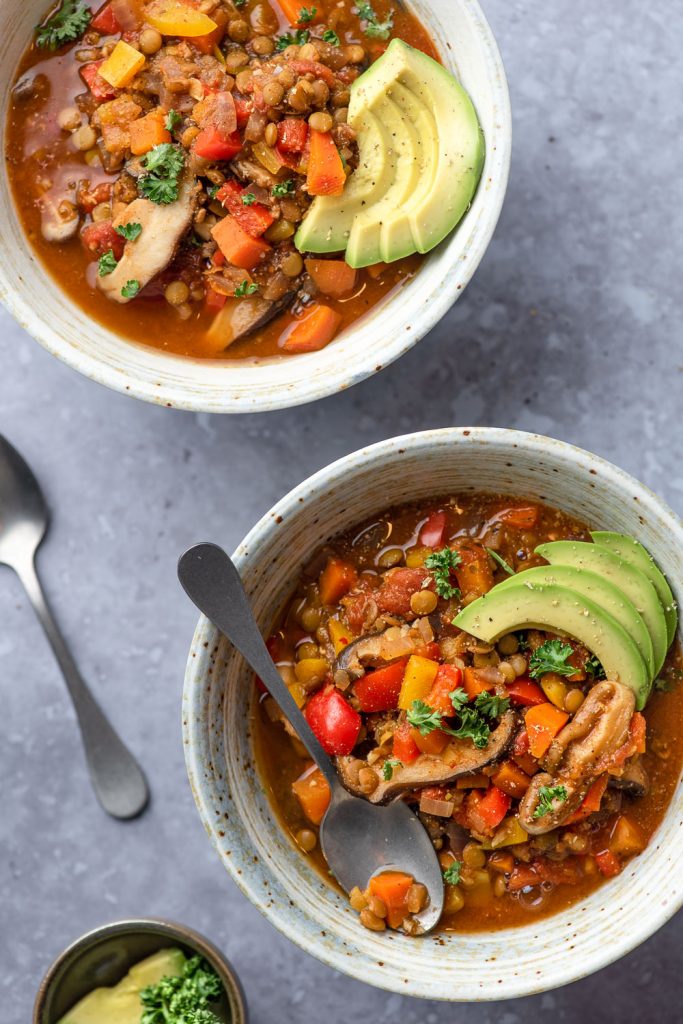 I'm picturing a range with multiple pots of simmering beans just to get your chili on?  
Even I would tap out of that mess any day of the week! 
So, what's the secret sauce (or bean) to making a need-tonight chili that everyone will love? 
LENTILS! 
Lentils are the key to saving time – they take about 20 minutes to cook and don't need to be pre-soaked.  
Best yet, you can just through dried lentils into your chili and they cook along with the veggies. No extra steps! 
AMEN! 
You'll make this lentil chili a weeknight-staple! 
It's bright with flavor and the mushrooms make it meat-y sans meat.  
You'll be satisfied without needing a post-dinner nap either.  
I remember when I was a kid, way before I knew my way around a kitchen, it was common to see everyone passed out on the couch in chili recovery mode. All those heavy, high-fat ingredients (cheese, sour cream, meat), were and are energy suckers. 
Unlike chili that knocks you out like a sedative, this chili is filling but light! Most importantly, it's healthy and delicious!
Recipe Recycle: Pour leftover, reheated chili over brown rice and another meal is taken care of. I think it's true – chili is amazing leftover! The flavors develop a little more so I encourage you to use the leftovers the same week to save even more time! 
Canned Tomatoes: Note that in this recipe I do use canned tomatoes. Ideally, I buy crushed tomatoes in glass bottles when I can find them but often good quality tomatoes in cans is what I use. If you're bottling your own tomatoes, you're such a rockstar. If you're using canned, I'm with you.
AND if you're using canned beans or lentils, hey maybe this is one of those nights where a can of beans does save dinner.
And if you only use canned beans, good for you for getting legumes in your diet! SO SO important! If you can fit cooking from dried in, bonus! No bean shame here just suggestions on how to bring healthy dishes to the next level!
Do what you can 🙂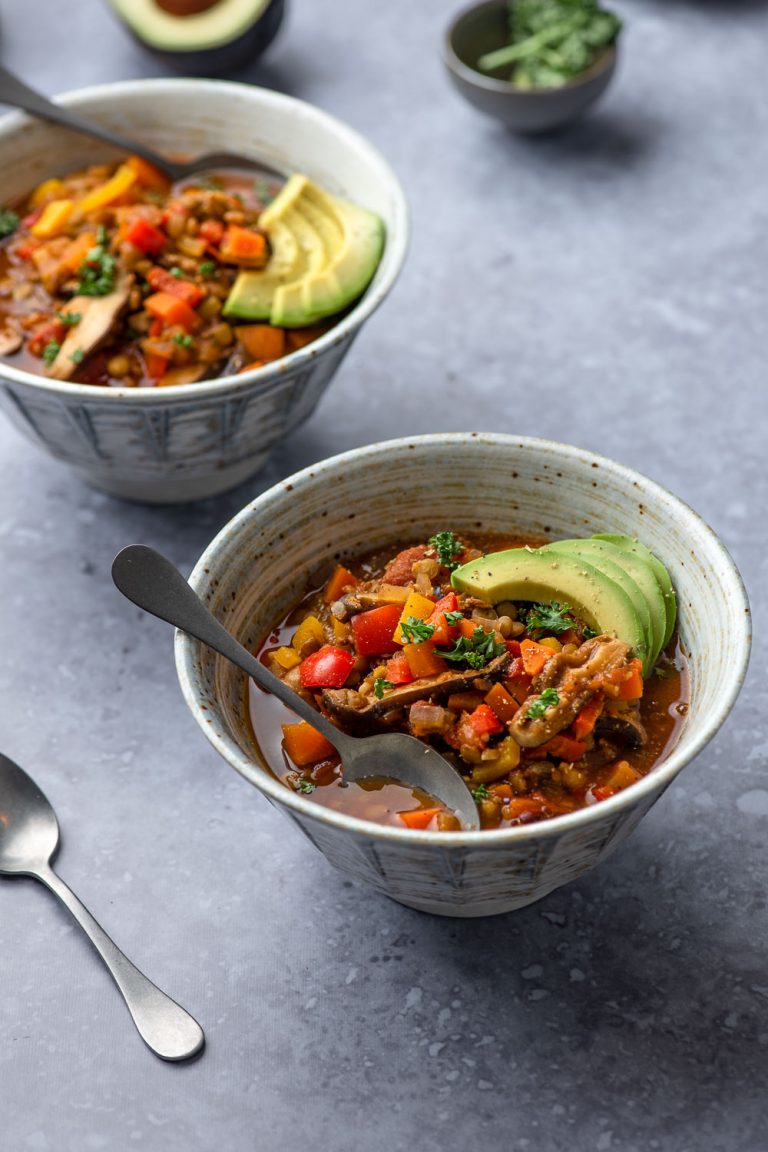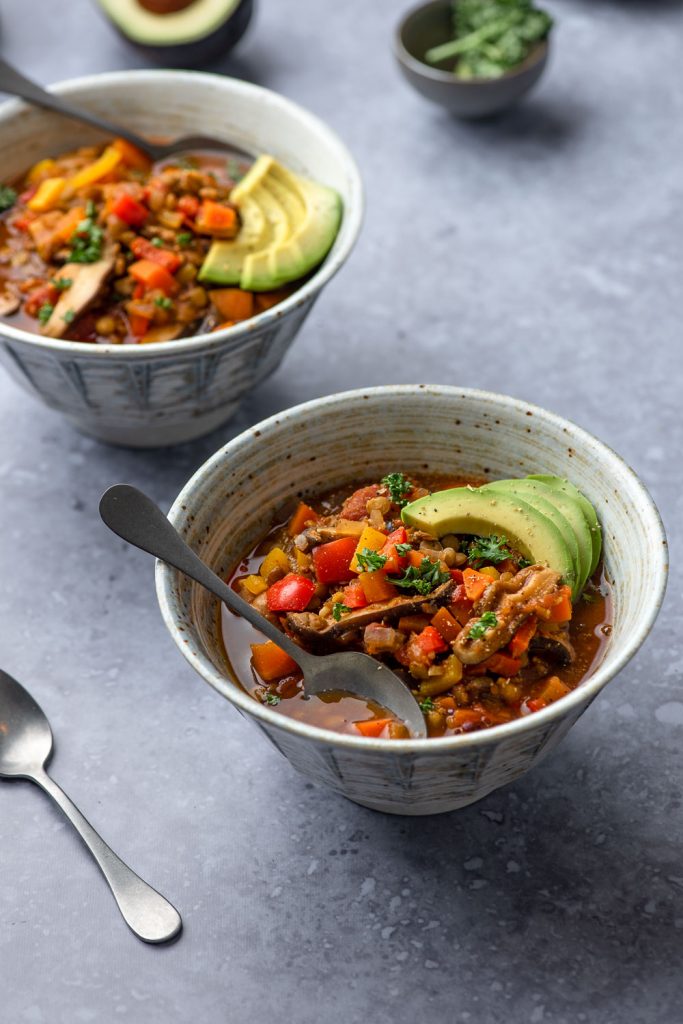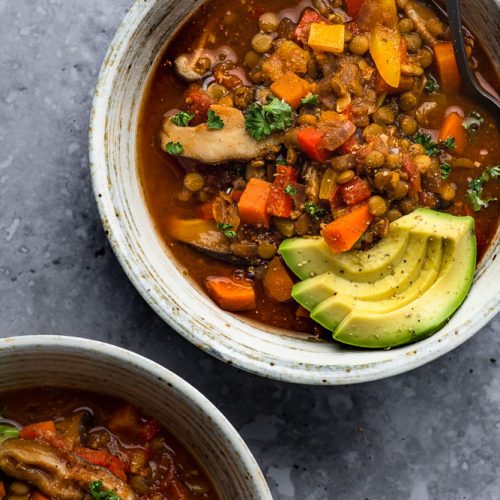 A quick and filling vegan lentil chili!
Ingredients
½

white onion

small diced (~1 heaping cup)

2

medium carrots

medium diced (~ 1 heaping cup)

5

garlic cloves

minced

1

red bell pepper

destemmed, deseeded and medium diced (~1 cup)

1

yellow bell pepper

destemmed, deseeded and medium diced (~1 cup)

3

cups

thinly sliced cremini or button mushrooms

~ 8 ounces mushrooms

1

tablespoon

ground cumin

1

tablespoon

ground coriander

1 ½

teaspoon

chili powder

¾

teaspoons

cinnamon

½

teaspoon

red pepper flakes

more if you like it spicy!

1

teaspoon

salt

1

cup

dried brown or green lentils

rinsed

4

cups

low-sodium vegetable broth

1

(28 ounce) can Italian style crushed or diced tomatoes (use regular if you can't find Italian)

Optional Garnish: 1 avocado

diced, fresh cilantro

Salt and pepper to taste
Instructions
Sauté the onion and carrot in a 4-qt stockpot with ¼ cup of water for 5-7 minutes or until the onions begin to soften. Stir occasionally to prevent sticking.

Add the garlic, both bell peppers, mushrooms, lentils, and all the spices and salt. Stir together and continue to sauté for another 3-4 minutes. Add more water if needed to prevent burning, 1 tablespoon at a time.

Add the vegetable broth and tomatoes. Stir and partially cover and simmer for ~35 minutes or until the lentils are tender and the chili has thickened. Taste and re-season with salt and pepper. Divide among bowls and garnish with chopped avocado and/or cilantro (if using)
Notes
Be sure to rinse and sort through the lentils to remove any pebbles or misshaped and discolored lentils.
Chili is always good leftover – it gives all the flavors a chance to deepen! Serve leftover chili on top of baked potatoes! This is how I recycle chili every time I make it!