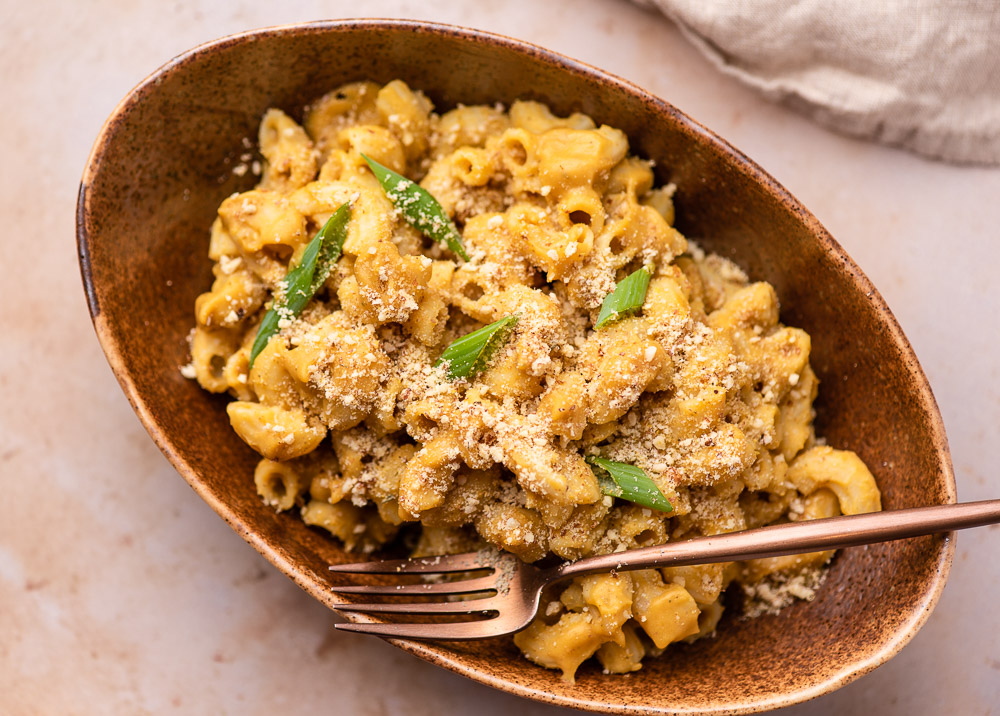 This is the easiest vegan Mac and cheese. It's also the cheapest to make and is cashew-free with a completely nut-free option. 
This recipe is dedicated to my friend Erin who went plant-based initially because she was diagnosed with rheumatoid arthritis and not only has it improved her symptoms and reduced her meds but she is feeling healthier and loving her food more than ever. 
However, her son was just diagnosed with a cashew allergy. She, like me, is a fan of cashew sauces and puddings and cheeses. But she has to work around it.
So because vegan and nuts are often hard to separate, I want to offer up a creamy, comforting dish to all of you nut-free plant-based foodies. 
This version is inspired by my mom's mac and cheese. We used to beg her to make it for every special occasion. 
Whenever my sisters and I got to choose what was for dinner, whenever one of us came home from away, to celebrate birthdays, to applaud good grades (or to ease the blow of bad grades) my mom made her famous mac n'cheese. 
I remember her grating massive blocks of bright orange cheddar and simmering milk on the stove. She would crunch up chips or crackers to out on top. There wouldn't be a crumb leftover.
I haven't had that mac and cheese in about 10 years. 
And, I don't miss it!
Once I gave up cheese I thought for sure I would have night sweats about missing my favorite dish. I hesitated at the plant-based start line because I was terrified I would bail halfway through and run right towards my mom's pot of mac n' cheese. 
Have you been there or maybe you're there now? 
I polled some of my plant-based friends and they agreed – giving up cheese seemed daunting. 
The truth is though that the thoughts of missing cheese are the worst part. Like many unpleasant things in life, the thoughts of giving up cheese are worse than the actual experience.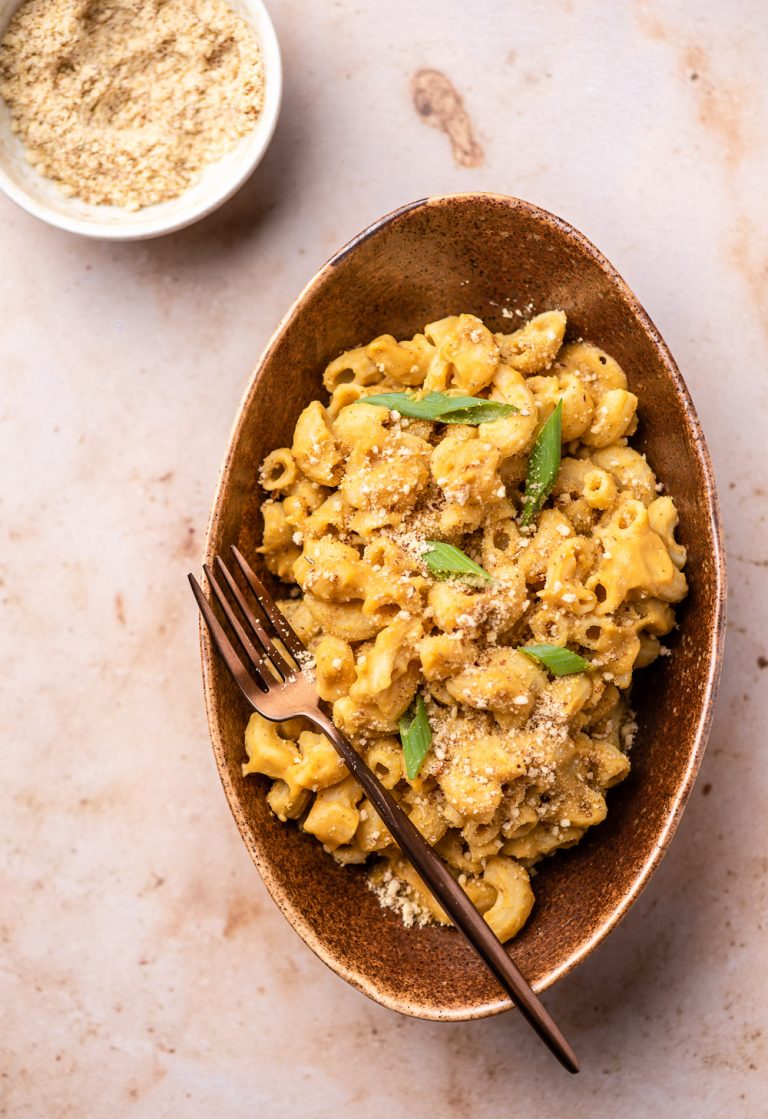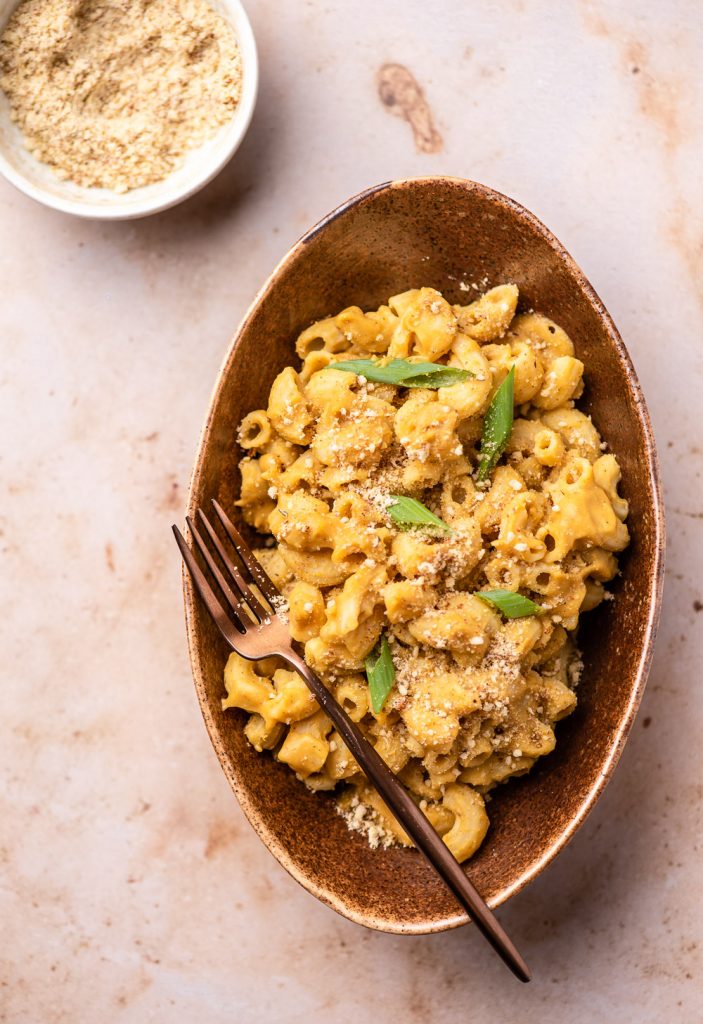 Mom still made mac and cheese for all those special occasions but I skipped it and had the salad instead.
And then I was like "enough of this sh*t, I'm making my own". And so it was. 
I've tried and still make cashew cheese mac and cheese, butternut squash mac and cheese, nutritional yeast cheese mac and cheese.
And honestly, they are all delicious but this version is the one I go back to most often because it's the easiest and cheapest to make! And I like that it's nut-free.
It's so easy to go a little nuts with all the nuts when you switch to a plant-based diet.
I'm sure a lot of you vegans feel me. Like cashew everything. I realized about a year into my plant-based lifestyle that I was going way overboard. Sure cashews are good for you, but too much of anything is not a good thing.
The whole plant-based transition was initially inspired by my desire to keep my MS in check. Another part of taking care of MS was reducing my saturated fat. So too many cashews wasn't ideal and I had to cut back.
With the desire to reduce my cashew consumption and the ambition to rival my mom's classic dish, I started experimenting. 
This version is made "cheesy" with cooked sweet potato, nutritional yeast and some key flavoring, easy-to-find,  ingredients. 
It's delicious. It's healthy. And my mom loves it too!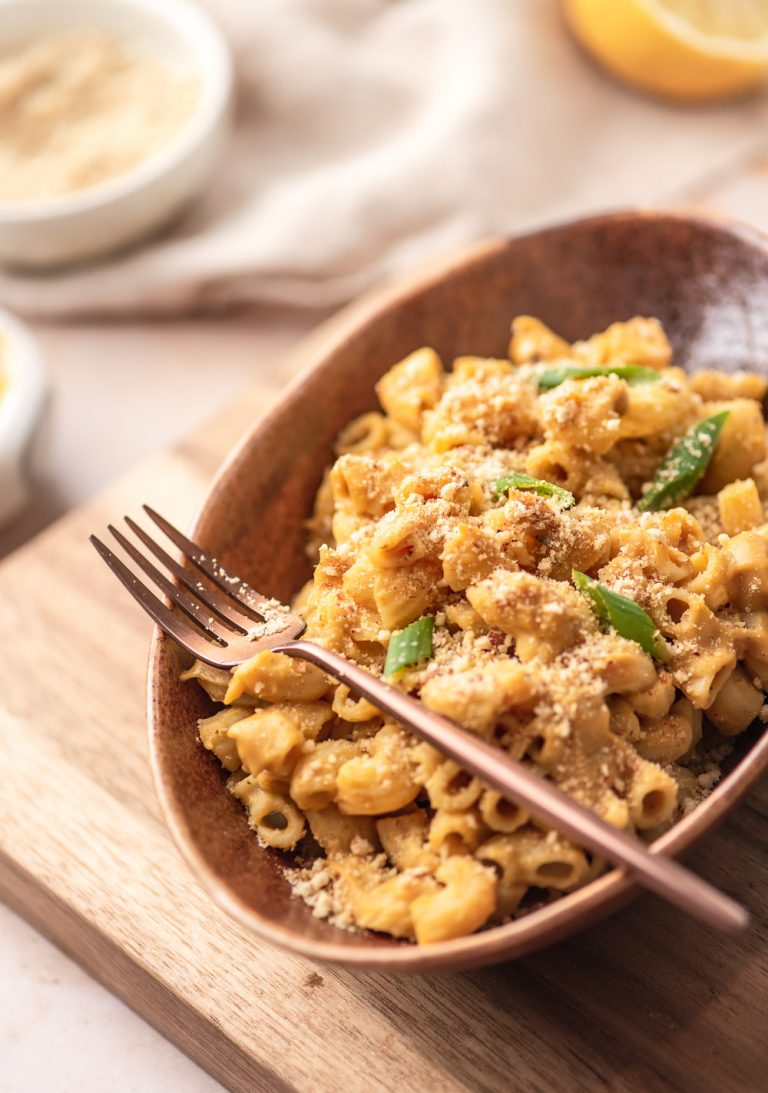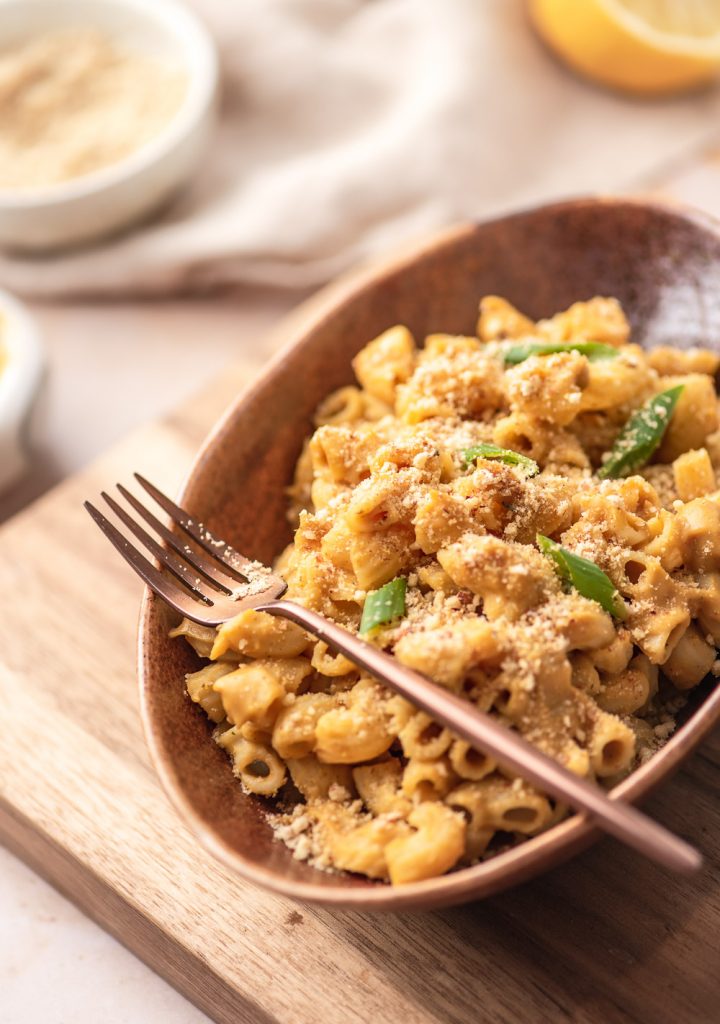 Where to find gluten-free pasta? This is a common supermarket find these days. I used to hunt this down and buy every last box. I was a pasta hoarder. Now you can get it in almost every health food store and organic grocery aisle. You can also find it in the regular pasta aisle in some stores. 
I would suggest whole brown rice pasta or quinoa pasta. Pasta derived from beans are becoming popular but their texture won't compliment this recipe very well. If you're hell-bent on an alternative, I would suggest red lentil pasta. 
And if gluten isn't an issue, go ahead and use whole wheat pasta.
Where to find nutritional yeast? At bulk food stores, health stores and the organic or health food aisle!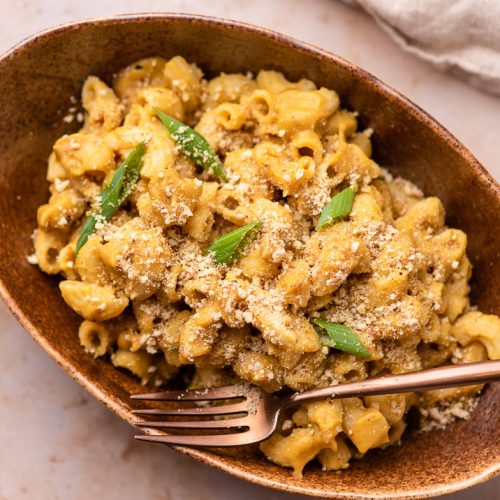 Vegan Mac and Cheese (with nut-free option)
This is the easiest vegan Mac and cheese. It's also the cheapest to make and is cashew-free with a completely nut-free option. 
Ingredients
Sauce

2½

cups

diced sweet potato (peel on or off)

~ 1 large or 2 small sweet potatoes

1

cup

unsweetened almond milk or soy milk

plus more if needed

6

tablespoons

nutritional yeast

1

tablespoon

lemon juice

2

teaspoons

tamari

or soy sauce if not gluten-free

2

teaspoons

Dijon mustard

1

teaspoon

garlic powder

½

teaspoon

dried thyme

½

teaspoon

onion powder

½

teaspoon

Himalayan or sea salt

Pasta

1

pound

brown rice macaroni

or other macaroni pasta if not gluten-free

1/4

cup

Almond Parmesan

omit for a nut-free option

Optional additions: 2 cups cooked chickpeas
Instructions
Add the sweet potatoes to a medium pot of salted water and bring to a boil. Once the water is boiling, reduce to a rapid simmer and simmer for 7-10 minutes, until the sweet potatoes are tender and easily pierced with a fork. Drain the potatoes and add to a blender.

Add the remaining sauce ingredients to the blender and blend on high until completely smooth. Add more almond milk, one tablespoon at a time, as needed to achieve desired consistency. You want the texture to be something like a loose pudding. Set the sauce aside.

Bring a large pot of salted water to a boil, add pasta and cook according to directions. I used gluten-free macaroni which called for a cooking time of 8 minutes. Once cooked, drain the pasta rinse it with water and return it to the pot.

Add about half sauce and stir. Add a ¼ cup of Almond Parmesan (from The Plant-Based Cookbook), stir again and add as much additional sauce as desired and mix well. I like mine creamy and add most of the sauce. Divide among bowls and top with additional vegan parmesan.