Perfect Tofu and broccoli
Most of the time I make simple meals, like this sheet-pan broccoli and tofu.
It's how I like to eat. I focus on a couple of vegetables, a grain or plant protein (or both), and a sauce. I talk about this a lot in The Plant-Based Cookbook when I introduce you to the "How To Make a Bowl" section. 
A few weeks ago I made a sheet-pan broccoli and tofu that was just so delicious that I made note of what I did. And I made it again, and again. 
So here it is for you! Because I think you'll like it too.
Everything goes on a baking sheet and into the oven – first the tofu then we add the broccoli – and while the oven is doing the work, we whisk together a 5-star sauce. 
The sauce, which I totally encourage you to double up on so you can use leftovers on grains or in a salad, is versatile in that you can use your preferred nut or seed butter. I usually use tahini or almond butter, but you can also use an all-natural peanut butter if that's in your diet. 
This sheet-pan broccoli and tofu can easily serve 3 but Bernard and I usually split it because we love both broccoli and tofu. And we're gluttons. 
I hope you enjoy this easy, healthy, super delicious plant-based recipe. Happy cooking! 
If you want more tofu recipes, try this Creamy Tofu Curry.
Here are some tips about tofu
Buying tofu:
Check the expiration date and look for a tofu package that is well within the expiration date.
Choose firm or extra-firm tofu if you want it to hold its shape when cooked or used in a recipe.
Keep it in the fridge (until the expire date) or even in the freezer for up to a month (you can freeze longer but this is my personal guideline).
Preparing tofu:
Pressing tofu: This is always optional in my mind and I skip pressing often. But here's how to do it if you're interested. Wrap the block of tofu in a clean dish towel and put a weight on top, like a cutting board with some canned food. This helps to remove excess water and helps the tofu hold its shape when cooking. Press the tofu for anywhere from 15 to 30 minutes then unwrap it and it's ready to use.
Marinate tofu: Tofu is like a sponge, so it will absorb whatever flavours you marinate it in. You can use your favourite marinade or try a simple mixture of soy sauce, garlic, and ginger.
Cooking tofu: You can grill, bake, steam, or sauté tofu, depending on your preference. For example, try stir-frying cubed tofu with vegetables and your favourite sauce for a quick and easy meal (try this Tofu Teriyaki) or bake it in the oven like with this sheet-pan broccoli and tofu recipe.
Use tofu in place of meat: tofu is a great source of protein, and you can use it in place of meat in many recipes like stir-fries, tacos, salads! But it has even more versatility and can be used to make a vegan scrambled eggs like this Mexican Tofu Scramble and you can even use it to make Feta Cheese. 
Get creative! You can blend tofu, process it, pull it apart with your hands. It's very forgiving and easy to manipulate. 
There are a lot of different types of tofu so I know it can be a little confusing to keep it straight. Here is a quick and basic summary of the most popular types of tofu. 
Regular tofu: This is the most common type of tofu, made from coagulated soy milk that has been pressed into blocks. It has a soft texture and can be used in a variety of dishes, such as stir-fries, soups, and salads.
Silken tofu: Also known as Japanese-style tofu, silken tofu has a smoother and creamier texture than regular tofu. It is often used in desserts (like this Chocolate Pudding), smoothies, and sauces.
Firm tofu: This type of tofu is denser and has a firmer texture than regular tofu. It holds its shape well and is often used in dishes that require slicing or grilling. This is the tofu I use most often.
Extra firm tofu: This tofu has an even denser texture than firm tofu, making it ideal for dishes that require a lot of handling, such as skewers or kebabs. I interchange extra firm and firm all the time.
Tofu skin: Also known as yuba, this type of tofu is made by lifting a film that forms on the surface of heated soy milk. It has a chewy texture and is often used as a wrapper or filling in dim sum and other dishes. It's really popular here in Taiwan too. But I'm not a huge fan!
Flavoured tofu: Some tofu is flavoured with ingredients like garlic, ginger, or herbs to add more flavour to dishes. These types of tofu can be found in a variety of textures, from soft to extra firm. I usually avoid flavoured tofu as it generally has added oils and sugars.
Organic and Sprouted: Whenever I can find organic tofu or sprouted (which is almost always organic) I buy it! Sprouted tofu can be easier to digest and the nutrients are easier to assimilate. My favourite brand is Sol.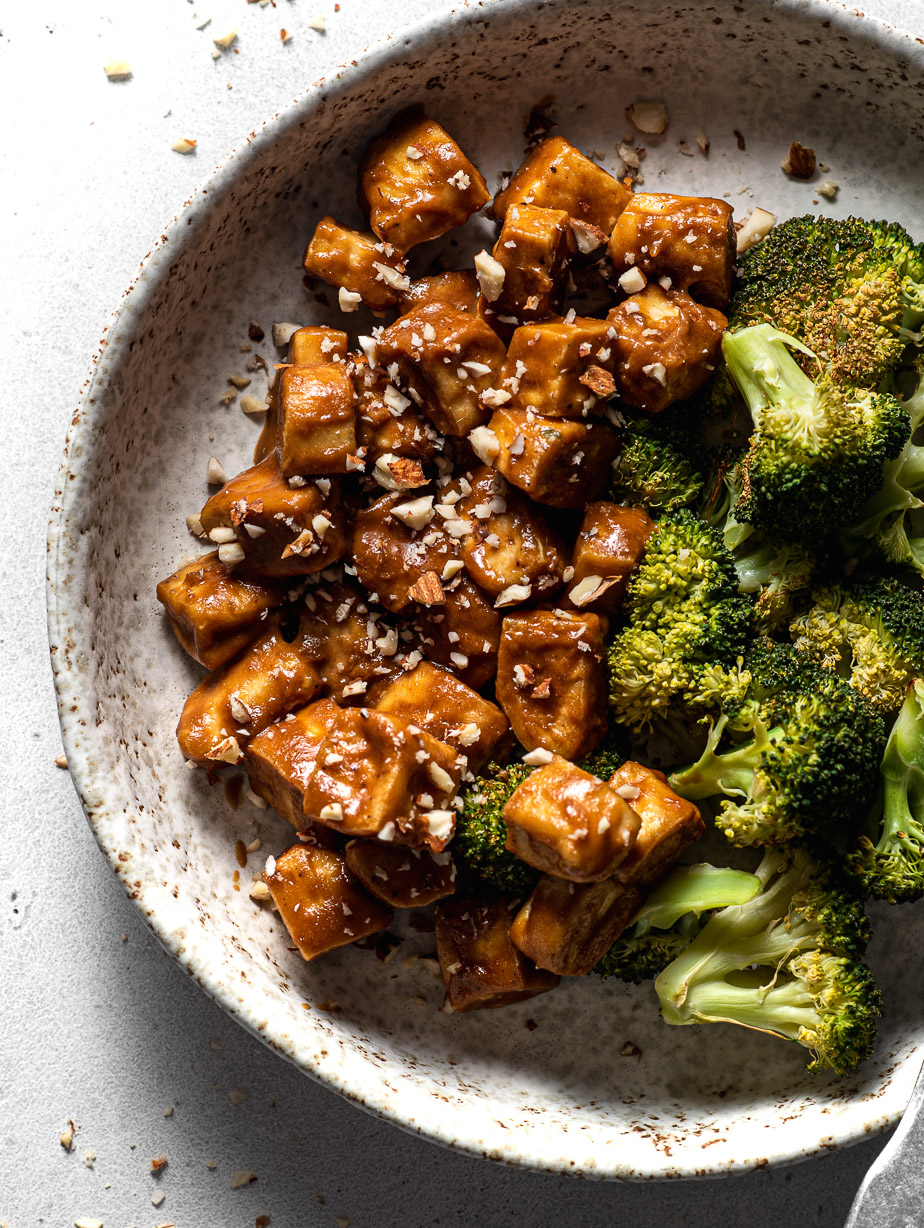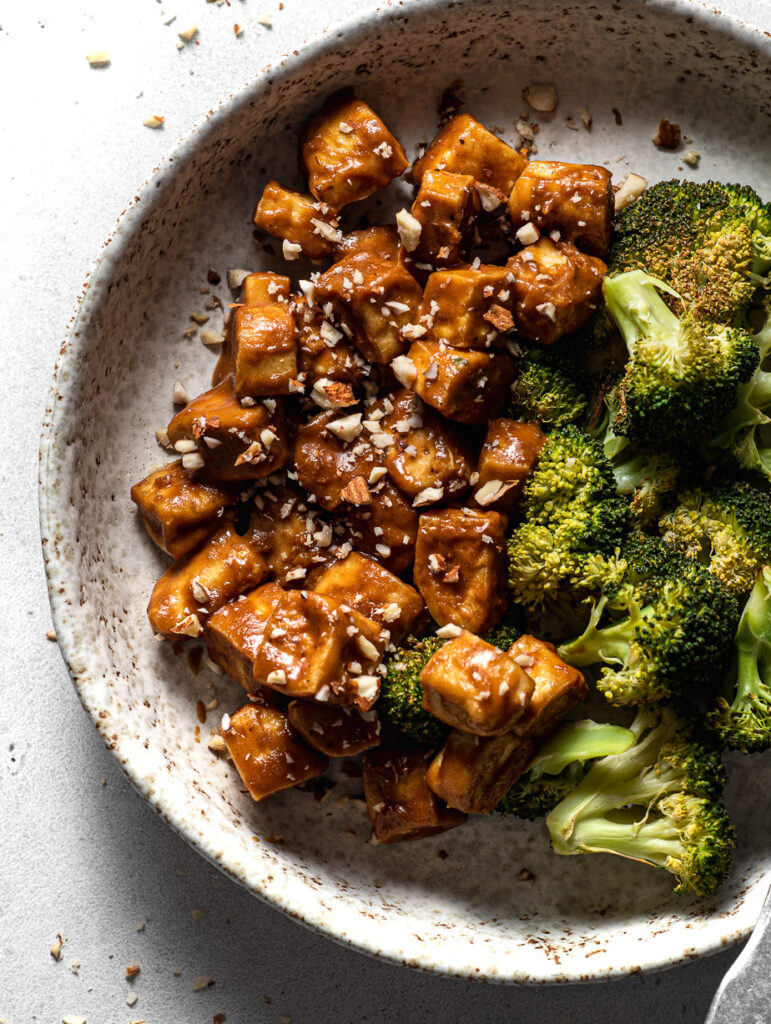 …for sheet-pan broccoli and tofu
Firm tofu

Arrowroot starch or brown rice flour

Sea salt

Black pepper

Broccoli

Chopped almonds or peanuts or sesame seeds

Tahini, almond butter, or peanut butter
Low-sodium tamari

Lime juice

Maple syrup

Garlic

Ginger

Vinegar-based hot sauce (optional)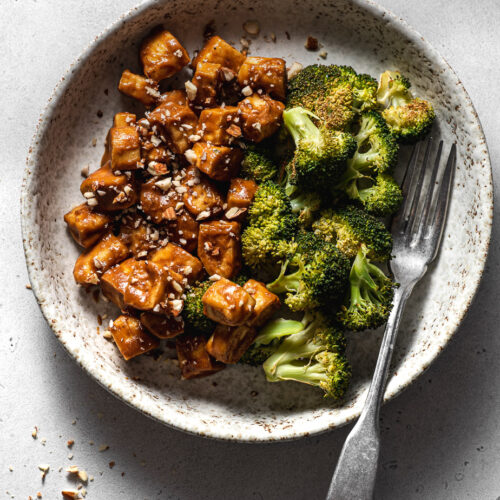 Sheet-pan Broccoli and Tofu
This is a quick 30 minute meal with a lot of flavor and even more nutrition!
Ingredients
1

(14 ounce [400g]) block firm tofu,

drained

1

tablespoon

(9 g) arrowroot starch or brown rice flour

¼

teaspoon

sea salt

Several grinds black pepper

2

heads broccoli

Handful of chopped almonds or peanuts or a good spoonful of sesame seeds

pick to match the butter you use in the sauce
Sauce
3

tablespoons

(~45 g) stirred tahini, almond butter, or peanut butter

*

2

tablespoons

(30 ml) low-sodium tamari

2

tablespoons

(30 ml) fresh lime juice

2

teaspoons

(10 ml) maple syrup

1

garlic clove

minced

½ to 1

teaspoon

peeled and finely grated ginger

(I like more ginger so use 1 teaspoon)

Vinegar-based hot sauce

, optional and to taste

Water

, if needed to thin
Instructions
Preheat the oven to 400ºF (200ºC) and line a large baking sheet with parchment paper.

Give the tofu block a squeeze over the sink to remove excess water (I prefer to skip the 'pressing tofu' step). Then cut it into ¾-inch (2-cm) cubes and place in a medium bowl. Sprinkle the arrowroot starch or brown rice flour, salt and pepper over the tofu and toss to coat. Distribute the tofu on the baking pan and bake for 10 minutes.

Meanwhile wash and cut the broccoli into 1-inch (2.5-cm) florets.

After the tofu has been in the oven for 10 minutes, take it out, push it to one side of the pan, redistributing into one layer, and spread the broccoli florets out on the other side. Place the pan back in the oven and continue to bake for another 20 minutes or until the tofu is firm and golden and the broccoli is just beginning to brown.

While the tofu and broccoli are in the oven make the sauce. Place the tahini or nut butter of choice in a small bowl and whisk together with the tamari, lime juice, maple syrup, garlic, ginger, and hot sauce if using. Mix until creamy. If the sauce is more stiff than pourable, add water, 1 teaspoon (5 ml) at a time, and mix until smooth and creamy.

When cooked, transfer the tofu to a large bowl and toss with the sauce. I like to add about half the sauce and toss and then keep adding until all the tofu is covered. Or I'll save the other half and drizzle it on the broccoli or save for later.

Divide the saucy tofu and broccoli among plates and garnish with chopped nuts or seeds. If I use tahini in the sauce, I'll use sesame seeds or if I use almond butter I'll use chopped almonds.
Notes
If your tahini is more loose than thick (remember to stir your nut and seed butters well before using), you may have to use an additional tablespoon of tahini (for a total of 4 tablespoons) to get a thick and creamy consistency. 
You can also reduce the tahini 2 tablespoons for a lighter sauce. If you do this, I would also reduce the tamari by half.
For a lower sodium option be sure to use low sodium tamari or even replace 1 tablespoon of tamari with water.