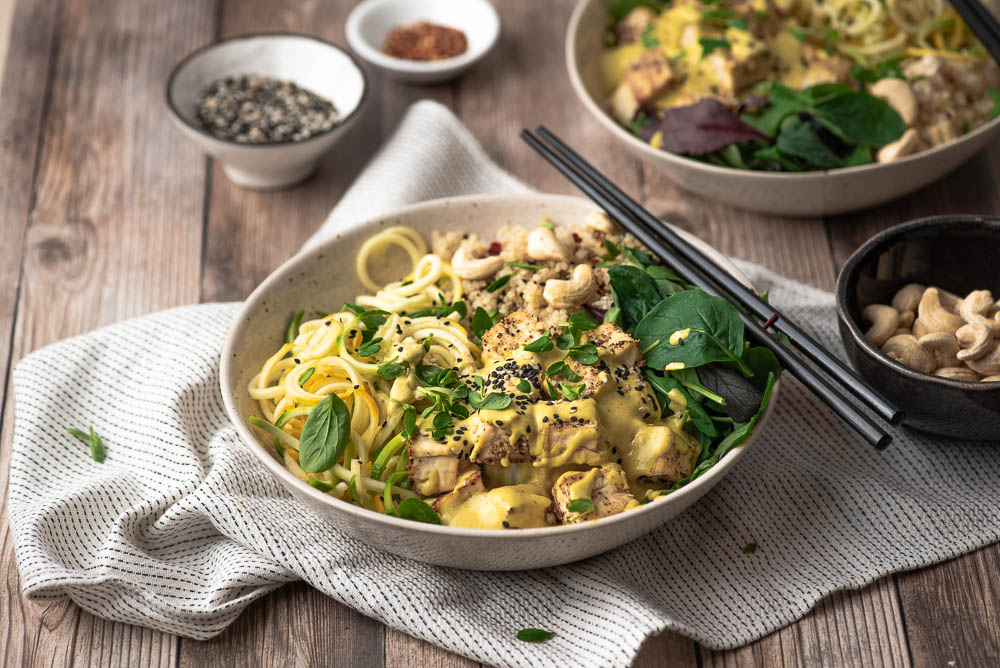 My cravings led me to this easy vegan curry tofu bowl. But the word curry…thoughts? 
Do you think 'delicious, flavor, spice'? 
Maybe you think 'not for me, not my thing'? 
I ask because I used to me someone who thought that I didn't like anything "curry'. 
It's because all the flavors were so foreign to me. I grew up on Cheez Whiz and french fries so anything with actual flavor from real herbs and spices was unfamiliar and unappealing.  
Fast forward twenty years or so and now curry anything catches my attention – I know I'm bound to love it.  
Curry: a variety of dishes originating in the Indian subcontinent that use a complex combination of spices or herbs, usually including ground turmeric, cumin, coriander, ginger, and fresh or dried chilies. 
I pulled this definition directly from Wikipedia just to make sure we're all on the same page. 
Note that curry includes a variety of dishes…there are many plant-based options based on different vegetables, grains and legumes. And in addition to the individual spices, you can also buy curry powders which are a mix of these spices. Some curry powders are mild and some are spicier. 
I love curry flavor profiles and I use them in soups, stews, sauces and salad dressings. I think there will be a wave of curry-ness to come in my recipes. I'm in a curry mood for sure! 
So other than hoping you'll try this curry tofu dish because it's tasty and easy, below are my top three reasons why you should get your curry on!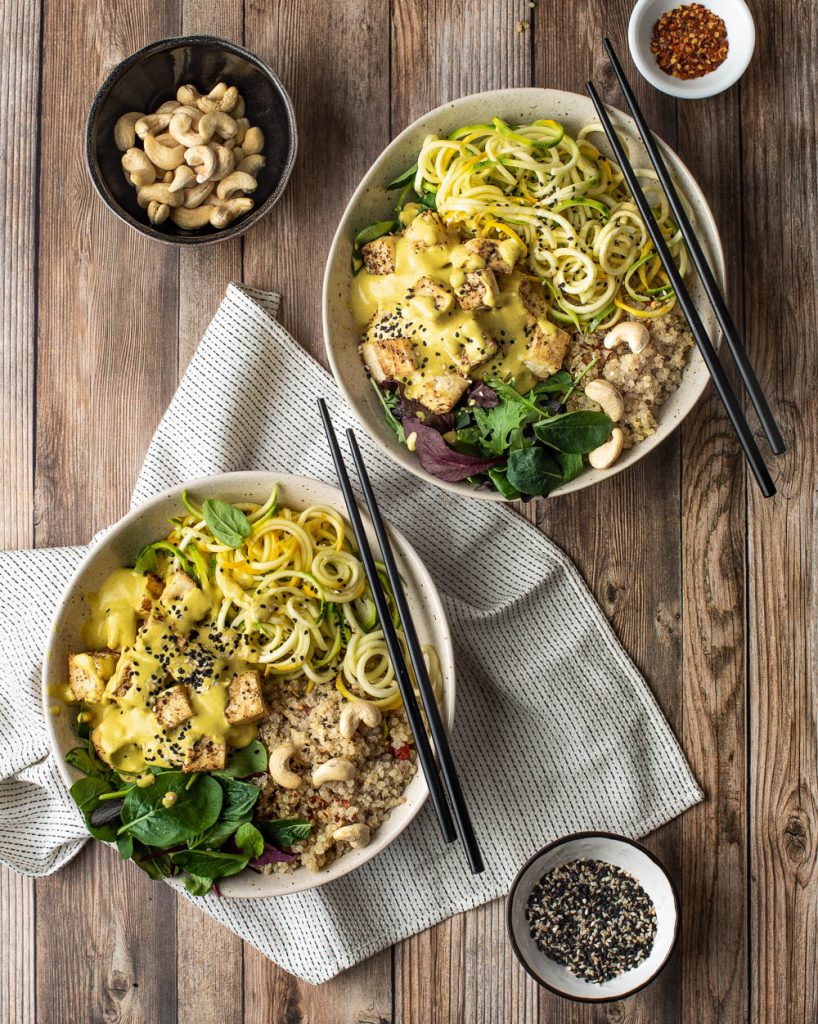 Reasons to love curry dishes including this curry tofu bowl:
Anti-inflammatory
I know this is a trendy food word right now but spices used in curry dishes are so incredibly good for you. Turmeric and ginger are especially impressive. They have rightfully so reached superfood status – they act together to decrease inflammation in the body and are being studied for their anti-cancer properties as well as a host of other benefits.  
When I think curry I also think health-supportive. I could make a separate health benefits list for spices, especially those used in this type of cuisine, but just know they are good for you! 
Flavor
We have a thing for intense and flavorful dishes around here. Spices used in curry dishes like cumin, coriander, cinnamon, and red pepper flakes are so tasty! You don't have to add too much of anything else to get a big punch of flavor.
Now if you like milder, more mellow flavor, that's not a problem, just look for mild curry powders or use less spice. In fact, I love a mellow, creamy curry sauce with just a hint of spice!   
Cheap
Spices are generally affordable and they can easily turn a plain rice dish into something interesting and delicious. I like to buy mine whole and grind them myself but ground spices are now widely available. Check your bulk-food store! 
NOTE: I'm gushing on all the health associated with curry recipes with the exception of bottled curry sauces. These usually have a lot of artificial ingredients and processed oils. You definitely don't need to buy curry pastes or premade sauces to get that curry flavor!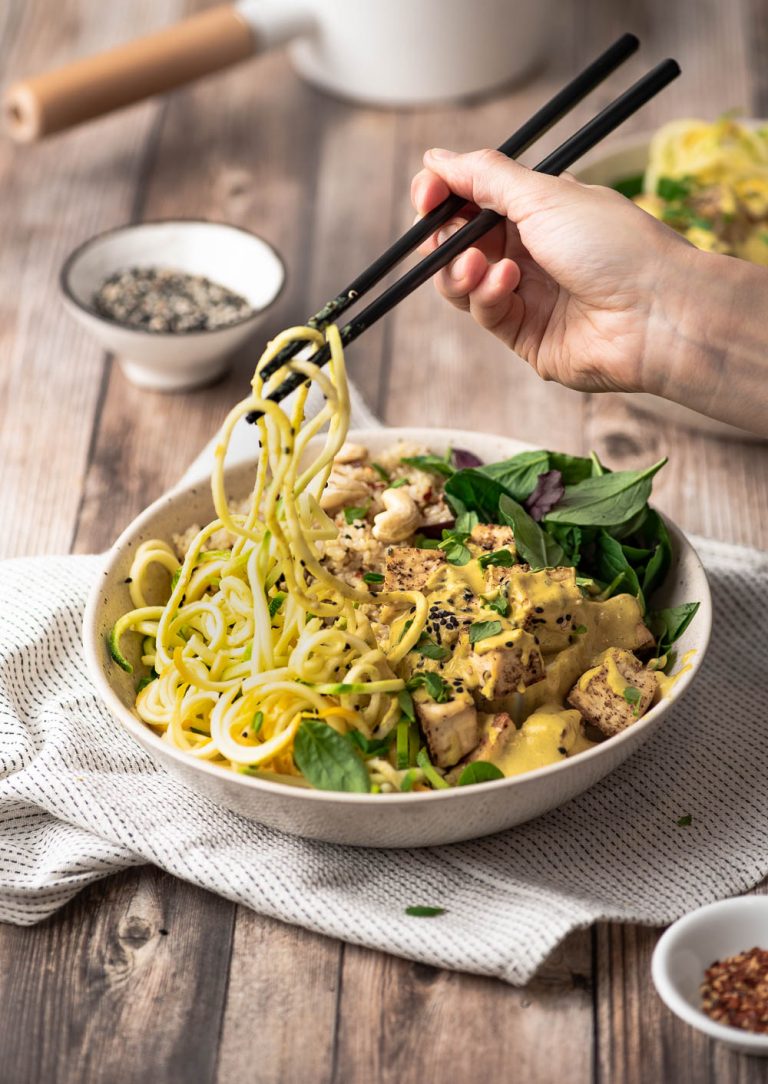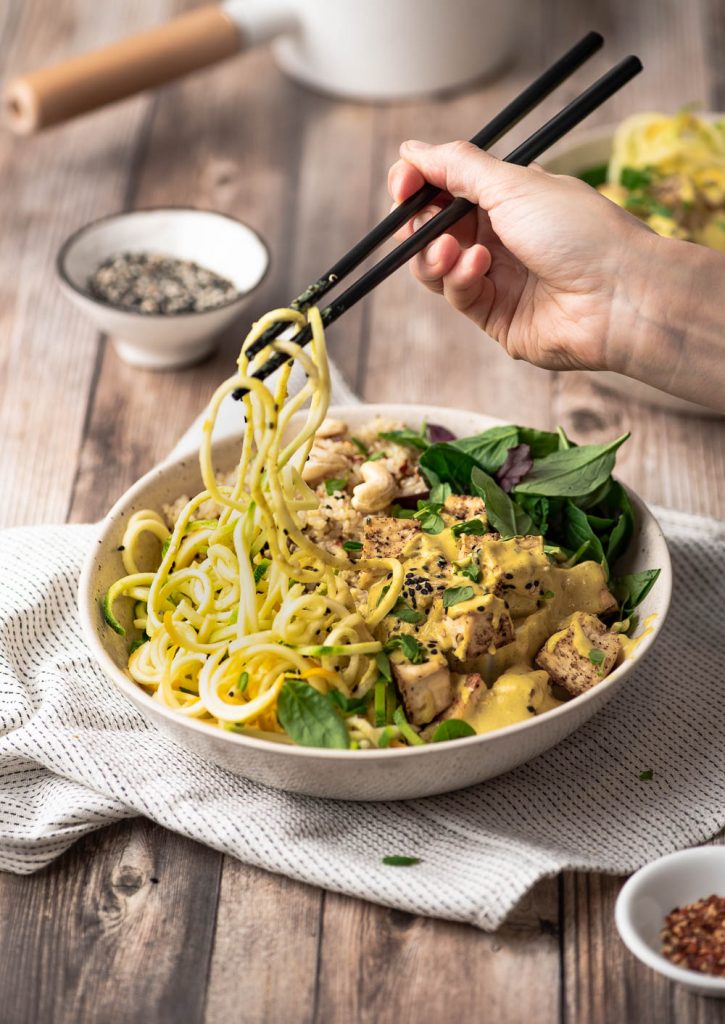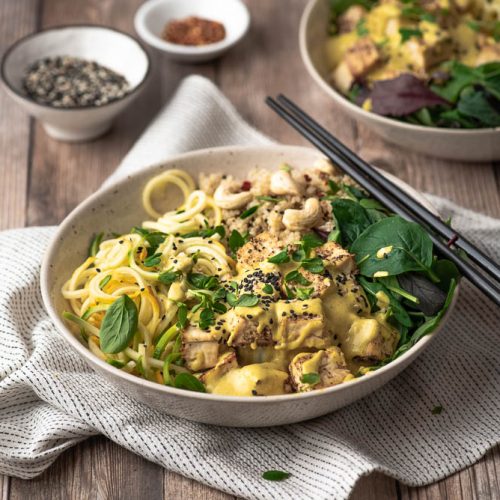 Tofu Curry with Quinoa and Zoodles
My cravings led me to this easy vegan curry tofu bowl. It's high in protein and anti-inflammatory phytonutrients!
Ingredients
1

(12-14 oz/340-397 g)

package extra firm tofu

3

medium-large zucchini

1

cup

dry quinoa

(dry=uncooked)

Cashew Curry Sauce

½

cup

raw cashews

soaked in water for 1-4 hours

1

cup

unsweetened plain almond milk

(or unsweetened soy milk)

2

teaspoons

curry powder

1

teaspoon

arrowroot starch

¾

teaspoon

garam masala

½

teaspoon

turmeric powder

1

garlic clove

½

inch

knob of ginger

½

teaspoon

sea or Himalayan salt

2

tablespoons

lemon juice
Instructions
Drain the tofu, wrap in a clean dishtowel and lay a weighted object on top (like a pot or plate) and let sit for 15-20 minutes. Cook the quinoa according to directions. Keep covered and warm on the stove once cooked.

Preheat to oven to 400°F and line a baking sheet with parchment paper. Set aside. Unwrap the tofu and dice into 1-inch cubes and transfer the tofu to the parchment-lined pan. Season with salt and pepper and bake for 25 minutes or until the tofu is browned and firm.

Meanwhile, make the cashew curry sauce. Drain the cashews and add them and all other sauce ingredients to a blender. Blend on high until smooth. Transfer to a medium-sized pot and set aside

Cut the zucchini into spirals or julienned strips using a julienne peeler or a spiralizer, set aside.

When the tofu is just about done, warm the curry sauce on low heat, stirring until it thickens a little (do not boil!). Then add the tofu to the sauce and toss.

Now assemble your bowl! Divide your bowls into three sections made up of the quinoa, zucchini and curried tofu. Garnish with sprouts, cashews, sesame seeds and/or green onion.
Notes
Don't soak the cashews longer than 8 hours or they will develop a bitter taste.