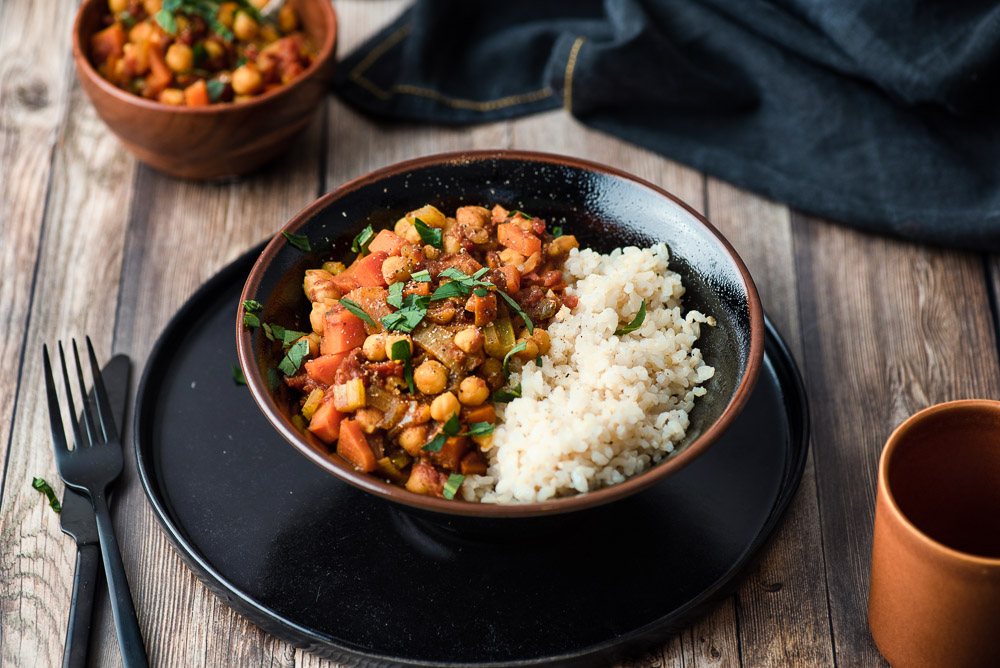 The ideal weeknight recipe for me must be made in less than 1 hour and usually involves cooking one 'main' component and then adding cooked or leftover grains and steamed veggies. 
I made these moroccan chickpeas in about 30-40 minutes  (I had cooked chickpeas the day before, but you can use canned) and then cooked some rice and served with a small salad.
The next day I layered leftover Moroccan chickpeas in Boston lettuce leaves and topped with avocado and sauerkraut. I've since made them again and served them on top of a baked sweet potato and drizzled with my oil-free caesar dressing.  
This is how a lot of plant-based recipes work…essentially mix and match. Easy! 
If you're a seasoned plant-based eater you're probably making up your own mix and match dinners like a pro.
But…for people who are new to this way of eating not having a central protein serving on the plate at dinner can seem confusing and even uncomfortable.  
But rest assured….you get used to it somewhere between trying new recipes and becoming obsessed with Buddha bowls and you shift how you see your plate. 
Now I love my plate/bowl because it's always a mish-mash of whatever is most convenient for me to make. Leftover rice, beans, sauces, whatever greens are laying around.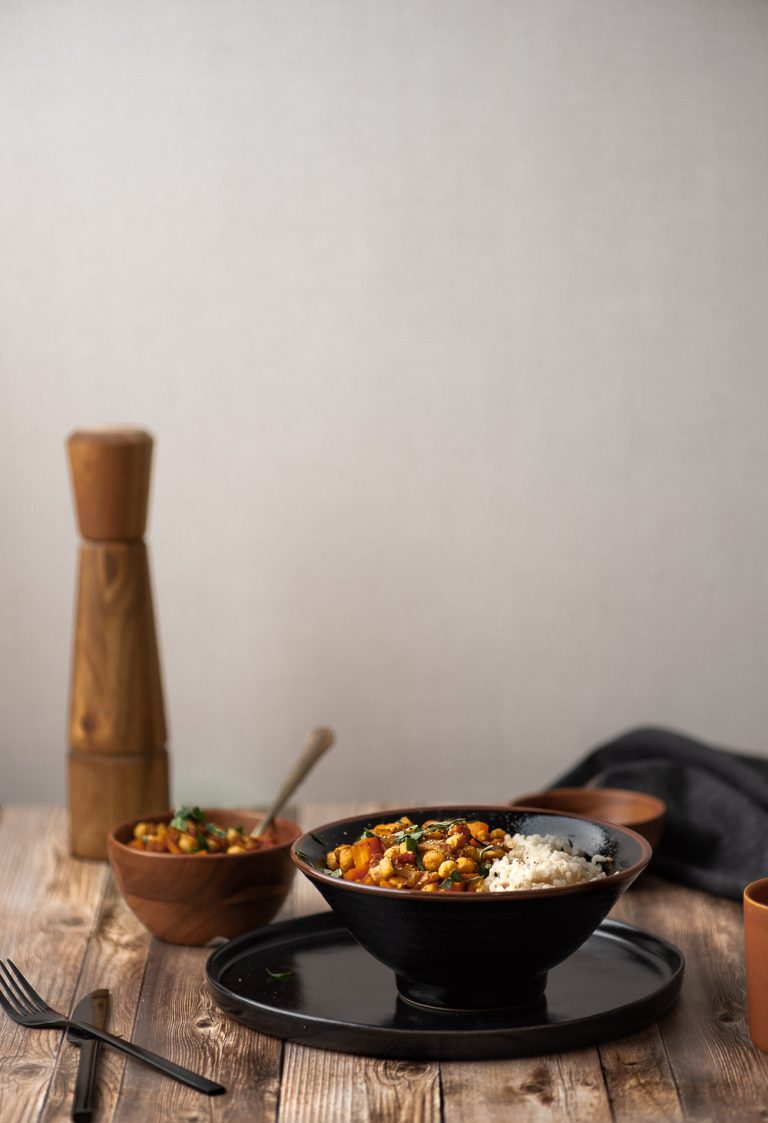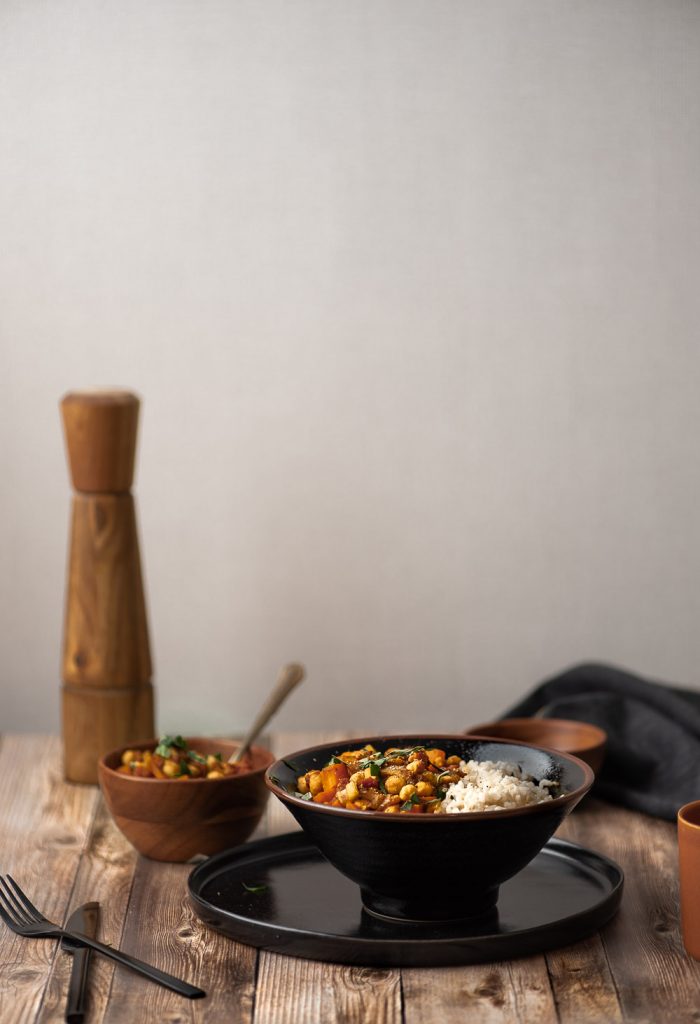 These Moroccan chickpeas are really easy and don't require any other equipment besides a pot.  
About this recipe: Cinnamon…not just for sweet recipes. Something that made me go hmmm when I first made a Moroccan green pie (must find that recipe!). I thought it was a mistake. But NO cinnamon is essential and is traditionally used in warm, savory dishes.  
Thing I'm excited about: I've been working with a local restaurant in Taipei helping them refine their menu. I'm also hoping to learn some (any) chinese in this process.  
What's for dinner? Tonight I'm making Lemony Green Pea Soup and Tempeh Carrot Burgers! I'll use the leftover burgers as lunch the next day in a salad made of mixed greens, chopped red pepper, cherry tomatoes, toasted sunflower seeds and then crumbling the burgers on top and drizzling with Almond Citrus Sauce.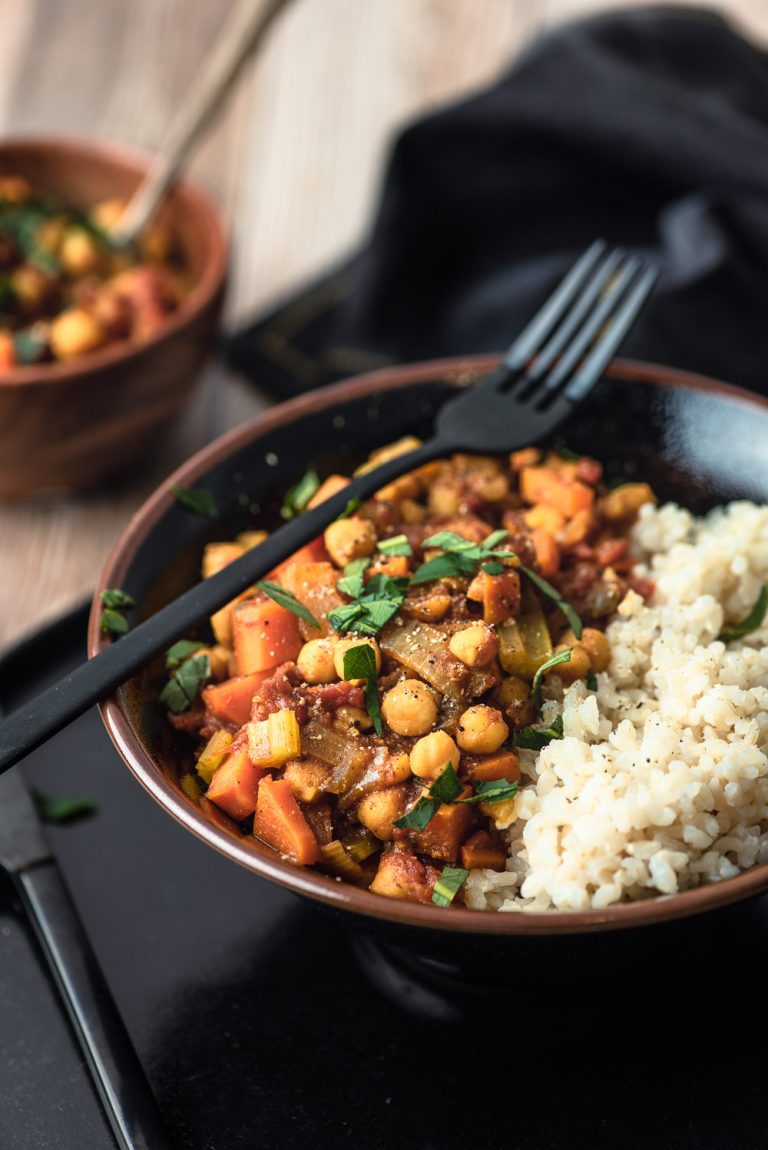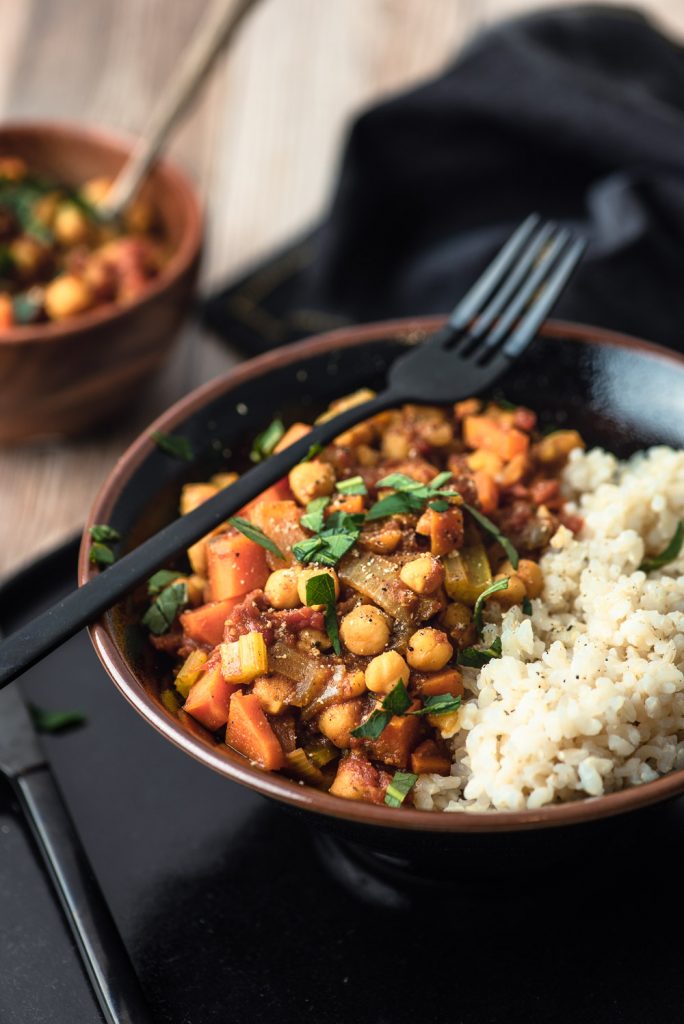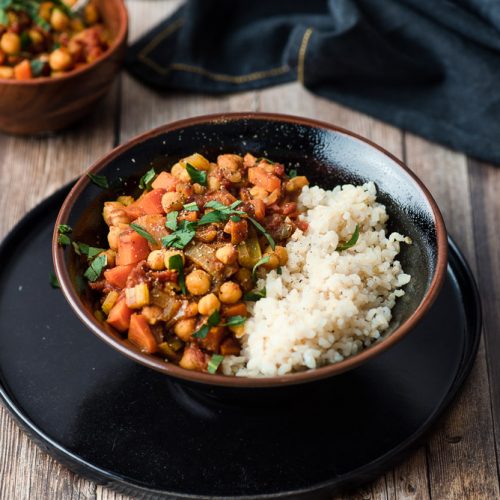 These moroccan chickpeas come together easily and are full of flavor! Pair with warm grains and steamed greens for a complete meal!
Ingredients
½

yellow onion

small diced

2

large carrots

medium diced

3

stalks celery

medium diced

4

garlic cloves

minced

2½

teaspoon

ground cumin

2

teaspoons

cinnamon

½

teaspoon

turmeric

½

teaspoon

red pepper flakes

3

cups

cooked chickpeas

1

(28 ounce) can diced tomatoes

¾

teaspoon

salt
Instructions
In a medium-sized stock-pot, sauté the onion, carrot and celery in a ¼ cup of water until the onions become soft, about 5-7 minutes, stirring often with a wooden spoon. Add water as needed to prevent burning.

Next, add the garlic and spices and continue to sauté for another 2 minutes, again stirring and adding water as needed to prevent burning.

Add the chickpeas, diced tomatoes and salt and bring to a simmer. Partially cover and simmer on low-medium heat for 20 minutes. During this time the tomatoes will reduce and thicken. Stir occasionally to make sure the mix isn't sticking to the bottom of the pan.

When most of the water has evaporated from the diced tomatoes, remove from heat, taste and reseason with salt and pepper.

Divide among plates and serve with brown rice or quinoa.
Notes
Add more red pepper flakes if you like it really spicy.